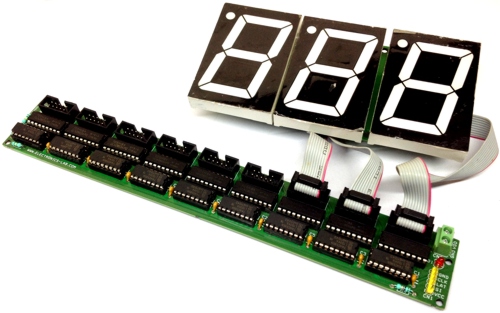 72 Channels Serial To Parallel Driver Board Using 74HC595 & ULN2803
72 channels Serial (SPI) to parallel driver board has been designed for various applications. This project can be used as multi Solenoid driver, large size 7 segment display driver, bar graph driver, and LED driver. The project works with 5V logic levels. Output load supply 12V-48V DC and each output can drive 500mA load.
I have used 3 digits 2.3Inch 7 segment displays as an example, this board can handle up to 9 digits. The board can serve many applications like, Stop Watch, digital timer, counter, score board, token display and lot more.
Project built around 74HC595 and ULN2803 ICs, The 74HC595 devices contain an 8-bit serial-in, parallel-out shift register that feeds an 8-bit D-type storage register. The storage register has parallel 3-state outputs. Separate clocks are provided for both the shift and storage register.
72 Channels Serial To Parallel Driver Board Using 74HC595 & ULN2803 – [Link]