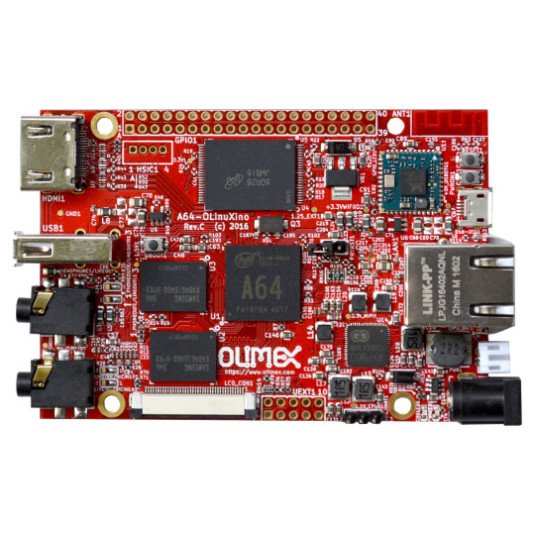 A64-OLinuXino board with 64-bit Cortex-A53 processor
A64-OLinuXino OSHW board is released by Olimex Ltd. It's an open source hardware board that runs Linux and Android. Entirely designed with open source software CAD tools and source files are available on github. Schematic is here.
Features
A64 Cortex-A53 64-bit SoC from Allwinner
AXP803 PMU with Lipo charger and step-up
1 or 2GB or DDR3L @672 Mhz
0 / 4 or 16GB of industrial grade eMMC
SPI Flash in SO8 package with hardware WP (not assembled)
USB-OTG and USB-HOST
HSIC connector (not assembled)
Gigabit Ethernet
BLE/WiFi module
HDMI and MIPI display connectors
microSD card
Debug console serial connector
Audio In and Out
LCD display connector
GPIO 40 pin connector (not assembled)
UEXT connector (not assembled)
5V power jack
Dimensions: 90×62.5 mm
For the moment they have three models:
1G0G with 1GB RAM, no Flash, no WiFi/BLE
1G4GW with 1GB RAM, 4GB eMMC and WiFi/BLE
2G16G-IND with 2GB RAM, 16GB eMMC with industrial grade components -40+85C
The optional connectors and SPI Flash etc may be assembled upon request for small fee. The price of the board is 50 EUR.
A64-OLinuXino board with 64-bit Cortex-A53 processor – [Link]