Arduino Breathalyzer Using MQ3 Gas sensor and OLED Display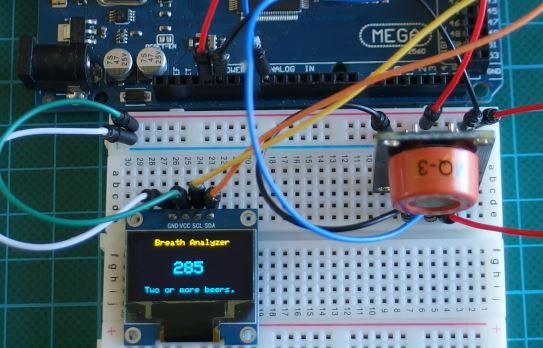 A breathalyzer is a generalized trademarked name for devices used for determining blood alcohol content from a breath sample. This means the device can detect from your breadth, the amount of alcohol you have taken. This device becomes very useful when you consider several cases of accidents caused by drunk driving. With this device, you can easily warn the driver of a car when he/she is too drunk to drive a car. It is important to note that this project is not accurate enough to replace the standard breathalyzer and you shouldn't drink and drive.
For this project, we will be using the MQ3 alcohol sensor. It is a cheap semiconductor sensor capable of detecting the presence of alcohol in air at concentrations between the value 0.05 mg/L to 10 mg/L. The sensor uses a chemical reaction to determine alcohol level and the primary sensing element in the sensor is SnO2, the conductivity of SnO2 is low in clean air but increases as the concentration of alcohol gas in air (breath) increases. It has high sensitivity to alcohol and has a good resistance to disturbances and noise from things like smoke and gasoline.
Arduino Breathalyzer Using MQ3 Gas sensor and OLED Display – [Link]