18 Jan 2014
The highest communication speed UMTS/HSPA+ and an easy communication via USB make the new module ideal for M2M applications.
Fast data transmission is becoming an inseparable part of devices for automotive industry, measuring, tracking, security systems, wireless terminals (POS), mobile computers etc.
When we´re choosing a module for above mentioned segments, it´s surely worth if the module also offers somewhat so to say "extra". In case of the UC20 module it´s true, because there´s probably no parameter, which would the UC20 not meet and when you look closer at the datasheet, you´ll also find another functions like for example 2x 15 bit AD converter and other. A big advantage of the UC20 is, that it supports a fast transmission even outside of the 3G networks thanks to a dual mode (+ Multi-band) for WCDMA but even GSM with a support of GPRS/EDGE Multi-slot Class 12. A considerable benefit are also the Windows USB drivers (Linux and Android drivers are in development).
  UC20 can air itself even with a high sensitivity and a high integrity of transferred data even in adverse conditions. For a development support, there are also available reference examples – UC20-reference design as well as UC20-Compatibility design regarding HW compatibility of UC20 with the M10 module.
All package (12x pdf) of software user guides can be downloaded on this link (11MB). Detailed information will provide you the documents UC20-Specification, UC20-Presentation and UC20 Hardware design.
For many applications can be beneficial the UC20 module on a PCB in a form of the Mini PCIe card. Also available is the UC20_EVB development board.
Quectel 3G modules of UC20 series will ensure a fast transmission even on 900 MHz - [Link]
12 Jan 2014
With a height of only 4.5 mm are new terminal blocks able to connect LED modules and LED panels aesthetically and with a maximal reliability.
There are numerous SMT connectors on the market, which are suitable for usage on LED panels but even in other applications. That´s why it´s a logic question – why just Wago 2060?
Firstly it is because of a sophisticated construction of a terminal block with a globally known and million times proven screwless spring clamp CageClampS. This clamp has an optimum pressure on a wire ideally responding to a wire diameter, i.e. the thicker wire, the bigger pressure. Also thanks to this is the max. allowed current up to 9A (!). Further, it´s possible to install solid and ferruled wires even without tools. By a simple pressing to a terminal block (for example by a screwdriver), it´s possible to insert even fine stranded flexible leads and by similar way also to disengage. Features of a clamp don´t get worse neither after multiple disengaging of a connection and they remain stable even after a long period of operation.
From other positives it´s necessary to mention a "balcony" construction of an input portion, which makes installation of wires easier and faster. Sufficiently big flat area ensures a reliable application on assembly machines (pick-n-place). And finally – an aesthetic curved shape and a white/cream color cause, that connectors are inconspicuous and they don´t disturb on a PCB.
  Terminal blocks are available in 1,2 and 3-pole version. You don't need to be in doubt that you missed development and you still don´t know a circuit operating on 1 pole
– naturally the single-pole version is intended for connecting of several modules into series. A big plus is also availability of interconnecting both-sided pins enabling easy and aesthetic creation of a row (string) of several modules.
Pin spacing is 4mm and there´s also available a version with 8mm pin spacing with operating voltage of up to 600V. Connector casing is made of an advanced material (glass fibre reinforced PPA) with a very wide range of operating temperatures.
Novelty is also a newer version – Wago 2061 with up to 12A max. current. Detailed information will provide you the Wago 2060 brochure.
Wago 2060 terminal blocks don't overtop LEDs - [Link]
18 Dec 2013
56 years of experience, 40 000 standard stock products and 1000 patents reflect in quaility and a wide portfolio of German company LappKabel.
There are many producers of wires, leads and cables, but despite it, company LappKabel belongs to one of the most renowned. What´s the cause? Exceptional place on the market started in 50-s, when company LappKabel started as the first in this segment to name its products (Olflex). Together with high and stable quality, LappKabel has gradually become one of the biggest cable producers in the world.
Cables from Lapp Kabel are widely used in various industry segments like for example food industry (Coca-Cola), tire production (Continental), marine and ports infrastructure (Hamburg), chemical industry, solar and wind energy,…
Quality of copper (cleanness, oxygen content,..) and quality of insulation, stable diameter of a conductor and of insulation in every production batch, alignment of wires and insulation,… all these are factors influencing final properties of cables and in case of products from LappKabel we get the best available level. A common feature of LappKabel products is also an excellent quality for a reasonable price.
Among LappKabel products can be found not only interconnecting and controlling cables (Olflex) but also cables and systems for data transmission (ETHERLINE and UNITRONIC), industrial conectors (EPIC), systems for cable protection (SILVYN), optical systems (HITRONIC), cable vývodky (SKINTOP), marking systems, tools and various other accessories.
The newest addition in our stock are universal flexible leads 0,5/ 0,75 and 1,0 mm2, suitable for any installations in devices.
In regard to a huge portfolio of company LappKabel we keep in stock only a few selected types of LappKabel cables but upon order we´re able to deliver you any LappKabel product in a short leadtime. A help at the cable choice will give you the Lapp Cable Guide.
If a cable, then the Lapp cable - [Link]
8 Dec 2013
When observing basic rules will the top quality AGM VRLA batteries last you up to 15 years – we will advise how.
This description could start by a long list of technical improvements of Panasonic batteries. thanks to which they gained a stable place on the top of development in this segment (AGM, expanded positive grid. additives for regeneration from a deep discharge, self-extinguishing container material,…).
However those are things, which can be easily checked up from available internet source or even better from satisfied users. Instead of it, we better bring you a few advices for usage of VRLA/ SLA batteries to serve you as long as possible:
batteries can be recharged by several ways, but one of the most reliable belongs a "constant voltage/ limited current" method, i.e. observing max. 2.45V/ cell and a current limitation. It responds 14.7V at 12V battery and a max. current of 0.4CA. This is suitable at so called cycle usage.
at a stable connection to a voltage source, a voltage per cell shouldn´t exceed 2.3V what is 13.8V at 12V battery. Current limitation should be set to 0.15CA.
battery lifetime grows significantly with a decreasing temperature, i.e. it is very important to place a battery far from heat sources (transformer,…)
number of cycles (thus a battery lifetime) is very strongly dependent on a level of discharge before consequent recharging. Dependence is so strong, that for example at discharging to 50% a standard battery will reach a lifetime of approx. 500 cycles, while when discharged in 30% (remains 70% of capacity), the number of cycles will increase up to 1200 (!). The result is, that a choice of a suitable capacity is a key to reach a good lifetime in a given device. Especially in devices, where a battery is daily discharged/ recharged, can a suitable battery (with a higher capacity) significantly prolong a lifetime (thus minimizing costs for replacement).
if possible, avoid usage of battery on 100% discharge (so called deep discharge). Even though Panasonic batteries manage these statuses and they contain additives for a successful recovery from a deep discharge, but such a usage shortens battery lifetime significantly (to approx. 200 cycles).
real capacity of a battery (amount of energy, which we´ll get out of it) is strongly dependent on a discharge current. 100% capacity can be reached at a current of 0.05CA/ 20°C. At 0,25CA current it is approx. 75% of capacity and at a current of 1CA it is only approx. 55%. This fact also says for a sufficient sizing of a battery. Especially in applications with a relatively higher power consumption (approx. >0.05CA) we´ll gain by using a 50% bigger battery a resulting battery, with a capacity "increased" in more than 50% (thanks to a relatively lower load of such battery at discharging). Resulting relatively lower discharging current and a lower depth of discharge in every cycle will significantly contribute to a longer lifetime..
real capacity of a battery also depends on temperature. Difference between a capacity at +20° vs. -10°C is approx. -25%.
cut-off voltage at which it´s necessary to disconnect the battery is markedly dependent on a discharge current (at a higher current it falls down). That´s why it´s good to set a deep discharge protection in respect to a supposed maximum discharge current.
Above mentioned values apply to standard Panasonic batteries. In the offer of company Panasonic can also be found types with extra long lifetime as well as sa called "Power" types, suitable for high current devices (UPS,…). On stock we keep a few selected types of Panasonic batteries and upon request, we´re able to provide you any other type. Detailed information about usage and an overview of the Panasonic portfolio can be found in the VRLA Handbook document.
Maintenance-free lead batteries Panasonic will surprise by their lifetime - [Link]
6 Dec 2013
Universal multimeter UT139C with a high resolution will be appreciated at development and everywhere, where you need to find out a situation in a given device accurately
Imagine a situation, when you need to check or set a voltage of 3.3V or 5V usual at digital electronics (AD converters reference,…). Or to measure the end of recharging of Li-ion/ Li-Pol batteries at 4.20V when it really matters on every miliVolt. In these cases, with usual multimeters you´ll face one cardinal fact – regarding that the most of them has a max. display reading of 1999, you´ll measure in hardly the first quarter of a range, thus with a significantly lower resolution. For example instead of desired 4.001 V (3 decimal positions), you´ll only see 4.00V. Naturally, we don´t always need such a high resolution but many times an improvement of resolution in one magnitude can provide us a worth information about a real situation in a measured circuit. In these situations it often doesn´t matter on the absolute accuracy that much, but right on a resolution, especially when comparing voltages in two points, increase/ decrease…
From this point of view is the novelty in our stock UT139C an excellent device providing besides a high resolution (5999) also another features worth to notice, for example: TRUE RMS measurement in a range of 45Hz-1kHz (to 400 Hz with VFC filter activated), measuring of high-capacity capacitors up to 99.9 mF (99 999 uF), measuring of duty cycle in a range of 0.1% – 99.9% and other. Not quite common is also measuring of uA and mA even in AC range. Function Rel is useful even at measuring of small capacitors, where it´s able to eliminate "offset" caused by a capacitance of testing leads.
A thermometer (K type) with arrange of -40 to 1000°C can also be useful at development. From some point of view it´s advantageous supplying by two AA cells, not by a classic 9V battery (AA cells have a better capacity/ price ratio).
UT139C is also able to serve as a non-contact AC voltage tester (NCV), indicating in 4 steps a proximity of >100VAC voltage. . Indication is by a red LED in the upper part of display, by a display (-,–,—,—-) and by a buzzer.
Further information will provide you the UT139C datasheet.
With the UT139C you´ll find out why 5999 is better than 1999 - [Link]
2 Dec 2013
RIGOL DS-4054 Oscilloscope is a member of RIGOL's DS400 Series of Digital Oscilloscopes, a series of versatile and high performance oscilloscopes that integrates today's most advanced features and technologies. The DS-4054 model features a 9 Inch wide display with 500 MHz bandwidth. The important buttons are easy to find like the control and functional buttons. Channel and measurement settings are located in an easy to find menu that makes adding measurements to the display a quick and easy process. Custom measurements can also be done through manual option allowing users to adjust the cursor freely.
At a market price of $5,899, the DS-4054 boosts some special features unique to its price range. One feature highlighted is that the device can be used in various triggering modes. Through triggering menu featured in this device, users can go to different triggering functionalities like the conventional Edge type triggers, communication type triggers and even custom triggers that can be set-up. Another plus for the DS-4054 is its recording capability. The device is equipped with waveform recording and display functionality allowing users to have a closer look of signals that appear unusual making it more convenient to examine the waveforms. The device uses ultravision technology that insures numerous options of waveform recording and analysis due to its large memory and high acquisition rate.
RIGOL DS-4054 Oscilloscope being part of the DS400 Series is likely to become more successful than other market leaders. Compared to its closest competitor the Tektronix DP0300 with a sampling rate of 2.5 GSa/s, memory of 5 Mpts and an acquisition rate of 50,000 wfms/s, the DS-4054 already boosts a 4 GSa/a sampling rate, 140 Mpts memory and an acquisition rate of 50,000 wfms/s. For connectivity, the device also comprises a USB, Ethernet and a VGA output port. The RIGOL DS-4054 in total provides users easy measurement access, exceptional display and is definitely worth the price you pay for the device.
RIGOL DS-4054 Digital Oscilloscope – Product Overview - [Link]
1 Dec 2013
Marking of cables and terminal blocks has never been easier – we´ll do it for you! First 5 customers with a 50% discount.
In line with broadening of our services and support to our products, we offer you a possibility to get off of troubles with printing of labels and other markers for devices, cables, terminal blocks,… We offer you a service of a preparation for print and printing of labels and terminal blocks itself according to your demands.
How does it work? Below mentioned items can be found in our store two times – with a standard description and also with a "PRINT" suffix.
1) If you intend to buy only the bare – unprinted material, you can do it on items without the "PRINT" suffix.
2) If you wish to get a material printed according to your demands, choose a desired item with the "PRINT" suffix and enter a number of pieces of cards (it´s possible to buy only whole cards). Don´t get confused by an amount "zero" on stock. It is intentionally. After placing an order we´ll contact you regarding sending files in an appropriate form (picture, table, …) and we´ll agree details regarding printing. The price at a given "PRINT" item represents a price for printing (preparation to print, editing, printing) as well as the price for material thus being an end price for you.
Material, which can be used at the moment is:
● US-EML(20X8)PRINT – white self-adhesive labels (Polyester, -40…+150°C) with the size of 20x8mm (64 pcs/card) suitable for marking of devices and goods with a flat surface.
● US-WML6(13X13)PRINT – self-adhesive labels (PVC, -50…+110°C) suitable for direct marking of cables by sticking/winding around a cable. There are 32 labels on one card with a white field for printing of the 13x13mm size. Transparent self-adhesive part (longer than a part dedicated for printing) protects marking from contamination and abrasion. Suitable for wires up to 6mm diameter.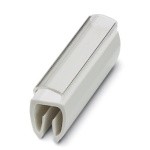 ● US-WMT(15X4)PRINT- universal easily applicable cable markers (PVC, -30…+80°C, UL94-V0) for insertion into PATO and PATG carriers. PATG carriers are transparent extra reliable marker carriers, which have to be pushed onto a conductor before it is connected into a terminal block PATO carriers are clip-on type, i.e. it´s possible to clip them to a cable, which is already inserted into a terminal block. From both series of carriers we keep in stock two types covering 2.8 to 7 mm diameters.
● UCT2-TM5/6PRINT – plastic markers of the UniCard series (PC, -40…+120°C, UL94-V0) characteristic by a simple application and an easy separation. This concrete type is suitable for Wago terminal blocks of the 2002…2006, 280, 281, 290, 780, 781 and other.
If you´re interested in other material, let us know and upon order we´re able to provide you with any material for printing (card, sheets, roles). Gradually we´ll also add other materials to standard stock items, depending on your interest.

New service for you – comfortable labeling of cables, terminal blocks and devices - [Link]
18 Nov 2013
This interesting spray from the Kontakt Chemie portfolio will serve in an office but also at the production of electronics and in many other segments.
Name "Label off" discloses a main purpose of usage of this spray. But that´s not all. Because Label Off is a mixture of solvents which particularly well dissolve sticky substances, it can be successfully used everywhere, where it´s necessary to remove residues after adhesive tapes or other hard-to-remove substances like tar and tree resin. Despite a considerable effect, the spray is considerate to many plastics, only can´t be used on polystyrene and polycarbonate. Label Off can be even used on a cardboard/ paper boxes.
Label Off acts very simply – all that is necessary is to spray a thin layer to a label or other place, which we want to clean and wait approx- 2 minutes. After this time it´s usually possible to peel-off a label without residues. Occasional residues can be removed by a repeated application of Label Off and wiping by a (paper) cloth.
Detailed information will provide you the Label Off datasheet.
Label off will remove not only labels - [Link]
13 Nov 2013
Saelig Company, Inc. announces the availability of the new PicoScope 2000 series oscilloscopes, which are 80% smaller than their predecessors, similar in size to a passport but ¾" thick.  Connected to a PC's USB port for power and communication, they offer bandwidths up to 200MHz, making them ideal for field use while offering the performance of benchtop scopes.  They feature a sample rate of up to 1GSa/s, with high-speed streaming of data up to 1MSa/s, enabling data captures of up to 100 million samples in length.  The series incorporate a built-in 100MSa/s or 1GSa/s waveform generator, PicoScope 2000 series oscilloscopes can produce standard signals such as sine, square, and triangle waveforms with programmable sweep, and can also act as a 12-bit 20MSa/s full-function arbitrary waveform generator that can reproduce sampled signals – a very useful feature.
The free PicoScope software delivers an uncomplicated high-resolution visual display, and it incorporates a range of advanced signal processing features: spectrum analyzer, automatic measurements with statistics, channel math, reference waveforms, multiple scope and spectrum views, and serial protocol decoding for I2C, CANbus, SPI, I2S, and UART.  Example code is also supplied for those users who want to develop custom applications in C, Visual Basic, LabView, etc.
A Software Development Kit (SDK) is also included, which allows scope control using custom or third-party software. The SDK and PicoScope are Windows-compatible, and example programs in C, Excel and LabView are also provided.
The included PicoScope software for Windows harnesses the PC's processing power, storage, graphics and networking capabilities. The user interface is easy for novices to learn, but professional users will find many advanced features including spectrum analysis, persistence display, automatic measurements, advanced triggers and channel math capabilities. Users can download software updates, feature extensions and improvements free of charge.
Made by Pico Technology, Europe's award-winning oscilloscope adapter manufacturer, the PicoScope 2000 series is supplied complete with two passive x1/x10 probes and a carry case. They are available now with a 5-year warranty starting at $260 from Saelig Company, Inc. their USA technical distributor. For detailed specifications, free technical assistance, or additional information, please contact Saelig 1-888-7SAELIG, via email: info@saelig.com, or visit www.saelig.com
NEW PicoScope 2000 series oscilloscopes - [Link]
7 Nov 2013
"Power bank" or a mobile power supply with a USB output can contribute also to your undisturbed work. 
Nowadays already almost every battery-operated device with a USB port has a possibility to be operated or recharged through this port. Whether it is a smartphone, external harddrive, various modems, dataloggers and many other specialized devices, almost all of them can be powered/ recharged also from a USB port from an external mobile power source -"Power bank".
In respect to the fact, that there are still more devices with this possibility, we incorporated to our stable stock offer two types of these power supplies – B110 and B120 from a renowned company Apacer. They differ mainly by a capacity of an in-built battery (4400/ 6600 mAh). B110 has one USB connector with a max. output current of 5V/1A, while a bigger type – B120 features two USB ports with a max current of 1,5A/1A (max 2.1A both ports simultaneously). Both Power banks can be recharged through a micro USB port by means of a supplied short USB cable enabling recharging for example from PC, USB adapter or from still more used wall USB outlets, which are becoming a common part of modern buildings installations, on airports etc. The same micro USB/USB B cable can be consequently used to connect a device which we want to power/ recharge (through an "OUTPUT" connector). A small complement of both types is a 5mm white LED, thus B110 and B120 can serve as a small torch with a long hold-off.
Overview of features of both types can be found in the Apacer B110 and B120 datasheets.
Apacer B110 and B120 – Power banks not only for your smartphones - [Link]