1 Dec 2013
Marking of cables and terminal blocks has never been easier – we´ll do it for you! First 5 customers with a 50% discount.
In line with broadening of our services and support to our products, we offer you a possibility to get off of troubles with printing of labels and other markers for devices, cables, terminal blocks,… We offer you a service of a preparation for print and printing of labels and terminal blocks itself according to your demands.
How does it work? Below mentioned items can be found in our store two times – with a standard description and also with a "PRINT" suffix.
1) If you intend to buy only the bare – unprinted material, you can do it on items without the "PRINT" suffix.
2) If you wish to get a material printed according to your demands, choose a desired item with the "PRINT" suffix and enter a number of pieces of cards (it´s possible to buy only whole cards). Don´t get confused by an amount "zero" on stock. It is intentionally. After placing an order we´ll contact you regarding sending files in an appropriate form (picture, table, …) and we´ll agree details regarding printing. The price at a given "PRINT" item represents a price for printing (preparation to print, editing, printing) as well as the price for material thus being an end price for you.
Material, which can be used at the moment is:
● US-EML(20X8)PRINT – white self-adhesive labels (Polyester, -40…+150°C) with the size of 20x8mm (64 pcs/card) suitable for marking of devices and goods with a flat surface.
● US-WML6(13X13)PRINT – self-adhesive labels (PVC, -50…+110°C) suitable for direct marking of cables by sticking/winding around a cable. There are 32 labels on one card with a white field for printing of the 13x13mm size. Transparent self-adhesive part (longer than a part dedicated for printing) protects marking from contamination and abrasion. Suitable for wires up to 6mm diameter.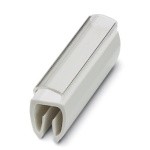 ● US-WMT(15X4)PRINT- universal easily applicable cable markers (PVC, -30…+80°C, UL94-V0) for insertion into PATO and PATG carriers. PATG carriers are transparent extra reliable marker carriers, which have to be pushed onto a conductor before it is connected into a terminal block PATO carriers are clip-on type, i.e. it´s possible to clip them to a cable, which is already inserted into a terminal block. From both series of carriers we keep in stock two types covering 2.8 to 7 mm diameters.
● UCT2-TM5/6PRINT – plastic markers of the UniCard series (PC, -40…+120°C, UL94-V0) characteristic by a simple application and an easy separation. This concrete type is suitable for Wago terminal blocks of the 2002…2006, 280, 281, 290, 780, 781 and other.
If you´re interested in other material, let us know and upon order we´re able to provide you with any material for printing (card, sheets, roles). Gradually we´ll also add other materials to standard stock items, depending on your interest.

New service for you – comfortable labeling of cables, terminal blocks and devices - [Link]
18 Nov 2013
This interesting spray from the Kontakt Chemie portfolio will serve in an office but also at the production of electronics and in many other segments.
Name "Label off" discloses a main purpose of usage of this spray. But that´s not all. Because Label Off is a mixture of solvents which particularly well dissolve sticky substances, it can be successfully used everywhere, where it´s necessary to remove residues after adhesive tapes or other hard-to-remove substances like tar and tree resin. Despite a considerable effect, the spray is considerate to many plastics, only can´t be used on polystyrene and polycarbonate. Label Off can be even used on a cardboard/ paper boxes.
Label Off acts very simply – all that is necessary is to spray a thin layer to a label or other place, which we want to clean and wait approx- 2 minutes. After this time it´s usually possible to peel-off a label without residues. Occasional residues can be removed by a repeated application of Label Off and wiping by a (paper) cloth.
Detailed information will provide you the Label Off datasheet.
Label off will remove not only labels - [Link]
13 Nov 2013
Saelig Company, Inc. announces the availability of the new PicoScope 2000 series oscilloscopes, which are 80% smaller than their predecessors, similar in size to a passport but ¾" thick.  Connected to a PC's USB port for power and communication, they offer bandwidths up to 200MHz, making them ideal for field use while offering the performance of benchtop scopes.  They feature a sample rate of up to 1GSa/s, with high-speed streaming of data up to 1MSa/s, enabling data captures of up to 100 million samples in length.  The series incorporate a built-in 100MSa/s or 1GSa/s waveform generator, PicoScope 2000 series oscilloscopes can produce standard signals such as sine, square, and triangle waveforms with programmable sweep, and can also act as a 12-bit 20MSa/s full-function arbitrary waveform generator that can reproduce sampled signals – a very useful feature.
The free PicoScope software delivers an uncomplicated high-resolution visual display, and it incorporates a range of advanced signal processing features: spectrum analyzer, automatic measurements with statistics, channel math, reference waveforms, multiple scope and spectrum views, and serial protocol decoding for I2C, CANbus, SPI, I2S, and UART.  Example code is also supplied for those users who want to develop custom applications in C, Visual Basic, LabView, etc.
A Software Development Kit (SDK) is also included, which allows scope control using custom or third-party software. The SDK and PicoScope are Windows-compatible, and example programs in C, Excel and LabView are also provided.
The included PicoScope software for Windows harnesses the PC's processing power, storage, graphics and networking capabilities. The user interface is easy for novices to learn, but professional users will find many advanced features including spectrum analysis, persistence display, automatic measurements, advanced triggers and channel math capabilities. Users can download software updates, feature extensions and improvements free of charge.
Made by Pico Technology, Europe's award-winning oscilloscope adapter manufacturer, the PicoScope 2000 series is supplied complete with two passive x1/x10 probes and a carry case. They are available now with a 5-year warranty starting at $260 from Saelig Company, Inc. their USA technical distributor. For detailed specifications, free technical assistance, or additional information, please contact Saelig 1-888-7SAELIG, via email: info@saelig.com, or visit www.saelig.com
NEW PicoScope 2000 series oscilloscopes - [Link]
7 Nov 2013
"Power bank" or a mobile power supply with a USB output can contribute also to your undisturbed work. 
Nowadays already almost every battery-operated device with a USB port has a possibility to be operated or recharged through this port. Whether it is a smartphone, external harddrive, various modems, dataloggers and many other specialized devices, almost all of them can be powered/ recharged also from a USB port from an external mobile power source -"Power bank".
In respect to the fact, that there are still more devices with this possibility, we incorporated to our stable stock offer two types of these power supplies – B110 and B120 from a renowned company Apacer. They differ mainly by a capacity of an in-built battery (4400/ 6600 mAh). B110 has one USB connector with a max. output current of 5V/1A, while a bigger type – B120 features two USB ports with a max current of 1,5A/1A (max 2.1A both ports simultaneously). Both Power banks can be recharged through a micro USB port by means of a supplied short USB cable enabling recharging for example from PC, USB adapter or from still more used wall USB outlets, which are becoming a common part of modern buildings installations, on airports etc. The same micro USB/USB B cable can be consequently used to connect a device which we want to power/ recharge (through an "OUTPUT" connector). A small complement of both types is a 5mm white LED, thus B110 and B120 can serve as a small torch with a long hold-off.
Overview of features of both types can be found in the Apacer B110 and B120 datasheets.
Apacer B110 and B120 – Power banks not only for your smartphones - [Link]
26 Oct 2013
Over 60 years of experiences of German company EBM-PAPST in the fans development reflects in an uncompromising quality of products.
It may sound like a phrase, but to rely on a quality is almost always worth – mainly because of overall savings. Long lifetime and energy efficiency will at the end of the day reflect into lower operation expenses. Quality materials sophisticated construction, precise bearings and results from long-term tests say in favor of EBM-Papst fans. EBM-PAPST has in its testing laboratories 1500 operating fans and there can be even found fans continuously operating from 80´s (!). EBM-Papst is quite stringent regarding a declared lifetime and in comparison to other producers it declares "less optimistic" values, as illustrated on an enclosed picture. It means, that if we compare 2 fans from various producers with similar features, it´s very probable that the type from EBM-Papst will have a higher real lifetime. In the EBM-Papst portfolio can be found practically all types of fans and blowers, from smallest to massive industrial ones, axial, radial (centrifugal), diagonal a tangential. The most of fans is also available in a version resistant to dust and water with IP54. EBM-Papst is a pioneer in the development of energetically efficient fans with a significantly lower power consumption and a quieter operation, for example the ACmaxx and GreenTech_EC series.
EBM-Papst portfolio is very wide, that´s why we keep in stock only a few most wanted types and any other type we´re able to provide you upon request. To the standard stock items we newly added also the type 7056ES – AC fan with of a 150mm diameter. 7056ES is a well proven powerful type with a ball bearing and an all-metal construction. Precise ball bearings SINTEC feature a constant low noise during all the lifetime and a low sensitivity to impacts. 27W motor contains an external capacitor and a thermal fuse against overload. High air flow – 330m3/hr, i.e. over 90 litres per second make this type a universal choice for ventilation of various spaces or cooling of electronics and similar.
Detailed information will provide you the 7056ES datasheet as well as overview of axiálnych AC fans and compact fans from EBM Papst.
Fans able to operate continuously for 30 years - [Link]
4 Aug 2013
Electromagnetic door locks can be very easily implemented to almost any entry or security system.
We got used, that electromagnetic locks are a common part of entry doors to various buildings and offices. There are several types of such locks on a market, the most often they are a part of a doorframe. Each type has its pros and cons. From some point of view, the most universal are "external" types, which can be easily implemented into any door without a necessity of an intervention to a door construction. Even such types can be found in our offer.
Y280 and Y350 are bulky locks consisting of a module with an electromagnet and a metal plate from a magnetically conducting material, which shall be mounted to a door (usually an upper portion). After switching on a power supply, a strong magnetic field will be created, sufficient to keep the door locked. A force necessary to open a door is quite considerable (2800/3500N) and normally it isn´t possible to unlock such doors by a "violence". A positive fact is that a metal plate also contains a backstop with a spring damping a noise at locking.
A representative of "to be built in" types, is the type Y100S. It operates on a principle of a metal stick ejection, that´s why even in this case is a holding force very high, limited mainly by a door construction. A big advantage of the Y100S is that the lock already contains a security sensor against premature lock activation. After applying a power supply on the lock, "nothing happens" – the lock gets activated only after approximation of a plate with a small permanent magnet (included in a package),i.e. only after the doors are closed. All three types operate at 12V, types Y280 and Y350 can also be supplied with 24V (overall power consumption remains approximately constant).
In case of interest, please contact us at info@soselectronic.com.
Lock it without a key – [Link]
17 Jul 2013
Scott Torborg and Star Simpson writes:
Google Glass is not only difficult to come by but requires tremendous skill to teardown. Scott Torborg and Star Simpson, in cooperation with SparkFun, took a look inside the sought-after device. They then graciously agreed to share the teardown as a way to "give back" to the engineering community. What follows is their look inside Google Glass.
Teardown: What's inside Google Glass? - [Link]
11 Jun 2013
From now, you´ll find in our store the top-quality capacitors from company AVX. 
A tantalum capacitor may be for many designers a component with a "smell of alchemy". It´s not used as often as for example electrolytic capacitors, it´s more expensive and it doesn´t hesitate to fire off at improper handling. Despite these facts, it´s used in many devices and features several advantages, which predestinate it to many applications.
Among main advantages of tantalum capacitors belong  small dimensions, temperature stability (C vs. t), very long lifetime (self-repair ability), relatively low serial resistance (ESR) and virtually no dependence of capacity on a DC voltage. Their usage is for these and other reasons beneficial in switch-mode power supplies, digital circuits (processors) in a measurement equipment etc.
Tantalum capacitors strictly require observing a maximum ripple current and also a maximum operating voltage. A low ESR can be a cause of extremely high inrush current after connecting to a hard power supply (for example a battery), which is able to damage a capacitor. From this reason, it´s advisable to design a circuit in a way, that this inrush current was limited, or not to use tantalum capacitors as the first – input capacitors.  When these basic requirements are observed, tantalum capacitors will reward us with reliability and long-term stable parameters.
We´re glad to be able to offer you tantalum capacitors from company AVX, by which we replace capacitors of our previous supplier. AVX belongs to a top in this segment and its components meet highest criteria. Also positive is the fact that the price of these capacitors is comparable and in some cases even lower to those of previous types.
On stock we keep the universal TAJ series. Upon request, we´re able to provide you also other series, for example the TPS with a very low ESR. Detailed information will provide you the datasheet TAJ and many useful documents regarding max. operating voltage (derating) , max. ripple current and the leakage current.
Tantalum capacitors from the world-class producer on stock - [Link]
3 Jun 2013
Series Hammond 1553 handheld enclosures has sprawled out with smaller relations.
Handheld enclosures of the 1553T series with a sufficient space for a keyboard and a display was introduced to you in our recent article HAMMOND 1553T enclosures – keyboard and display in your hand. Enclosure 1553T is ideal for many relatively bigger devices, but probably there will be many applications, for which the 1553T is a little bit too big.  That´s why company Hammond enriched this series with smaller types – "TT", i.e. 1553TT. Version TT has practically the same features like the "T" version, but it is in about 4,5 cm shorter (and proportionally smaller are also other dimensions). A few centimeters difference maybe doesn´t seem to be big but in result it is a substantially smaller enclosure, which sits in hands excellently. The difference in sizes is best illustrated in attached pictures.
That´s why, thanks to smaller dimensions is the TT version suitable even for devices with smaller displays and with smaller demands for inner space of an enclosure. Also 1553TT series is available in a black and a light-grey color and also without or with a battery compartment. Because of smaller dimensions, the TT version has a space for only 2pcs of AA batteries, what is adequate, as smaller devices are supposed to be less power demanding.  All 4 versions are incorporated into our stable stock offer, detailed drawings, including 3D views can be found in datasheets at particular types. On the Hammond website, you can also find CAD files and 3D models.
In case of interest in any HAMMOND products please contact us at info@soselectronic.com.
HAMMOND 1553TT – keyboard and display even for women´s hands - [Link]
21 May 2013
Compact embedded module WizFi630 enables to connect any serial RS232 device to a TCP/IP network. 
However it´s not all. By supporting  3 Ethernet ports, it offers a wide variability to connect another devices to a Wi-Fi network, in various operation modes.
Novelty from company Wiznet  WizFi630 module provides, besides the RS232/ Wi-Fi interface, even many other functions, which place it to a category of routers. Via 2 UART and 3 Ethernet ports it is possible connect several devices in various modes of operation: AP (Access point), Client , AP client and Gateway. These modes are best illustrated in attached picturs. For a development support, we offer you a novelty -  WizFi630EVB evaluation board with complete accessories.
WizFi630 – the immediately available WiFi - [Link]