After the announcement of the i.MX 8M line of processors from NXP and their collaboration with some companies, we started seeing announcements or devices that use the chip in recent times and some of the devices or boards are beginning to be available for purchase. InnoComm, Emcraft, and Boundary devices have all launched their i.MX 8M processor-based boards, with some even adding a carrier board along with it. SolidRun, one of the announced partners with NXP back in 2017 is not left behind by releasing its own set of i.MX 8M processor-based boards.
Following their successful i.MX6 based family; SolidRun has announced a brand new family of i.MX8M based platforms, including the i.MX8 SOM, HummingBoard Pulse single board computer, and CuBox Pulse fanless mini PC. SolidRun is introducing this new family following NXP's inclusion of the company as part of a handful of early adopting partners.
The new i.MX8 line of processors are 64-bit, ARM-based chips with support for 4K and they're expected to come in a few different configurations. The new family will feature up to four 1.5 GHz ARM® Cortex® A53 cores with a Cortex M4 general purpose processor, high-speed connectivity interfaces and flexible memory options, offering 4K UltraHD resolution and HDR video quality, the highest levels of pro audio fidelity and up to 20 audio channels.
SolidRun i.MX8 SOM
The SolidRun i.MX 8M SOM is one of the smallest system-on-module to be released measuring just 47 x 30 mm, a close comparison to the InooComm's 50 x 50mm SOM. "The i.MX8 SOM will allow developers and OEMs to simplify the production cycle and reduce time-to-market drastically. The company's mix-and-match concept "will allow users to easily switch between different SOM grades and configurations as needed" says SolidRun. The module is available for purchase on SolidRun site, and they come in different configurations as listed below: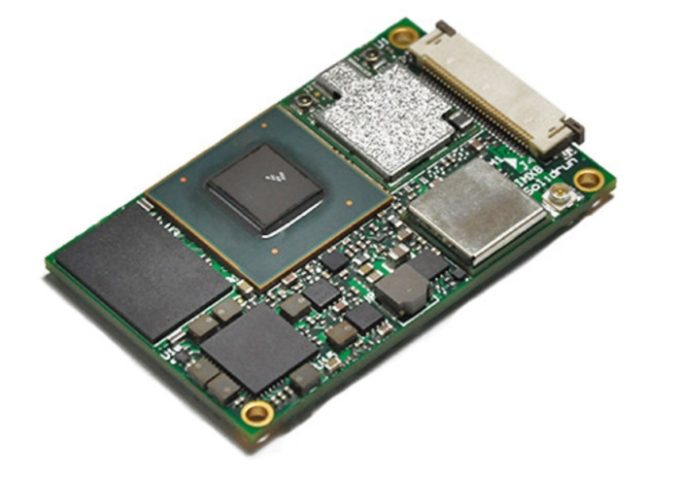 The Dual with 1GB RAM – $80
The Quad Lite with 1GB – $90
The Quad with 2GB RAM – $105
The Dual with 1GB RAM, 8GB eMMC, and WIFi Plus BT – $140
The Quad Lite with 1GB RAM, 8GB eMMC, and WIFi Plus BT – $150
The Quad with 2GB RAM, 8GB eMMC, and WIFi Plus BT – $160
They all have Cortex-A53 cores clocked from 1.3GHz to 1.5GHz, as well as the i.MX8M's built-in Cortex-M4 MCU and Vivante GC7000 Lite GPU. All configurations are capable of generating 4K@60 video with HDR.
For more information about the i.MX8M SOM specification see below and check here also.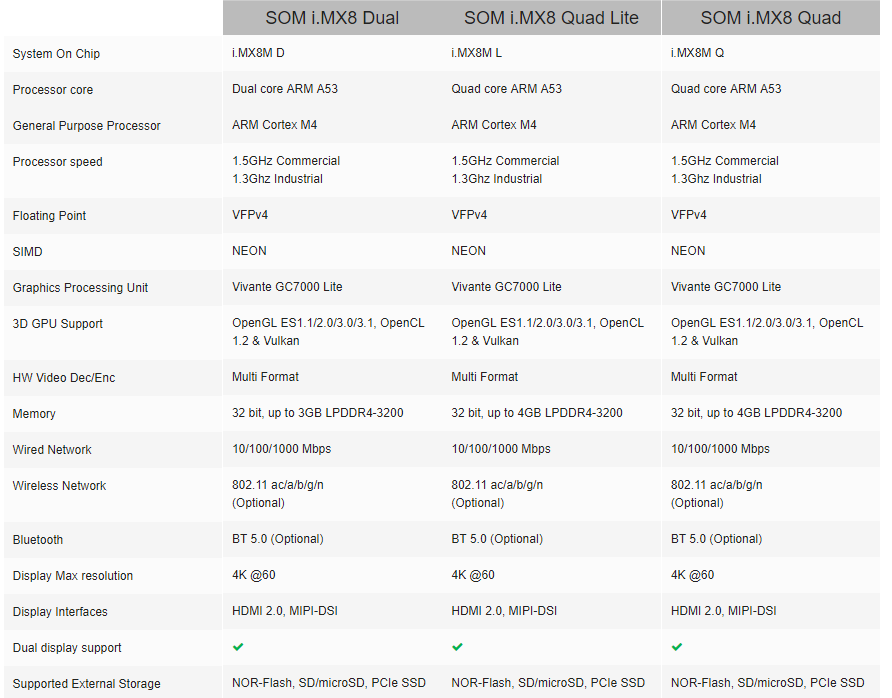 HummingBoard Pulse
The HummingBoard Pulse is released as part of SolidRun's HummingBoard family of SBCs and offers the flexibility and features of the HummingBoard platform paired with the abilities of the i.MX8M processor. The sandwich-style, i.MX8 SOM based HummingBoard Pulse SBC is larger than the original, Raspberry Pi-sized HummingBoard-Pro, which ranked among the earliest open source SBCs on the market.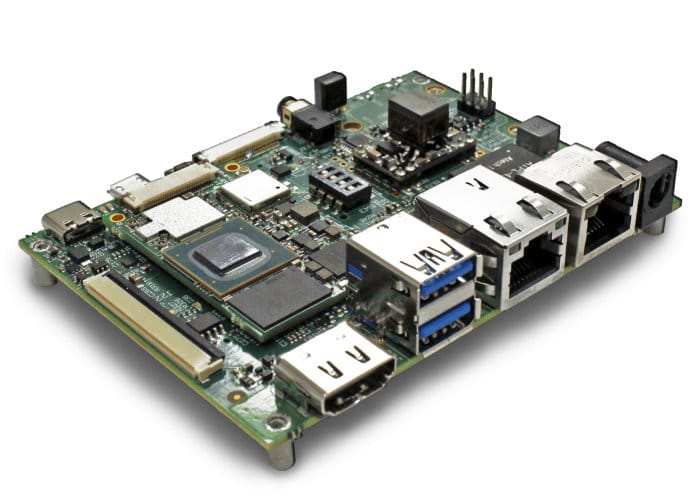 HummingBoard Pulse houses the powerful i.MX8 SOM with either the quad or dual-core ARM Cortex A53 processor configuration. This SBC features up to 4GB LPDDR4 memory, with flexible storage options including eMMC and MicroSD slot. HummingBoard Pulse also offers a range of connectivity options, including USB type C, 2 USB 3.0 ports, Mini PCIe, M.2 and even a SIM card slot. All on a compact ARM-based and energy efficient SBC measuring only 102mm X 69mm.
The HummingBoard is available for purchase here and also comes with different configuration options –
HummingBoard Pulse Dual 1.3GHz NXP i.MX8 with 1GB RAM – $160
HummingBoard Pulse Quad 1.3GHz NXP i.MX8 with 1GB RAM – $170
HummingBoard Pulse Quad 1.3GHz NXP i.MX8 with 2GB RAM – $185
HummingBoard Pulse Quad 1.3GHz NXP i.MX8 with 2GB RAM, 8GB eMMC and WiFi plus BT – $240
They all support 7-36V power input, comes with a standard heatsink, and an optional metal enclosure. Despite the i.MX8 SOM's industrial temperature support, the Pulse is limited to 0 to 70°C.
CuBox Pulse
CuBox Pulse is a powerful and tiny mini PC based on the i.MX8M processor. The mini-PC measured at only 2″ x 2″ x 2″, the same dimensions as older CuBox mini-PCs. The Cubox Pulse will be great for applications in the areas of home entertainment, digital signage and a host of multimedia-center applications as a result of its 4K UltraHD @60Hz, Dolby Vision and full HDR.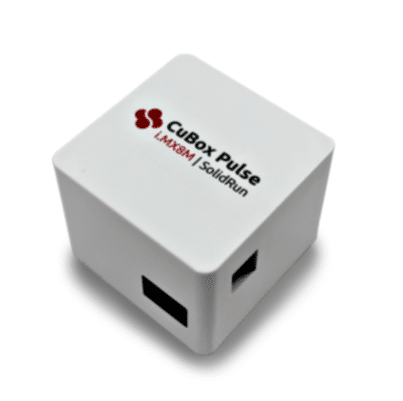 CuBox Pulse will be offered in some configurations based around the i.MX8 Dual, Quad and Quad Lite SOMs. It integrates a microSD slot, 2x USB 3.0 ports, an HDMI 2.0 port, and a GbE port with PoE sink support. There's also a 12V DC input, an RTC, and an IT receiver. The temperature range is 0 to 70°C as seen in the Hummingboard.
The Cubox pulse is available for purchase online in various configurations from $170 to $190. You can choose from the 1GB RAM Dual or 2GB Quad models of the i.MX8 SOM, both with 8GB eMMC and WiFi/Bluetooth.
"NXP's new i.MX8M processor is a true game-changer with enhanced processing and multimedia features," states SolidRun CTO Rabeeh Khoury. "Our new i.MX8 based family harnesses the massive benefits of the new processor, and offers developers a set of modular, flexible and powerful platforms for development or as ready to use solutions." More information can be found in SolidRun's i.MX8 SOM, Hummingboard Pulse, and CuBox Pulse product pages.