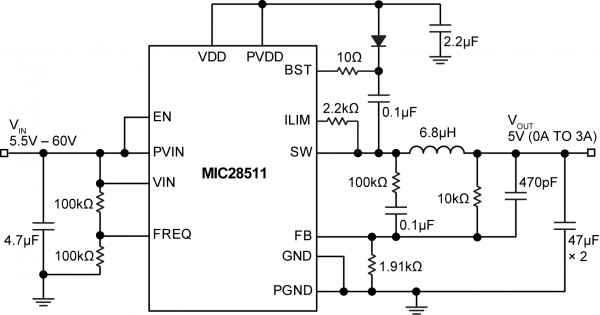 by Susan Nordyk @ edn.com:
A family of pin-compatible synchronous step-down switching regulators with integrated power switches, the MIC28511/12/13 from Micrel, supplies up to 4 A of output current (MIC28513) and accepts a wide input supply range of 4.6 V to 70 V (MIC28512). The devices have an operating junction temperature range of -40°C to +125°C and come in very small 24-pin, 3×4-mm FCQFN packages.

The MIC28511/12/13 regulators are offered in both Hyper Speed Control and HyperLight Load architectures, which allow for high VIN (low VOUT) operation and fast transient response, while reducing the required output capacitance and providing good light-load efficiency. They furnish an adjustable output voltage as low as 0.8 V with guaranteed accuracy to within ±1%.
High-voltage buck regulators stay cool in tiny packages – [Link]