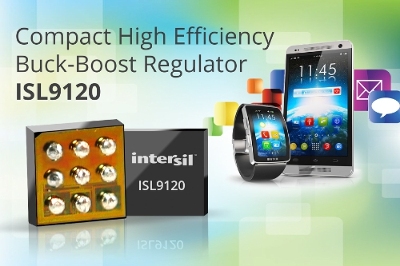 Buck-boost regulator achieves high efficiency
by Susan Nordyk @ edn.com:
Using adaptive current-limit PFM (pulse frequency modulation) control, the ISL9120 switching regulator from Intersil realizes efficiencies of up to 98%, while automatically transitioning between buck and boost modes without significant output disturbance. The part accommodates a wide input voltage range of 1.8 V to 5.5 V and has an adjustable output voltage range of 1 V to 5.2 V for use with multiple power rails. It is capable of delivering up to 800 mA of output current (VIN = 2.5 V, VOUT = 3.3 V).
Buck-boost regulator achieves high efficiency – [Link]