NEC Display Powered by Raspberry Pi
Earlier this month, NEC Display Solutions Europe announced that they are working on a new generation of large-format displays that support the Raspberry Pi compute module, enabling a seamless integration of Raspberry Pi devices with NEC displays.
Originally developed to promote the teaching of basic computer science in schools and developing countries, the first Raspberry Pi delivered good performance at a very low cost. However, the latest Raspberry Pi 3 compute module boasts significant performance and networking capabilities, making it perfect for NEC displays.
Raspberry Pi announced the compute module about two years ago, which is primarily designed for those who are going to create their own PCB. It is a small 67.6x30mm board that fits into the standard DDR2 SODIMM connector, with integrated BCM2835 quad-core 1.2GHz processor, 512MB of RAM, and 4GB eMMC Flash device. The board is no longer a basic computer for coding, but a reliable intelligent device with unlimited possibilities. In addition to the standard Raspberry Pi 3 compute module, NEC will also offer a customized model to meet the specific performance demands of the display industry.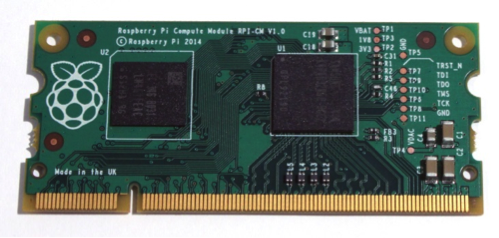 "When we started Raspberry Pi, we had one main goal of helping people learn about computing and how to make things with computers. However, we've been fortunate enough to have sold 10 million Raspberry Pis so far and the commercial success has led to the third generation of a more mature and powerful technology which can be used with NEC's intelligent display. Our work on the Raspberry Pi mini-computers is driven by the huge community of developers whilst NEC's work is driven by industry needs, enabling us to meet the demands of the AV and IT industry. Overall, this collaboration shows NEC's confidence with our ability to provide a platform that can be used in a variety of environments." said Eben Upton, CEO at Raspberry Pi Trading.
The new NEC displays allow easy access to embedded intelligence smartly connected to Internet of Things (IoT) for digital signage as well as presentation use. The elegant design of the displays is suitable for smooth installations in any environment. There's also the chance to customize the screens to individual needs, making the displays more reliable anywhere and anytime.
The displays will be available in January 2017 starting with 40″, 48″, and 55″ models and will eventually scale all the way up to a monstrous 98″ by the end of the year.

"Our strategic initiative to team up with Raspberry Pi is an example of how we continue to ensure that organisations in any sector have the most advanced technology in place to meet their application needs. Our open platform approach provides display intelligence at any time, thanks to our modular and interchangeable design. Integrating the Raspberry Pis with our displays will provide businesses with advanced technology suitable for digital signage, streaming and presenting to enhance the overall visual experience at an affordable price point," said Stefanie Corinth, Senior Vice President Marketing and Business Development at NEC Display Solutions Europe GmbH.
In this video, Thomas Walter – the Head of Product Marketing at NEC, talking more about what's going on behind the screens.