Control AC Voltages Safely And Easily with Sugar Device
Sugar Device is a tool designed to control AC Voltage and it promises to change the way you control AC applications forever.
Sugar team is targeting hobbyists, students, teachers and engineers to push their application to the next level, since it makes AC control easy, safe and compatible with a lot of development platforms. The mechanical case that comes with Sugar is offering protection to users while using AC voltages and preventing any electrical shock resulted by misuse.
You can control AC voltage using Sugar with two different ways: ON-OFF switch, and AC output voltage control. You can power Sugar using the AC C14 cable. This voltage provided is used to power the load connected and the internal circuits. The fuse holder is accessible, you can replace it easily whenever you need.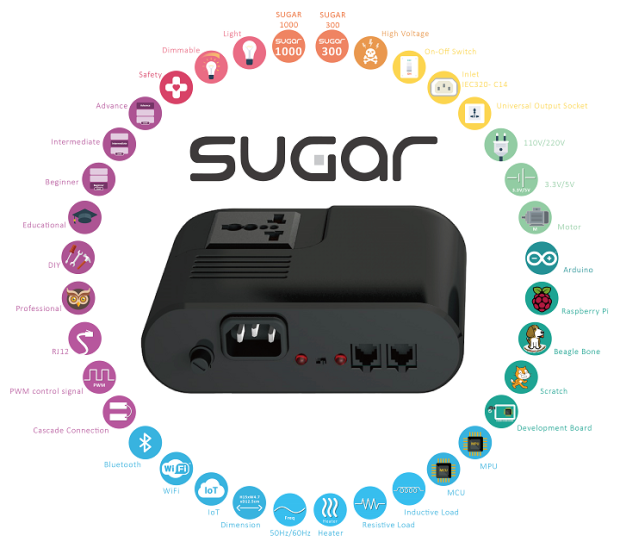 For the output, Sugar is providing a universal output socket to connect your load, and it is compatible with all AC power cable types. Sugar can work with 110V/220V and with 50Hz/60Hz. You can switch between the two options using a switch provided with two indicator LEDs.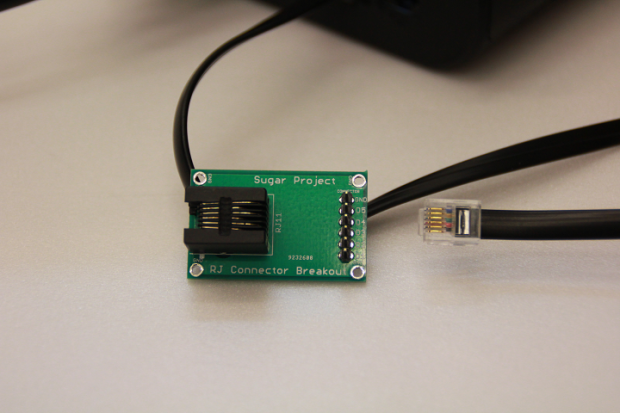 Sugar Device also can be connected with 3.3V and 5V development boards like Arduino, Raspberry Pi, and Beaglebone using the RJ12 cable. Sugar had designed  a RJ Connector breakout to make it possible to connect your board and it will be available in all kits. Controlling the AC loads using your PWM pins and Sugar will be so simple.
This 150x120x47 mm size device supports WiFi and Bluetooth and is IoT ready. For example, ESP8266 can directly control Sugar Device since it has PWM output with Frequency of 1KHz.
Sugar Device comes in two editions: Sugar 300, a white device that control up to 300W, and Sugar 1000, a black one that can control up to 1000W. The second one is offered for hackers and professionals where the first is for newbies.
Sugar Device is now live on a crowdfunding campaign on Indiegogo and still has a month to go. You can pre-order your Sugar 300 with a Power cord C14, RJ12 Cable, Sugar RJ Breakout and two AC fuse for only $49! Check the campaign video for more information.
In this video you can watch Sugar Device in Action, check it out!
Sugar device is the tool you need to expand the scope of your projects and control AC loads safely. Your dream of making your home smart can come true now with the use of this device. This device had came to life due to a cooperation with Fablab dynamic in Taipei, Taiwan. Such a cooperation will make it uncomplicated for makers to produce their own devices. Mohannad Rawashdeh and his team had tested many applications and used different platforms to ensure that Sugar is safe, practical and easy for everyone to use.
"When I was looking  for FabLab in Taiwan, I found FabLab Dynamic. They offered me a free space inside the lab to work and offered me all help I need to find component resources, using machines and instruments and contact with designers I need for my project" – Mohannad Rawashdeh, founder of Sugar Device and an electronics engineer.
You can check the campaign page to know the offers and full specifications. More information are provided on Sugar Device website. Many tutorials are added to this page and source files will be added soon on Github.