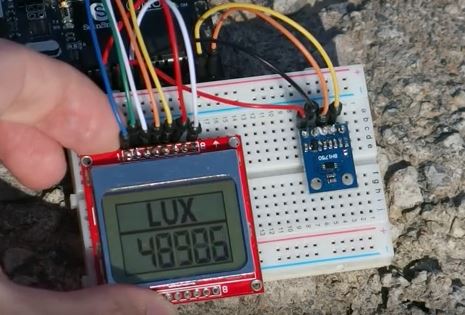 DIY Light (Lux) Meter using BH1750 sensor, Arduino and Nokia 5110
Hi guys, continuing on our recent path of building really cool stuffs based on the Nokia 5110 LCD display, today we will be building a DIY Lux (or light) meter using the highly sensitive BH1750 light sensor.
In photometry, illuminance is the total luminous flux incident on a surface, per unit area. It is a measure of how much the incident light illuminates the surface, wavelength-weighted by the luminosity function to correlate with human brightness perception. Similarly, luminous emittance is the luminous flux per unit area emitted from a surface. Luminous emittance is also known as luminous exitance.
Lux is a measurement of the overall intensity of light within an environment for any given area or distance from the source or lux is the amount of light in an environment perceived by the human eye. The Lux meter is thus, a device used to measure the light intensity within an environment and its exactly what we will be building during this tutorial.
DIY Light (Lux) Meter using BH1750 sensor, Arduino and Nokia 5110 – [Link]