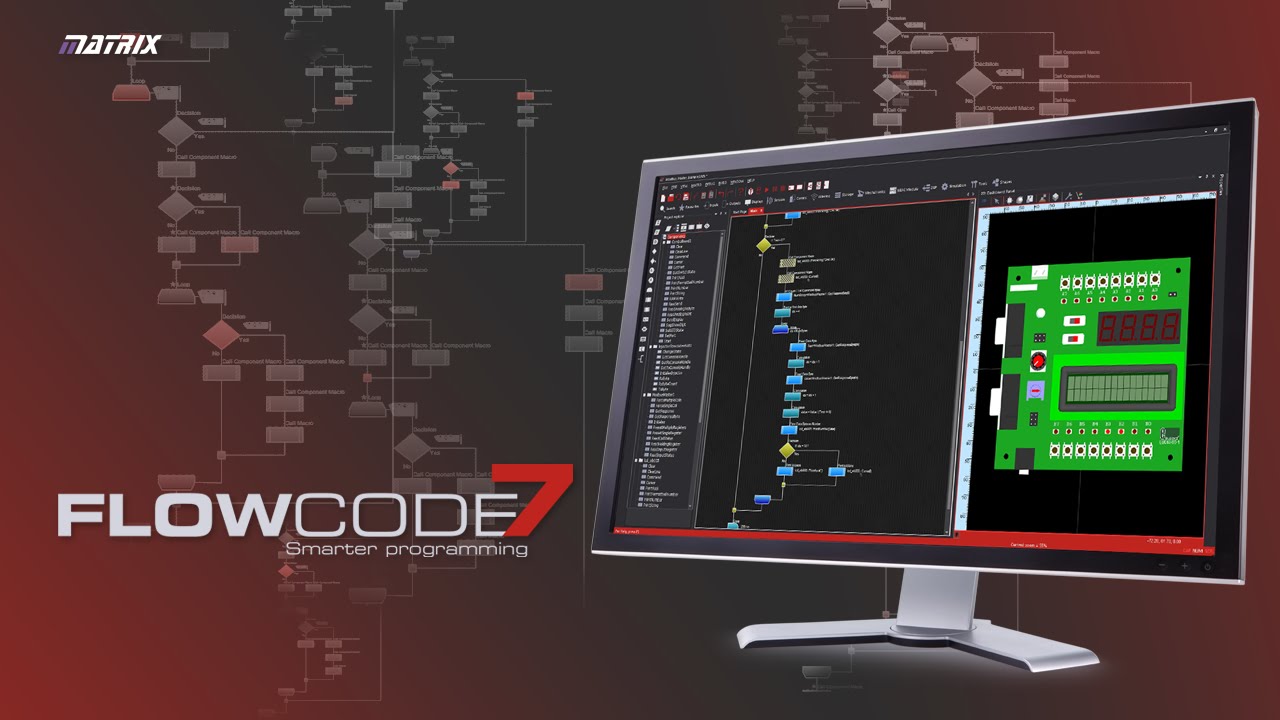 Matrix Technology Solutions Ltd. is a premier, global provider of technology solutions. Since 1993, Matrix's team of skilled Engineers have developed a wide range of Educational, Industrial and Hobbyist focused products simplifying subject matter including Electronics, Electricity, Programming, Robotics, Mechatronics, Technology and Computer Science.
One of the amazing products by Matrix Technology Solutions is Flowcode! Flowcode is an advanced integrated development environment (IDE) for electronic and electromechanical system development. Engineers – both professional and academic use Flowcode to develop systems for control and measurement based on microcontrollers or on rugged industrial interfaces using Windows compatible personal computers.
This video will give you a glimpse into what to expect from Flowcode:
Flowcode version 7 has some new developments which provide a fast and effective way to write complex projects for embedded systems. Flowcode is now launching a free version which will be a good tool for learning programming and developing applications at home or for prototyping designs. But it is not licenced for commercial or educational institution use.  In the other hand, Flowcode comes with a flexible licensing structure that can be customized by users' requirements.
Features of Flowcode 7
Simple, flowchart icons: easy to use graphical icons to develop your system, including a feature of customizing your code sections with color for easier navigation.
Fast System development: Flowcode is well-designed to deliver the best development experience for you with minimum, or zero errors.
Ghost Technology: An advanced way of testing and debugging your electronic system. Using Matrix's E-blocks hardware,you can monitor every pin on your microcontroller and monitor and interpret serial data inputs and outputs.
Simulation debugger: to know how much the design goes with your code and it is used to monitor the values and macros called in your system.
Create Simple Designs: Flowcode gives you the ability to create your own 3D designs and test them with other sides of your project.
Pre-developed components: A large set of components are provided to enlarge the scope of your project and it is designed to function perfectly with other components.
Devices support: like E-Blocks, MIAC, Arduino, 8bit-16bit-32bit PIC, Microchip templates and AVR & ARM.
These are not all the features coming with the latest version of Flowcode. You can check this page to learn more, and also check this video to see them in action:
"At Cambridge Regional College we teach students from the BTEC level 2 up to HND. Flowcode has become an essential part of the coursework and fits in extremely well with the syllabus. Flowcode offers our students an overview of microcontroller systems and allows problematic thinking to evolve with microelectronic designs." said Steven Collins from Cambridge Regional College, a leading Centre of Vocational Excellence and one of the UK's largest FE providers of programmes for overseas students . He added: "We believe the Flowcode experience is something students should all have access to for its designing and learning possibilities. The people at Matrix have created something truly amazing and Flowcode cannot be called anything other than a world class product."
Talking about Premium plans, Flowcode has three licenses: Standard User License, Professional User License, and Academic User License. Getting Flowcode 7 AVR/Arduino Chip Pack costs around $100 as per the standard license, where prices rise around $200 while purchasing the professional license. Flowcode now is available for pre-ordering, you can check full details and pre-order Flowcode 7 at the buying guide page and the purchasing page. More information can be found at this detailed datasheet.