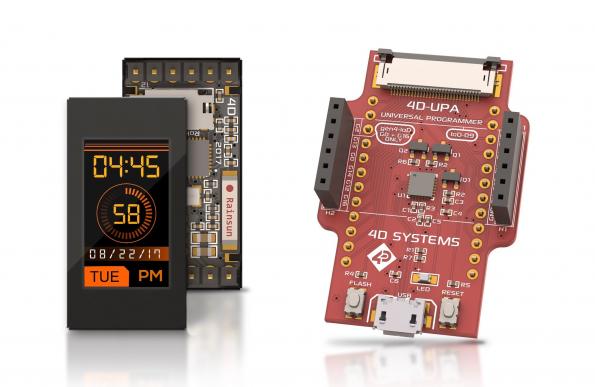 IoD-09, An Intelligent WiFi-Enabled Display Module
4D Systems, the manufacturer of intelligent graphics solutions, has announced a new 0.9" smart display module as part of the 'IoD-09' series. This series is a set of small full-color TFT display modules that feature the Espressif ESP8266 SoC. It also comes with microSD card slot and is compatible with Arduino IDE.
The IoD-09 modules have 6-pin connector at each end, which can connect easily to other applications and boards. It is also suitable for connecting to accessory boards for a range of functionality advancements. The design of these display modules provides a suitable platform for easy integration of displays into a product.
IoD-09 Display Module Specifications:
80 x 160 Resolution, RGB 65K true to life colors, TFT Screen.
Built-in WiFi suitable for 'Internet of things' applications.
802.11 b/g/n/e/i support
Integrated TCP/IP protocol stack
WiFi 2.4 GHz, supporting WPA/WPA2 and WEP/TKIP/AES, along with STA/AP/STA+AP/P2P operation modes
4Mbit (512kb) of Flash memory for User Application Code and Data.
128Kb of SRAM of which 80kb is available for the User.
12 pin/pad interface, for all signals, power, communications, and programming.
Onboard microSD memory card connector for multimedia storage and data logging purposes.
DOS compatible file access (FAT16 or FAT32 format).
Display full-color images, animations, and icons.
4.0V to 5.5V range operation (single supply).
Module dimensions:

(TH version) 31.8 x 16.4 x 11.7mm.
(SM version) 37.0 x 16.4 x 5.9mm.

Weighing: (TH / SM) ~5 g.
RoHS, REACH, and CE compliant.
IoD-09 is also available on two different models, IoD-09TH TFT LCD module with Through Hole interface, and IoD-09SM TFT LCD module with Surface Mount interface. In addition, they can act as master or slave devices, connect to the internet, display a raft information and graphics, along with the capability to communicate to SPI, I2C, and/or 1-wire devices, as well as having general GPIO for digital control/input.
The IoD-09 is compatible with Arduino IDE and the 4D Systems Workshop4 integrated development environment (IDE). Workshop4 provides powerful graphics using the GFXdloIoD09 graphics library specifically for the IoD-09 series through a drag and drop style graphical user interface (GUI).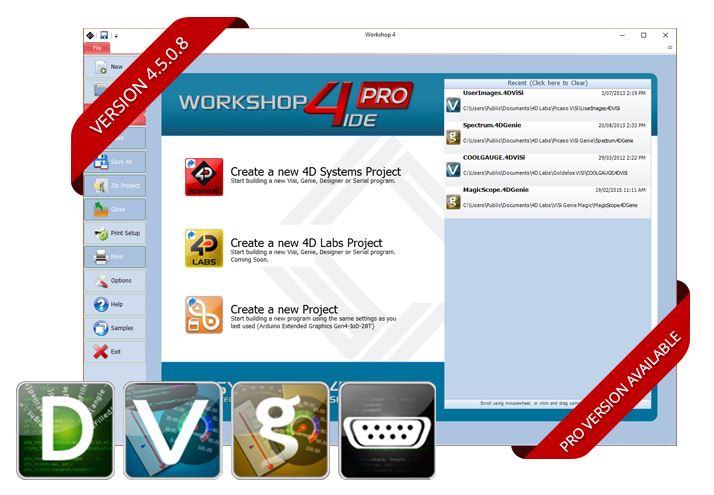 Finally, you can buy the IoD-09 display module for about $20. There is also a starter kit for $40 which includes the module, the 4D-UPA programmer, and a 4GB micro-SD card. For more information, you can visit the official page and download the datasheet.