LDO regulator is qualified for automotive designs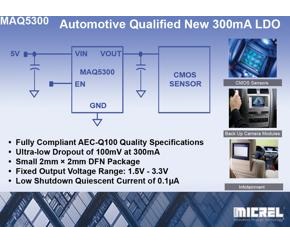 by Susan Nordyk @ edn.com:
Housed in a tiny 2×2-mm, 6-pin DFN package, the MAQ5300 voltage regulator from Micrel boasts a dropout of only 100 mV at 300 mA. The AEC-Q100-qualified part is suitable for space-constrained and high-reliability applications that are subjected to the harsh environments and temperatures commonly encountered in automotive and industrial applications.

The CMOS regulator operates from an input voltage of 2.3 V to 5.5 V, while delivering a guaranteed output current of 300 mA. Fixed output-voltage options include 1.5 V, 1.8 V, 2.5 V, 2.8 V, 2.85 V, 3.0 V, and 3.3 V. Output voltage noise is specified at 120 µV RMS typical. The MAQ5300 also achieves an initial output voltage accuracy of ±2% and ±3% over temperature.
LDO regulator is qualified for automotive designs – [Link]