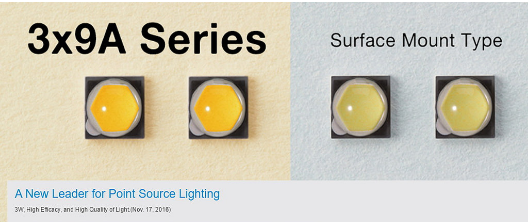 Nichia Corporation, the Japanese chemical engineering and manufacturing company, announced the NVSW319A as a new high-power LED that achieves 164 lm/W at 700mA (5,000K).
The 319A is a 3.5×3.5×2.1 mm size LED which is footprint compatible with the old 3.5mm LEDs. The breakdown is specified at 1,050 mA (~3 W). Nichia planned to start the mass production of this LEDs in the end of December 2016 or in the early January 2017.

"The 319A is a production device, i.e. not one shining brightly deep down in a liquid nitrogen vessel or in the minds of a few theorists at MIT." Nichia say.
A variant with 3000K color temperature is expected to yield 415 lm with a minimum CRI (color rendering index) of 80. This device won't give you much deep red though as its R9 CRI specification is zero.
Source: elektor