PIC16F 28-pin Development Board with LCD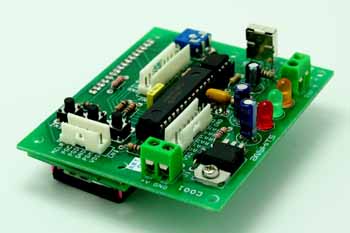 This development board offers various important add-ons which we considered are important to a developer of Microcontroller based project from Microchip.
Features
This board can be used with any of the 16F / 28 Pin PIC ICs compatible with 16F73 MCU. This kit is supplied with a PIC 16F73 MCU for development purposes.
The Clock frequency to the MCU is a 4 Mhz Crystal
This Development Board offers a ICSP connector for easy download of your code onto the MCU. Resistor R1 and Diode D1 Offer protection of Programming voltage interfering with the Supply voltage.
A 16×2 Backlight LCD helps as a displays of data in your project. PR1 controls the Contrast of the LCD.
PIC16F 28-pin Development Board with LCD – [Link]