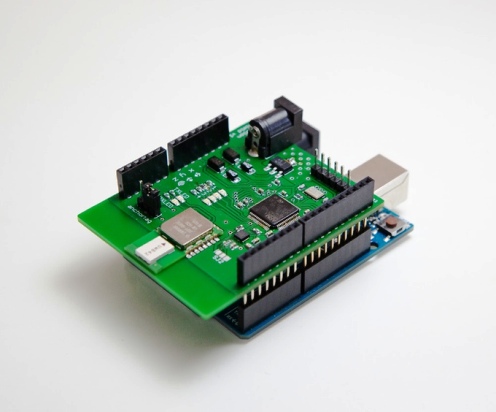 by elektormagazine.com:
Resolving the position of free roaming robots can be quite challenging. You can only expect to get accuracy of around 6 to 10 meters by using a standard low-cost GPS system and that can be further downgraded by poor signal strength inside buildings. Bluetooth and WiFi positioning can achieve 1 to 5 metres resolution but that's often not enough. The Pozyx system has been developed to achieve a positional accuracy of 10 cm and works indoors or outdoors.

Four 'Anchor' transceiver units attach to walls or fences surrounding the space in which the Pozyx Shield operates. Communication between the shield and the four anchors allows the shield to determine its position and orientation within its operational area.
Pozyx shield gives position – [Link]