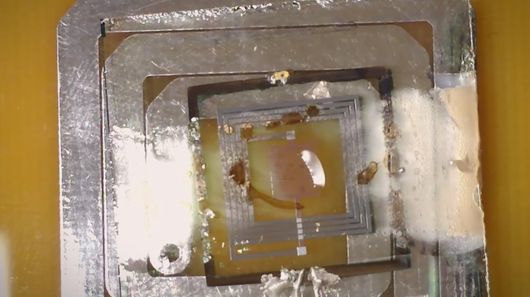 by Darren Quick @ gizmag.com:
Expanding on previous research into electronic devices that dissolve in water once they have reached the end of their useful life, researchers at the University of Illinois have developed a new type of "transient" electronic device that self-destructs in response to heat exposure. The work is aimed at making it easy for materials from devices that usually end up in landfill to be recycled or dissolved completely.

The research involved a group led by aerospace engineering professor Scott R. White teaming up with John A. Rogers, who previously led work in the development of transient electronics that biodegrade in water. These previous devices dissolved in water after a predetermined period of time, which was related to the thickness of outer protective layers encapsulating the actual electronics. But using heat as a trigger has now enabled the creation of electronic devices that can be prompted to self-destruct on demand.
Things heat up for self-destructing electronic devices – [Link]