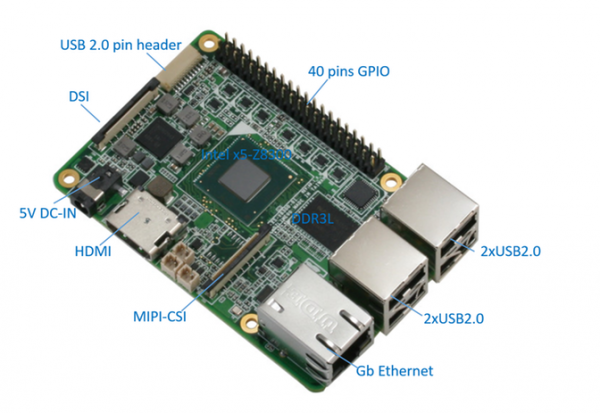 UP, the credit card computer board for makers powered by Intel Quad Core Atom X5-8300 1.84GHz, running Linux, Windows 10, and Android
We haven't seen anything like that on the market. We saw plenty of cost effective boards, often powered by RISC technology, and industrial solutions with a wide range of standard form factors, performance and technology but with high prices and poor or absent community support. We tried to merge the best of the two worlds, makers and industrial market. Maybe we were asking for too much. Or maybe not. We put the best x86 low power consumption and high performance technology available today in the market into a credit card size board and created a community to support it.
The answer is UP.

UP is a credit card size board which merges the benefits of Raspberry Pi2, the standard "de facto" of makers with the high performance and low power consumption of latest tablet technology : the Intel Cherry Trail Atom Quad Core x5-Z8300 64 bits up to 1.84GHz ( http://ark.intel.com/products/87383/Intel-Atom-x5-Z8300-Processor-2M-Cache-up-to-1_84-GHz ). Thanks to the 14nm technology, the CPU is rated at only 2W SDP.
UP – Intel x5-Z8300 board in a Raspberry Pi2 form factor – [Link]