Secure and unhackable Internet is a goal of many researchers around the world. This is possible using an invisible quantum physical connections as networking links known as "quantum entanglement". The main challenge is building  large networks that share entangled links with many particles and network nodes, because adding a node will weak the entanglement.
Researchers from Delft and Oxford have successfully found a way to form a strong entangled link. Their solution relays on merging multiple weaker quantum links into one to build a trustworthy quantum network between several quantum nodes.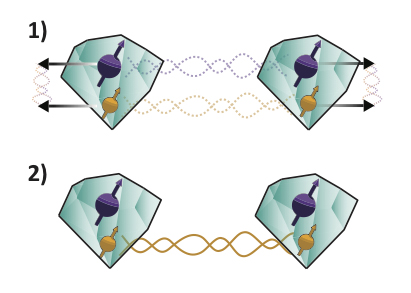 The research group in known for its effort on implementing quantum entanglement to realize networking links. Now, they are working to pave the way for constructing the first quantum internet. They used photons to reach up to one kilometer macroscopic distance of quantum information link. They also show that this type of link is safe because the entanglement is invisible to intermediate parties, and the information is safe against eavesdropping.
We could now entangle electrons in additional quantum nodes such that we can extend the number of networking links towards a first real quantum network. Scientifically, a whole new world opens up. In five years we will connect four Dutch cities in a rudimentary quantum network.
– Ronald Hanson, The research group leader
This video demonstrates the new method and how it works:
The research paper was published in Science magazine, you can read it for more information.