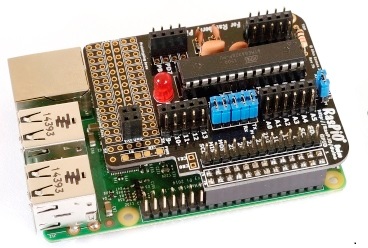 by elektormagazine.com:
After a successful funding campaign on Kickstarter earlier this year the low-cost RasPiO Duino board is now in production and available to purchase. The RasPiO Duino is a small development board with similar functionality to an Arduino Uno. Once it is plugged onto a Raspberry Pi the system forms a complete low-cost Arduino development environment allowing programs to be developed and loaded to the RasPiO Duino. The board can then be unplugged to function independently.

It can also be used to operate interactively with the RPi. The RPi's GPIO ports are broken out on the board as well. A 72-point prototyping area is provided with GND, 3V3 and 5V rails to facilitate the addition of custom circuitry.
The RasPiO Duino – [Link]