Tag Archives: PCB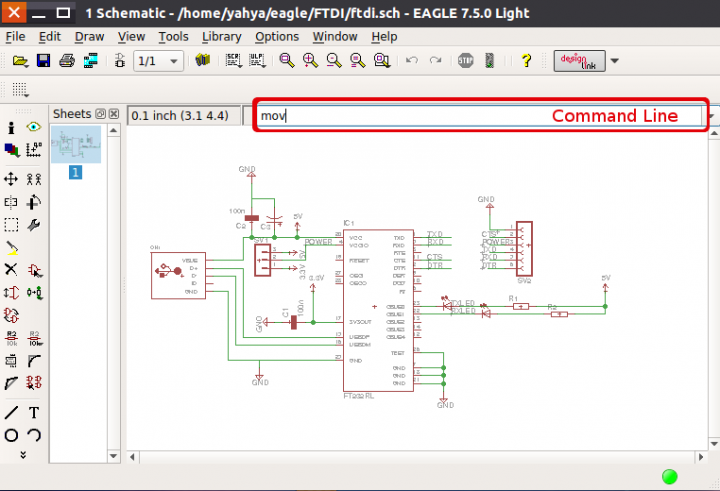 Most hobbyists and many professionals use Eagle CAD as a daily tool in designing schematics and laying out PCB. Yahya Tawil is going to share with us the most important tips and tricks for using Eagle CAD, which make your work much easier and faster.
My advice is to keep one hand on the mouse to do wiring, etc. inside the editor workspace and use the other hand on the keyboard to write commands and select tools. My advice of using the keyboard is not only for selecting tools. You will see the other benefits of using the keyboard in Eagle CAD in the rest of this series.
Eagle CAD Tips and Tricks – [Link]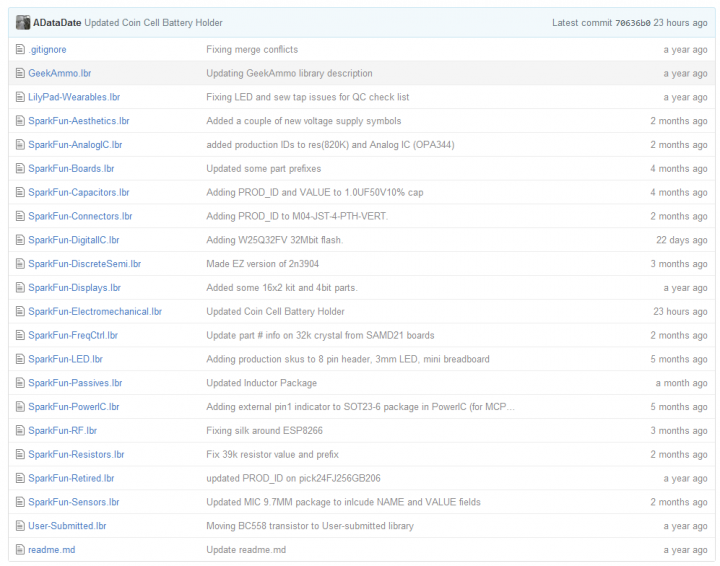 Sparkfun has their own Eagle libraries available on github.com. This is a great resource for new board designs. They also have a guide on how to install the libraries and how to create custom footprints.
This is the complete SparkFun Electronics default foot prints for Eagle 6.0+. We switched to Eagle back in 2006 and have been extremely impressed with its ease of use and flexibility. As with any new software, it's like learning a new language and takes time. Do it. Eagle is great.
SparkFun Electronics Eagle Libraries – [Link]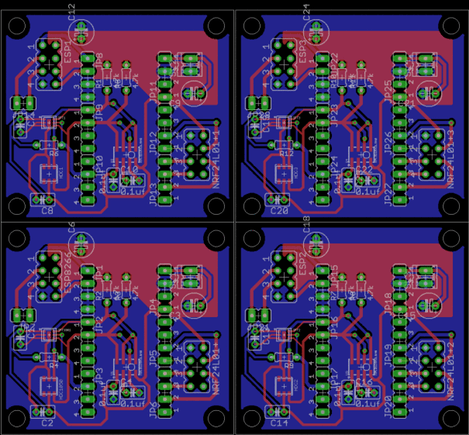 Shantam Raj @ hackster.io discuss about how to panelize PCBs and generate Gerbers on Eagle CAD. In this article he shares his experience and common mistake he made in the process.
I have been working with Eagle for quite some time but never really got a PCB manufactured. almost all the time i used the toner transfer method to make homebrew PCBs. But then i took a project in which i had to use SMD components and i could no longer use toner transfer method because of the limits on resolution of the Laser printer.
Panelizing and Gerber Generation in Eagle – [Link]
Sparkfun has compiled a list of resources about everything you need to design for manufacture an electronic product.
Let's be frank: We've made a lot of mistakes over the years. In the ongoing pursuit of better-designed PCBs, we've dealt with tons of screw-ups, from boards with ill-arranged traces to boards with…no traces at all, actually, and a host of others. Fortunately, by now we feel like we've gotten a pretty solid handle on a largely-error-free design for manufacturing process, and we want to help you avoid some of our past mistakes.
SparkFun's EAGLE resources – [Link]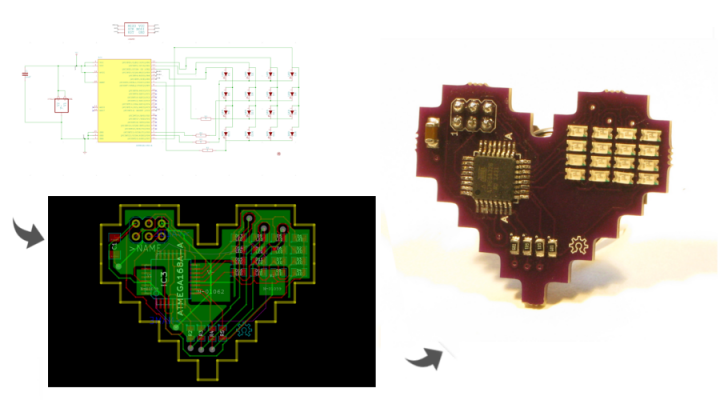 You can find some interesting projects on MeowCAD and one of these is a"8 Bit Heart". MeowCAD is an online, in-browser electronics design tool that's completely free and open source. Use it to create schematics, printed circuit boards, share with your friends or just play around.
At some point, after you design your schematics and boards, you want to submit them to be fabricated. Whether you use MeowCAD or some other tool, the workflow is pretty similar. We live in a pretty amazing time where this can be done for reasonable cost with only a few weeks delay.
Build an 8-Bit Heart with MeowCAD – [Link]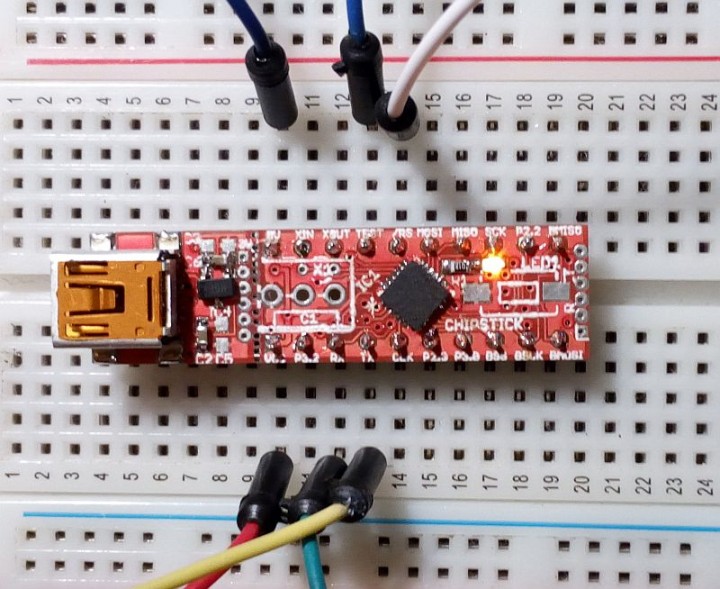 Ken Boak discuss about his ChipStick PCB build:
The ChipStick design has the following features:
MSP430FR2433 with 15.5K FRAM and 4K SRAM
External SRAM or FRAM device connected via SPI on USCI B0
CH340G USB to serial converter IC on detachable section of board
3V3 voltage regulator
Reset Switch and User LED
20 Pin DIL footprint to allow insertion into G2 Launchpad socket
Programmable by SBW or BSL
ChipStick – A small scale experimental Forth machine – [Link]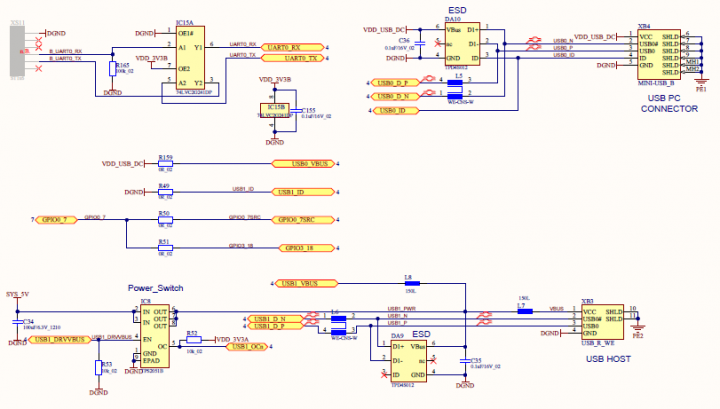 BEAGLECORE™ is licenced under Creative Commons (CC-BY-SA). They have published a ZIP-file containing all relevant information on footprint, schematics, BOM and many more for BEAGLECORE™ BCM1 & BCS1
Miniaturized computer module for industrial or commercial applications covering all core features of BeagleBone Black. Design your own embedded device with this System on a Chip (SOC). Fire up your own baseboard with BeagleCore™ to do cool things like Internet of Things (IoT), Home Servers or Wearable Devices. If you can build it with BeagleBone Black, you can build it smaller, simpler and more efficient with BeagleCore™!
BeagleCore Schematics and Gerbers Released – [Link]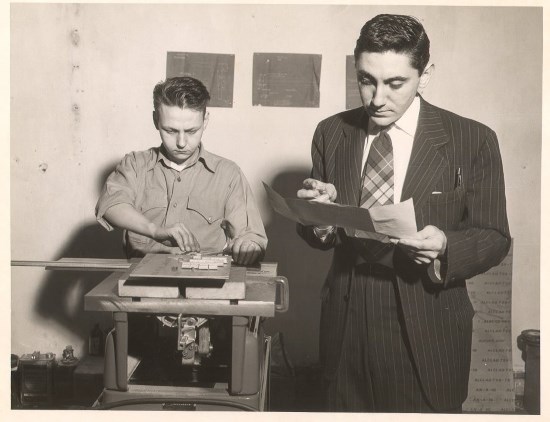 Max Maxfield @ edn.com writes about the famous Gerber format and the history behind it. Gerber format is actually an ASCII vector format that defines copper layers, solder mask, legends on a PCB and it's used by manufacturing companies to produce the actual PCB.
The incredible story behind the Gerber PCB file format – [Link]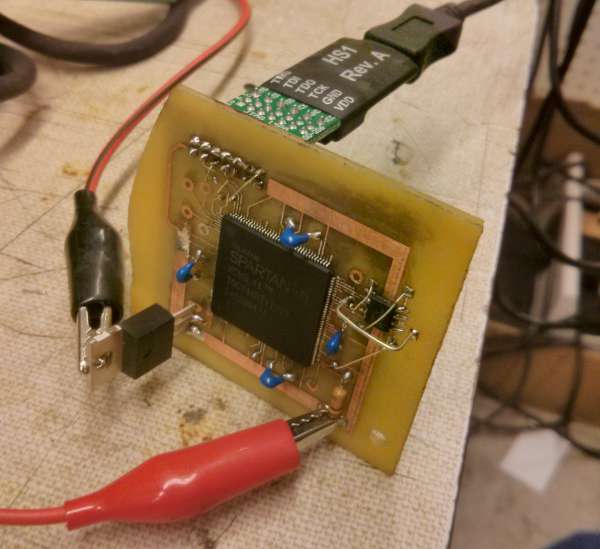 TC-Engineering has documented their efforts to program a Spartan 6 FPGA using a DIY PCB. The hardware part and software are discussed on the link below.
I've been thinking about building stuff with FPGA's for a while, and usually get turned away because FPGA's are considerably harder to implement than microcontrollers since they have no on-chip memory. It is necessary to re-program the gates every time they power up, which requires an external flash memory chip. There aren't great references online for the DIY community, so I figured I'd post how to get this working. Not using dev boards opens a world of opportunities, so I'm a proponent of not using Arduino's and their FPGA equivalent for too long (sure, they're good to get started with, but don't become dependent)
DIY FPGA Programming – [Link]