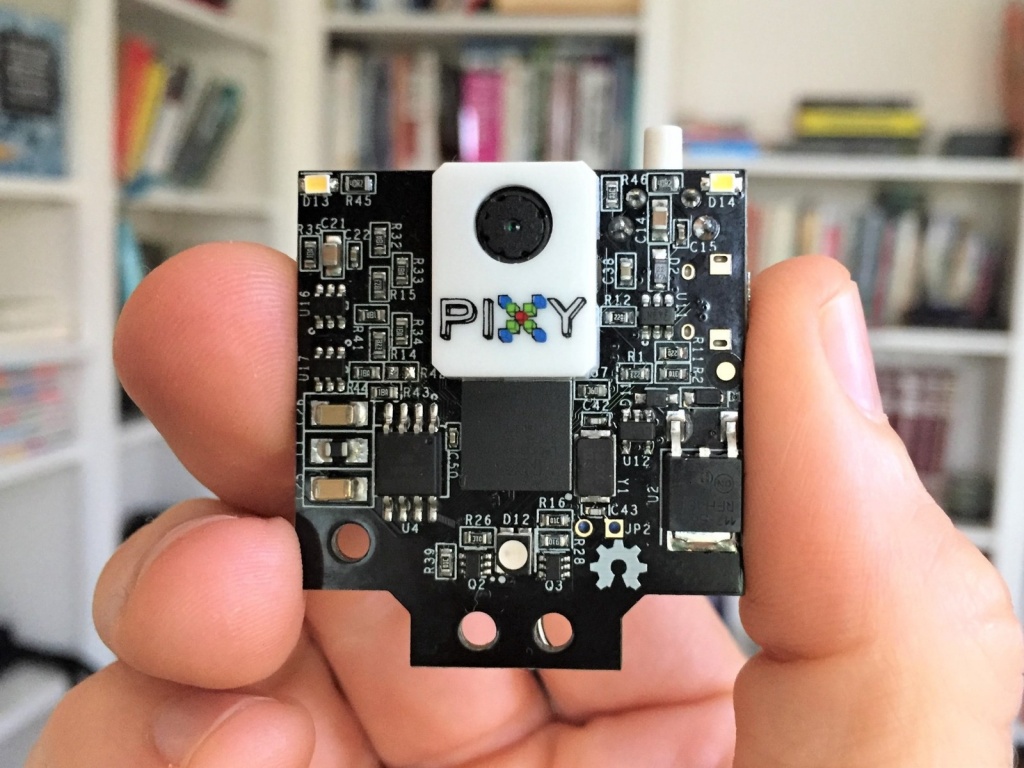 Computer vision started as a way for computers to understand their surroundings, this requires making a computer with a high-level understanding of digital images or videos. A device that performs computer vision needs to acquire, process, and analyze images to extract data from the real world and turn it into numerical information that can be used for something. The main application for this technology has always been artificial intelligence since giving a computer the ability to understand its surroundings (and learn from them) it's a huge step towards decision making which is a fundamental part of AI.
Makers have also started using this type of technology which lead Charmed Labs to create Pixy in 2013. Pixy is a small, easily programmable device used to recognize certain things in its sight. Pixy can be taught objects, and it can also recognize color codes. This year, Pixy 2 was announced, and it can do everything Pixy could plus some additional features.
Pixy 2 has a custom pan tilt mechanism, making it easy to look around. Also, the image processing is now at 60 frames per second. It includes new algorithms for line detection, so it can track lines, and it's now capable of identifying intersections, and reading signals to make decisions. Signals are simple barcodes which can be printed out and can be easily programmed to a certain instruction to be performed at the sight of that specific barcode.
The device includes a cable to plug it directly into the Arduino, or it can be connected to Raspberry PI via USB cable. It can also communicate via SPI, I2C and UART giving the makers a wide range of options to work with. Finally, the new version has a LED light meant to be used in dark spaces.
A lot of projects for Pixy can be found on the internet, and with the new additions that Pixy 2 offers, there would soon be a lot of applications for this device too. Pixy 2 is smaller, faster, and smarter. As a result, makers will find creative ways to exploit these characteristics in their projects. Finally, Pixy can also be used with Lego Mindstorms (NXT and EV3).
The first Pixy was launched on Kickstarter, but Pixy 2 is not crowdfunding, and its already available to be bought on Amazon or on its official website.