Tag Archives: Shield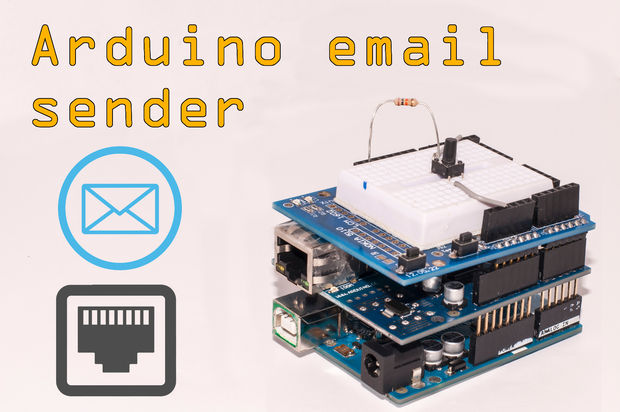 by Matej Blagšič @ instructables.com:
My father asked me to do a little project with Arduino that would send an e-mail when a push button is pressed or anything, can be based on temperature reading, so make sure you watch my previous instructable on that or to send that something has closed up on the distance sensor. Be sure to watch those tutorials on my profile.
Arduino Email Sender with Ethernet adapter/shield – [Link]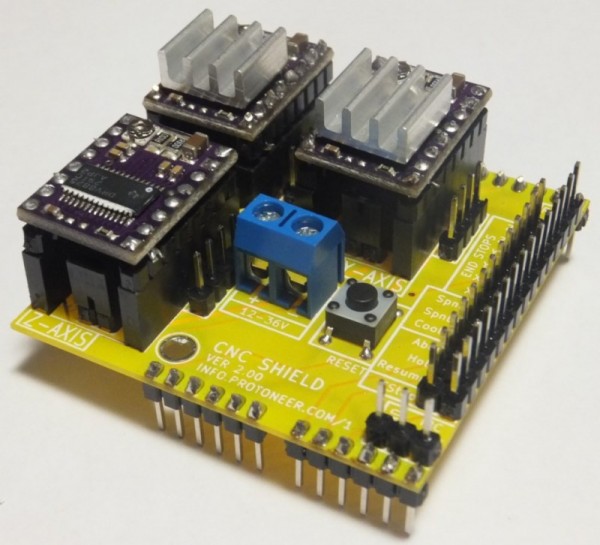 by protoneer.co.nz:
We have designed the Arduino CNC Shield to use all the pins that GRBL implemented. We have also added a few extra pins to make things a little easier. GRBL is opensource software that runs on an Arduino Uno that takes G-Code commands via Serial and turns the commands into motor signals. Now compatible with Raspberry PI.
Arduino CNC Shield – 100% GRBL Compatable – [Link]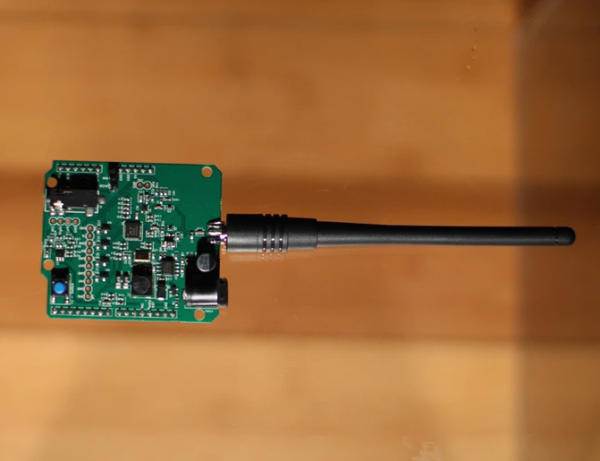 HamShield lets your Arduino talk to far away people and things using amateur radio bands (Coverage: 136-170MHz, 200-260MHz, 400-520MHz)
HamShield lets your Arduino talk to far away people and things using powerful amateur radio bands! Best of all, the hardware and software is open source!

With the power of Arduino, you can use the HamShield to build and invent amazing things in minutes!
HamShield for Arduino (VHF/UHF transceiver) – [Link]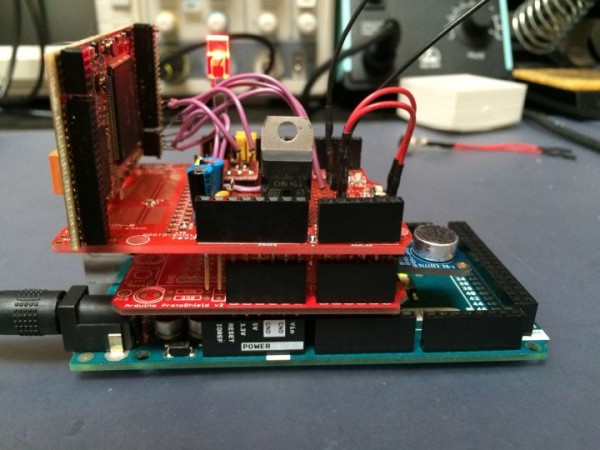 MOVI is an offline speech recognizer and voice synthesizer that adds voice control functionality to any Arduino project
MOVI stands for My Own Voice Interface! It is the first standalone speech recognizer and voice synthesizer for Arduino with full English sentence capability:
Up to 200 customizable English sentences.
Speaker independent
Standalone, cloudless and private
Very easy to program

MOVI provides an alternative to buttons, remote controls, or cell phones by letting you use full-sentence voice commands for tasks such as turning devices on and off, entering alarm codes, and carrying on programmed conversations with projects.

MOVI is plug and play! Connect the shield to your Arduino Uno or compatible board, connect an optional speaker, and you're ready to go.
MOVI, a standalone speech recognizer shield for Arduino – [Link]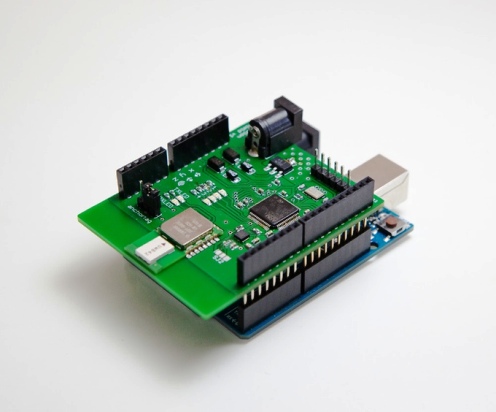 by elektormagazine.com:
Resolving the position of free roaming robots can be quite challenging. You can only expect to get accuracy of around 6 to 10 meters by using a standard low-cost GPS system and that can be further downgraded by poor signal strength inside buildings. Bluetooth and WiFi positioning can achieve 1 to 5 metres resolution but that's often not enough. The Pozyx system has been developed to achieve a positional accuracy of 10 cm and works indoors or outdoors.

Four 'Anchor' transceiver units attach to walls or fences surrounding the space in which the Pozyx Shield operates. Communication between the shield and the four anchors allows the shield to determine its position and orientation within its operational area.
Pozyx shield gives position – [Link]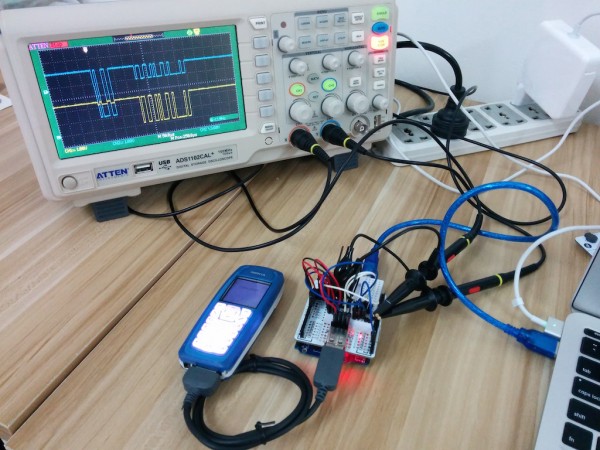 Anyone awake in the early 2000's knows the familiar shape of those candy bar style mobile phones. In the Shenzhen phone markets we see tons of them. Literally, there are tons of these phone passing through the markets every day. Some are resold while others are disassembled for parts and recycled. This is where all those cheap Nokia 3310/5110 LCD shields come from. It's great to see so much reuse and recycling.
Having all these cheap LCDs is nice, but most of the interesting and useful parts are wasted. We saw a fantastic opportunity to save a heap of phones from the recycling bin and save people a pocket full of money. We can make a positive impact on the environment if we reuse some of these phones that we are literally tripping over in the streets. Let's make an Arduino to GSM network bridge for just a few dollars.
Nokia phone Arduino shield – [Link]
StickyBUGs are small, modular boards that enable you to quickly make your own Arduino shield, with no wiring or soldering required!
StickyBUGs are small, modular boards that enable you to very quickly make your own shield, with no wiring or soldering required! Take a handful of stickyBUGs, plug them into the main stickySHIELD and you are ready to go! Full sample and library code is provided. StickyBUGs can be placed in any order, making them the ultimate configurable solution for Arduino development. Now you can create the shield you want that will fit perfectly into your next project. Fast, configurable and low cost make stickyBUGs an ideal addition to any makers toolbox.
StickyBUG – Make Your Own Shields for Arduino – [Link]
Turn your toaster oven into your own solder reflow factory shop using the Reflow Master Shield!!!
The Reflow Master Shield from Paladin Enabling Technologies is an Arduino shield that turns your normal toaster oven into a reflow oven. A reflow oven is used in the production of electronics to change solder paste from a paste form to a liquid form and lastly to a solid form. This results in all your components being soldered for you in one run.

But let me share with you why I've created the Reflow Master Shield and why you would want one.
Reflow Master Shield – Arduino Solder Reflow Oven – [Link]
It's Like a Shield for your Shields! Makes debugging your Arduino projects super fast! by Guido Bonelli Jr @ kickstarter.com:
Do you love Arduino development BUT dread testing your hardware because there is no easy way to attach things like your meter, oscilloscope or probes?

Well fear not, ArduinoNaut, Dr.Duino™ is here to the rescue!
Dr.Duino – Arduino Debugging tool! – [Link]