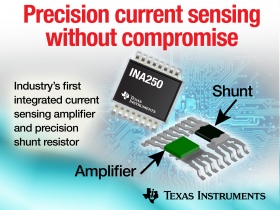 by Graham Prophet @ edn-europe.com:
Texas Instruments says it is making, "high-accuracy measurement more attainable with the first current-sense amplifier to integrate a high-precision, low-drift 2 mΩ shunt resistor," – the device can cut calibration effort, system cost, and footprint for test and measurement, communications load monitoring, and power supplies.

For highly accurate measurements over a wide temperature range, TI's INA250 integrates the shunt resistor with a bi-directional, zero-drift current-sense amplifier to support both low-side and high-side implementations. It enables high-accuracy current measurements at common-mode voltages that can vary from 0 to 36V. The family of devices will be available in four output scales; 200, 500 and 800 mV/A, and 2 V/A; the maximum current through the shunt resistor is 10A at the full rated temperature of 125C, or 15A at up to 85C. Its accuracy and low drift reduce or may even eliminate designers' calibration effort for many systems. This integration also enables lower system cost and a smaller board footprint compared to alternative solutions.
Current-sense amp integrates precision shunt resistor, in single package – [Link]