Tag Archives: Texas Instruments
Texas Instruments has announced the SimpleLink MCU platform, which is transforming the pace of product proliferation by uniting a robust set of hardware, software and tools under a single development environment.
The SimpleLink MCU platform offers a new software development kits (SDKs) based on a shared foundation of drivers, frameworks and libraries to enable scalability with 100% code reuse, which will reduce design time and allow makers to invest once and leverage across multiple products.

Developers will be able to choose from any of the 32-bit wired and wireless ARM-based MCU devices, making their products easily adapted to changing design or application requirements.
Features of SimpleLink SDK:
100 percent code compatibility across SimpleLink MCU portfolio
TI Drivers offers standardized set of functional APIs for integrated peripherals
Integrated TI-RTOS, a robust, intelligent kernel for complete, out-of-the-box development
POSIX-compatible APIs offer flexible OS/kernels support
Encryption-enabled security features
IoT stacks and plugins to add functionality to your design
At the same time, TI also announced a new generation of Wi-Fi chips and modules, the SimpleLink Wi-Fi CC3220 wireless MCU and CC3120 wireless network processor.
The CC3220 features a 80MHz Cortex-M4 application processor, with 256k of RAM and 1Mbyte of flash, and a network processor with a hardware crypto engine. While the CC3220 supports Wi-Fi, the range will be extended in the coming months with devices supporting Bluetooth Low Energy and sub GHz communications, as well as a Bluetooth LE/sub GHz dual band part.
"Developers need to ask what needs to be protected, what they are protecting against and what are the exposure points. The CC3220 provides more than 25 security enablers to handle such aspects as key management and code protection." Mattias Lange, general manager of embedded connectivity solutions, noted.
The SimpleLink platform delivers the most security features, along with the broadest connectivity protocol support and advanced analog integration, combined with the industry's lowest power wireless MCUs. Bringing together all of TI's low-power, connected ARM MCUs, including MSP432™ devices, the platform offers:
Bluetooth® low energy: CC2640R2F and CC2640R2F-Q1 wireless MCUs
Dual-band (Sub-1 GHz and Bluetooth low energy): CC1350 wireless MCU
Host MCU: MSP432 MCU
Sub-1 GHz: CC1310 wireless MCU
Wi-Fi: CC3220 wireless MCU, CC3120 wireless network processor
The CC3220 wireless MCU LaunchPad development kit [CC3220SF-LAUNCHXL] is available for $49.99 and the CC3120 wireless network processor BoosterPack plug-in module [CC3120BOOST] is available for $29.99. The CC3220 will be priced at $4.99 in 1,000-unit quantities.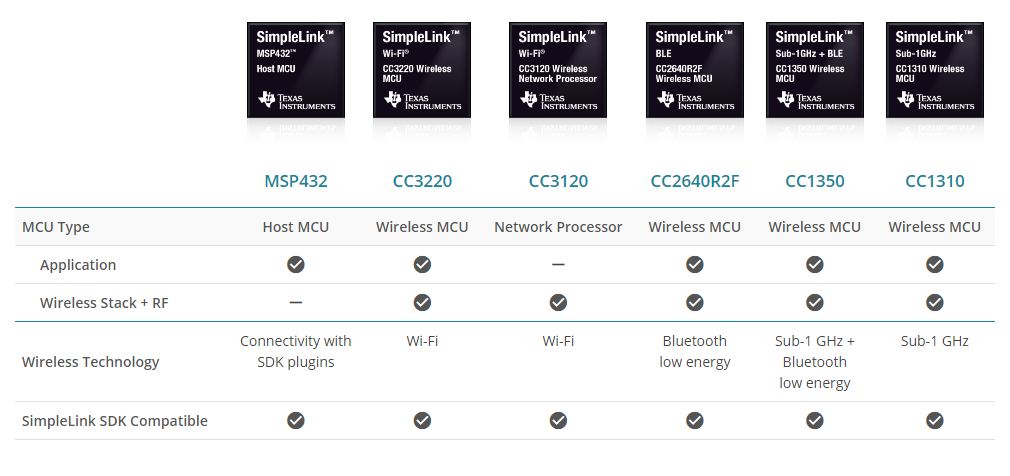 You can learn more details and discover all SimpleLink processors, development kits and tools at the official website.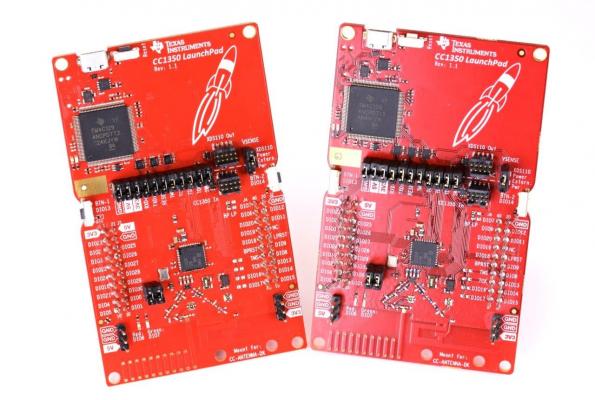 Intended for tasks such as monitoring IoT networks from a handheld device, Texas Instruments' latest series of microcontrollers are single-chip Sub-1 GHz plus Bluetooth low energy ICs. By Graham Prophet @
www.edn-europe.com
As part of TI's pin-to-pin and software compatible SimpleLink ultra-low power platform, the SimpleLink dual-band CC1350 wireless MCU enables developers to move from a three-chip solution to a single chip, while reducing design complexity, saving power, cost and board space. The CC1350 wireless MCU offers a range of up to 20 km on a coin cell battery for building and factory automation, alarm and security, smart grid, asset tracking and wireless sensor network applications.
Ultra-low power, dual-band wireless microcontrollers from TI – [Link]
Texas Instruments "TI" recently announced  FemtoFET series.
There are N-channel MOSFETS like CSD15380F3 and P-channel MOSFETS like CSD25480F3 and CSD23280F3 in this series. These transistors are SMD (Surface Mount Devices) available in a very small package, the land grid array (LGA) package.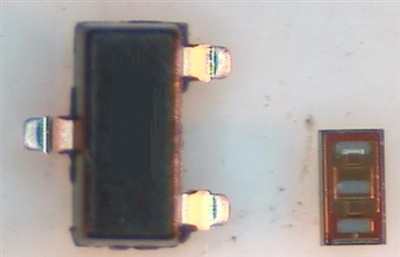 To explore this family we will highlight the FemotoFET MOSFET CSD15380F3. It has a 20V Vds, 990 mohm Rds @ Vgs=8, 500mA maximum Id, 0.5W power dissipation and ultra-small LGA Footprint 0.73 mm × 0.64 mm which make it suitable for many handheld and mobile applications.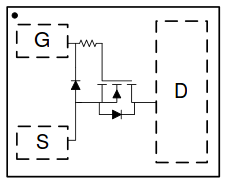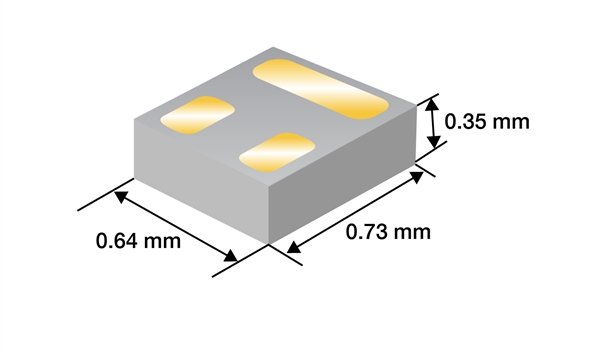 The new MOSFET has Qg = 0.216 nC Ultra-low capacitance and that improves switching speeds in data line applications.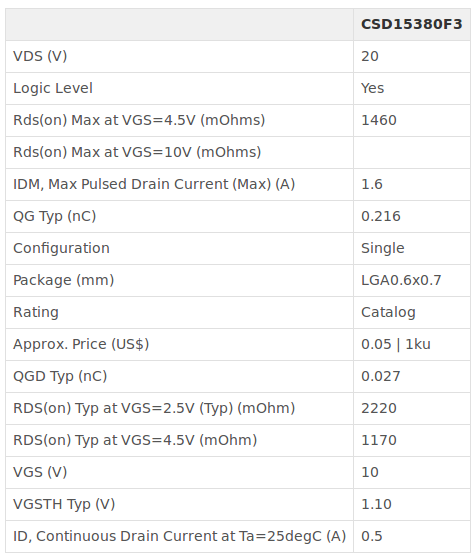 It's available on Mouser for 0.47$ for 1 unit order and 0.05$ for 1,000 unit order and need 6 weeks lead time.
Via: TI E2E Community Blog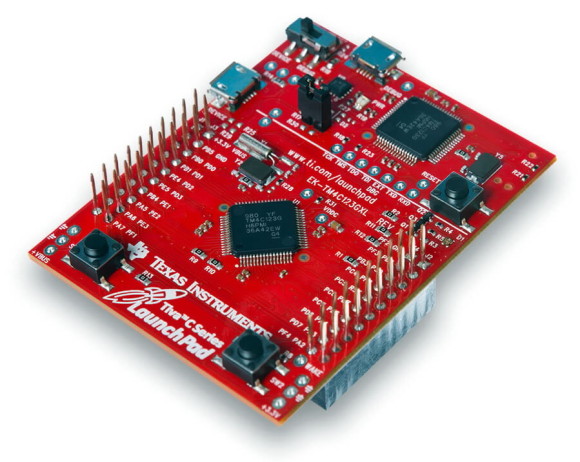 Shawon Shahryiar @ embedded-lab.com introduces us to Tiva C series microcontrollers from TI.
The Tiva C series MCUs are high performance ARM Cortex M4F micros. Now what does that mean? Generally speaking the ARM Cortex M series is meant to be used in place of (or simply replace) regular microcontrollers like PICs and AVRs while the A series and R series are designed for application-specific and real-time purposes respectively. The "4" in the "M4F" means it has all of the features of ARM Cortex-M3 along with additional features like Digital Signal Processing (DSP) extensions. Likewise the "F" indicates the presence of a Floating Point Unit (FPU). Thus Tiva C micros are high-end ARM microcontrollers with DSP and FPU support.
EmbeddedLab introduces us TI's Tiva C MCUs – [Link]