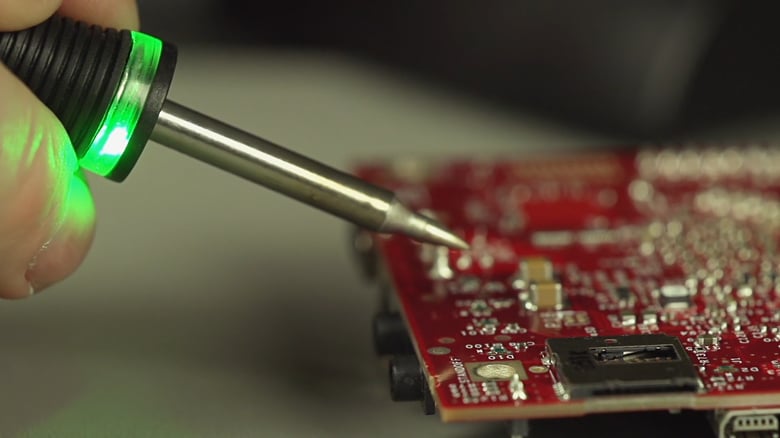 MetCal Connection Validation – The Next Generation of Soldering
Making solid connections between electrical components on a board is an important part of many hardware projects. A good solder joint forms an alloy at the surface of the PCB and the component lead. During soldering, a solder connection on a circuit board can quickly turn into a real nightmare if not caught immediately, ending up with a too thin or too thick solder joint.
Connection Validation is MetCal's latest innovation in hand soldering. It allows you to precisely apply the solder to your components. MetCal Connection Validation is to complement or even replace the standard visual inspection during soldering, where now the soldering iron will do it instead.
MetCal Connection Validation (CV) evaluates the quality of the solder joint by calculating the intermetallic compound formation immediately after the soldering iron's tip is placed on the joint to solder, and it provides closed loop feedback to the operator visually. Connection Validation provides feedback to the operator via the LED light ring integrated into the hand-piece. The Soldering Iron will light up green when the correct intermetallic thickness has formed, and a red light comes on if an error has occurred.
The following are some of the features and benefits of Connection Validation Soldering Station:
SmartHeat Power on Demand Technology
Patented Connection Validation IMC Formation Technology
2.8" color touchscreen with bold graphics
Communications Port for process traceability data and firmware graphics
Precise tip temperature display
Integrated Net Power Meter and power graph
Patented Chip-in-Cartridge technology
Closed loop bi-directional communication
Stores and records cartridge attributes
Provides traceability information
Protects power supply from non-conforming cartridges
Backwards compatible with MX series power supplies
Password protection
Introduced at IPC APEX 2017, MetCal's exciting patent technology was met enthusiastically by contract manufacturers and electronics assembly leaders worldwide.
Subscribe to Blog via Email
Join 97,456 other subscribers
Archives