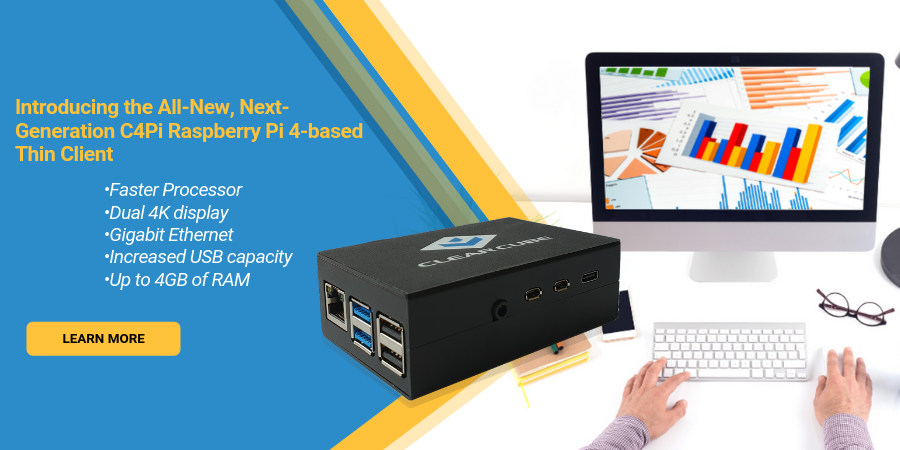 Next-Generation C4Pi Raspberry Pi 4 Thin Client
ClearCube® Technology, Inc. today announced its new "C4Pi Thin Client", the latest addition to the Raspberry Pi-based Thin Client portfolio, will be available just weeks after VMworld® 2019 US in San Francisco, CA. The release will occur in conjunction with the anticipated availability of Raspberry Pi 4 capable updates from major VDI providers. A step up from the previous generation models, the form factor of the Pi 4 includes new functionalities to accommodate more robust features. Upon the C4Pi's release, enterprises will receive notable enhancements in connectivity, memory, processor speed, multimedia, and graphics performance to support everyday workflows. These include a 64-bit quad-core processor that runs at 1.5GHz, USB 3 ports, speedy Gigabit Ethernet, 2.4GHz/5GHz wireless LAN, and PoE enabled capability through a separate PoE hat.
The C4Pi delivers faster boot speeds and considerably better performance for CPU-intensive projects involving emulation, networked AI core, smart home hub, and media center usage. It packs enough power to serve as a substitute for a desktop PC, providing a familiar and complete experience like entry-level x86 PCs in a compact, energy-efficient machine.
"We are the first to introduce yet another technological breakthrough, this time in the form of the C4Pi Raspberry Pi 4. It is yet another testament to how consistently we expand our innovative portfolio of Thin Client solutions that dynamically support virtualization deployments" said Doug Layne, VP of Global Sales. "Designed to maximize IT flexibility, efficiency, and mobility, the Raspberry Pi 4 is suitable for industries such as education, retail, banking, healthcare, and call centers. It facilitates robust connectivity and secure data access in a true, enterprise Thin Client that does not demand active configuration or management, hence easing administrator workload" he added.
The new Pi 4 based Thin Client integrates the ultra-secure Virtual & Cloud Desktop Operating System powered by Stratodesk which offers optimized display and provides VMware connectivity through the Blast Extreme protocol. This facilitates connections back to virtual desktops, terminal services, and backend systems, allowing enterprises to reap the advantages of VDI client computing and management instantaneously.
"Stratodesk NoTouch is already widely known as a highly scalable and cost-effective VDI and IoT endpoint OS and enterprise-grade client management suite," said Silke Telsnig, CMO of Stratodesk. "We are very excited that ClearCube has chosen Stratodesk to power the new C4Pi Raspberry Pi Thin Client, a high-performance and ultra-configurable solution" she added.
Businesses receive ultimate value through the full coverage offered by the versatile C4Pi Thin Client. It incorporates:
Dual 4K displays support via two micro-HDMI ports.
Increased USB capacity consisting of two USB 2 ports and two USB 3 ports enables blazing data-transfer speeds in time and mission-critical deployments.
Enclosed in an official ClearCube-designed metal case, engineered with heat dissipation and maximum ventilation in mind.
Gigabit Ethernet offers fast networking and a PoE HAT add-on powers the device using PoE-enabled networks.
Dual-band 802.11ac wireless networking and Bluetooth 5.0
It is available in three variations, depending on how much RAM administrators require- 1GB, 2GB, or 4GB.
The Raspberry Pi 4 is optimized for desktop virtualization, browser-based applications, and cloud-first business solutions. It charges over the official USB Type C connector which comes with 15.3W maximum power for full transfer of data, audio, and extensive video outputs in all scenarios. Featuring a captive cable, the USB Type-C connector is reversible, which makes it simple for administrators to plug in and play.
For more information, contact ClearCube Technology at www.clearcube.com.
Join 97,426 other subscribers

Archives