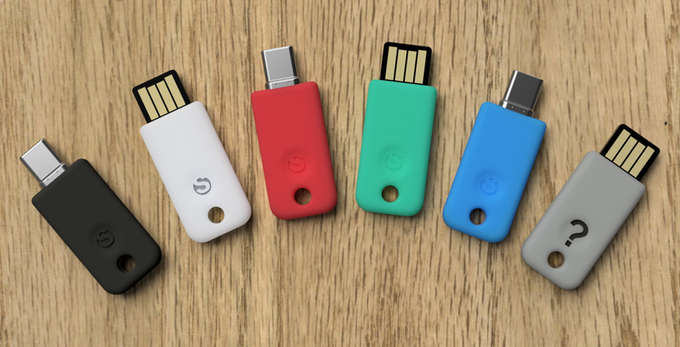 Solo: the first open source FIDO2 security key. USB & NFC
Two security keys for logging in safely online. Protect yourself from phishing and other attacks across Google, Facebook, and more.
We're incredibly excited to announce Solo, the world's first open source security key that supports the newest FIDO2 standard for secure login!

Secure login is for people who want to be protected against phishing, account takeover, and other online attacks – basically for anyone who uses Google, Facebook, Dropbox, Twitter, Github… Let us guess: you're one of these people? Great, then Solo is for you, and will help you stay protected!

In making Solo, our biggest dilemma has been "how can we make secure login more personable and accessible to everyone?" The answer was astonishingly easy: colors! (Though we're still wondering why you can't choose your color when you buy other security keys.) We're going to add colored silicone cases to Solo, starting with black & white cases, and with your support we want to unlock more and more colors. Check back often for updates, and help us reach our stretch goals.
Solo is on Kickstarter until October 28th, and has already exceeded its goal many times over. One USB-only Solo costs $14, and the NFC-enabled Solo Tap costs $29. Solo rewards are expected to ship in December, and Solo Tap rewards ship in February.
Join 97,426 other subscribers

Archives