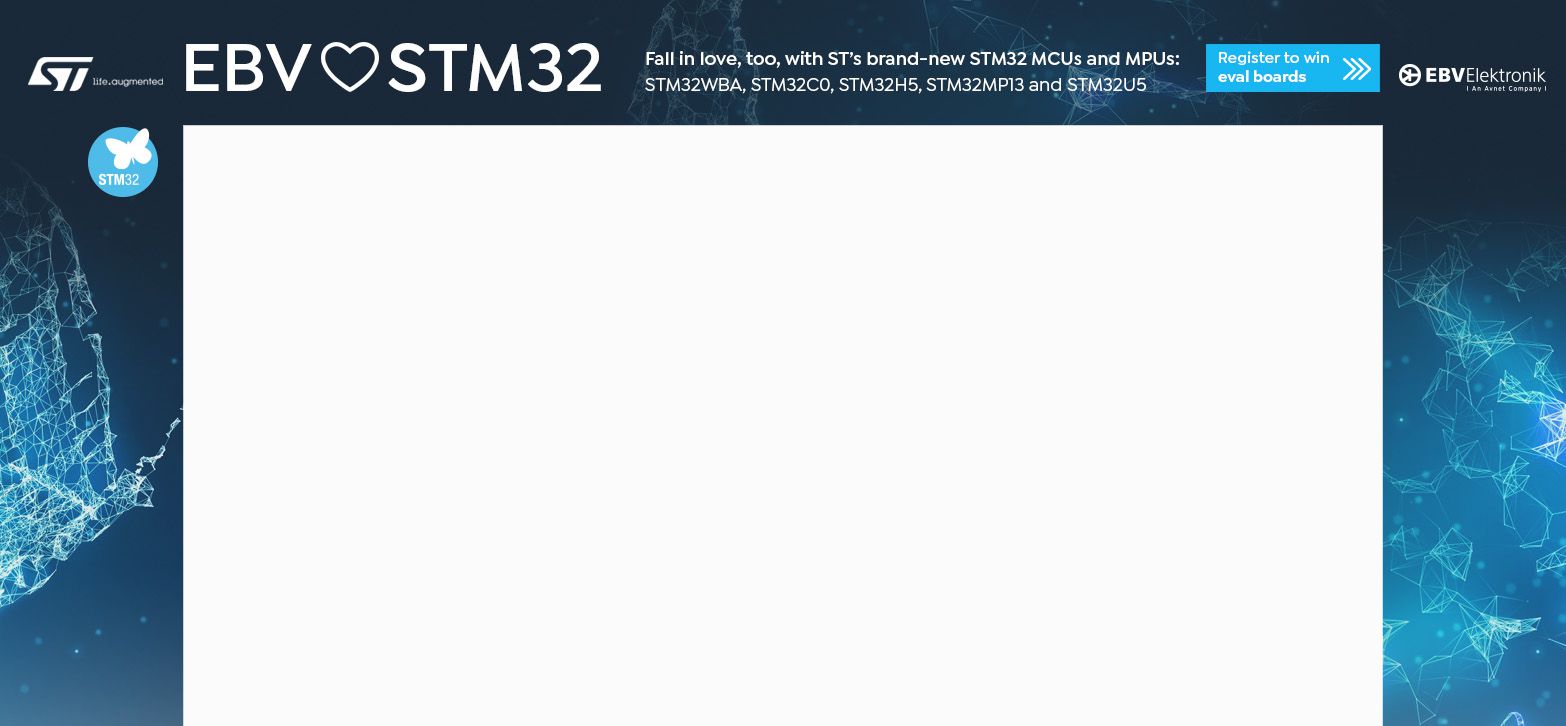 300W Off-line Power Factor Correction (PFC) Boost Converter
Rajkumar Sharma

1.122 Views

medium

Tested

SKU: EL111316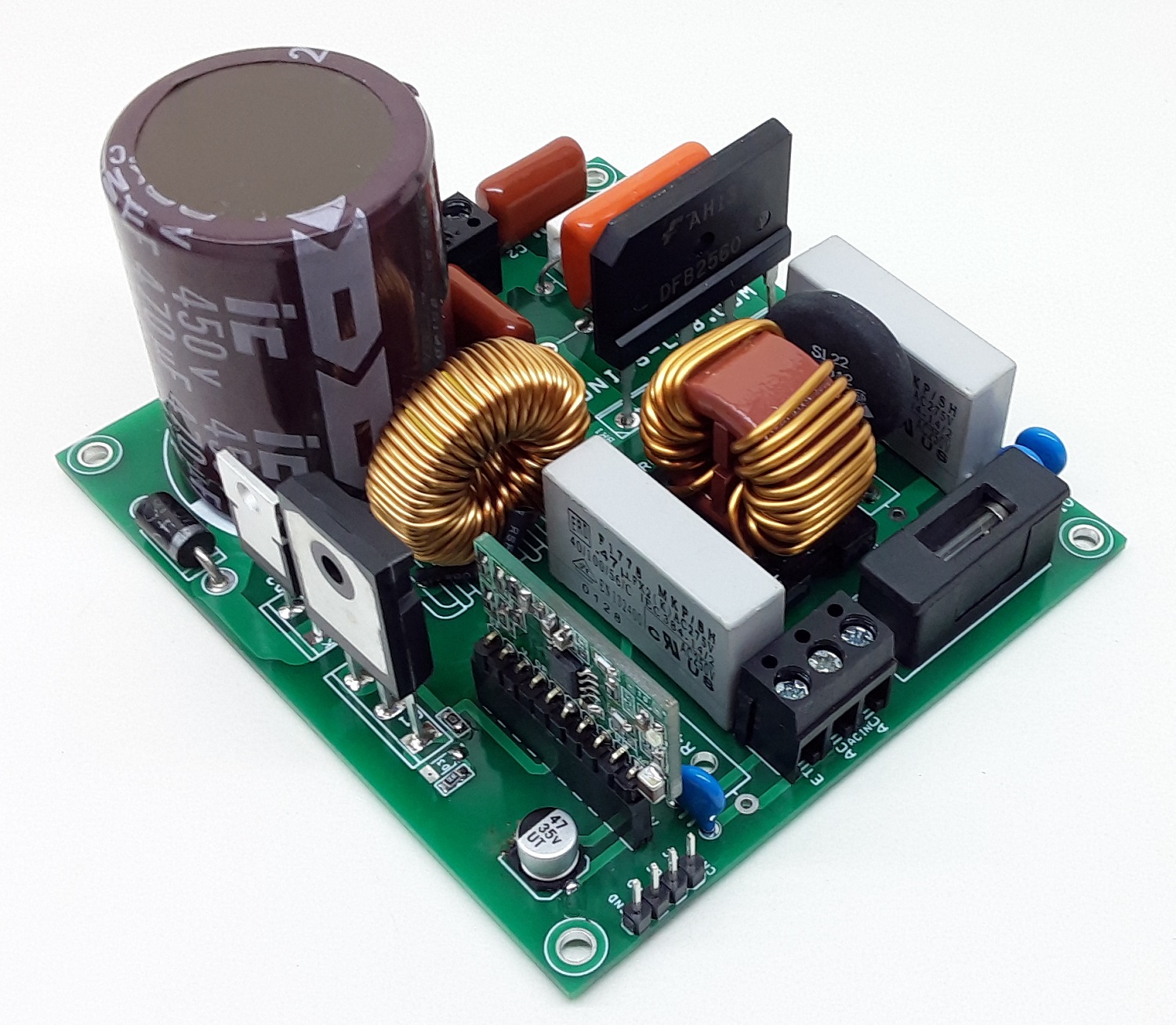 The circuit presented here is a 300W off-line power factor correction (PFC) boost converter providing a nominal regulated output voltage of 375V @ 0.8A of load current. The project accommodates an input voltage range of 85V AC to 265VAC and uses average current mode control at a fixed programmable switching frequency of 116KHz. The project is based on UCCC28180 PFC controller module which incorporates a wide range of protection features to ensure safe system operation. The controller operates under average current mode control at a fixed programmable switching frequency of 116 kHz. Simple external current and voltage loop compensation, along with advanced protection features, make this controller ideal for server and desktop power supplies, industrial power supplies, and white goods. The project includes onboard fuse for short circuit protection, EMI filter, NTC to control inrush current, Bridge rectifier for DC rectification, high voltage/current MOSFET for switching, switching diode, high current inductor, high-value DC bus filter capacitor on the output. This project requires UCC28128 based controller board that can be mounted vertically on the PCB socket.
Heat Sink: Use appropriate heatsink for MOSFET and Switching Diode.
Fan: A fan, capable of 200 LFM to 400 LFM, should be used to maintain component temperatures within safe operating ranges at all times during operation.
Note: This project has 2 blocks, the power board and controller board, information about controller board is available
here
UCCC28180 PFC controller module: https://www.electronics-lab.com/project/programmable-frequency-continuous-conduction-mode-ccm-boost-power-factor-correction-pfc-controller/
More Information about Power factor correction (PFC) is available here:
Safety precautions
The board operates at lethal voltages and has bulk capacitors that store significant charges. Accidental contact can lead to lab equipment damage, personnel injury, and may be fatal. Please be exceptionally careful when probing and handling this board. Always observe normal laboratory precautions.
Features
AC Input Range 85V AC to 265V AC
AC Frequency 47Hz to 63Hz
DC Supply for Logic Circuit 12V DC @ 100mA
300W, 275V DC Output
Average Current Mode PWM Control
Fixed 116Khz Oscillator Frequency
Soft Over Current and Cycle-by-Cycle Peak Current Limiting
VCC Under-Voltage Lockout with Low Start-Up Current
Voltage Regulation Open Loop Detection
Output Over-Voltage Protection with Hysteresis Recovery
Enhanced Dynamic Response
Soft Start
PCB Dimensions 97.89  x 87.63 mm
Schematic


Parts List
| NO | QNTY. | REF. | DESC. | MANUFACTURER | SUPPLIER | SUPPLIER PART NO |
| --- | --- | --- | --- | --- | --- | --- |
| 1 | 1 | BR1 | BRIDGE RECT. 600V 25A | ON SEMI | DIGIKEY | DFB2560-ND |
| 2 | 1 | CN1 | 3 PIN SCREW TERMINAL | PHOENIX | DIGIKEY | 277-1248-ND |
| 3 | 1 | CN2 | 3 PIN SCREW TERMINAL | PHOENIX | DIGIKEY | 277-1248-ND |
| 4 | 1 | CN3 | UCC28128 MODULE | ELECTRONICS-LAB.COM | | |
| 5 | 1 | CN4 | 4 PIN MALE HEADER PITCH 2.54MM | WURTH | DIGIKEY | 732-5317-ND |
| 6 | 2 | C1,C2 | 0.1uF/630V | PANASONIC | DIGIKEY | P12158-ND |
| 7 | 1 | C3 | 470uF/450V | NICHICON | DIGIKEY | 493-3239-ND |
| 8 | 1 | C4 | 0.22uF/630V | NICHICON | DIGIKEY | 493-3661-ND |
| 9 | 2 | C5,C6 | 0.47uF/275VX2 | KEMET | DIGIKEY | 399-12744-ND |
| 10 | 4 | C7,C8,C9,C10 | 4.7K/3KV | TDK | DIGIKEY | 445-175519-ND |
| 11 | 1 | C11 | 47uF/35V | NICHICON | DIGIKEY | 493-9586-2-ND |
| 12 | 1 | D1 | 1N5408 | ON SEMI | DIGIKEY | 1N5408RLGOSTR-ND |
| 13 | 1 | D2 | CVFD20065A | CREE | DIGIKEY | CVFD20065A-ND |
| 14 | 2 | D3,R4 | DNP | | | OMIT |
| 15 | 1 | F1 | FUSE HULDER | WURTH | DIGIKEY | 732-11376-ND |
| 16 | 1 | F1 | FUSE HOLDER CLIP COVER | WURTH | DIGIKEY | 732-11379-ND |
| 17 | 1 | F1 | FUSE | WURTH | DIGIKEY | 507-1270-ND |
| 18 | 1 | L1 | 300uH 5Amp | ABARCON | DIGIKEY | 535-13508-ND |
| 19 | 1 | Q1 | IPW65R095C7XKSA1 | INFINION | DIGIKEY | IPW65R095C7XKSA1-ND |
| 20 | 1 | R1 | 10K 5% SMD SIZE 0805 | MURATA/YAGEO | DIGIKEY | |
| 21 | 1 | R2 | 3.3E 5% SMD SIZE 0805D | MURATA/YAGEO | DIGIKEY | |
| 22 | 1 | R3 | SL22 5R012-B | AMETHERM | DIGIKEY | 570-1268-ND |
| 23 | 1 | R5 | 0.033E 1% 4W | OHMITE | MOUSER | 588-14AFR033E |
| 24 | 1 | T1 | COMMON MODE CHOKE 1MH 10A | WURTH | DIGIKEY | 732-1449-ND |
Connections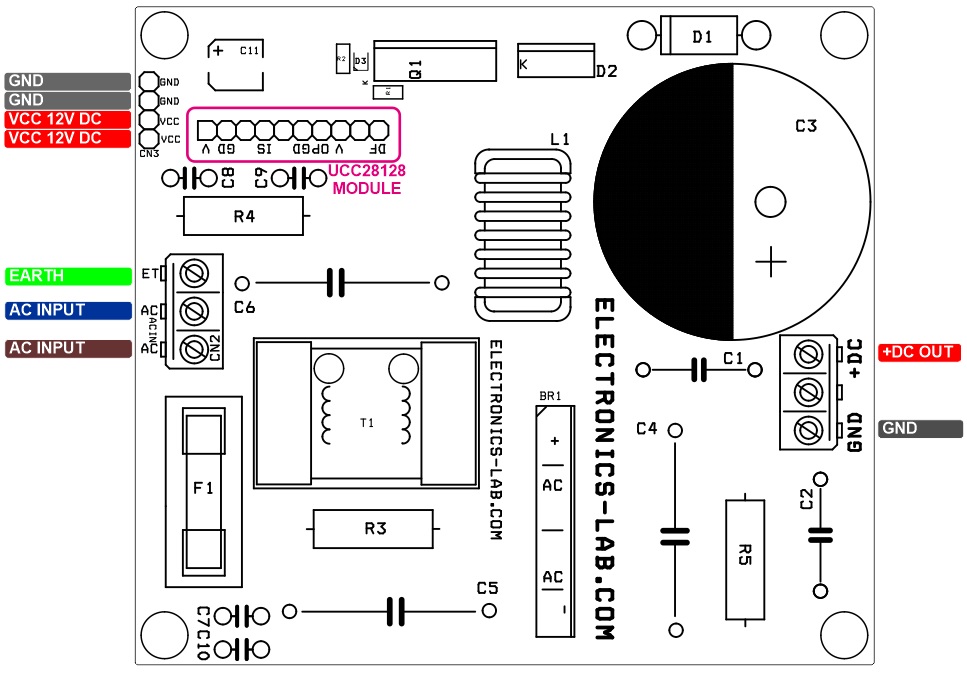 Gerber View
Photos
Video
IPW65R095C7XKSA1 Datasheet