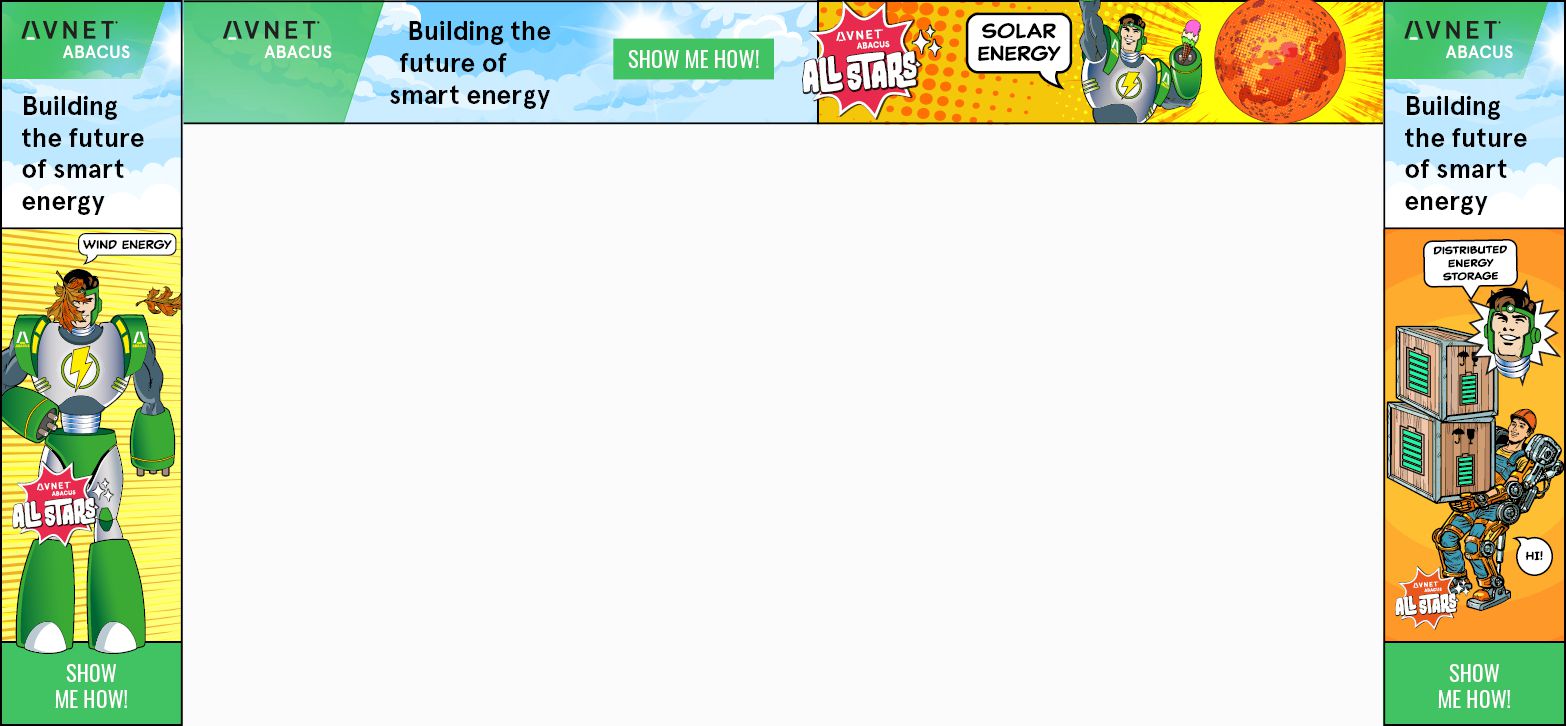 3 Phase AC input – DC Output – High Voltage DC Power Supply (2KW)
Rajkumar Sharma

1.311 Views

moderate

Tested

SKU: EL111213
Although this power supply design is specific to the Intelligent Power Modules (IPM) VFD drives, high voltage boost converters, high voltage battery chargers, etc, the concept and circuit design may be used for any power supply that requires a high voltage output of up to 800V DC and 4 A. Since it is an unregulated power supply the output will depend on AC input voltage. The circuitry includes a passive EMI filter consisting of elements C8, C9, C4, T1, and L1.  Bridge rectifier D1, R1 for inrush current protection, and a relay RL1 for soft powering up and reducing conduction losses in steady-state. 4 x electrolytic capacitors C2, C3, C6, C7 are used for buffering the rectified DC bus voltage, bleeding resistors R1, and R2 provided to discharge the DC bus capacitor after power off. It is advisable to use a heatsink for the bridge rectifier. Inrush current circuit requires 12-15V DC @ 80mA. Choose appropriate fuse as per current requirement. The relay takes care of the inrush current. It is important to switch ON the 12V-15V DC and 3phase power same time.
We have tested this power supply with Input 3 Phase 430V AC, Output 620V DC, Continued Current 5A, but it is advisable to use it at max 3A continued current.
Application: VFD Drives, AC Servo Drivers, High Voltage Battery Chargers, ZVS Drivers, High Voltage Inverters, High Voltage DC-DC Converters
Safety precautions
The board operates at lethal voltages and has bulk capacitors that store significant charges. Accidental contact can lead to lab equipment damage, personnel injury, and may be fatal. Please be exceptionally careful when probing and handling this board. Always observe normal laboratory precautions.
Features
Nominal Input Voltage 3 Phase 100V to 480V AC
Output Depend on input AC Supply
Output Current Continues 3Amps (Maximum 5 Amps)
On Board EMI Filter
On Board High wattage resistor for inrush Current
On Board Relay for soft powering up and reducing Power Losses
On Board Fuse for Short Circuit/Over Current Protection
Screw Terminals (Barrier) for Easy Connections
Logic Supply 12-15V for inrush Control Relay Circuit
PCB dimensions: 206.37 x 75.56 mm
Schematic

Parts List
| NO. | QNTY | REF. | DESC. | MANUFACTURER | SUPPLIER | SUPPLIER PART NO |
| --- | --- | --- | --- | --- | --- | --- |
| 1 | 1 | CN1 | 3 PIN BARRIER STRIP PITCH 9.5MM | ON SHORE TECH | DIGIKEY | ED2972-ND |
| 2 | 1 | CN2 | 4 PIN BARRIER STRIP PITCH 9.5MM | ON SHORE TECH | DIGIKEY | ED2973-ND |
| 3 | 1 | CN3 | 4 MALE HEADER PITCH 2.54MM | WURTH | DIGIKEY | 732-5317-ND |
| 4 | 3 | C1,C4,C5 | 0.1uF/1KV | KEMET | DIGIKEY | 399-PHE450PD6100JR06L2-ND |
| 5 | 4 | C2,C3,C6,C7 | 470uF/450V | RUBYCON | DIGIKEY | 1189-1975-ND |
| 6 | 2 | C8,C9 | 4.7KPF/3KV | TDK | DIGIKEY | 445-181053-ND |
| 7 | 2 | C10,C11 | 10uF/25V | NICHICON | DIGIKEY | 493-5953-ND |
| | 1 | D1 | GUO40-12NO1 | IXYS | DIGIKEY | GUO40-12NO1-ND |
| | 2 | D2,D3 | 1N4007 | DIODE INCORP | DIGIKEY | S1MBDITR-ND |
| | 1 | F1 | COVER FUSE | KEYSTONE | DIGIKEY | 36-3576C-ND |
| | 1 | F1 | FUSE | KEYSTONE | DIGIKEY | 36-3576-ND |
| | 1 | F1 | FUSE | LITTILE FUSE | DIGIKEY | 0FLQ015.HXR-ND |
| | 1 | L1 | 220uH/7.1A | WURTH | DIGIKEY | 732-2285-ND |
| | 1 | Q1 | BC817 | NEXPERIA | DIGIKEY | 1727-2919-1-ND |
| | 1 | RL1 | Relay 12V | TE | DIGIKEY | PB2355-ND |
| | 1 | R1 | 100E/10W | VISHAY | DIGIKEY | MRA12-100-ND |
| | 2 | R2,R3 | 270K/3W | VISHAY | DIGIKEY | BC270KW-3JCT-ND |
| | 1 | R4 | 10K 5% SMD SIZE 0805 | MURATA/YAGEO | DIGIKEY | |
| | 1 | R5 | 1K 5% SMD SIZE 0805 | MURATA/YAGEO | DIGIKEY | |
| | 1 | T1 | 1MH 10A COMMON MODE CHOKE | WURTH | DIGIKEY | 732-1449-ND |
Connections

Block Diagram

Gerber View
Photos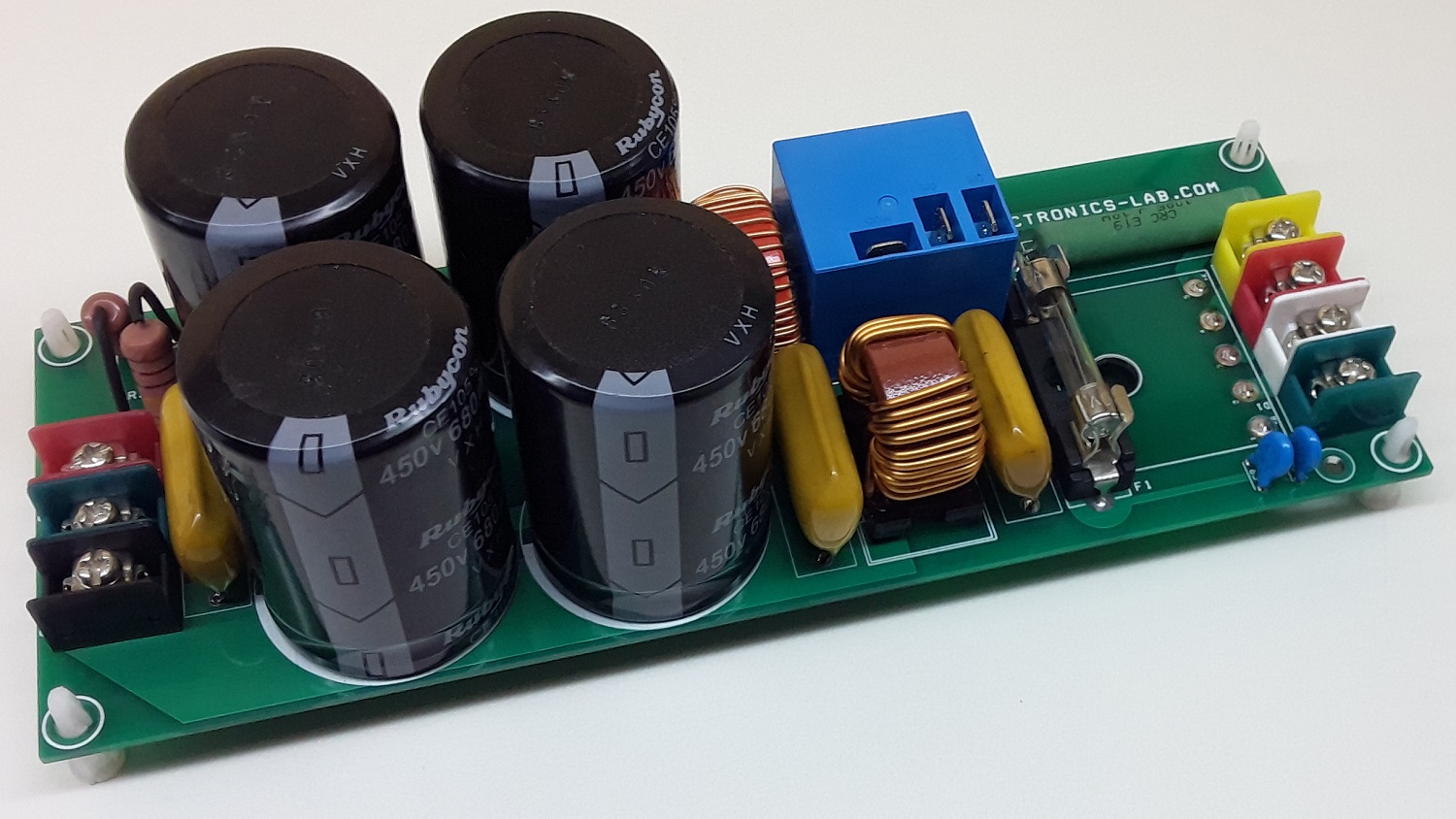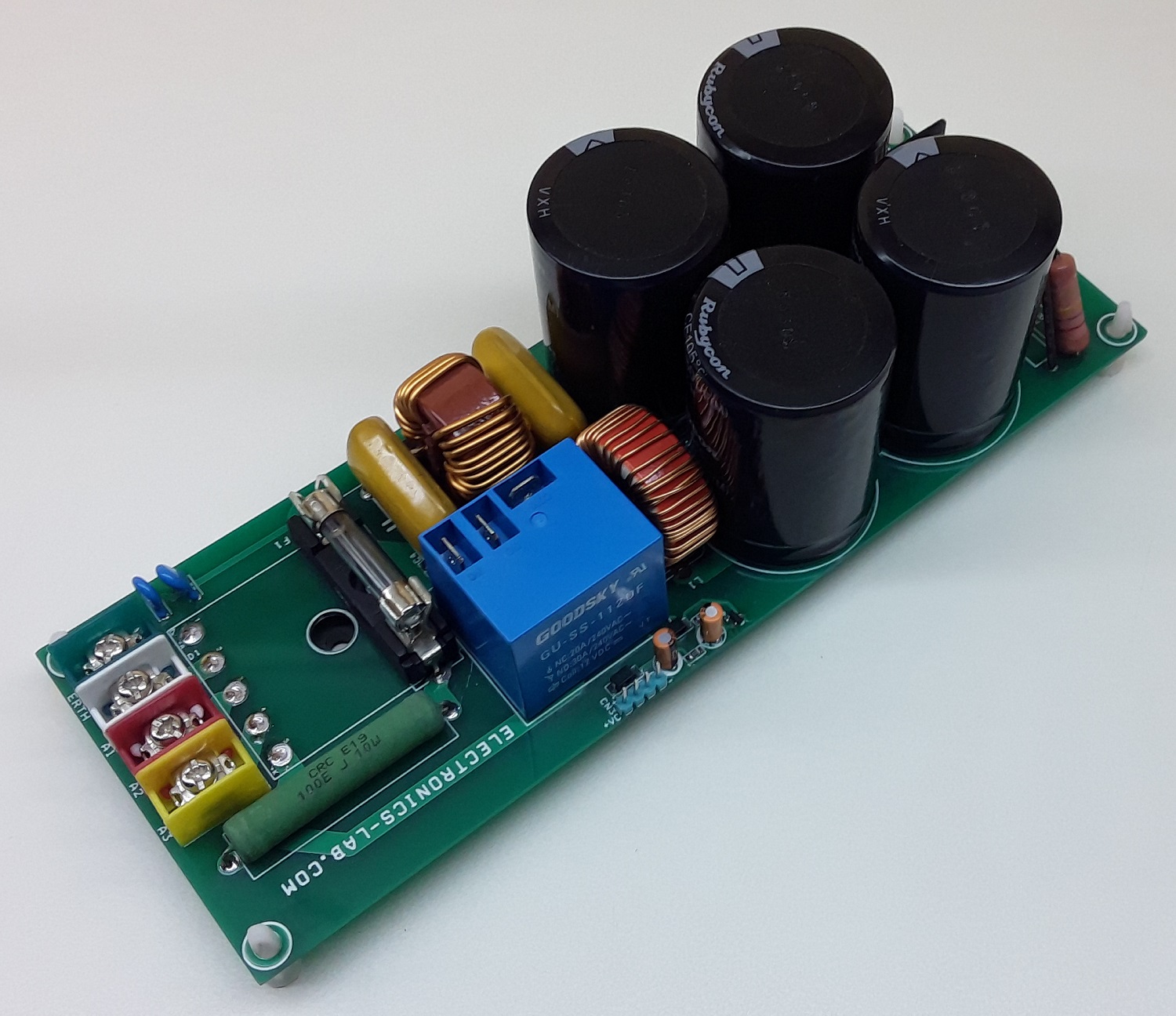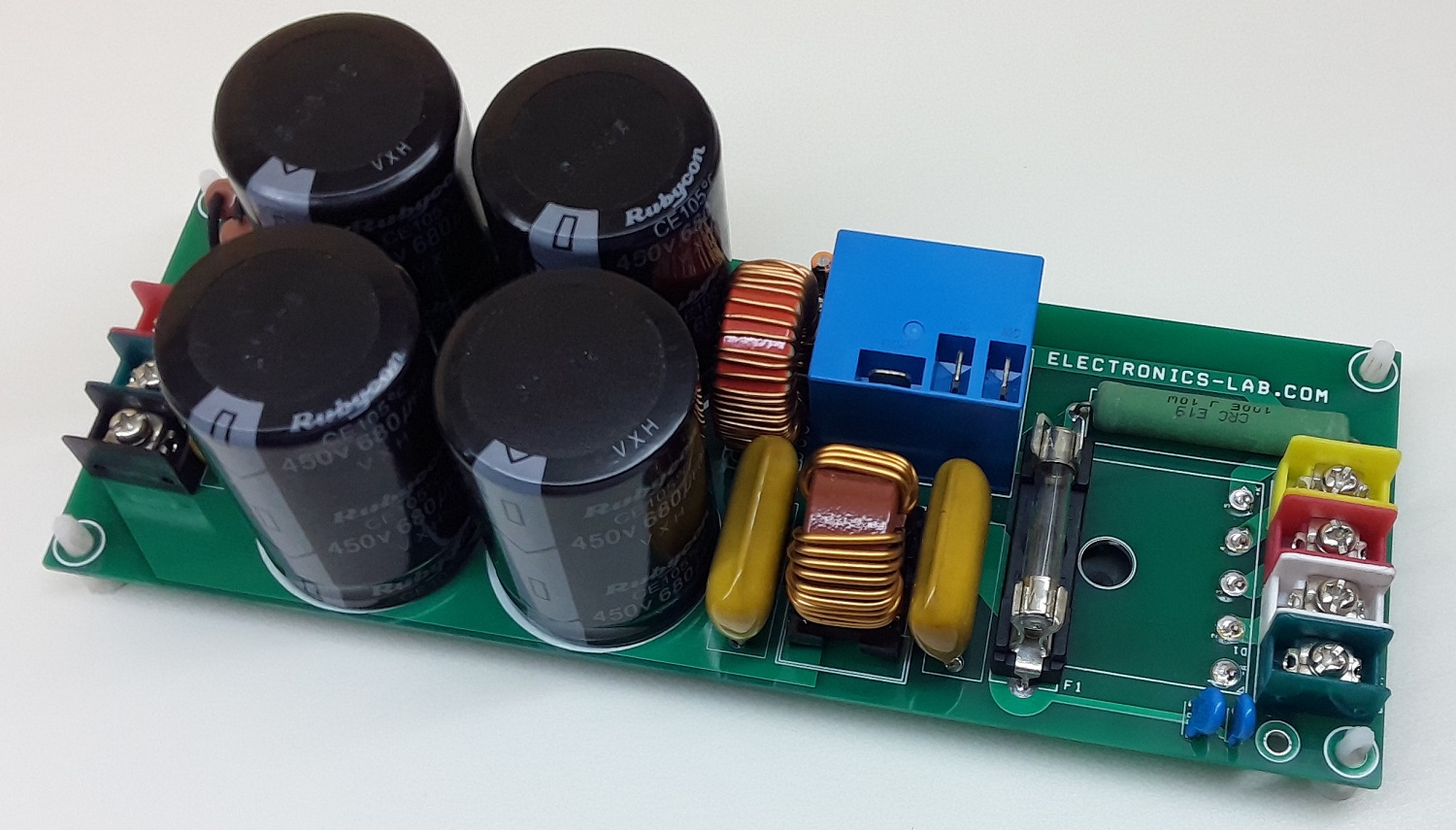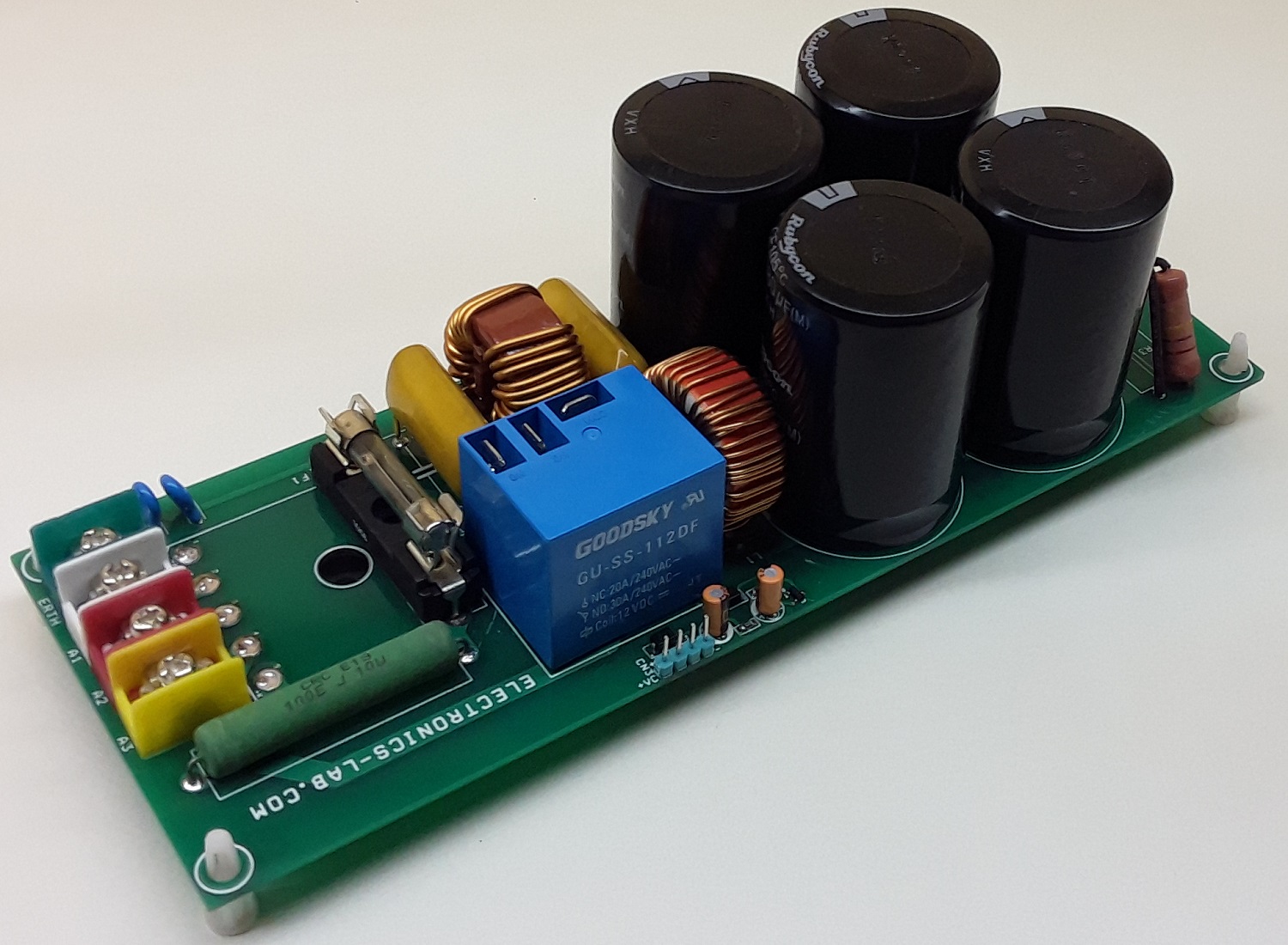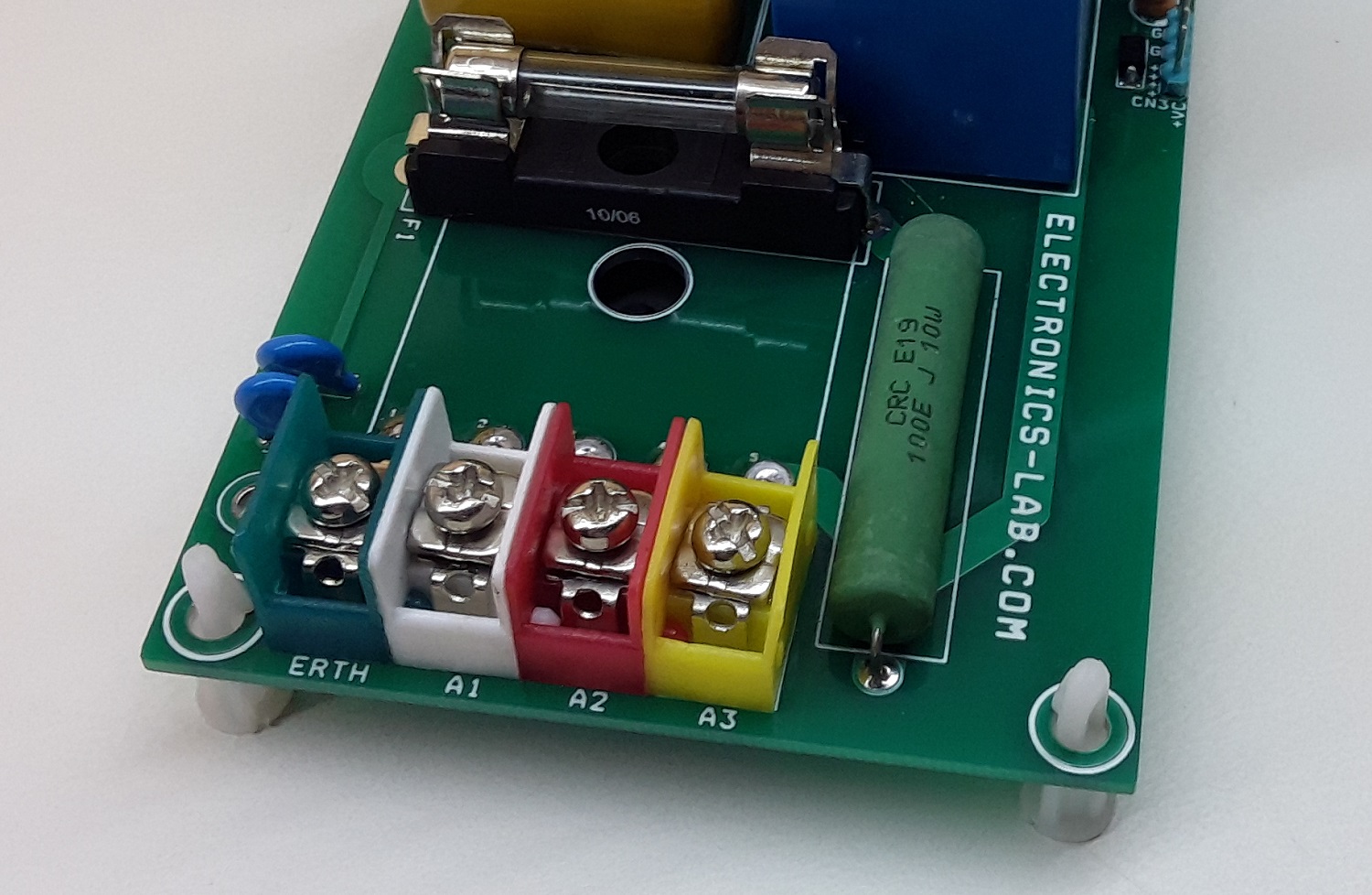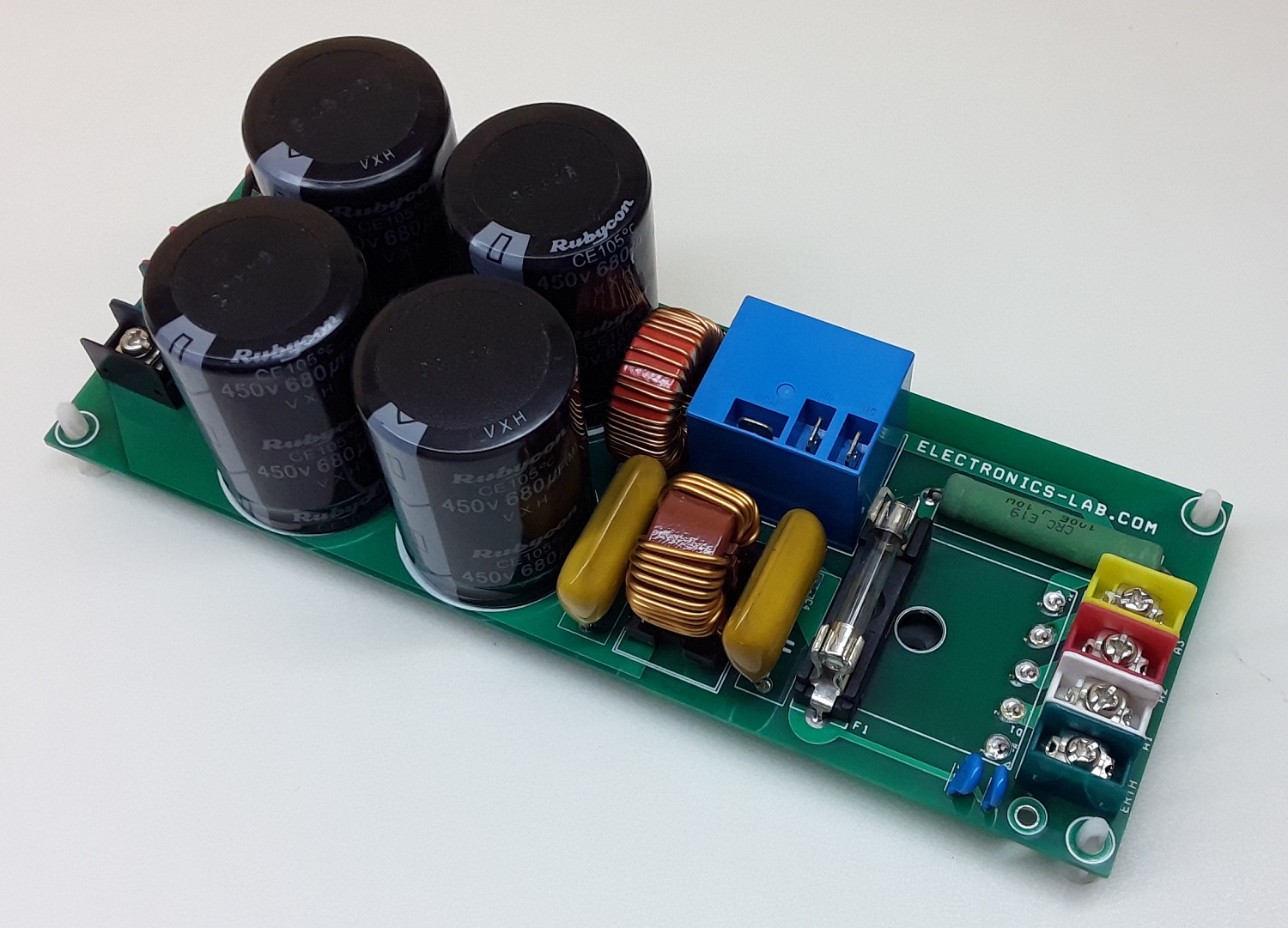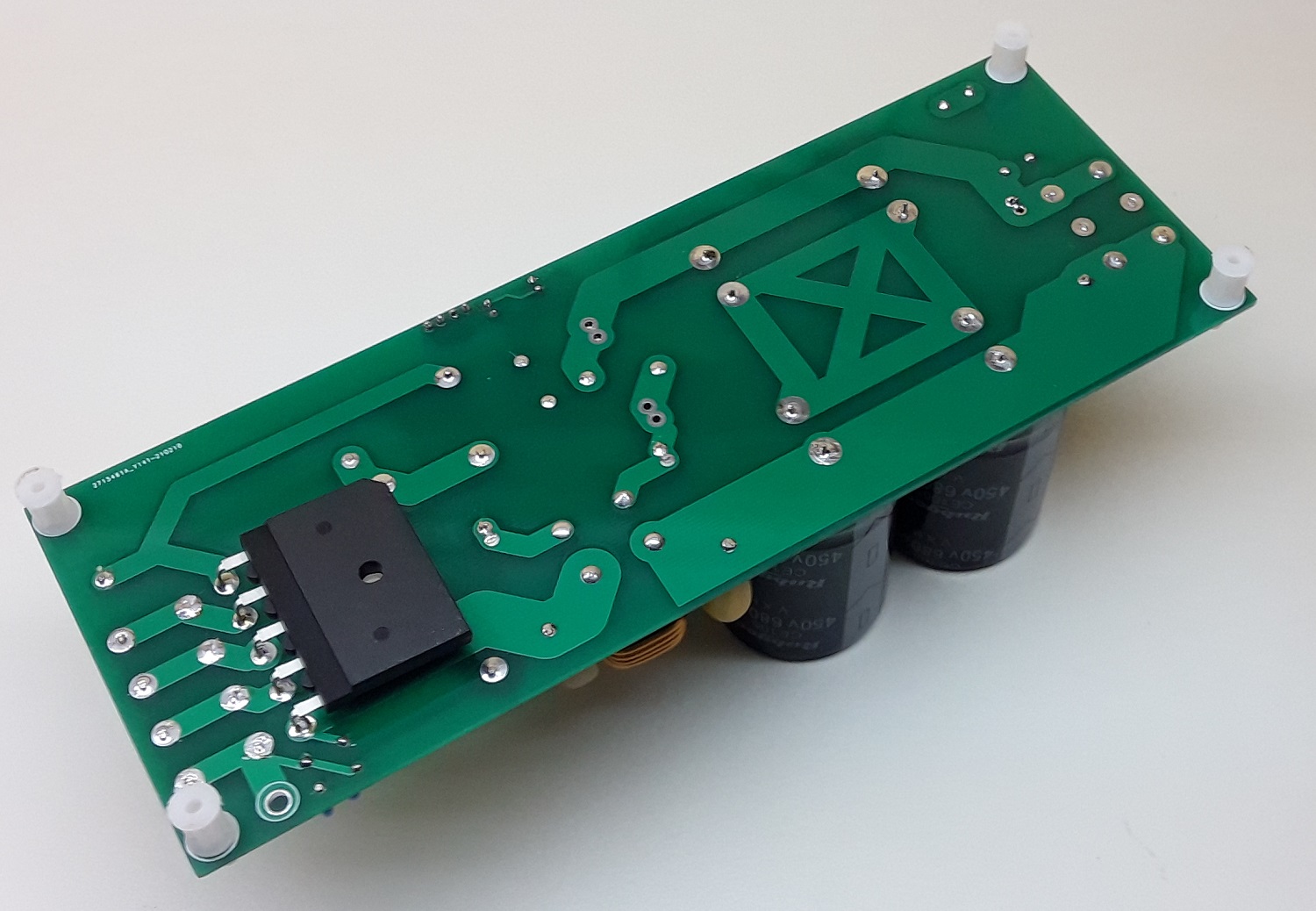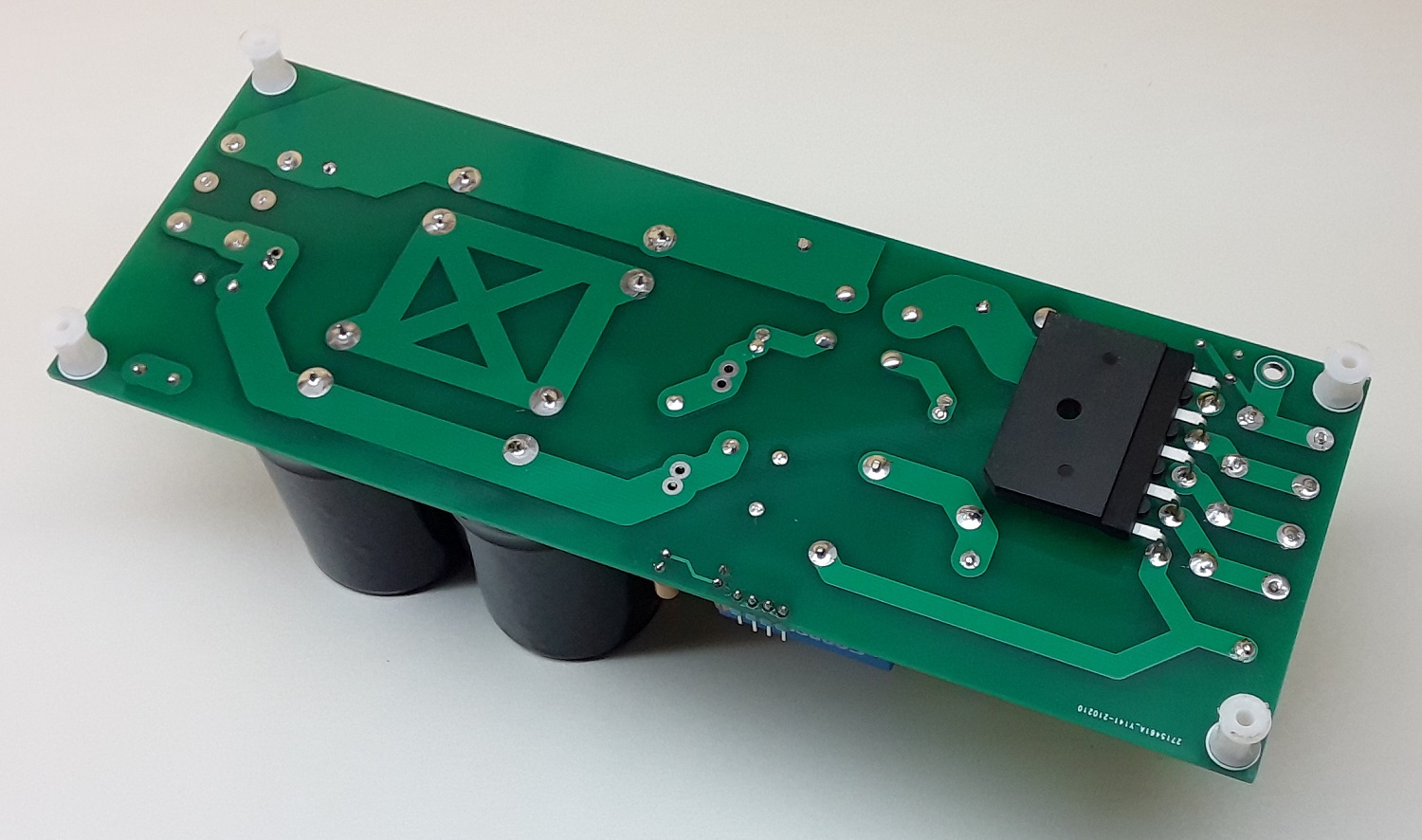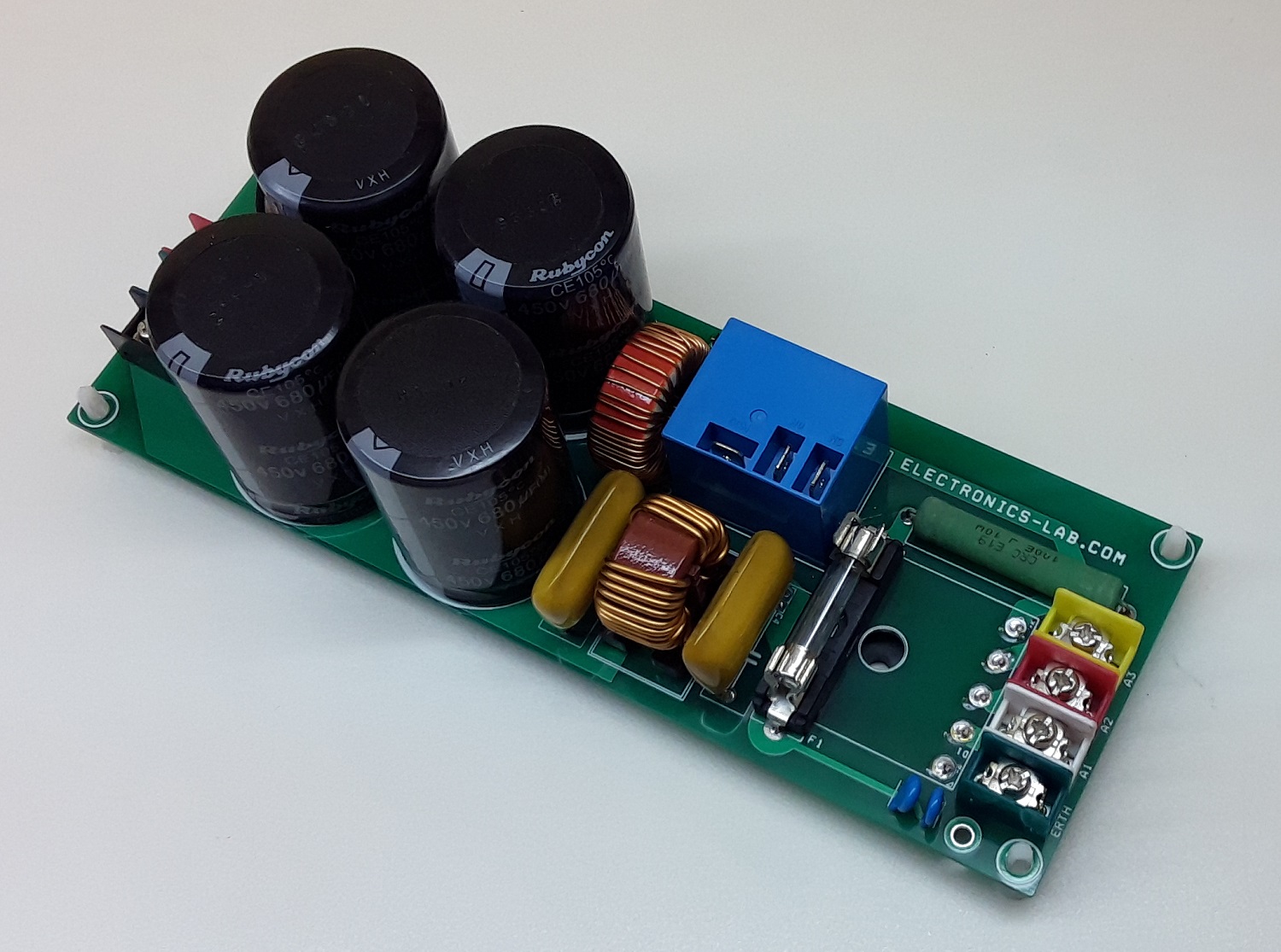 Video
GUO40-12NO1 Datasheet