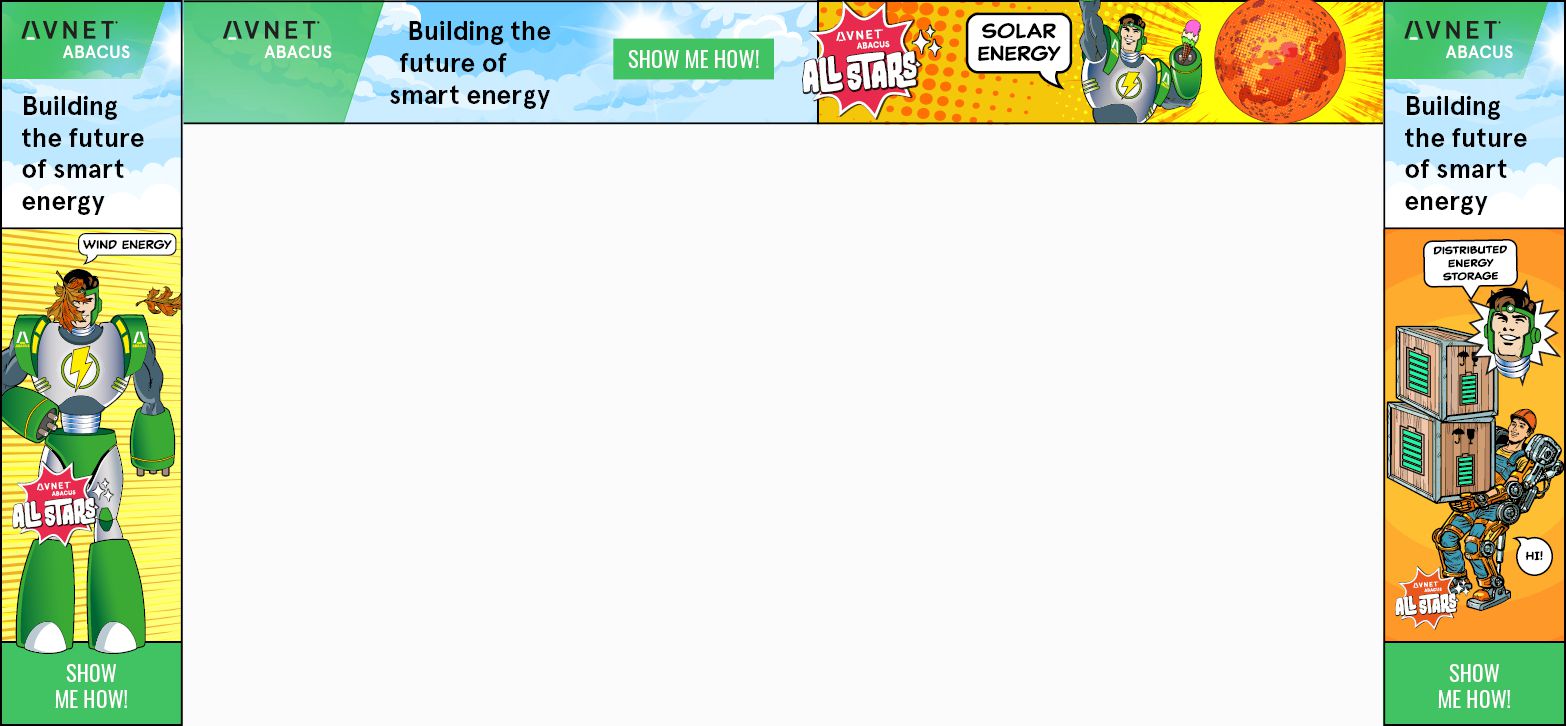 Full Wave Rectifier Using Single Supply OPAMP
This is a Full wave rectifier project built using MAX44267 dual OPAMP which provides true zero output with a single supply. The circuit converts Bipolar/AC input into full-wave output. CN1 is provided for sinewave input, CN2 helps to connect the power and output. Operating supply 15V DC, D1 power LED.
The MAX44267 precision, low-noise, low-drift dual operational amplifier offers true-zero output that allows the output to cross zero maximizing the dynamic range of an ADC and increasing resolution. In addition, the input common-mode range extends from +13.5V down to -12V. The MAX44267 integrates charge-pump circuitry that generates the negative voltage rail in conjunction with external capacitors. This allows the amplifier to operate from a single +4.5V to +15V power supply, but it is as effective as a normal dual-rail ±4.5V to ±15V amplifier. The architecture eliminates the need for a negative power-supply rail, saving system cost and size. The MAX44267 is unity-gain stable with a gain-bandwidth product of 5MHz. The device features low offset voltage of 50μV (max), drift of 0.4µV/°C (max), and 200nVP-P noise from 0.1Hz to 10Hz. The low offset and noise specifications and wide input common-mode range make the device ideal for sensor transmitters and interfaces.  Varying the external charge pump capacitors enables the charge-pump noise to be minimized.
Features
Operating power Supply 15V DC @ 10mA
Input Signal 100mV to 4V Peak to Peak
Input Frequency Response 1Hz to 10Khz
2Khz Full wave output from 1Khz Sinewave
CN1 2.54 mm Male Header Connector for Input Signal
D1 Power LED
CN2 Signal Output and Power Input
PCB Dimensions 30.64 x 19.69 mm
Schematic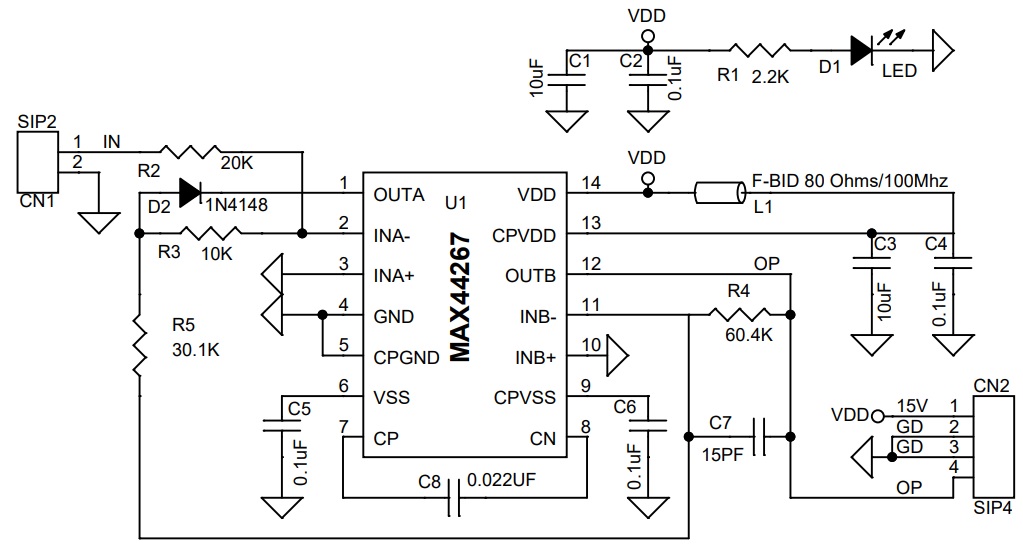 Parts List
| NO. | QNTY. | REF. | DESC. | MANUFACTURER | SUPPLIER | PART NO |
| --- | --- | --- | --- | --- | --- | --- |
| 1 | 1 | CN1 | 2 PIN MALE HEADER PITCH 2.54MM | WURTH | DIGIKEY | |
| 2 | 1 | CN2 | 4 PIN MALE HEADER PITCH 2.54MM | WURTH | DIGIKEY | 732-5317-ND |
| 3 | 2 | C1,C3 | 10uF/25V SIZE 1206 | MURATA/YAGEO | DIGIKEY | 732-5315-ND |
| 4 | 4 | C2,C4,C5,C6 | 0.1uF/50V SMD SIZE 0805 | MURATA/YAGEO | DIGIKEY | |
| 5 | 1 | C7 | 15PF/50V SMD SIZE 0805 | MURATA/YAGEO | DIGIKEY | |
| 6 | 1 | C8 | 0.022UF/25V SMD SIZE 0805 | MURATA/YAGEO | DIGIKEY | |
| 7 | 1 | D1 | LED SMD SIZE 0805 | OSRAM | DIGIKEY | 475-1278-1-ND |
| 8 | 1 | D2 | 1N4148 SMD | MICROCHIP | DIGIKEY | 494-JAN1N4148UR-1 |
| 9 | 1 | L1 | F-BID 80 Ohms/100Mhz | TDK | DIGIKEY | 445-2187-1-ND |
| 10 | 1 | R1 | 2.2K 5% SMD SIZE 0805 | MURATA/YAGEO | DIGIKEY | |
| 11 | 1 | R2 | 20K 1% SMD SIZE 0805 | MURATA/YAGEO | DIGIKEY | |
| 12 | 1 | R3 | 10K 1% SMD SIZE 0805 | MURATA/YAGEO | DIGIKEY | |
| 13 | 1 | R4 | 60.4K 1% SMD SIZE 0805 | MURATA/YAGEO | DIGIKEY | |
| 14 | 1 | R5 | 30.1K 1% SMD SIZE 0805 | MURATA/YAGEO | DIGIKEY | |
| 15 | 1 | U1 | MAX44267 | MAXIM | MOUSER | 700-MAX44267AUD+ |
Connections

Waveforms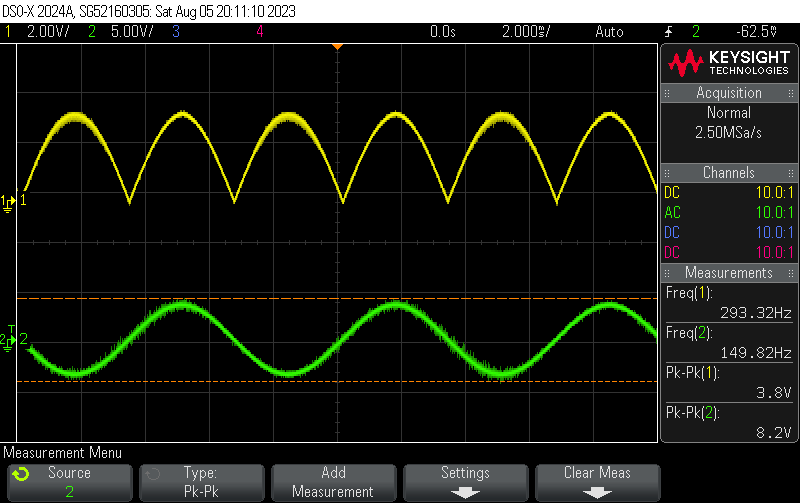 Gerber View
Photos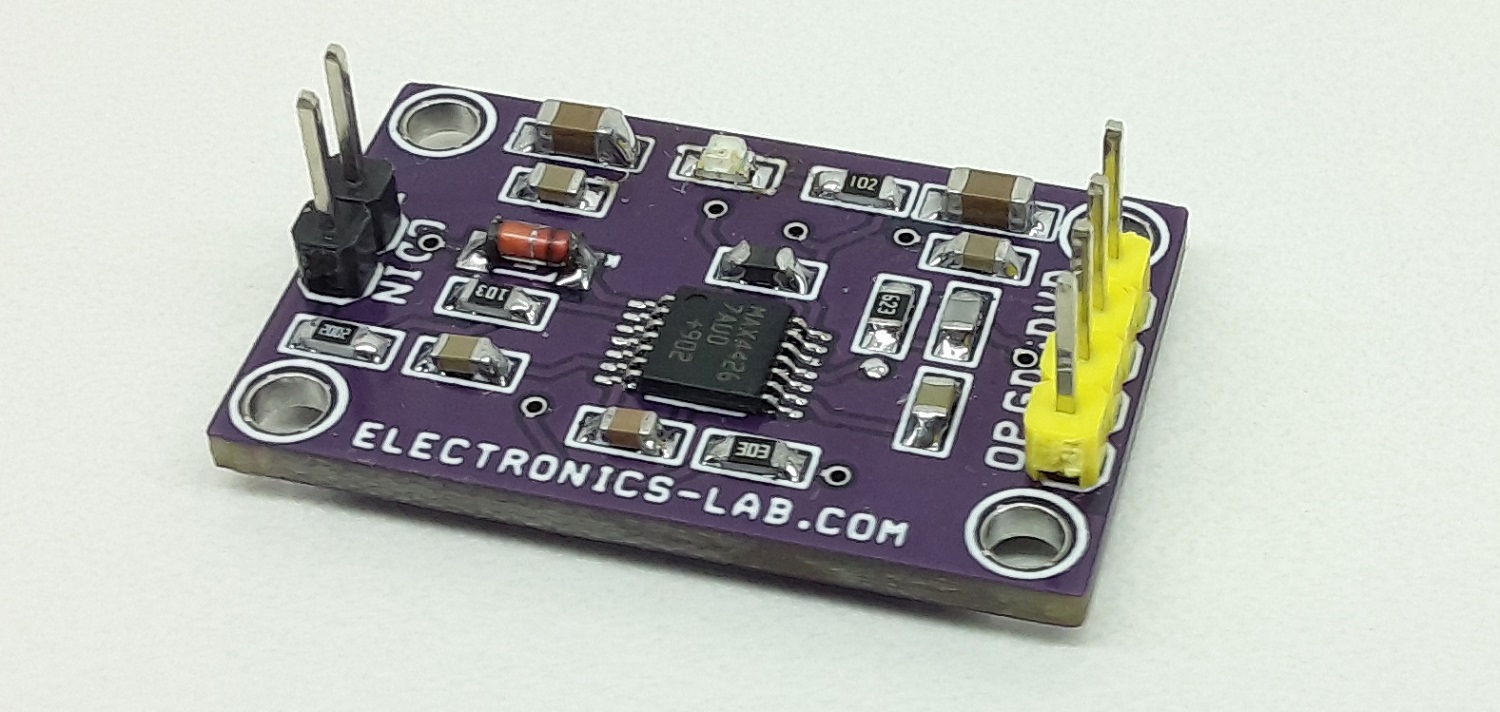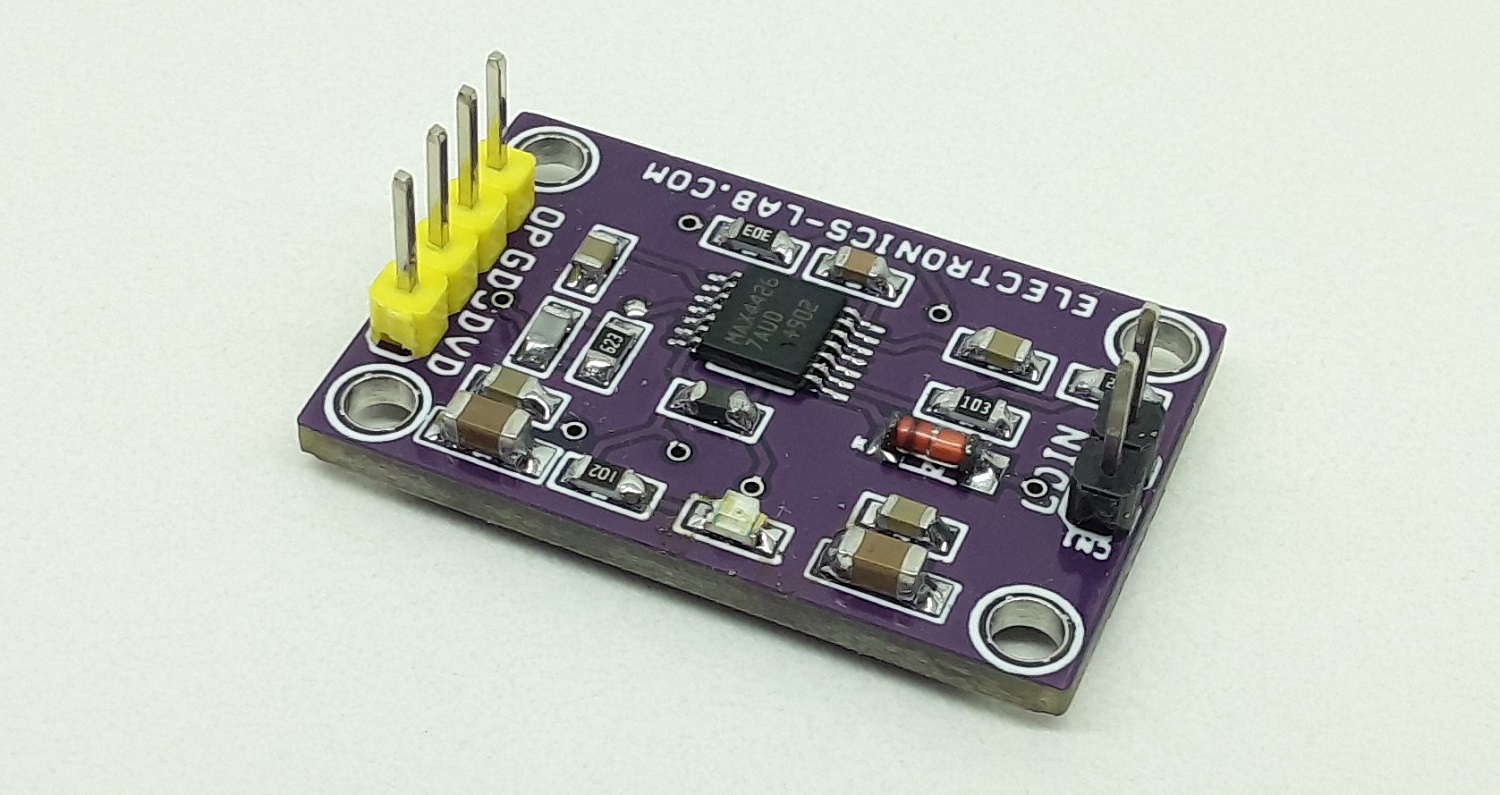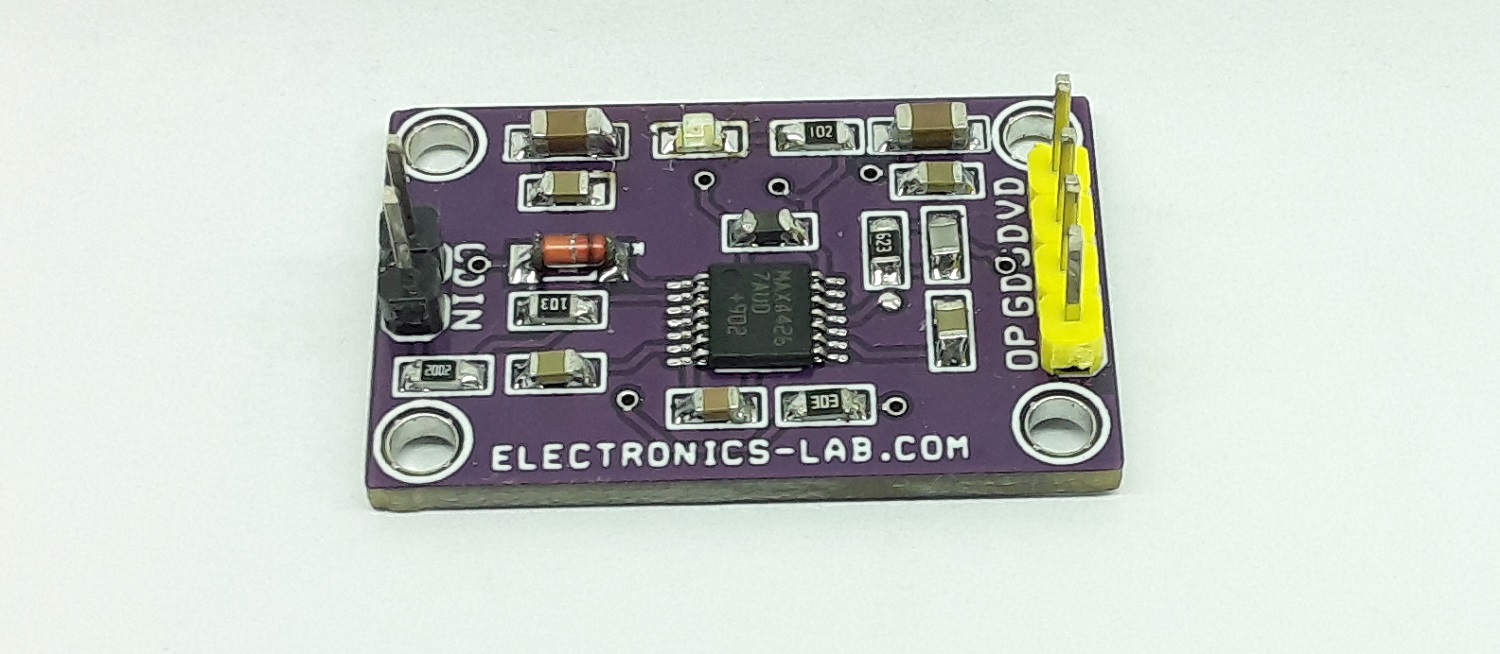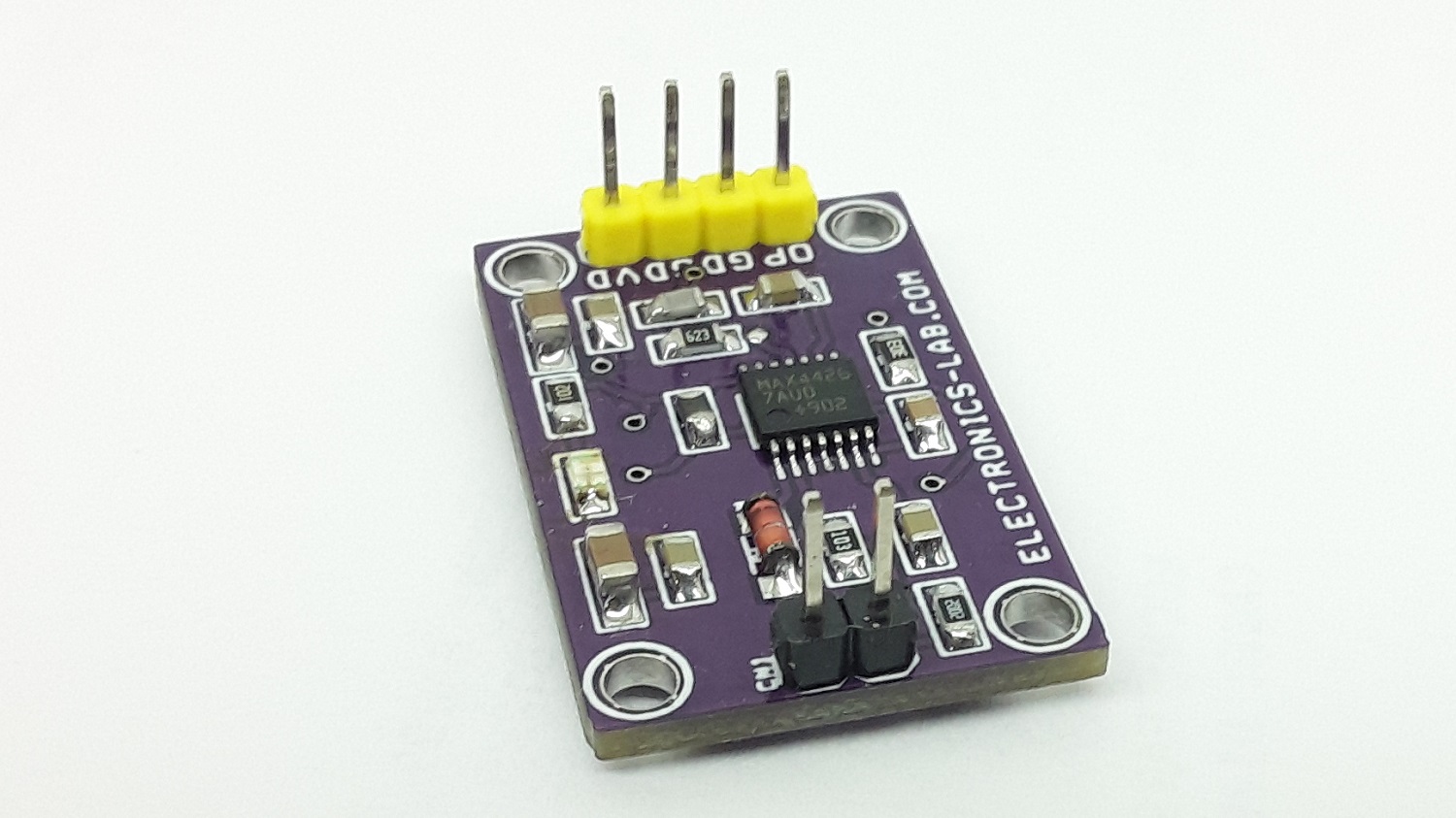 Video
MAX44267 Datasheet