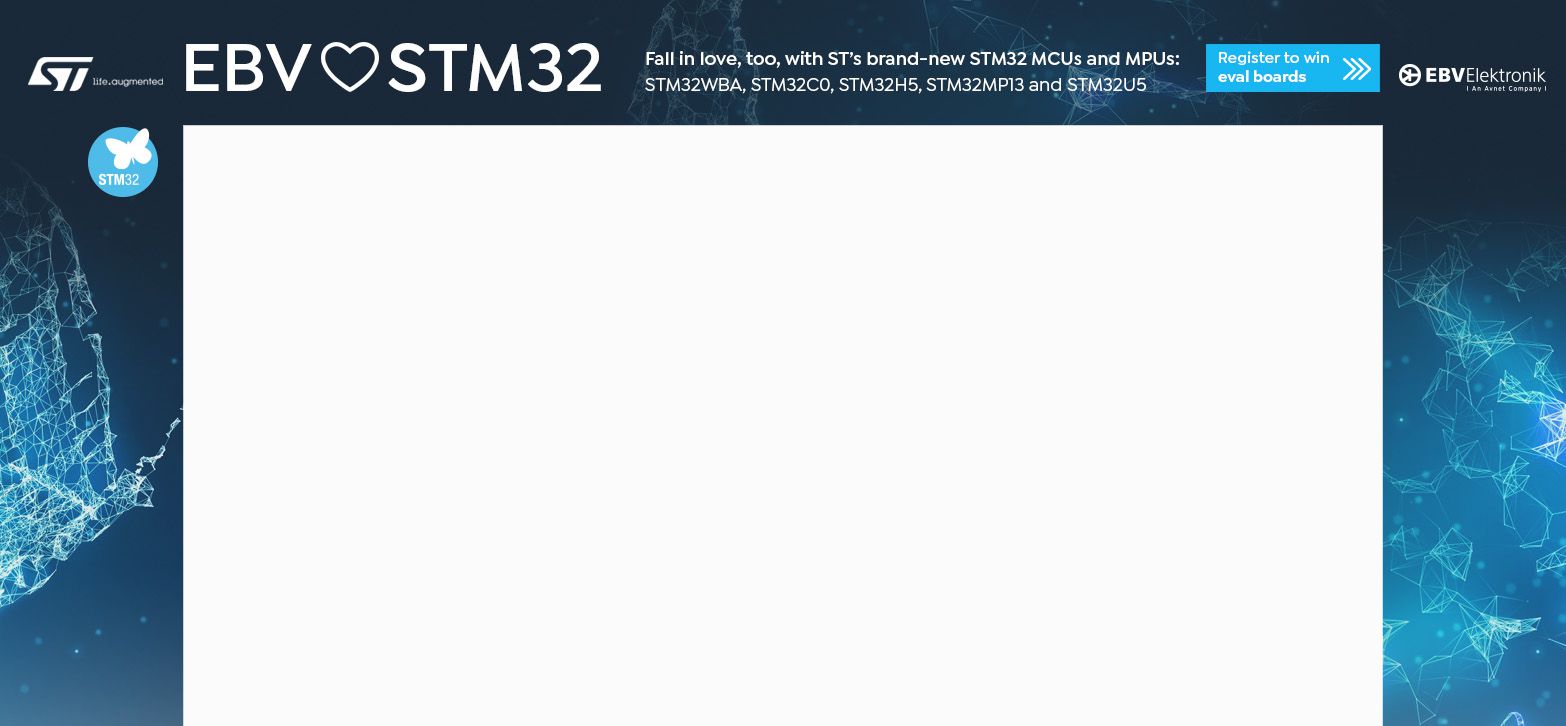 MP3 Module & RTC DS1307 Shield For 28/40 Pin PIC Development Board
Rajkumar Sharma

70.324 Views

medium

Tested

SKU: EL67090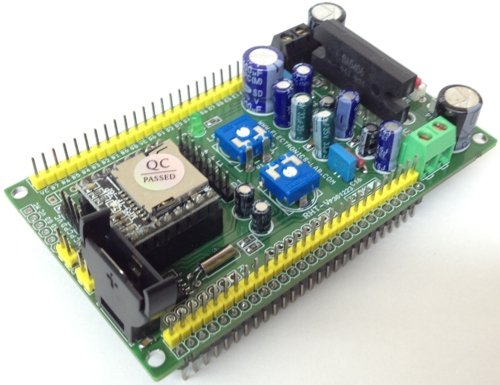 MP3 Shield has been designed for various applications related to voice record and play using MP3 module with memory card storage, this shield can be used as standalone mode or Digital mode by serial interface. In standalone mode it can play 16 messages with couple of other functions, Standalone operation possible by connecting resistors and push switches on ADC pins of the module check data sheet for switch connections.  Digital mode provides full control of messages with serial interface. Shield also has DS1307 RTC on board to develop a taking clock or other time related applications. Board has dual audio outputs, single channel 3W direct speaker output from MP3 Module and On board 5W Stereo Amplifier based on BA5406 provided to Amplify low audio signal coming from MP3 module. 4 Tact switch with open header connector can be interface to any port of micro-controller using female to female wire harness. RC6, RC7 and RC5 pin connected to micro-controller for serial interface. DS1307 RTC pins are connected to RA0 and RA1 Port pins. Refer data sheet for Module Serial Interface, switch connections circuit for stand-alone mode.
This module is a shield for 28/40 Pin PIC Development Board
MP3 Module
DFPLayer Mini module is a serial MP3 module provides the perfect integrated MP3, WMV hardware decoding. While the software supports TF card driver, supports FAT16, FAT32 file system. Through simple serial commands to specify music playing, as well as how to play music and other functions, without the cumbersome underlying operating, easy to use, stable and reliable are the most important features of this module.
Applications
Voice Annunciator
Taking Clock
Voice Alarm
Machine Operations Failure Alarm
Public Announcement System
Automatic Broadcast Equipment's
Features
MP3 Module Supply 5V DC Connected to VCC
Audio Amplifier Supply 12V DC Connected to VDD pin of the Shield
MP3 Module Supports MP3 and WMV formats
Support sampling rate of : 8KHz,11.025KHz,12KHz,16KHz,22.05KHz,24KHz,32KHz,44.1KHz,48KHz
24-bit DAC output, dynamic range support 90dB, SNR supports 85dB
Supports FAT16, FAT32 file system, maximum support 32GB TF card
MP3 Module- Built-in 3W amplifier
CN2 Connector: Direct Speaker Connection to MP3 Module
Additional 5W Stereo Audio Amplifier for Power Full Sound
The audio data is sorted by folder; supports up to 100 folders, each folder can be assigned to 1000 Songs
30 levels volume adjustable, 10 levels EQ adjustable.
RCT DS1307 Connected to VCC 5V DC of the Shield
Speaker 8 Ohms, LS1, LS2 Screw Terminal for Speaker Connections
D1 Busy LED
D2 Power LED
R3, R2, RN1 (Resistor network Optional can be used as pull ups as per application requirement)
PR1 Left channel Audio Volume Control Trimmer Potentiometer
PR2 Right Channel Audio Volume Control Trimmer Potentiometer
SW1-SW4 Push Type Tact Switches Can be used as per requirement
BT1 3V Battery Holder for RTC
CN1 : USB Interface, ADC Connections for Switches ( Stand Alone Mode)
Schematic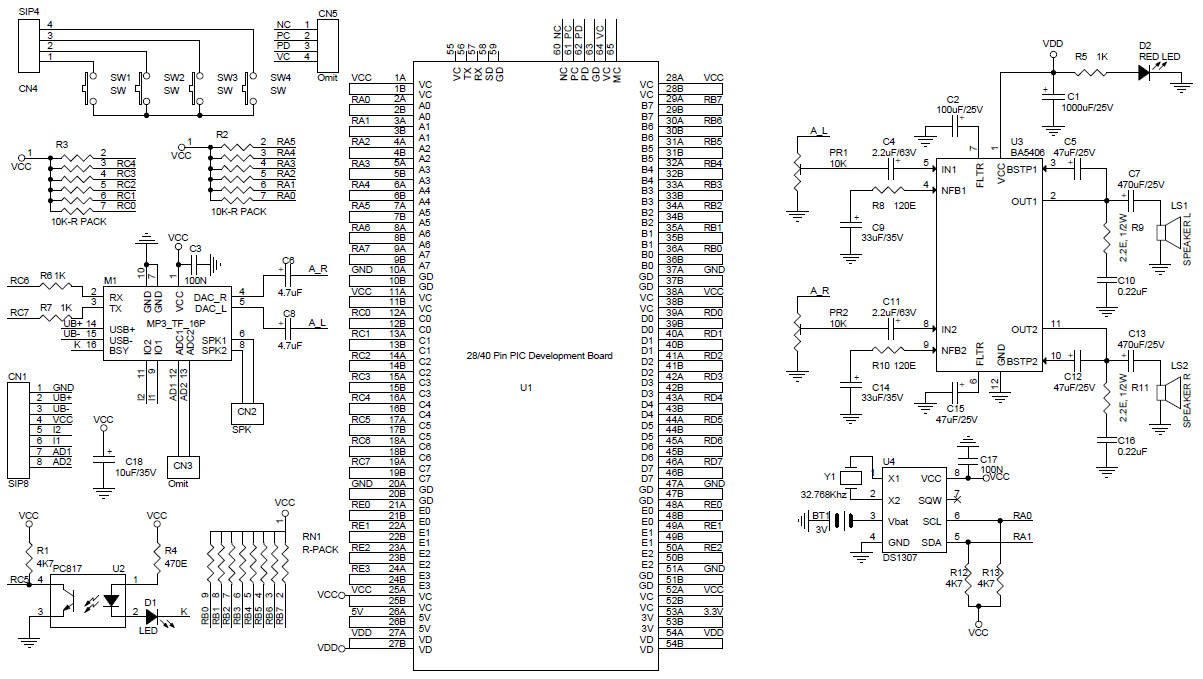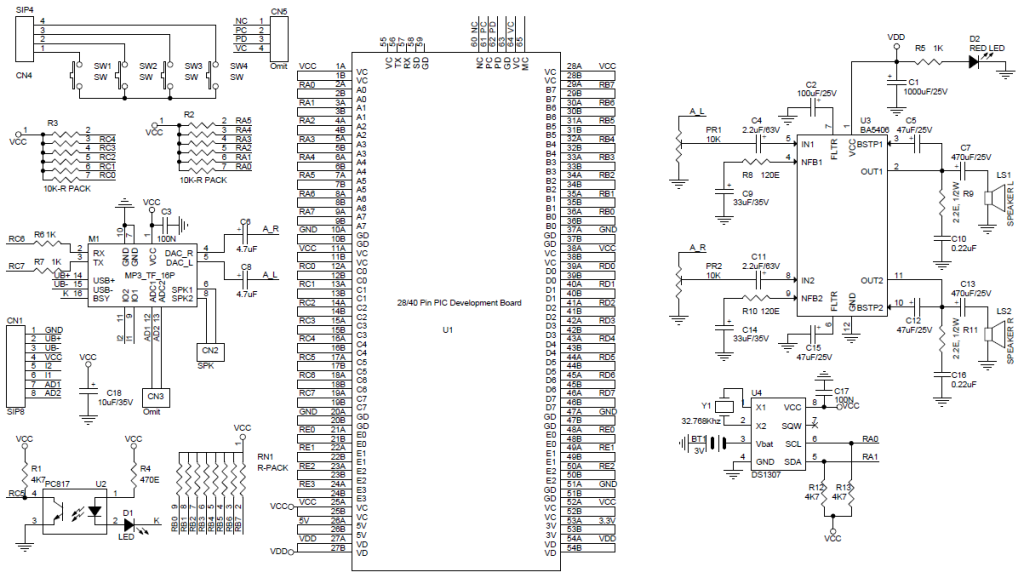 Parts List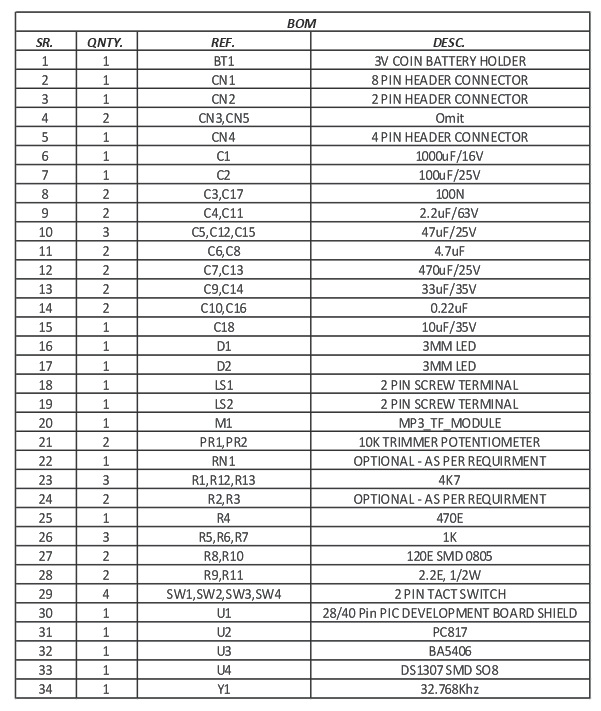 Photos