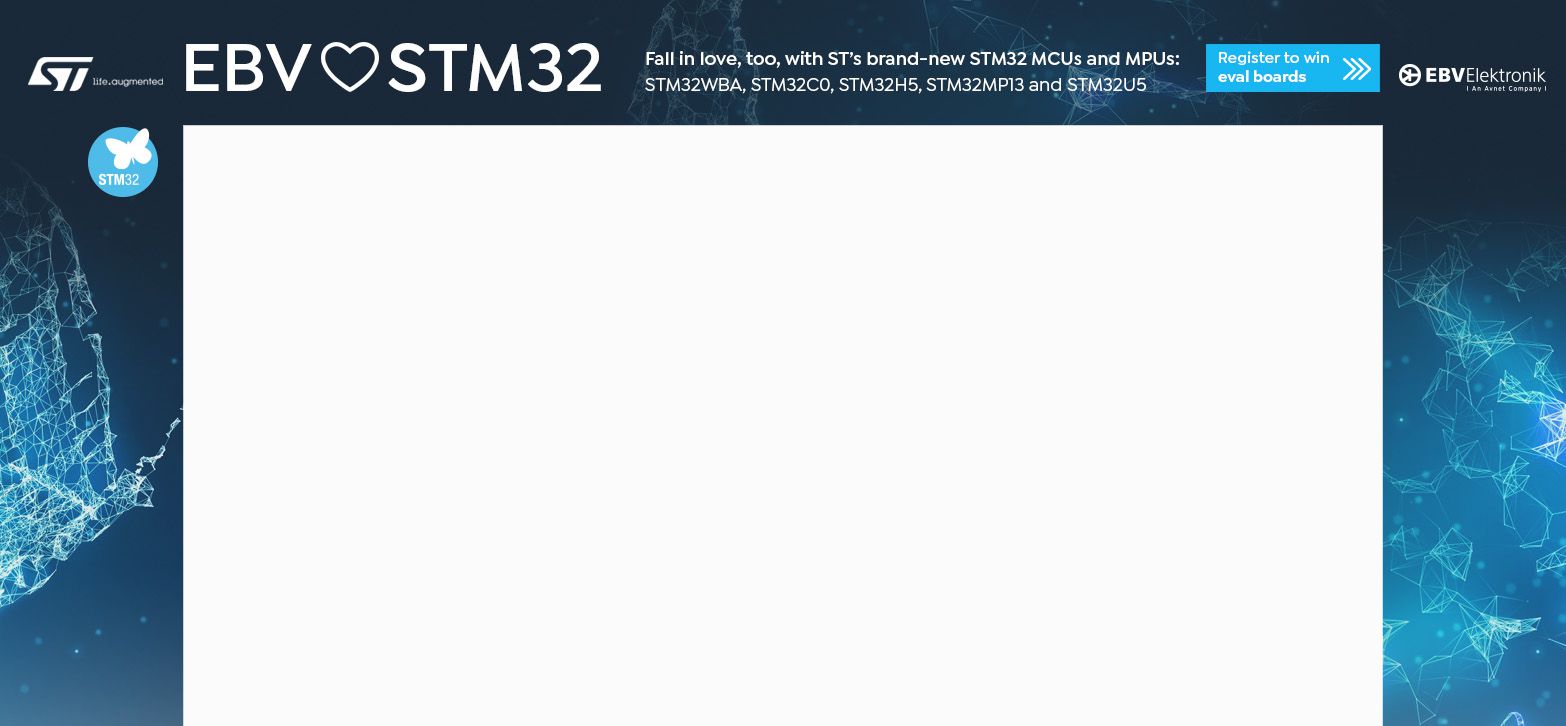 Under Voltage Lockout Relay – Latching Voltage Monitor
Rajkumar Sharma

56 Views

easy

Tested

SKU: EL126250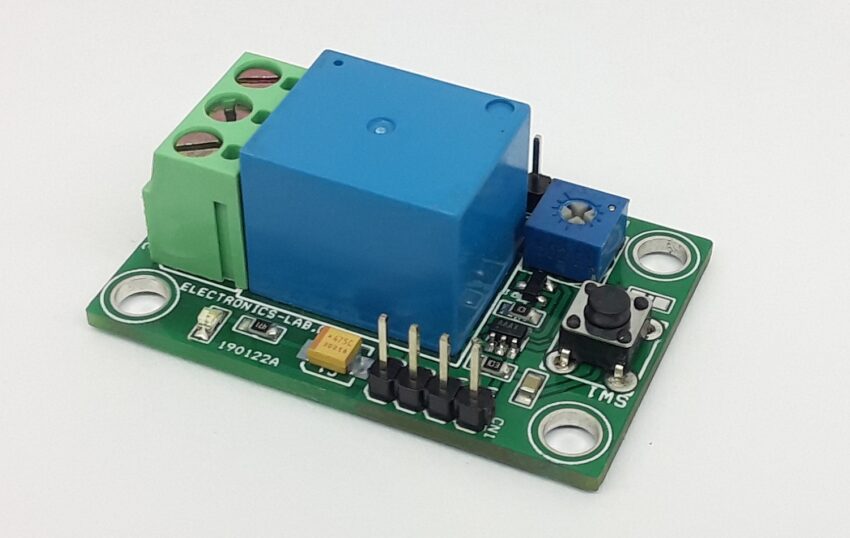 This project prevents/disconnects the load when an under-voltage condition occurs. The circuit latches the output when input sense voltage drops below the lockout threshold. Lockout threshold voltage can be adjusted using the onboard trimmer potentiometer PR1.  Tactile switch SW1 is provided to reset the latch when input sense voltage is back to normal. The circuit consists of a MAX835 chip, 5V Relay, BC857 PNP transistor to drive the Relay, power LED, Relay/Output LED, and tactile switch. MAX835 chip features a level-sensitive latch, eliminating the need to add hysteresis to prevent oscillations in load-disconnect applications.
MAX835 micropower voltage monitors have a 1.204V precision bandgap reference, comparator, and latched output in a 5-pin SOT23 package. Using the latched output prevents deep discharge of batteries and disconnects the load from the power supply when Undervoltage is detected at input sense voltage. MAX835 has a push-pull output driver. Two external resistors set the trip-threshold voltage.
Operation
Connect an adjustable power supply to CN3 and apply input sense voltage in the range 3.4V to 8V, turn the PR1 trimmer potentiometer till the LED D3 is ON. Then the board is set for Undervoltage detection. For example, apply 4.90V to the CN3, rotate the PR1 so LED D3/Relay is on, the circuit is set for under-voltage detection threshold of 4.90V, now increase the input sense voltage to 5V and reset the latch using SW1.
Note 1:  Relay contacts can handle load current up to 7A, use higher contact relay for high current load. Relays up to 16A are available with the same PCB footprint (same dimensions)
Note 2: The project can also be used to prevent deep discharge of batteries, it disconnects the load when battery voltage drops below the set point, read the datasheet of MAX835 to configure the input voltage range of battery using PR1 trimmer potentiometer and resistor R5.
Note 3:  Input sense voltage range is 3.4V to 8V and can be adjusted using trimmer potentiometer PR1.  The circuit can be configured to detect higher voltage. To achieve that choose the right value for PR1 and R5. Read the datasheet of MAX835 for more info.
Connections
CN1 = Pin1 VCC, Pin 2 VCC, Pin 3 GND, Pin 4 GND
CN2= Pin 1 Sense Voltage Input, Pin 2 GND
SW1 = Reset Switch
D1 = Power LED
D3 = Function LED – Relay Output
PR1 = Trimmer Potentiometer Input Sense Voltage Adjust
CN2 = Load Connection, Pin 1 Normally Closed, Pin 2 Common, Pin 3 Normally Open
Features
Supply 5V DC @ 50mA when Relay is on
Load Up to 7A, which can be increased -> Read Note 1
Input Voltage Range 3.4V to 8V
On Board Tact Switch for Latch Reset SW1
Latched Output (Once Low, Stays Low Until Cleared)
Precision +/-1.25% Voltage Threshold
LED D3, Alert Monitor – LED is ON when output is Latched (OFF)
LED D1, Power LED
4 x 3MM Mounting Holes
PCB Dimensions 45.25 x 29.53mm
Schematic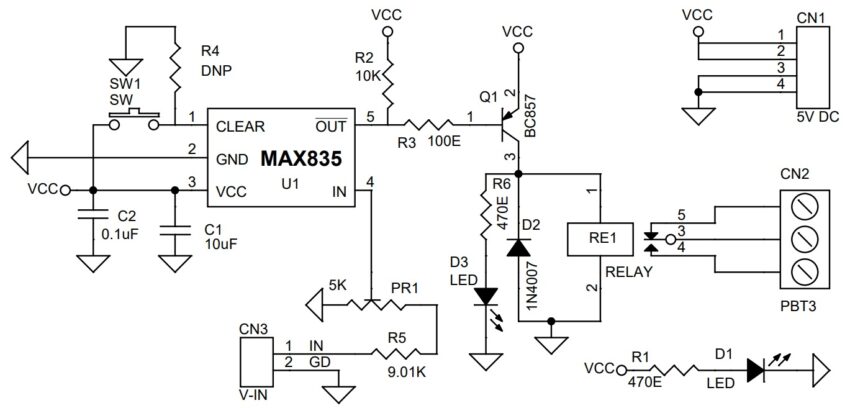 Parts List
| NO. | QNTY. | REF. | DESC. | MANUFACTURER | SUPPLIER | PART NO |
| --- | --- | --- | --- | --- | --- | --- |
| 1 | 1 | CN1 | 4 PIN MALE HEADER PITCH 2.54MM | WURTH | DIGIKEY | 732-5317-ND |
| 2 | 1 | CN2 | 3 PIN SCREW TERMINAL PITCH 5.08MM | PHOENIX | DIGIKEY | 277-1248-ND |
| 3 | 1 | CN3 | 2 PIN MALE HEADER PITCH 2.54MM | WURTH | DIGIKEY | 732-5315-ND |
| 4 | 1 | C1 | 10uF/16V SMD SIZE 1210 OR 1206 | YAGEO/MURATA | DIGIKEY | |
| 5 | 1 | C2 | 0.1uF/50V SMD SIZE 0805 | YAGEO/MURATA | DIGIKEY | |
| 6 | 1 | D1 | LED SMD RED | LITE ON INC | DIGIKEY | 160-1427-1-ND |
| 7 | 1 | D2 | 1N4007 SMD | DIODE | DIGIKEY | S1MBDITR-ND |
| 8 | 1 | PR1 | 5K TRIMMER POTENTIOMETER | BOURNS | DIGIKEY | 3362H-502LF-ND |
| 9 | 1 | Q1 | BC857 SMD SOT23-3 | ONSEMI | DIGIKEY | BC857CDW1T1GOSCT-ND |
| 10 | 1 | RE1 | RELAY 5V DC | CIT RELAY | DIGIKEY | 2449-J107F1CS125VDC.36-ND |
| 11 | 2 | R1,R6 | 470E 5% SMD SIZE 0805 | YAGEO/MURATA | DIGIKEY | |
| 12 | 1 | R2 | 10K 5% SMD SIZE 0805 | YAGEO/MURATA | DIGIKEY | |
| 13 | 1 | R3 | 100E 5% SMD SIZE 0805 | YAGEO/MURATA | DIGIKEY | |
| 14 | 1 | R4 | DNP | | | |
| 15 | 1 | R5 | 9.01K 1% SMD SIZE 0805 | YAGEO/MURATA | DIGIKEY | |
| 16 | 1 | SW1 | 4 PIN TACTILE SWITCH | NKK SWITCH | DIGIKEY | HP0215AFKP2-ND |
| 17 | 1 | U1 | MAX835 SOT223 5 PIN | MAXIM | DIGIKEY | MAX835EUK+TCT-ND |
| 18 | 1 | D3 | LED SMD GREEN SMD SIZE 0805 | DIALIGHT | DIGIKEY | 350-2044-1-ND |
Connections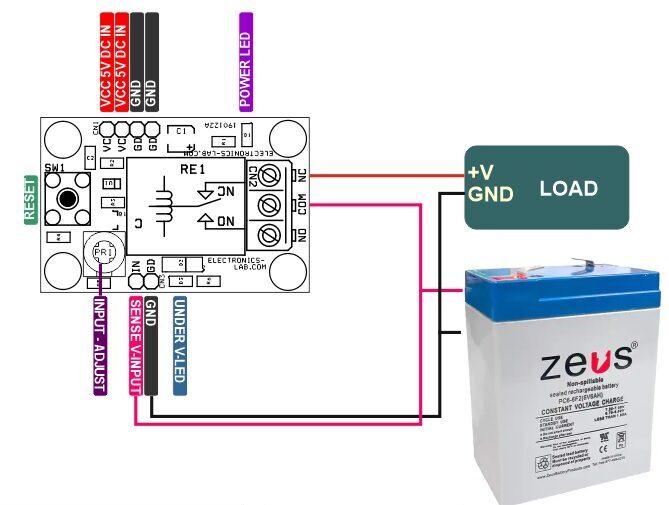 Gerber View
Photos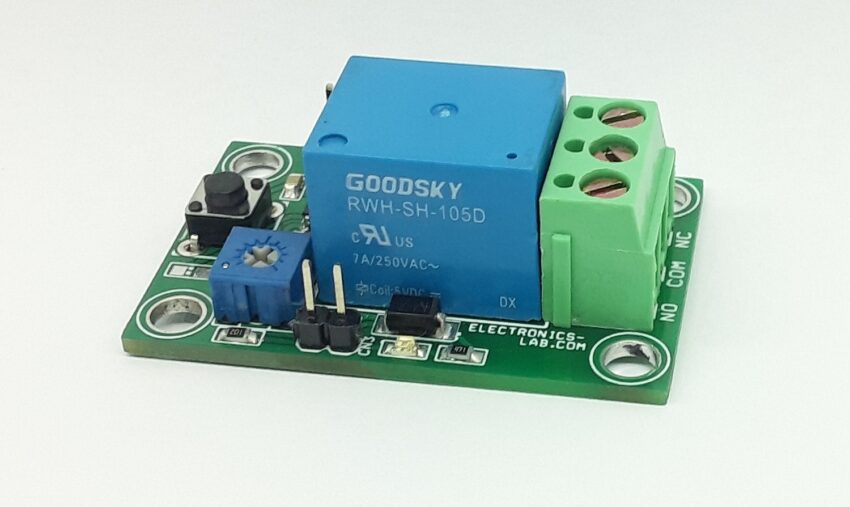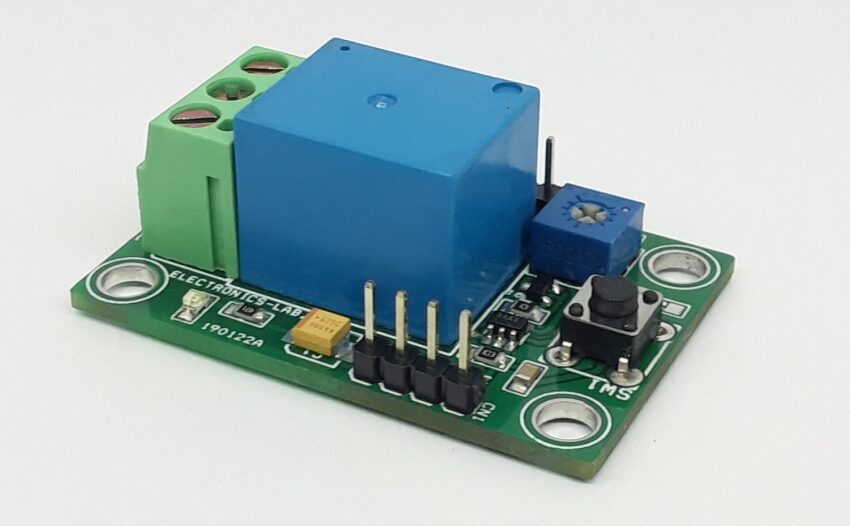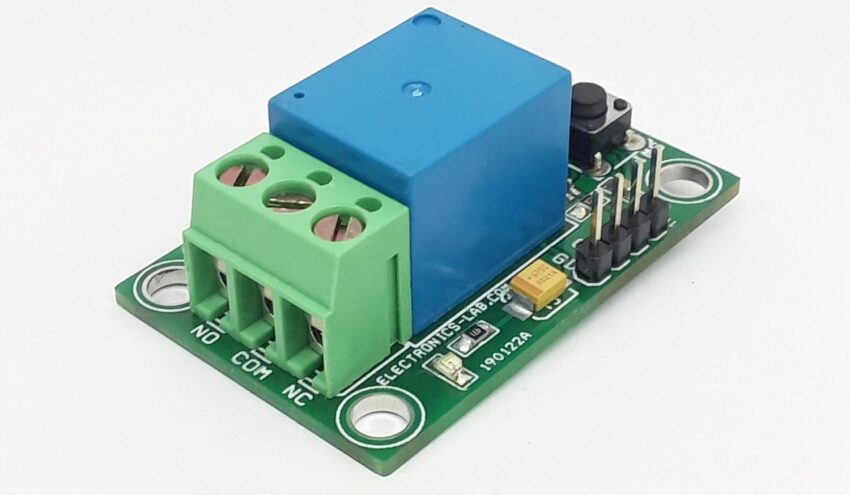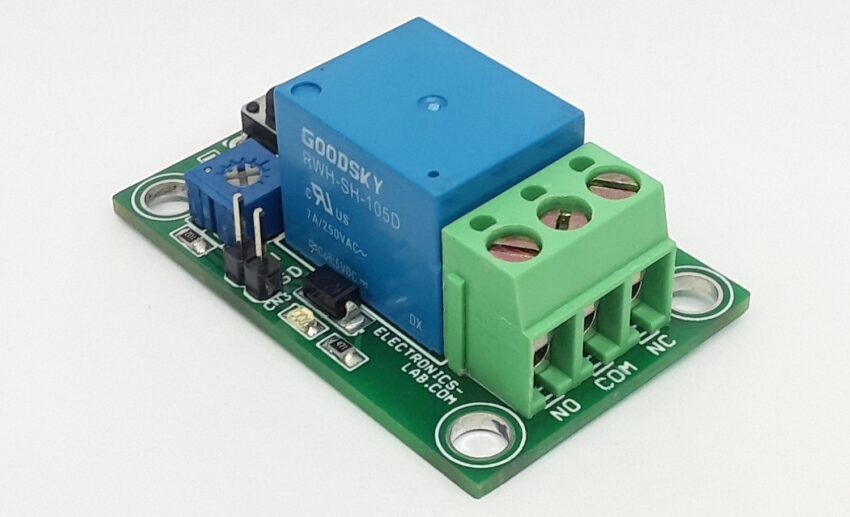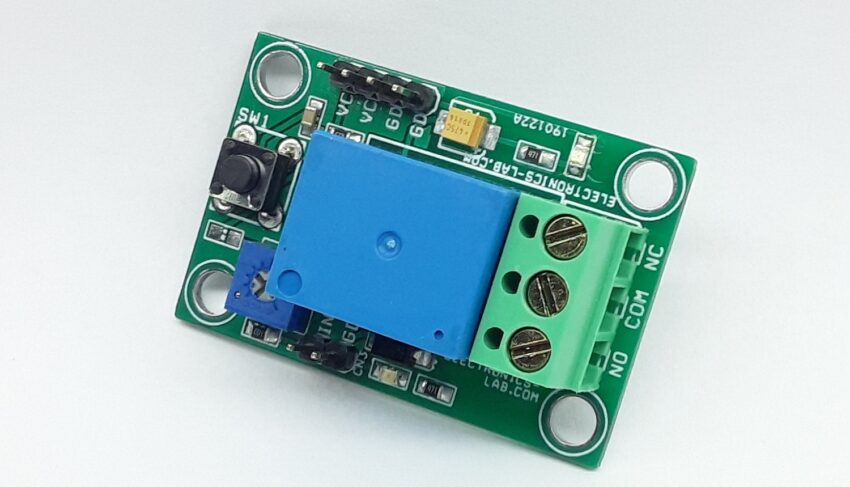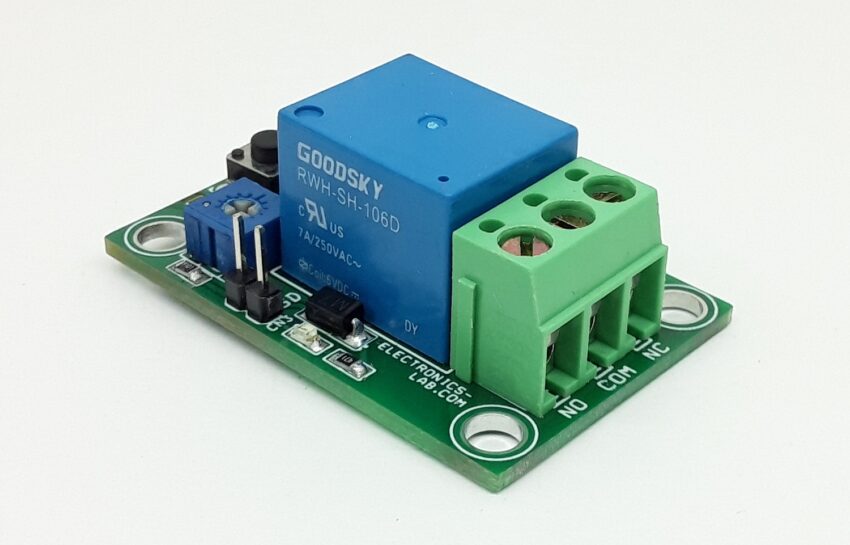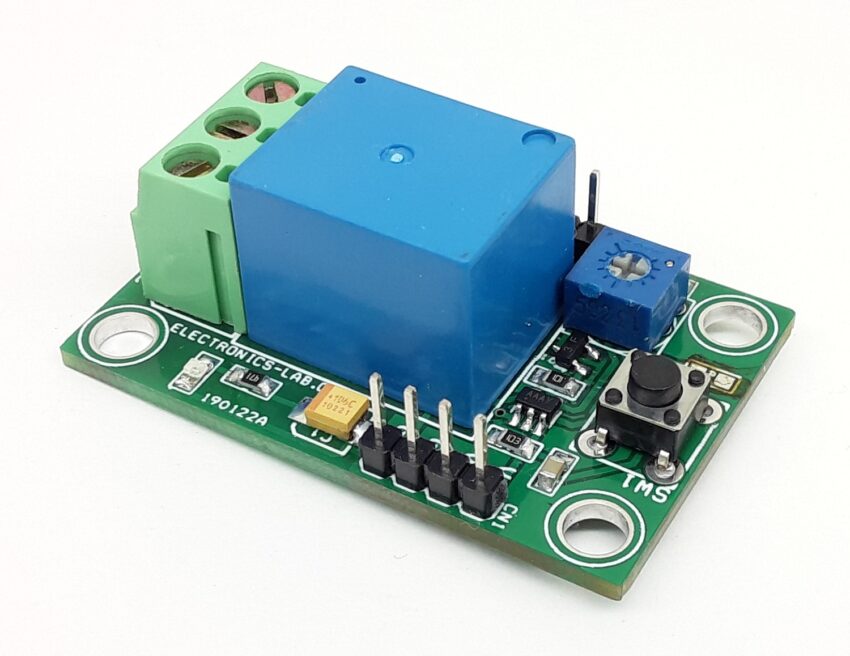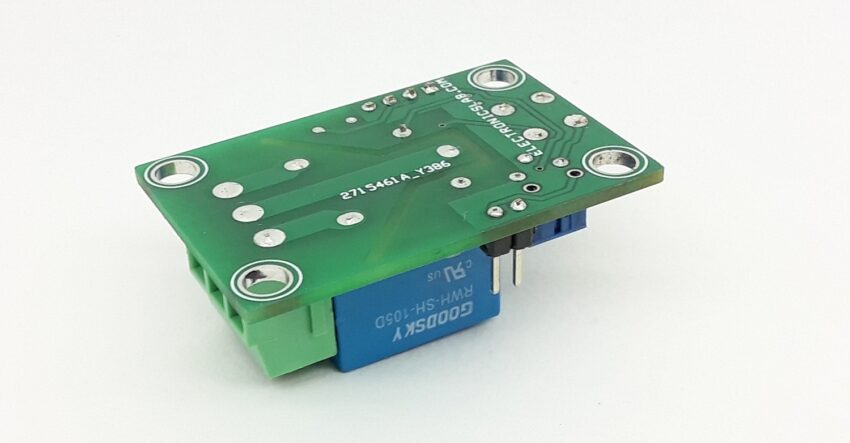 Video
MAX835 Datasheet