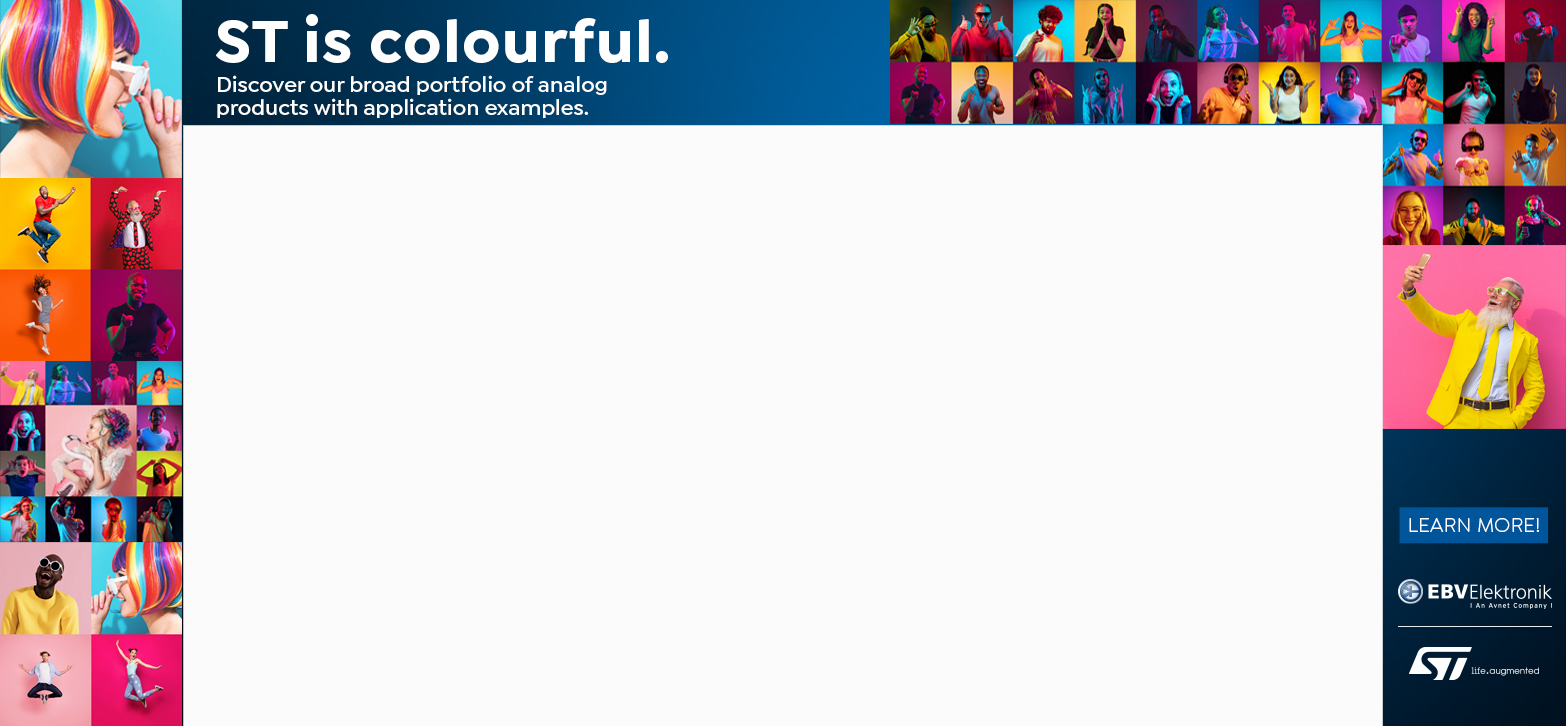 3A Unipolar Stepper Motor Driver
Rajkumar Sharma

67.758 Views

medium

Tested

SKU: EL46036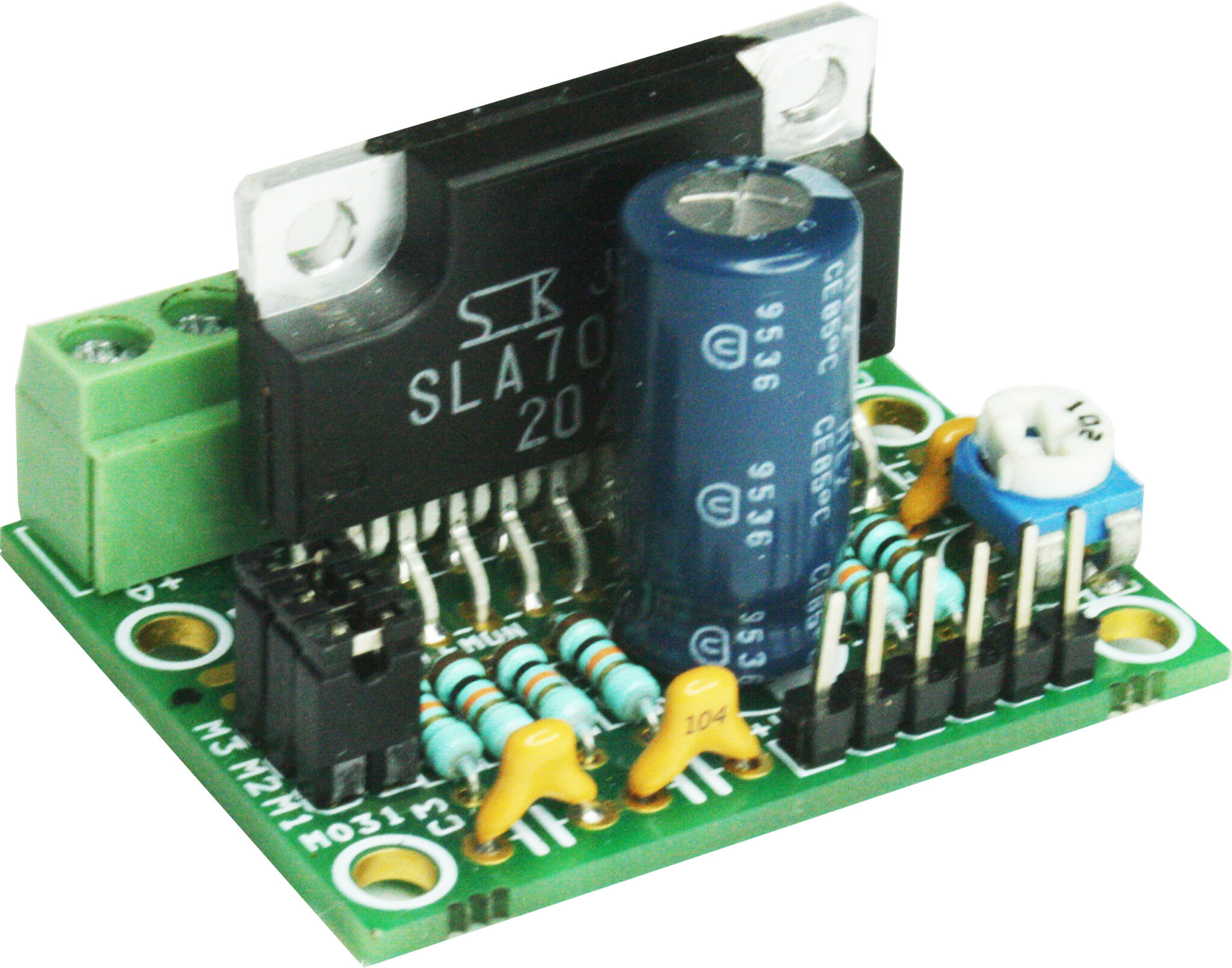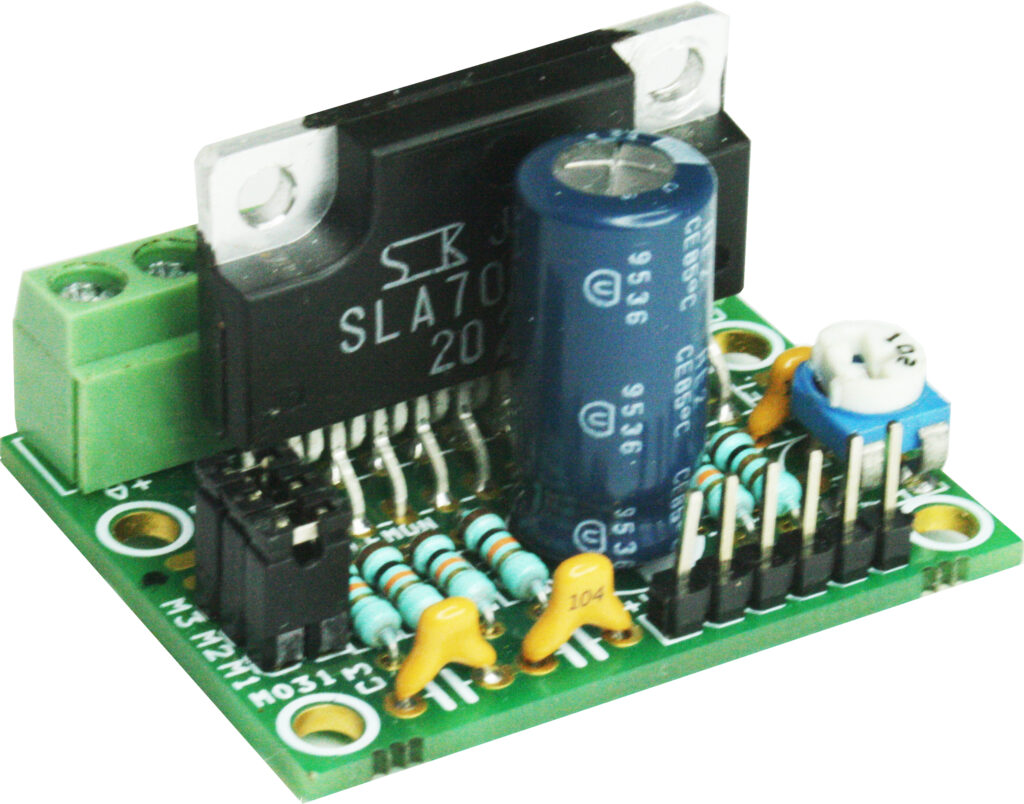 This tiny Unipolar stepper motor driver has been designed around SLA7078MPR IC from Sanken. It is a unipolar stepper Motor driver that can handle current up to 3 Amps and has micro-stepping up to 1/16 steps. On-board Jumpers are available to set the Micro-stepping and Preset (Potentiometer) to set the current.
The SLA7078MPR series motor driver ICs features unipolar drivers. The clock-in type input interface allows simplified control logic, and options for built-in sense current detection and load circuit short or open protection (patent pending) provide lower loss, and lower thermal resistance.
The built-in excitation distribution circuit (sequencer) allows motor control using only the CLOCK signal for simple operations (rotate/stop), with motor speed control by frequency input into CLOCK pin. This eliminates logic signal lines required for conventional phase-input methods, and reduces demand on heavily-used CPUs.
Unipolar stepper board is a high efficient stepper driver for Unipolar stepper motor and it has been designed for various application like robotics, control routers, lathes, mills, PCB drillers and engravers.
This board has been designed to be used in two ways, Stand Alone and Microcontroller Interface or Auto Half Current.
Stand Alone
Just to Rotate Motor normally bellow inputs required:
Pulse (Step Pulse In) Frequency
Direction
5V DC
GND
SYNC and REF doesn't Required for this operation.
Microcontroller Interface or Auto Half Current
For Micro-Controller Interface or Auto Half Current (while Motor is in Hold-State):
Usually In Motion control and CNC application stepper motor driver required auto Half Current function specially while motor is not moving and it's in hold-state. For this operation SYNC and Ref required input signal.
SYNC input is for chopping synchronous function to protect from abnormal noises that may occasionally occur during the Motor Hold-State. This function can be operated by setting SYNC pin at high level.
Ref/Sleep1 – To set the half current in Motor Hold State this pin required appropriate voltage input. Also this pin can be use to driver in to sleep mode by just applying High level to this pin.
Note : To set the half current read SLA7078MPR data sheet.
Specifications
10 Pin Header connector for signal inputs, Step, Dir., 5V, Sync, V Ref./Sleep
Reference Voltage VS Output Current: 0.1V to 0.45V, 0-3Amps
Micro-stepping via on board jumper settings
Micro-stepping possible : Full Step, Half Step, 1/4th Step, 1/8 Step 1/16 Step
Onboard preset for current adjustment
Supply input and stepper connection via screw terminal connector
Inbuilt fault protections in ic for over temp and short circuit
Power supply 12-42 VDC @ 3 A
For Normal Operation, V Ref. should be less than 1.5V, Applying a voltage greater than 2.0V ( High level) to VREF pin disables the drive and puts the motor in free state (Coast)
Schematic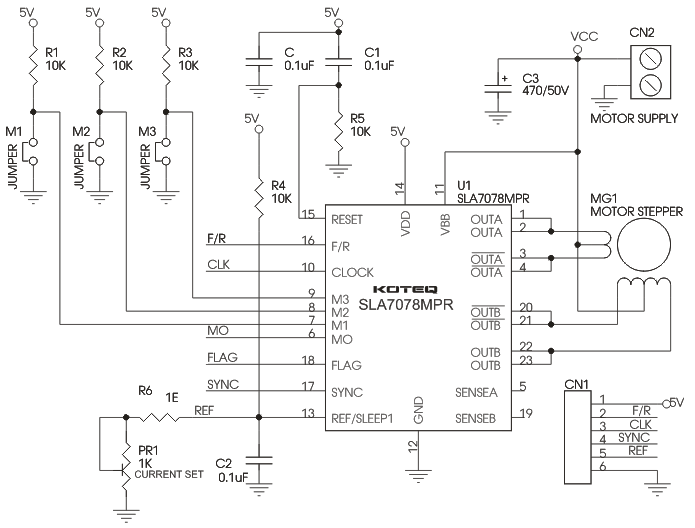 Parts List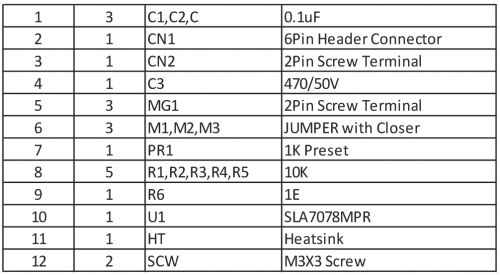 Connection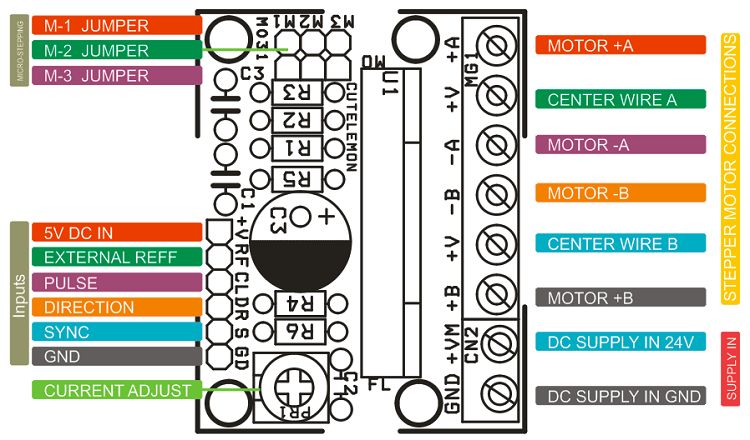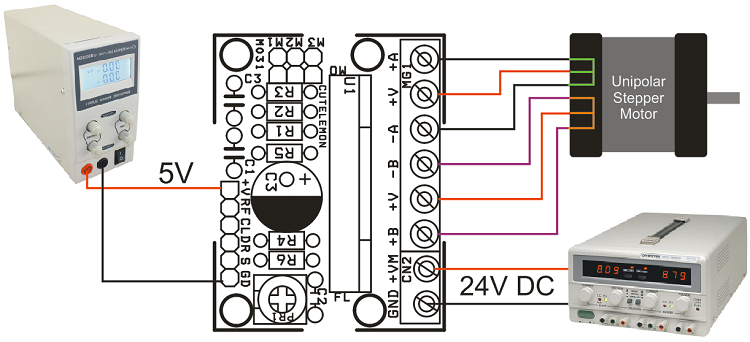 Configuration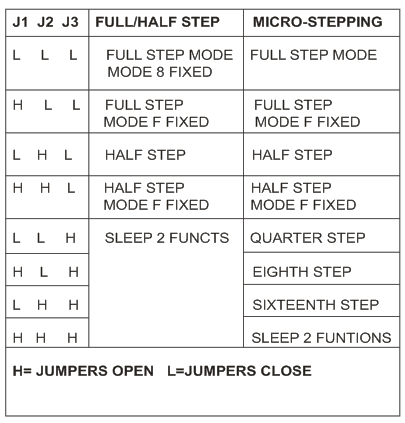 Photos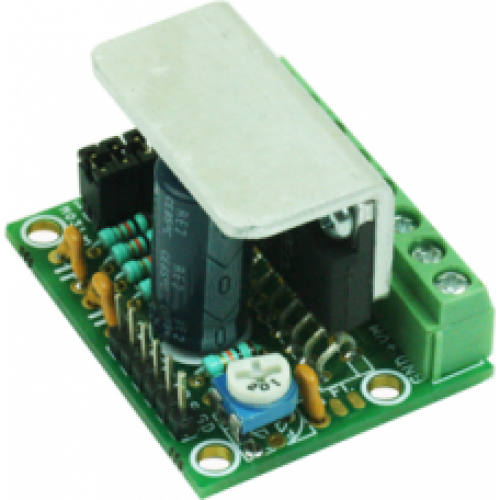 Videos