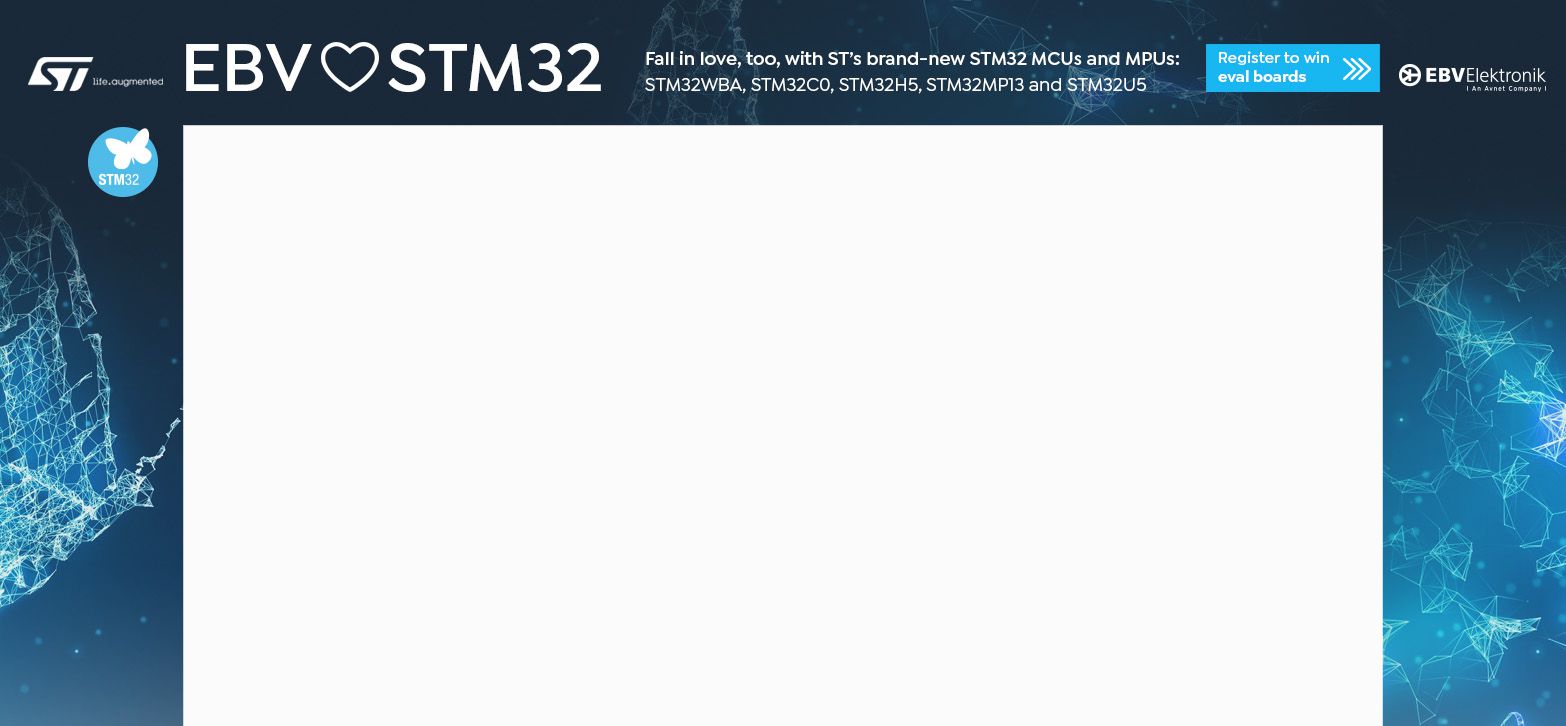 4 Channel SPI Interface Isolator with three Forward and One Reverse Direction Channels
Rajkumar Sharma

78 Views

easy

Tested

SKU: EL125973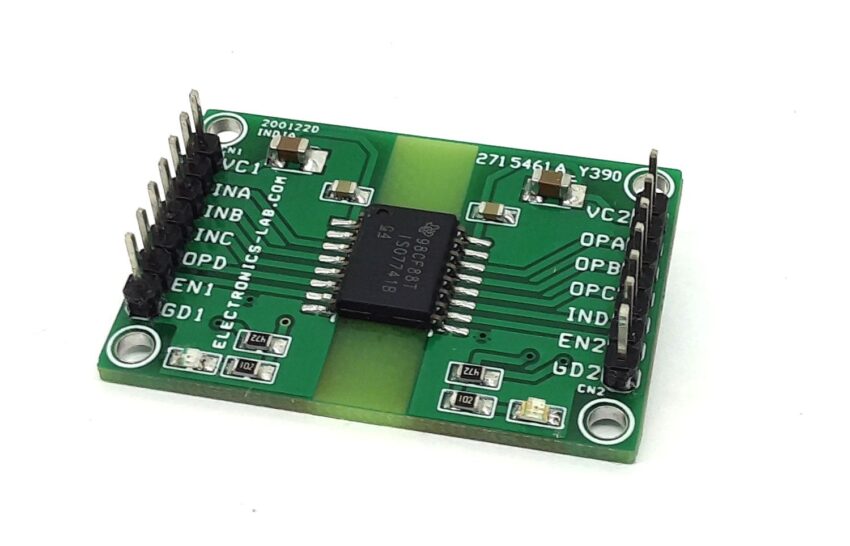 The project described here is a Quad-channel digital isolator with 5000VRMS isolation ratings per UL 1577. The board has three forward and one reverse-direction channel which makes this project ideal for isolated SPI interface between microcontroller and subnode unit. The circuit provides isolation between the main SPI unit (microcontroller) and the SPI slave. It has high electromagnetic immunity, reduces noise, and high voltage traveling to the main unit. All the outputs are normally high, use ENABLE pins to disable the outputs. Connecting Enable 1 and Enable 2 pins to GND respective sides puts all outputs LOW and all outputs are disabled. If the input power or signal is lost then the output goes high. Level translation range: 2.25V to 5.5V.
4-wire SPI devices have four signals, 3 Forward and One Reverse-Direction
Clock (SPI CLK, SCLK)
Chip select (CS)
main out, subnode in (MOSI)
main in, subnode out (MISO)
More info about SPI: https://www.analog.com/en/analog-dialogue/articles/introduction-to-spi-interface.html
The ISO7741 device is a high-performance, quad-channel digital isolator with 5000 VRMS isolation ratings per UL 1577. This family includes devices with reinforced insulation ratings according to VDE, CSA, TUV, and CQC. The ISO7741B device is designed for applications that require basic insulation ratings only. The ISO7741 device provides high electromagnetic immunity and low emissions at low power consumption while isolating CMOS or LVCMOS digital I/Os. Each isolation channel has a logic input and output buffer separated by a double capacitive silicon dioxide (SiO2) insulation barrier. These devices come with enable pins which can be used to put the respective outputs in high impedance for multi-master driving applications and to reduce power consumption. The ISO7741 device has three forward and one reverse-direction channel.
Features
Wide supply range: 2.25 V to 5.5 V Main SPI Side
Wide supply range: 2.25 V to 5.5 V Subnode SPI Side
Level Translation Range: 2.25V to 5.5V
2 x Power LED Main SPI side and Subnode Side
100 Mbps data rate
Robust isolation barrier
100-year projected lifetime at 1500 VRMS working voltage
Up to 5000 VRMS isolation rating
Up to 12.8 kV surge capability
±100 kV/µs typical CMTI
Default output high
Wide temperature range: –55°C to 125°C
Low power consumption, typical 1.5 mA per channel at 1 Mbps
Low propagation delay: 10.7 ns typical (5-V Supplies)
Robust electromagnetic compatibility (EMC)
System-level ESD, EFT, and surge immunity
±8 kV IEC 61000-4-2 contact discharge protection across the isolation barrier
Low emissions
PCB dimensions: 40.64 x 27.94mm
Schematic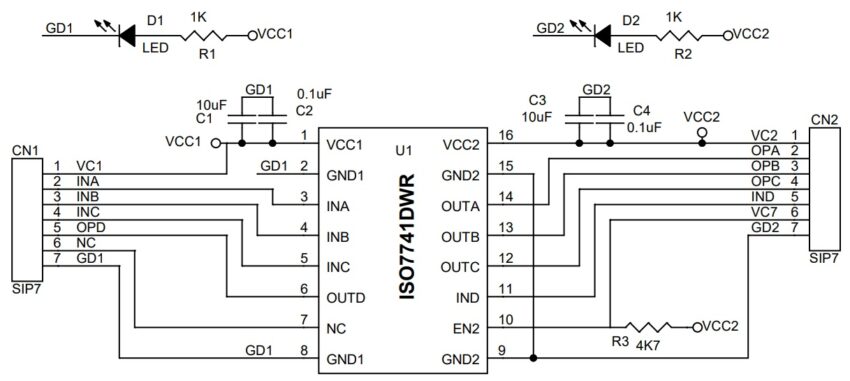 Simplified Schematic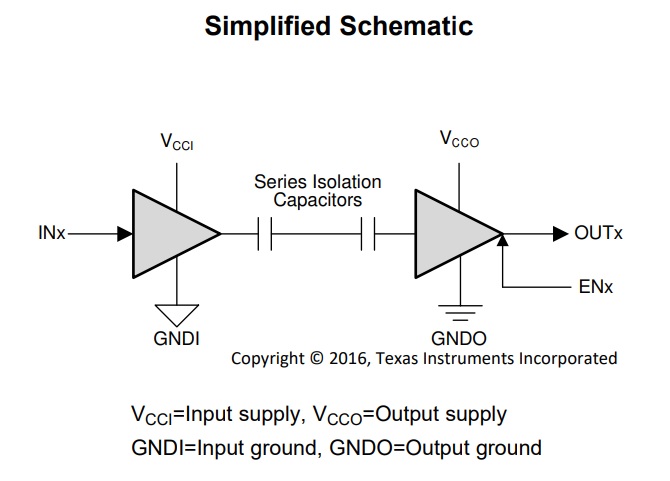 IC Pinout and Internal Diagram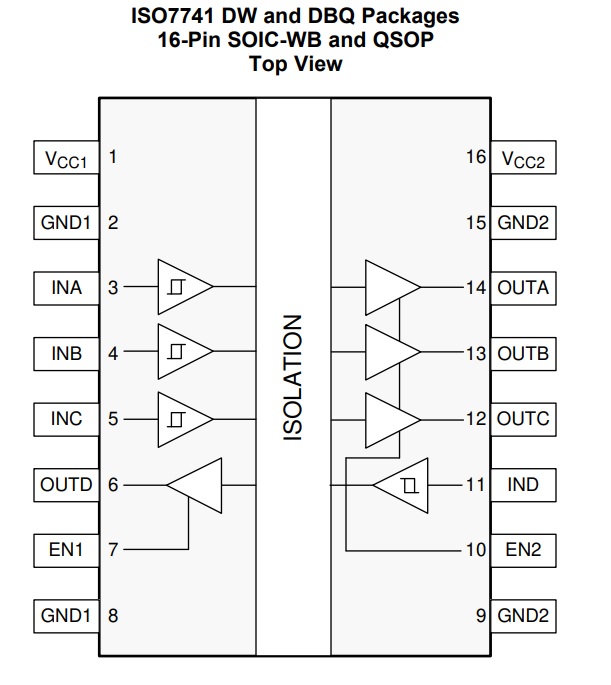 Parts List
| NO | QNTY | REF | DESC. | MANUFACTURING | SUPPLIER | PART NO |
| --- | --- | --- | --- | --- | --- | --- |
| 1 | 2 | CN1,CN2 | 7 PIN MALE HEADER PITCH 2.54MM | WURTH | DIGIKEY | 732-5320-ND |
| 2 | 2 | C1,C3 | 10uF/10V SMD SIZE 1210 OR 1206 | YAGEO/MUARATA | DIGIKEY | |
| 3 | 2 | C2,C4 | 0.1uF/50V SMD SIZE 0805 | YAGEO/MUARATA | DIGIKEY | |
| 4 | 2 | D1,D2 | LED RED OR GREEN SMD SIZE 0805 | LITE ON INC | DIGIKEY | 160-1427-1-ND |
| 5 | 2 | R1,R2 | 1K 5% SMD SIZE 0805 | YAGEO/MUARATA | DIGIKEY | |
| 6 | 1 | R3 | 4K7 5% SMD SIZE 0805 | YAGEO/MUARATA | DIGIKEY | |
| 7 | 1 | U1 | ISO7741DWR | TI | DIGIKEY | 296-47781-1-ND |
Connections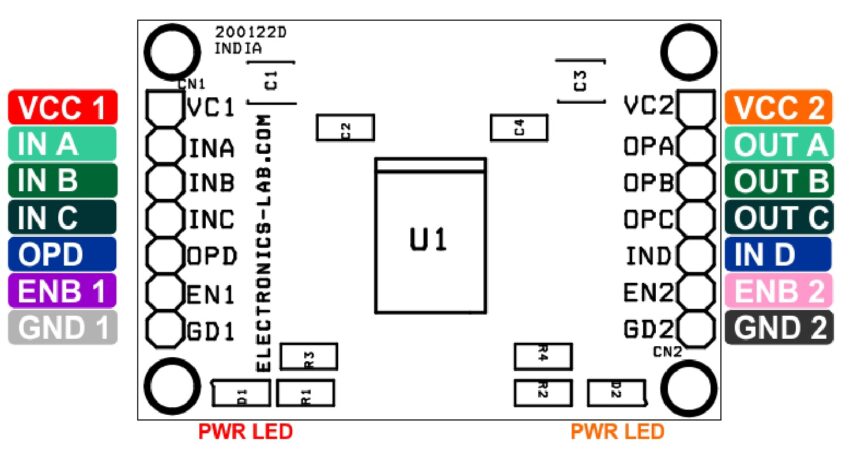 Gerber View
Photos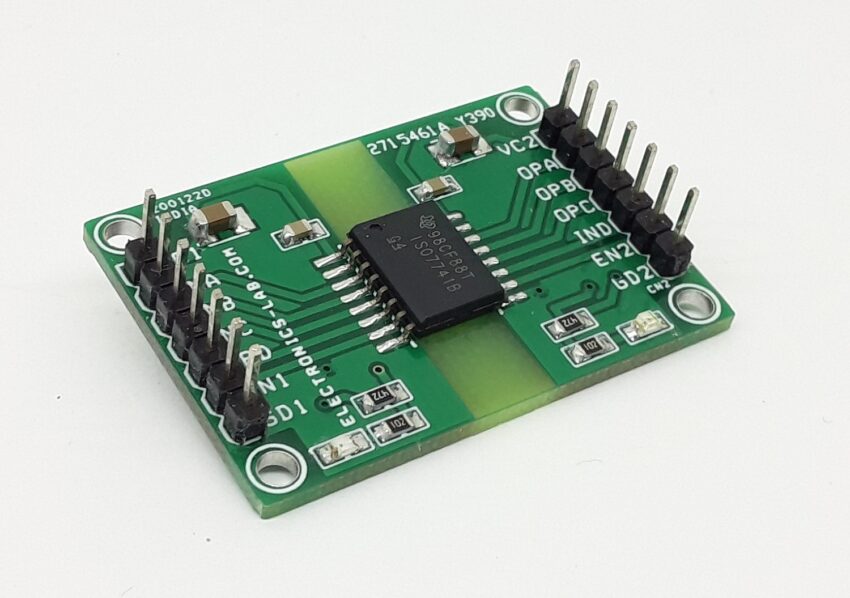 Video
ISO7741 Datasheet