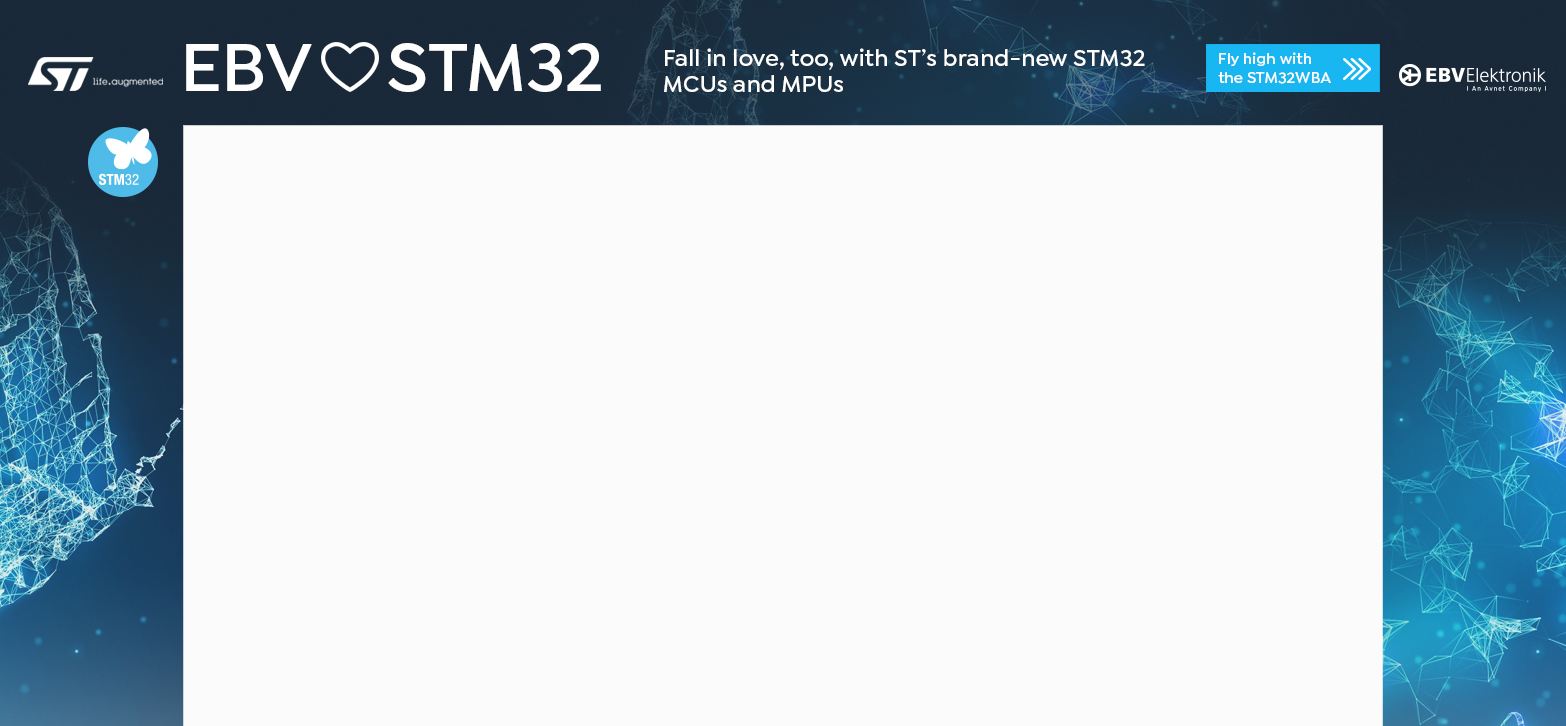 4 Channel High-Speed – Robust-EMC Reinforced Digital Isolators
Rajkumar Sharma

105 Views

easy

Tested

SKU: EL127052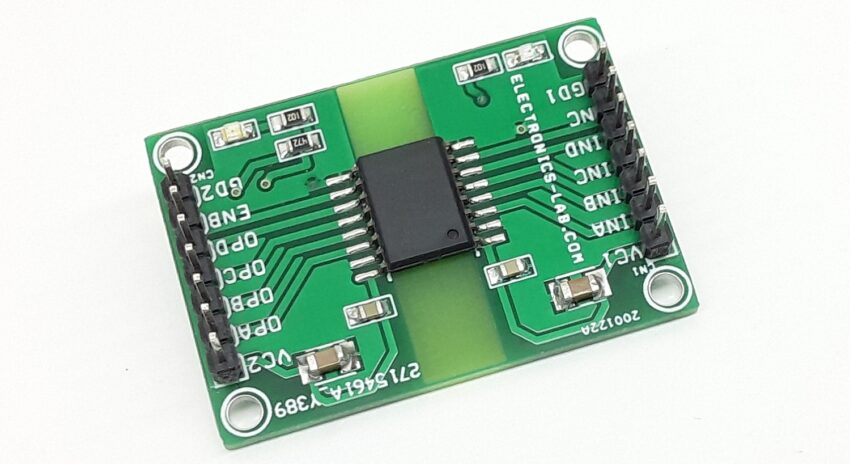 The project described here is a high-performance, quad-channel digital isolator with a 5000VRMS isolation rating as per UL1577. The ISO7740 IC provides high electromagnetic immunity and low emissions at low power consumption while isolating CMOS or LVCMOS digital I/O s. Each isolation channel has a logic input and output buffer separated by a double capacitive silicon dioxide (SiO2) insulation barrier. The project comes with enable pins that can be used to put the respective outputs in high impedance for multi-master driving applications and to reduce power consumption. The project is based on the ISO7740 chip that has all four channels in the same direction. If the input power or signal is lost, the output becomes high by default.
Used in conjunction with isolated power supplies, this project helps reduce noise currents on data buses, such as RS-485, RS-232, and CAN, or other interfaces, from entering the local ground and interfering with or damaging sensitive circuitry. Through innovative chip design and layout techniques, electromagnetic compatibility of the ISO7740 device has been significantly enhanced to ease system-level ESD, EFT, surge, and emissions compliance.
Connections and Other Details
CN1: Pin1= VCC1 (VCC Input Side 2.25V TO 5.5V), Pin2= Input 1, Pin3=Input 2, Pin4= Input 3, Pin5= Input 4, Pin6= NC (Not Connected), GND1
CN2: Pin1=VCC2 (VCC Output Side 2.25V to 5.5V), Pin2=Output 1, Pin3=Output 2, Pin4=Output 3, Pin5=Output 4, Pin6=Enable, Pin7=GND2
LED D1 Power LED Input Side
LED D2 Power LED Output Side
Note: The project is by default enabled, and all outputs are normally HIGH. Connecting ENABLE pin to GND disables the outputs and outputs go LOW.
Features
Wide Supply Range: 2.25 V to 5.5 V Output Side
Wide Supply Range: 2.25 V to 5.5 V Input Side
Level Translation Range: 2.25V to 5.5V
2 x Power LED Input Side and Output Side
100 Mbps Data Rate
Robust Isolation Barrier
100-year projected lifetime at 1500 VRMS working voltage
Up to 5000 VRMS isolation rating
Up to 12.8 kV surge capability
±100 kV/µs typical CMTI
Default output high
Wide temperature range: –55°C to 125°C
Low power consumption, typical 1.5 mA per channel at 1 Mbps
Low propagation delay: 10.7 ns typical (5-V Supplies)
Robust electromagnetic compatibility (EMC)
System-level ESD, EFT, and surge immunity
±8 kV IEC 61000-4-2 contact discharge protection across the isolation barrier
Low emissions
PCB Dimensions 40.64 x 27.94 mm
5 x 4 mm Mounting Holes
Schematic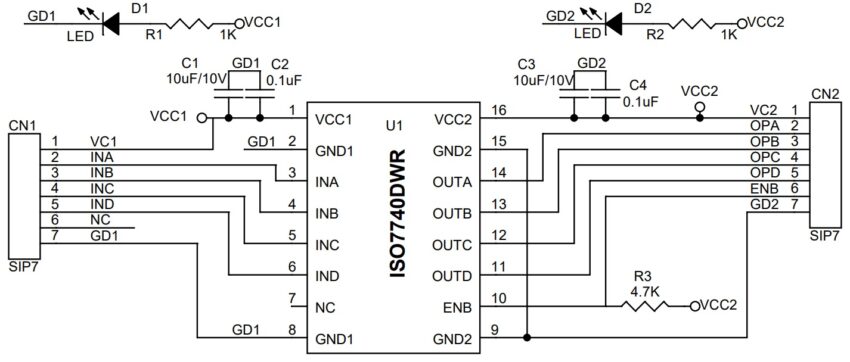 Parts List
| NO. | QNTY. | REF. | DESC. | MANUFACTURER | SUPPLIER | PART NO |
| --- | --- | --- | --- | --- | --- | --- |
| 1 | 2 | CN1,CN2 | 7 PIN MALE HEADER PITCH 2.54MM | WURTH | DIGIKEY | 732-5320-ND |
| 2 | 2 | C1,C3 | 10uF/10V SMD SIZE 1206 | YAGEO/MURATA | DIGIKEY | |
| 3 | 2 | C2,C4 | 0.1uF/50V SMD SIZE 0805 | YAGEO/MURATA | DIGIKEY | |
| 4 | 2 | D1,D2 | LED RED SMD SIZE 0805 | LITE ON INC | DIGIKEY | 160-1427-1-ND |
| 5 | 2 | R1,R2 | 1K 5% SMD SIZE 0805 | YAGEO/MURATA | DIGIKEY | |
| 6 | 1 | R3 | 4.7K 5% SMD SIZE 0895 | YAGEO/MURATA | DIGIKEY | |
| 7 | 1 | U1 | ISO7740DWR | TI | DIGIKEY | 296-44607-1-ND |
Connections


Block Diagram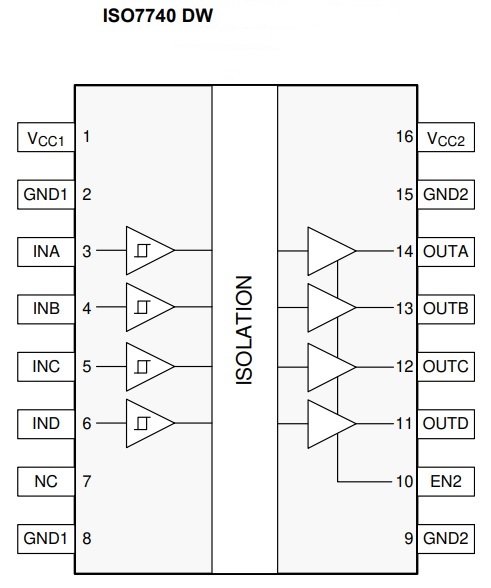 Simplified Schematic

Gerber View
Photos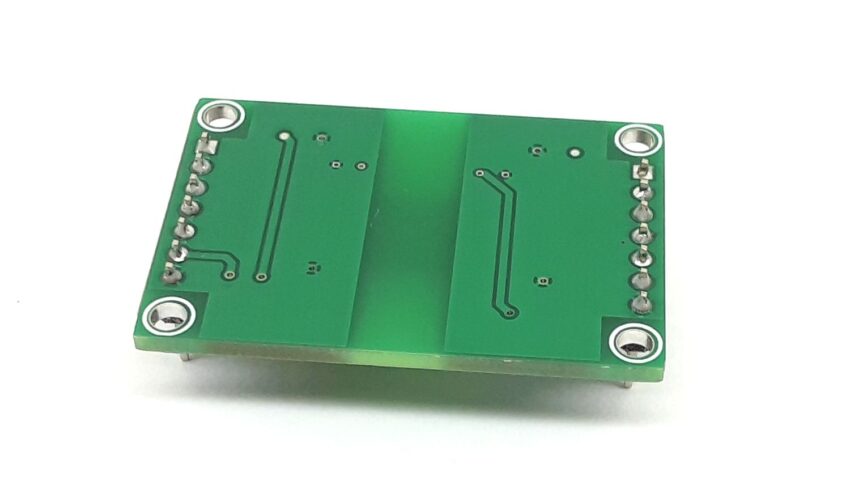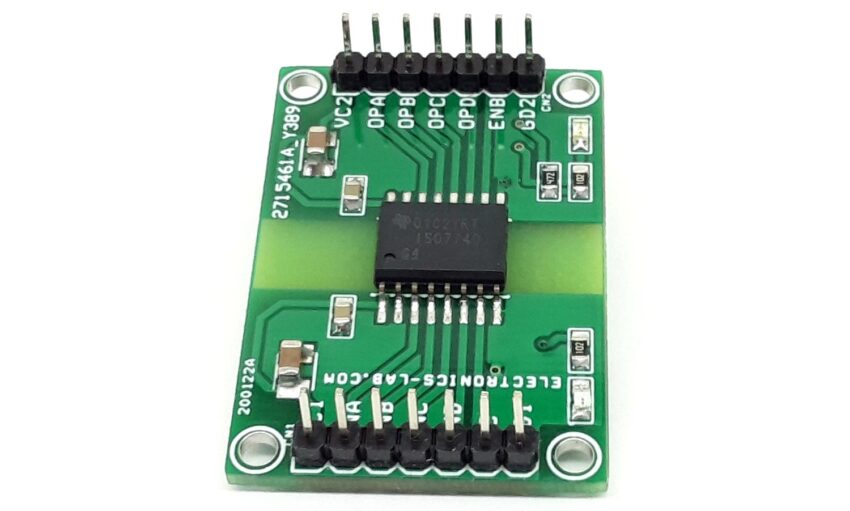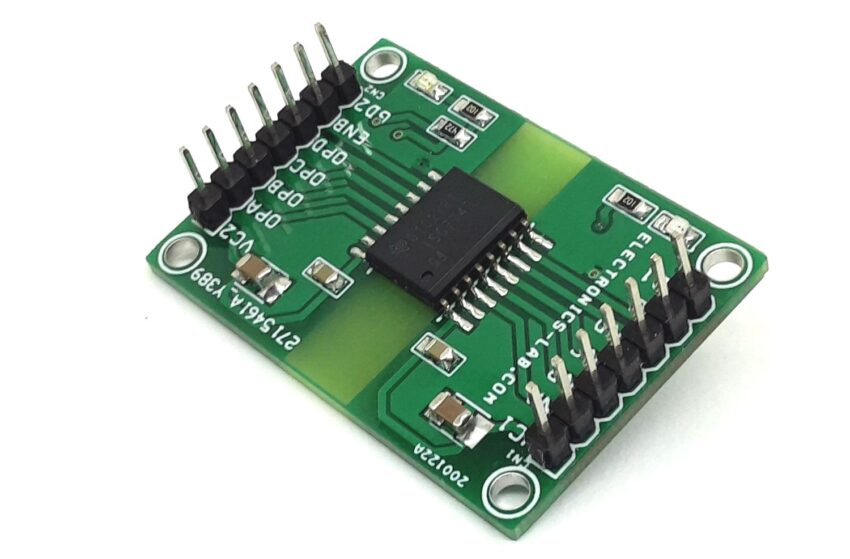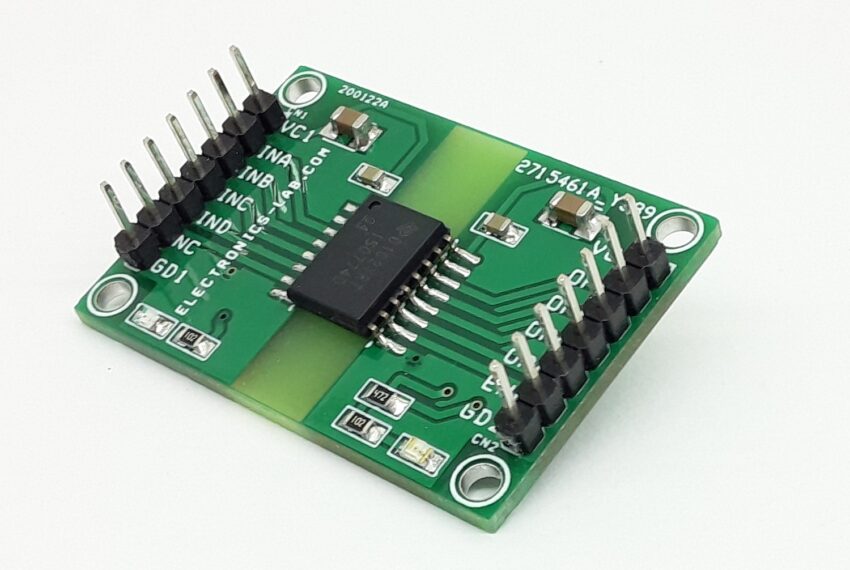 Video
ISO7740 Datasheet