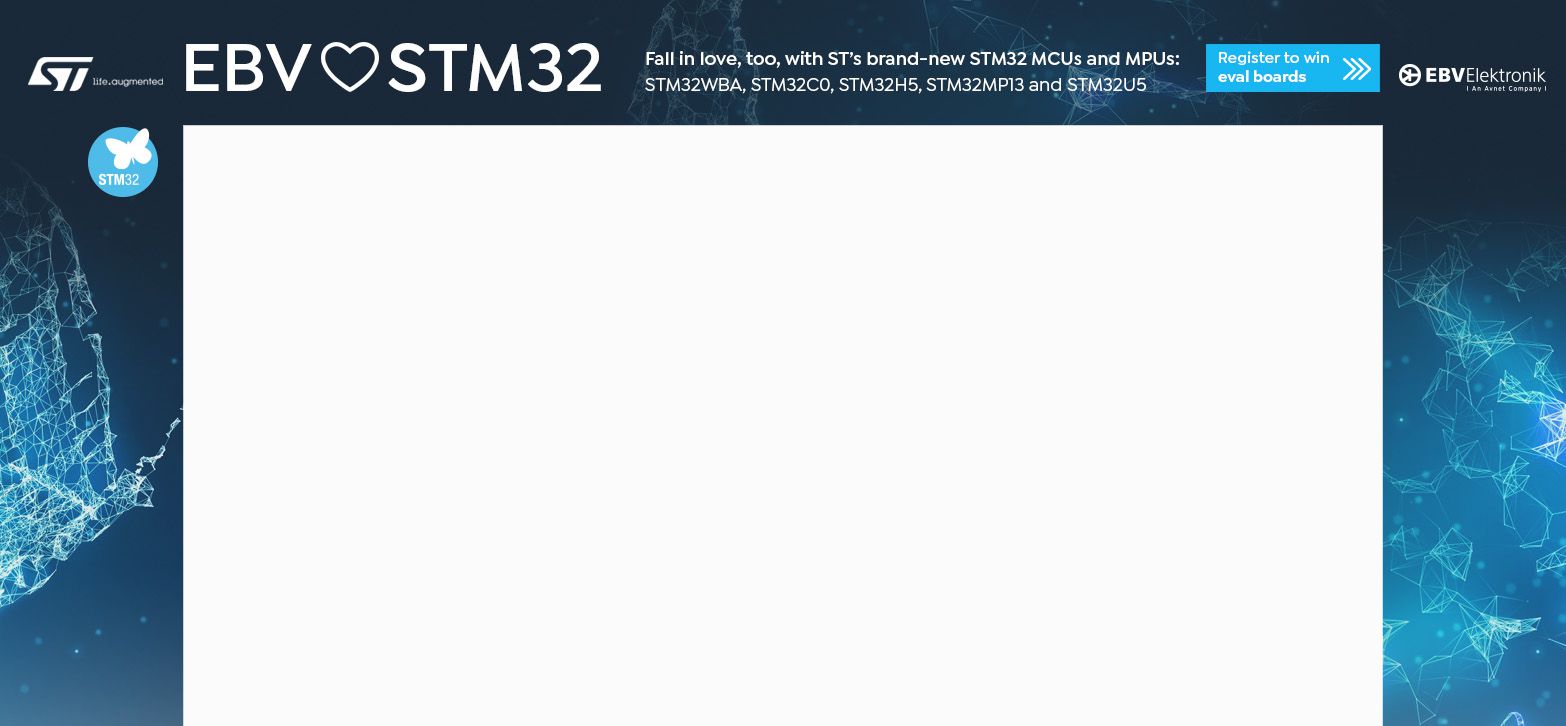 Dual Variable – Reluctance Sensor Interface Module – Stepper Motor Based Incremental Rotary Encoder
Rajkumar Sharma

56 Views

easy

Tested

SKU: EL125172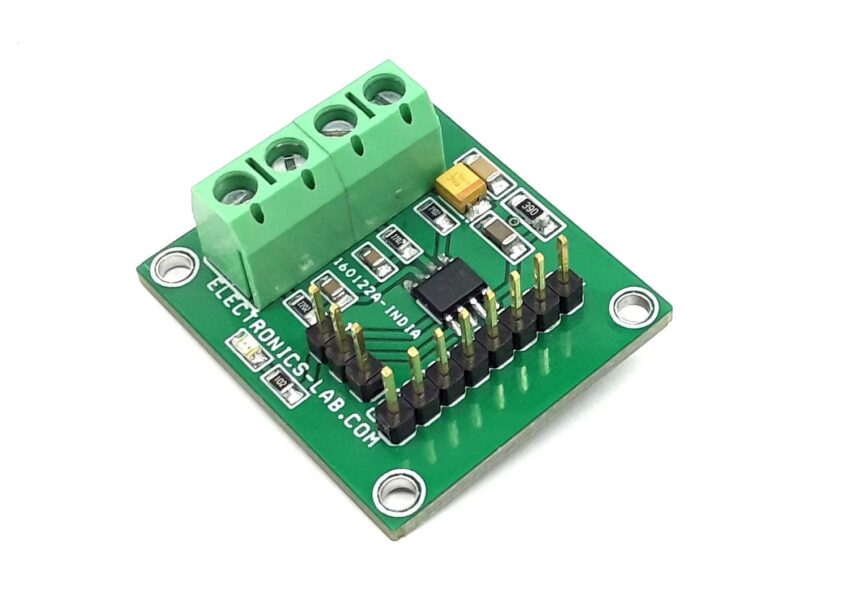 This project offers a dual−channel low component count interface solution for ground-referenced variable reluctance sensors. Each of the two identical channels interfaces with a variable−reluctance sensor, and continuously compares the sensor output signal to a user−programmable internal reference. An alternating input signal of appropriate amplitude at IN1 or IN2 will result in a rectangular waveform at the corresponding OUT1 and OUT2 terminal, suitable for interface to either standard microprocessors or standard logic families. A diagnostic input, common to both channels, provides a means to test for degradation or loss of the physical connector to both sensors. Each channel of the circuit has independent input bias and clamp circuitry, and independent comparators with Hysteresis voltage generators. Both channels share a common reference generator for normal and diagnostic modes. Basically, the circuit converts the sinewave signal of the sensor into a clean rectangular wave signal.
Input Protection
An active clamp is provided on each input to limit the voltage on the input pin and prevent substrate current injection. The clamp is specified to handle ±12 mA. This puts an upper limit on the amplitude of the sensor output. With resistor value R3 = 22 k, then, Therefore, the VRS (pk−pk) IN1 and In2 voltage can be as high as 480 V. The circuit will typically run at a frequency up to 1.8 MHz if the input signal does not activate the positive or negative input clamps. Frequency performance will be lower when the positive or negative clamps are active. A typical performance will be up to a frequency of 680 kHz with the clamps
Note: The project is built using an NCV1124 chip, refer to the datasheet of the chip for further information on internal functions.
Connections:
CN2 and CN3 Sensor 1 and Sensor 2 Interface
Jumper 1 Diagnostic Mode Selection
D1 Power LED
CN1: Pin1 and Pin 2 = VCC, Pin 3 and Pin4 = GND, Pin5 = Output 1, Pin6 = Output 2, Pin 7 and Pin 8 = GND
Stepper Motor based 2 Channel Incremental Encoder Channel A and Channel B Phase Shift Output to detect the rotation direction
Other than a reluctance sensor, the project can help to use a stepper motor as a rotary encoder. Connect the 4 wires of a bipolar stepper motor at input terminal S1, GND, and S2 and GND. The project provides 2 channel rotary encoder output channel A and Channel B, the output is 200 Lines per rotation and both outputs are phase-shifted which can help to detect the direction of the encoder.
Applications
Anti−Skid Braking and Traction Control
Vehicle Stability Control
Drive Belt Slippage Detection
Crankshaft/Camshaft Position Sensing
Features
Power Supply 5V DC +/-10%
Two Independent Channels TTL Output
Internal Hysteresis
Input Threshold +/- 160mV
Input Signal Sensitivity 250mV to 250V Peak to Peak
Built−In Diagnostic Mode – Jumper Selection
Site and Control for Automotive Applications
Direct Reluctance Sensor Interface – Screw Terminal Connectors
Power LED
Screw Terminals for Sensor Interface
Header Connector for Power Supply and Output
4X 2.5MM Mounting Holes
PCB Dimensions 33.97 x 29.85mm
Schematic


Parts List
| NO. | QNTY. | REF. | DESC. | MANUFACTURER | SUPPLIER | PART NO |
| --- | --- | --- | --- | --- | --- | --- |
| 1 | 1 | CN1 | 8 PIN MALE HEADER PITCH 2.54MM | WURTH | DIGIKEY | 732-5321-ND |
| 2 | 2 | CN2,CN3 | 2 PIN SCREW TERMINAL PITCH 5.08MM | WURTH | DIGIKEY | 277-1247-ND |
| 3 | 1 | C1 | 4.7uF/25V SMD SIZE 1206 | YAGEO/MURATA | DIGIKEY | |
| 4 | 1 | C2 | 0.1uF/50V SMD SIZE 0805 | YAGEO/MURATA | DIGIKEY | |
| 5 | 1 | C3 | 10uF/25V SMD SIZE 1210 | YAGEO/MURATA | DIGIKEY | |
| 6 | 2 | C4,C5 | 22KPF/50V SMD SIZE 0805 | YAGEO/MURATA | DIGIKEY | |
| 7 | 1 | D1 | LED RED SMD SIZE 0805 | LITE ON INC | DIGIKEY | 160-1427-1-ND |
| 8 | 1 | J1 | JUMPER/2 PIN MALE HEADER 2.54MM | WURTH | DIGIKEY | 732-5315-ND |
| 9 | 1 | R1 | 1K 5% SMD SIZE 0805 | YAGEO/MURATA | DIGIKEY | |
| 10 | 1 | R2 | 39E 5% SMD SIZE 1206 | YAGEO/MURATA | DIGIKEY | |
| 11 | 1 | R3 | 24K 1% SMD SIZE 0805 | YAGEO/MURATA | DIGIKEY | |
| 12 | 2 | R4,R5 | 22K 5% SMD SIZE 08095 | YAGEO/MURATA | DIGIKEY | |
| 13 | 1 | U1 | NCV1124 SOIC8 | ON SEMI | DIGIKEY | NCV1124DR2GOSCT-ND |
| 14 | 1 | J1-S | JUMPER SHUNT | SULLIN CONECT | DIGIKEY | S9001-ND |
Connections

Reluctance Sensor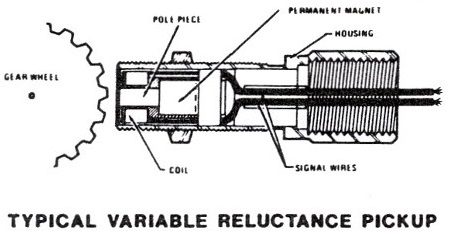 Gerber View
Photos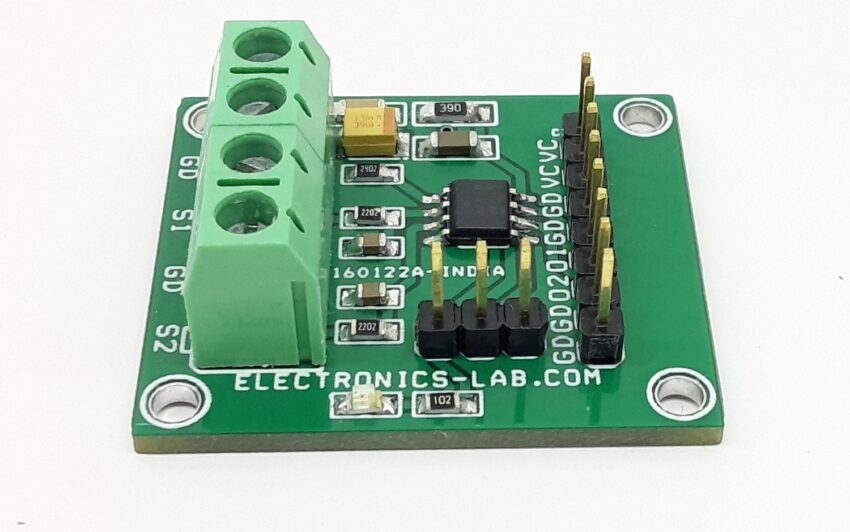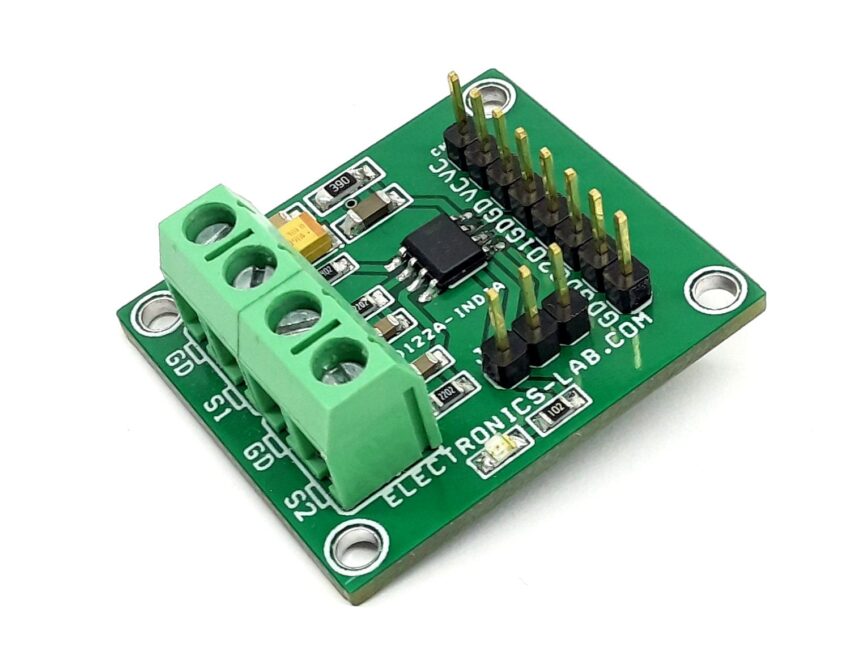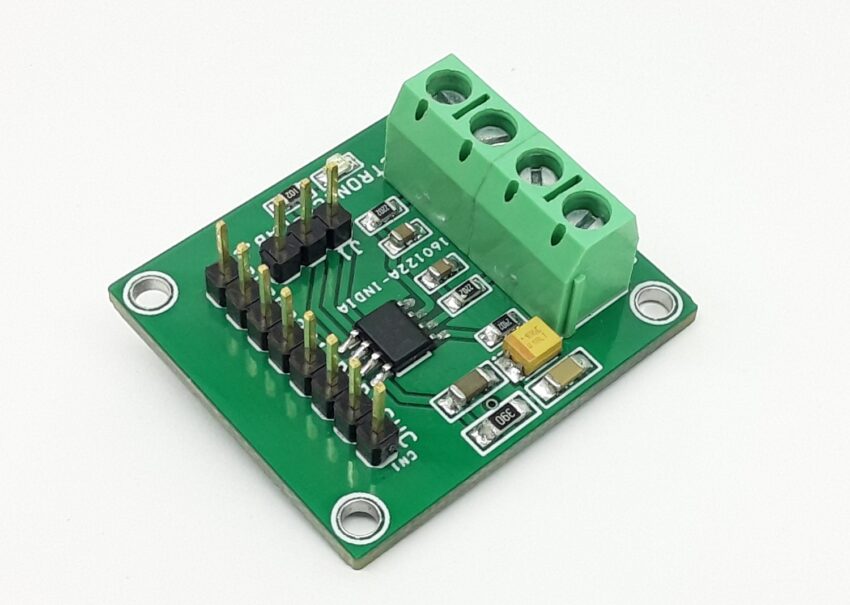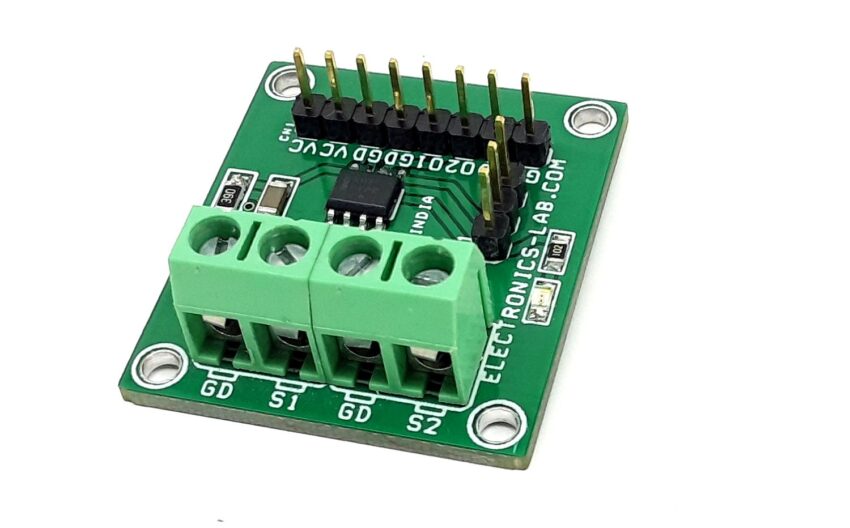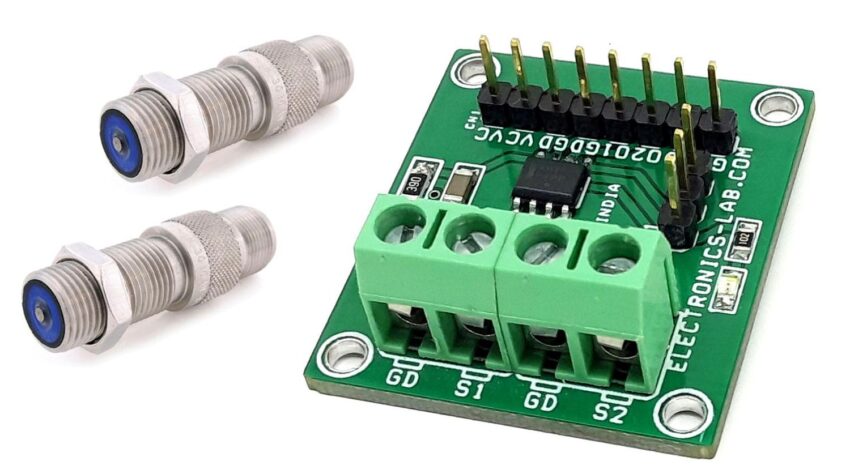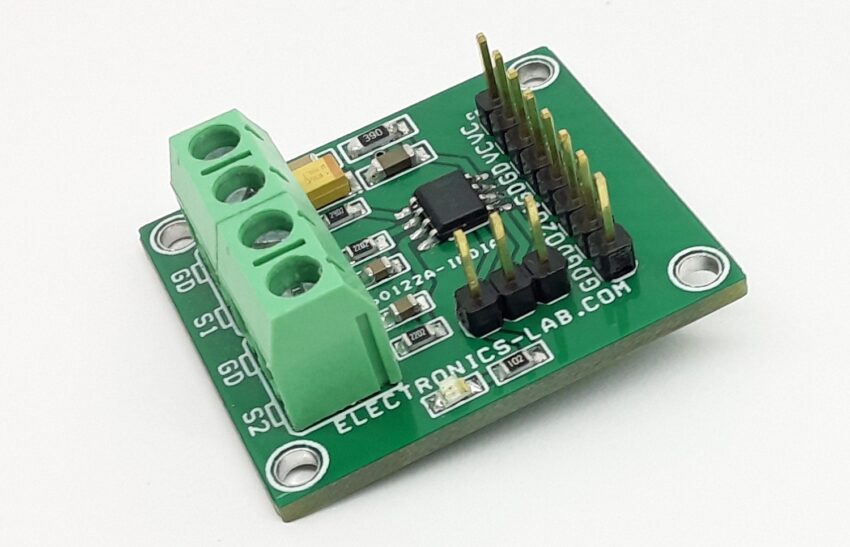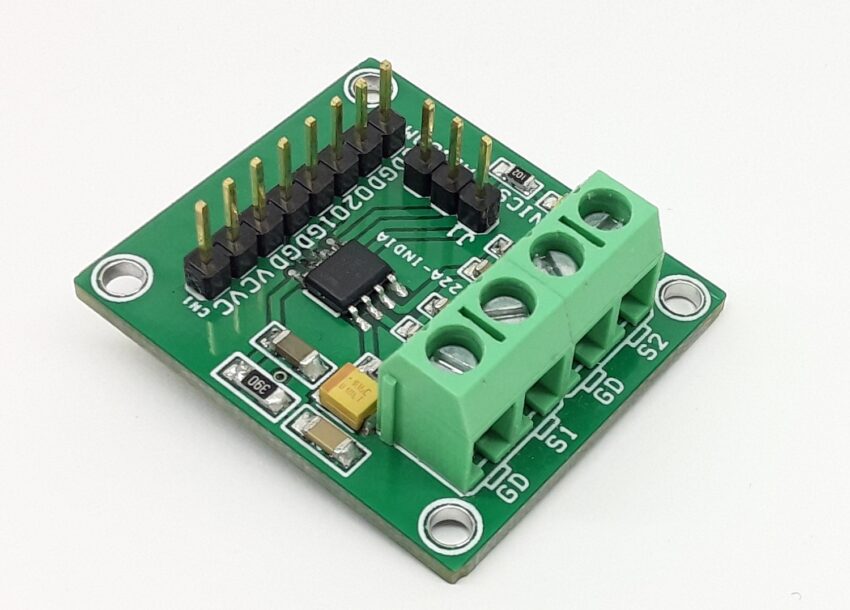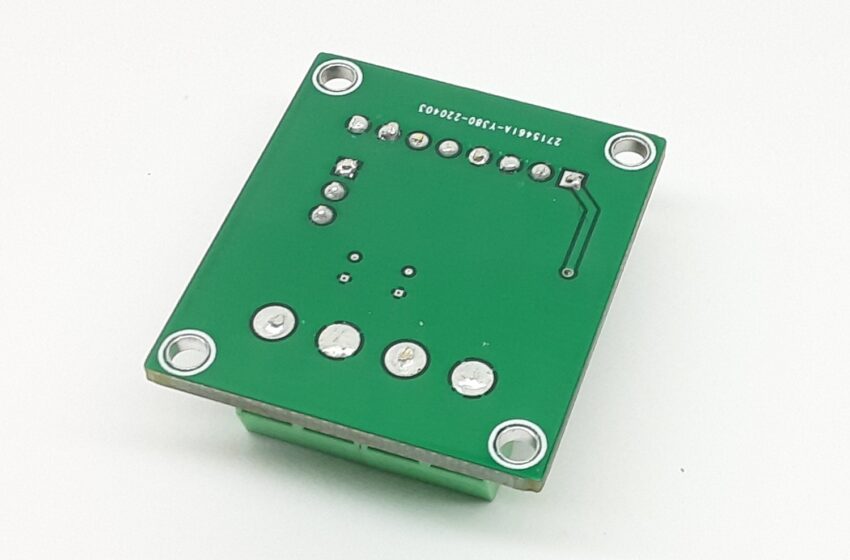 Video
NCV1124DR2G Datasheet