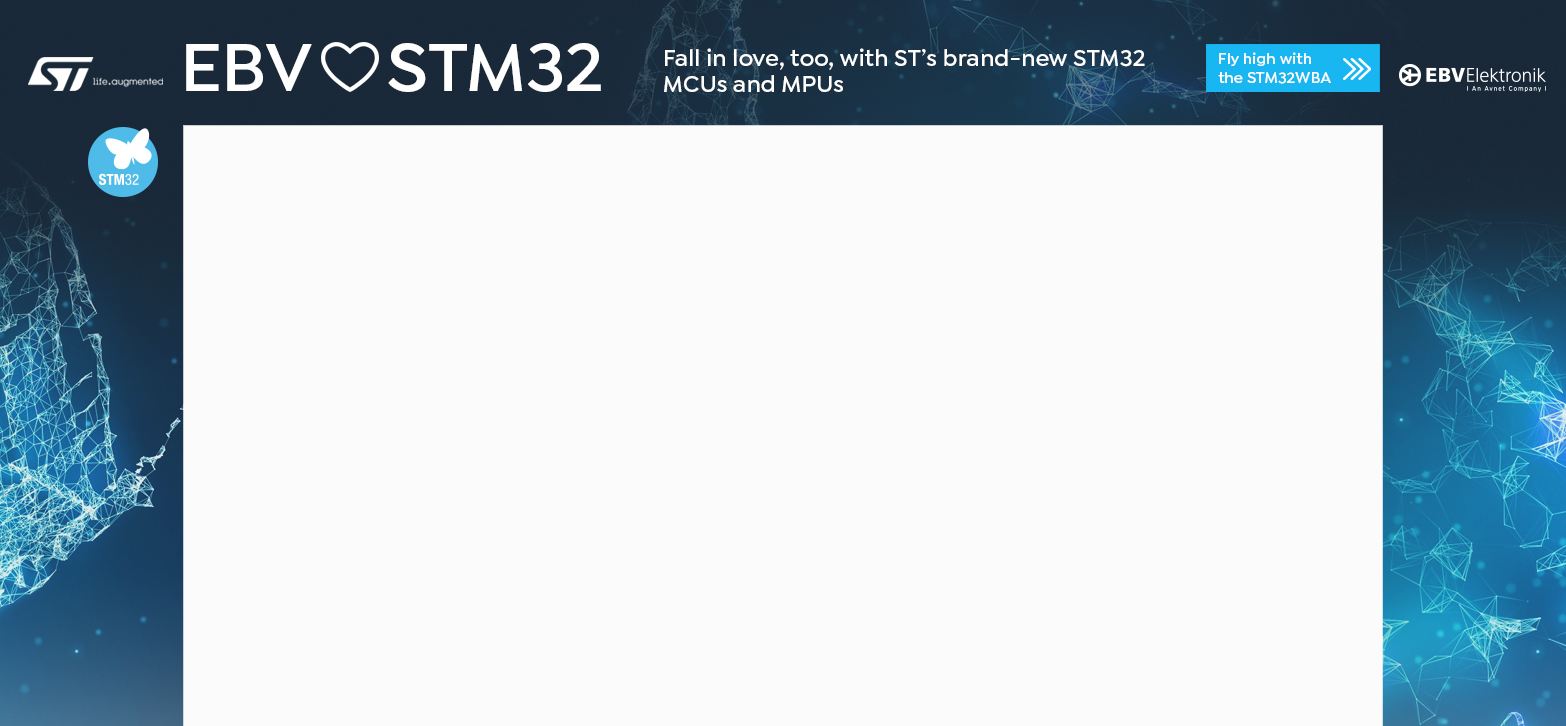 Programmable Bridge Resistive Sensor Signal Conditioner
Rajkumar Sharma

75 Views

easy

Tested

SKU: EL139668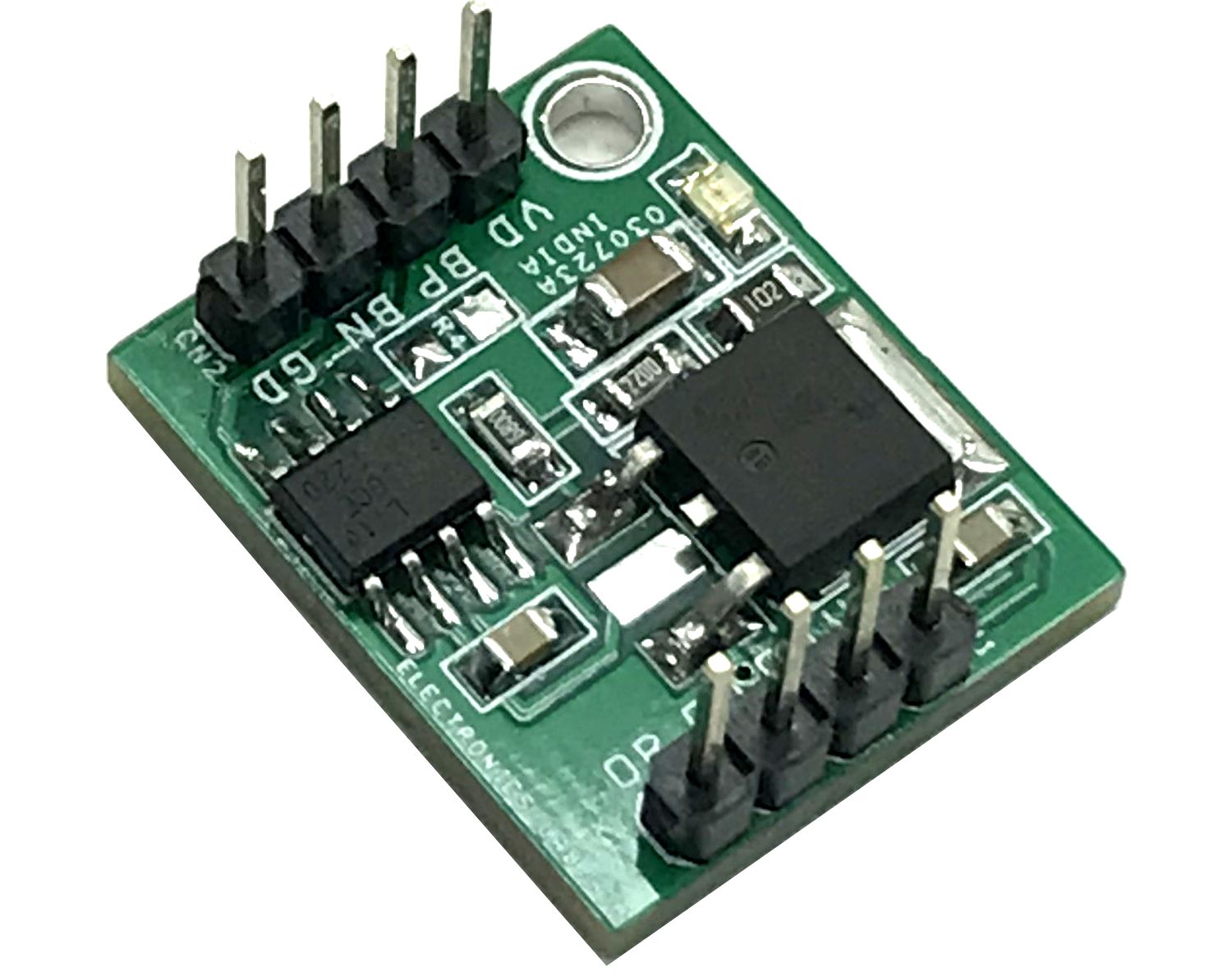 The module presented here is a sensor signal conditioner based on ZSC31010 CMOS integrated circuit, which enables easy and precise calibration of resistive bridge sensors via EEPROM programming. When mated to a resistive bridge sensor, it will digitally calibrate offset and gain with the option to calibrate offset and gain coefficients and linearity over temperature. A second-order compensation can be enabled for temperature coefficients of gain or offset or bridge linearity. ZSC31010 module communicates via IDT's ZACwire serial interface to the host computer and it is easily mass-calibrated in a Windows environment. Once calibrated, the output signal pin can provide selectable 0 to 1 V absolute analog output; rail-to-rail ratiometric analog output; or digital serial output of bridge data with optional temperature data. U1 LM317 provides the 5V DC to the sensor chip. D1 is the power LED.
Note: This sensor module requires a simple PC-controlled configuration and calibration via ZACwire™ One-Wire Interface.
Click the link below to download the calibration software, more information about the ZSC31010, and a video tutorial about the ZACwire interface.
https://www.renesas.com/us/en/products/sensor-products/sensor-signal-conditioners-ssc-afe/zsc31010-resistive-sensor-signal-conditioner-analog-output
Features
Supply Input 4V DC to 24V DC
Output 0 to 1V Or Digital
Current Consumption Approx 6mA Including LED
Digital compensation of sensor offset, sensitivity, temperature drift, and non-linearity
Accommodates differential sensor signal spans, from 3 mV/V to 105 mV/V
ZACwire™ One-Wire Interface (OWI)
Internal temperature compensation and detection via bandgap PTAT (proportional to absolute temperature)
Output options: rail-to-rail analog output voltage, absolute analog voltage, digital ZACwire™ One Wire Interface (OWI)
Optional sequential output of both temperature and bridge readings on ZACwire™ digital output
Fast response time, 1 ms (typical)
Chopper-stabilized true differential ADC
Buffered and chopper-stabilized output DAC
PCB Dimensions 22.54 x 18.10 mm
Connections and Other Details
CN1: Pin 1 = VCC 4V to 24V DC, Pin 2,3 = GND, Pin 4 = Output Analog/Digtal ZACwire Interface
CN2: Bridge Sensor Pin1 = VDD, Pin 3 = VBP, Pin 4 = VBN
D1: Power LED
Schematic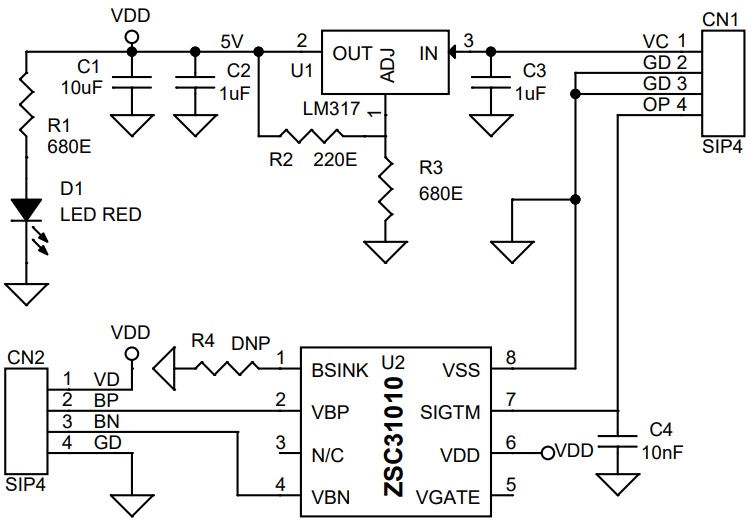 Parts List
| NO | QNTY | REF | DESC | MANUFACTURER | SUPPLIER | SUPPLIER PART NO |
| --- | --- | --- | --- | --- | --- | --- |
| 1 | 2 | CN1,CN2 | 4 PIN MALE HEADER PITCH 2.54MM | WURTH | DIGIKEY | 732-5317-ND |
| 2 | 1 | C1 | 10uF/25V CERAMIC SMD SIZE 1206 | YAGEO/MURATA | DIGIKEY | |
| 3 | 2 | C2,C3 | 1uF/25V CERAMIC SMD SIZE 0805 | YAGEO/MURATA | DIGIKEY | |
| 4 | 1 | C4 | 10nF/50V CERAMIC SMD SIZE 0805 | YAGEO/MURATA | DIGIKEY | |
| 5 | 1 | D1 | LED RED SMD SIZE 0805 | OSRAM | DIGIKEY | 475-1278-1-ND |
| 6 | 2 | R1,R3 | 680E 1% SMD SIZE 0805 | YAGEO/MURATA | DIGIKEY | |
| 7 | 1 | R2 | 220E 1% SMD SIZE 0805 | YAGEO/MURATA | DIGIKEY | |
| 8 | 1 | R4 | DNP | | | |
| 9 | 1 | U1 | LM317 DPAK | ST | DIGIKEY | 497-1574-1-ND |
| 10 | 1 | U2 | ZSC31010 SOIC8 | IDT, Integrated Device Technology Inc | DIGIKEY | 1833-1003-1-ND |
Connections

Application Diagram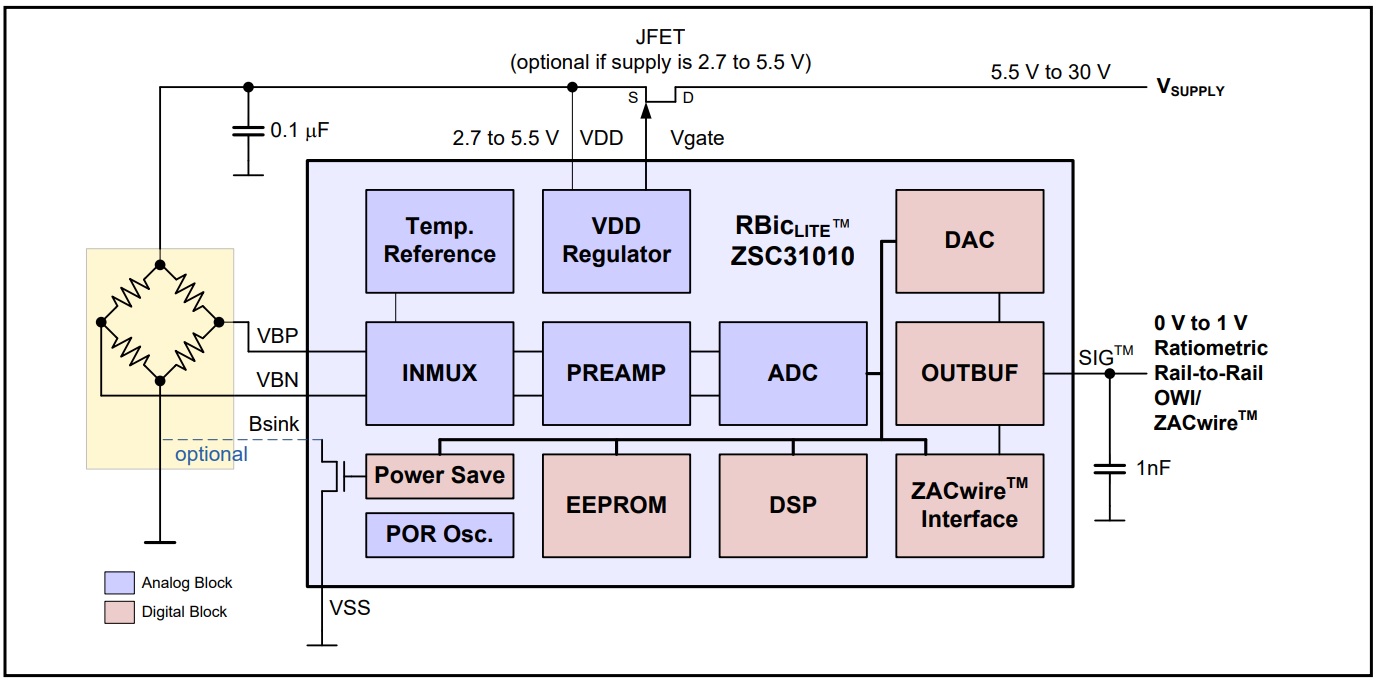 Gerber View
Photos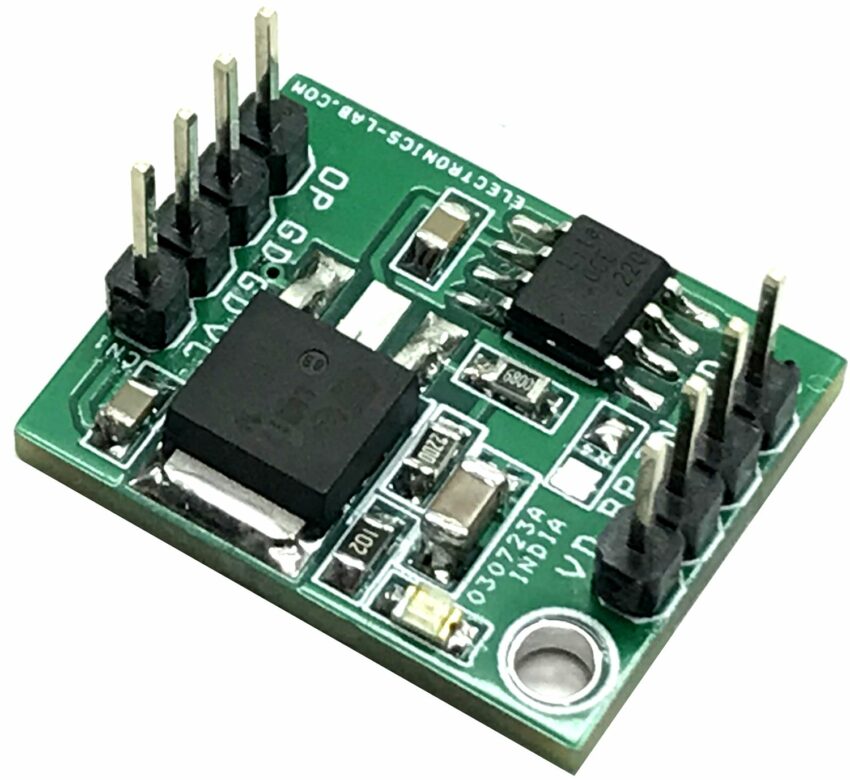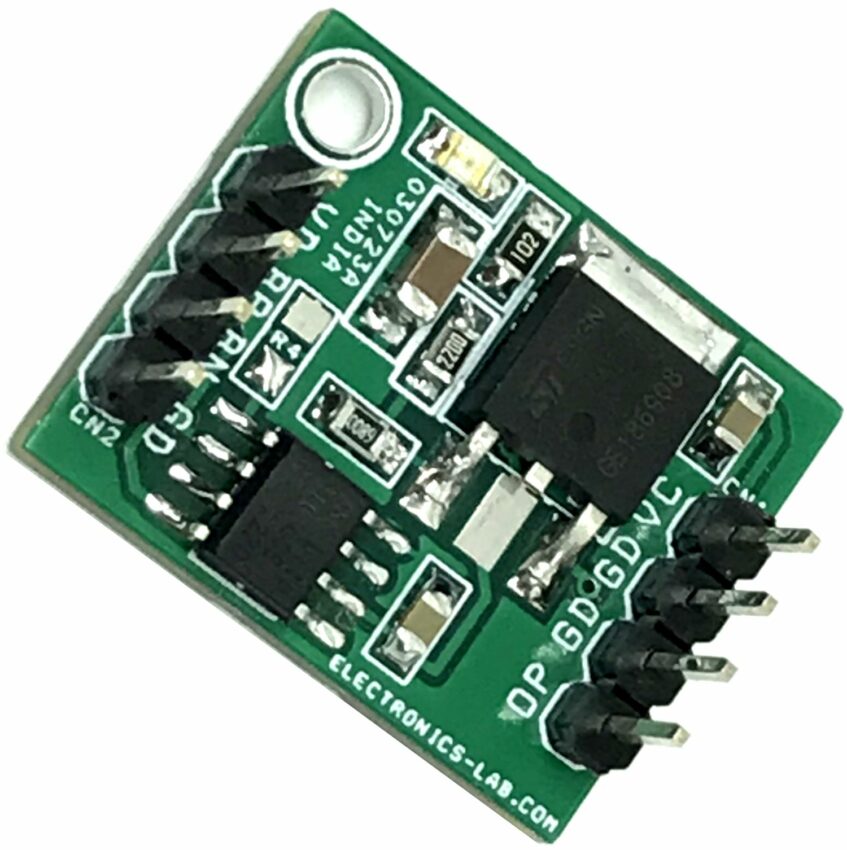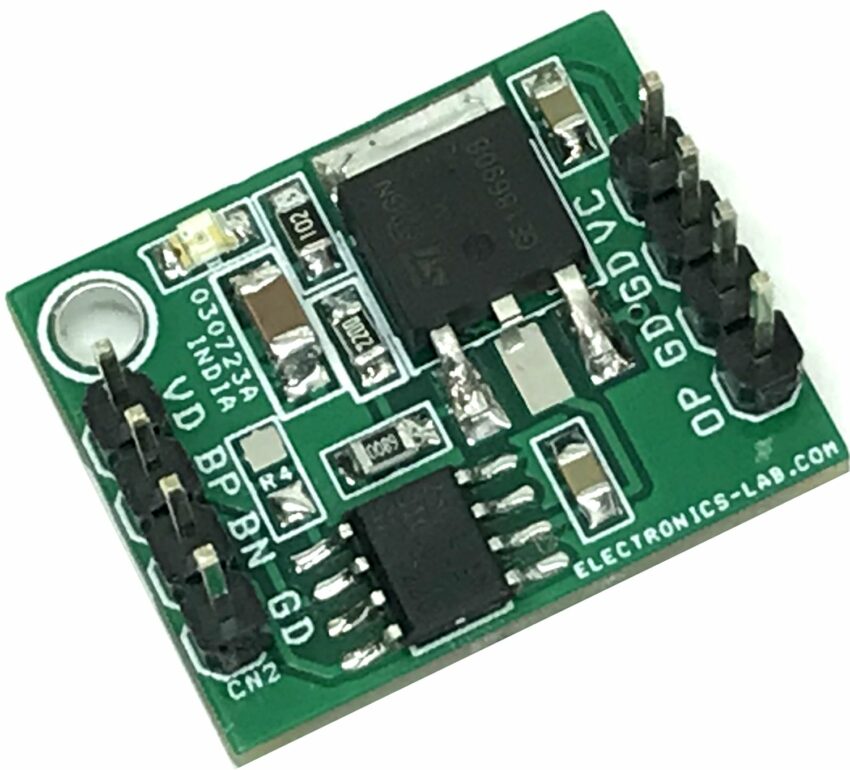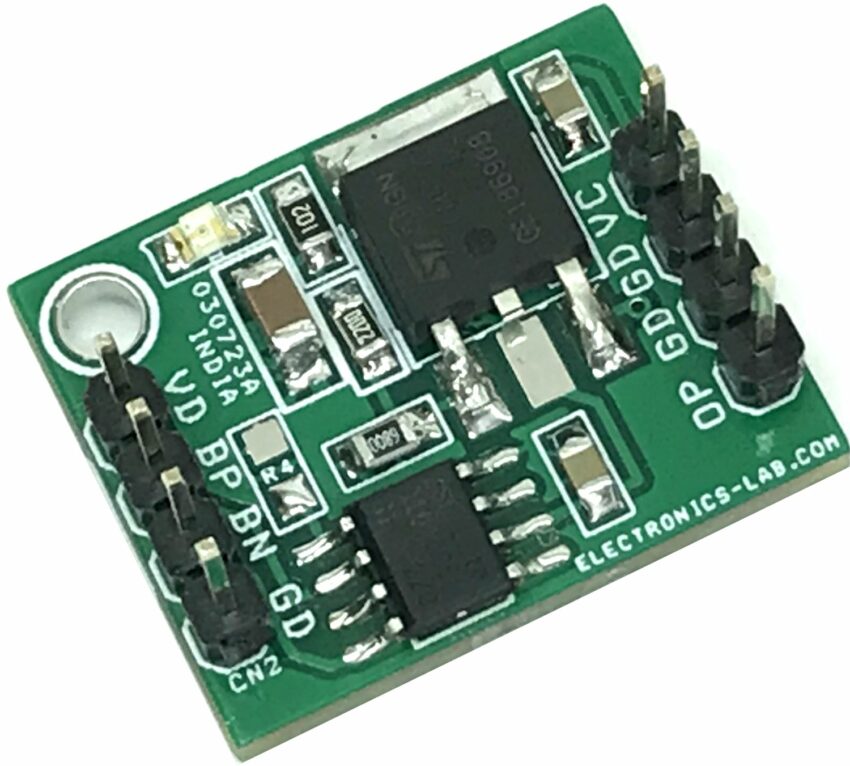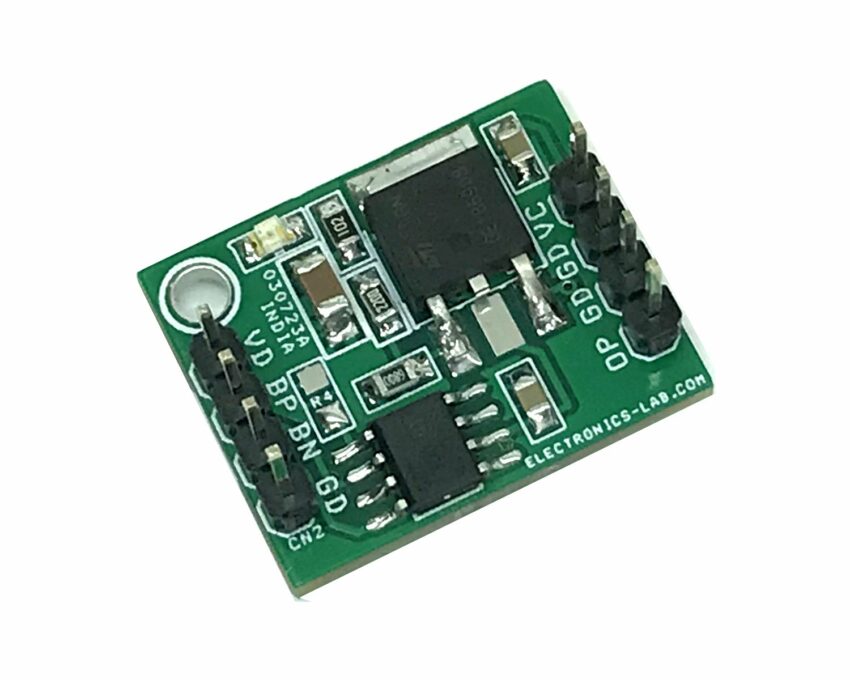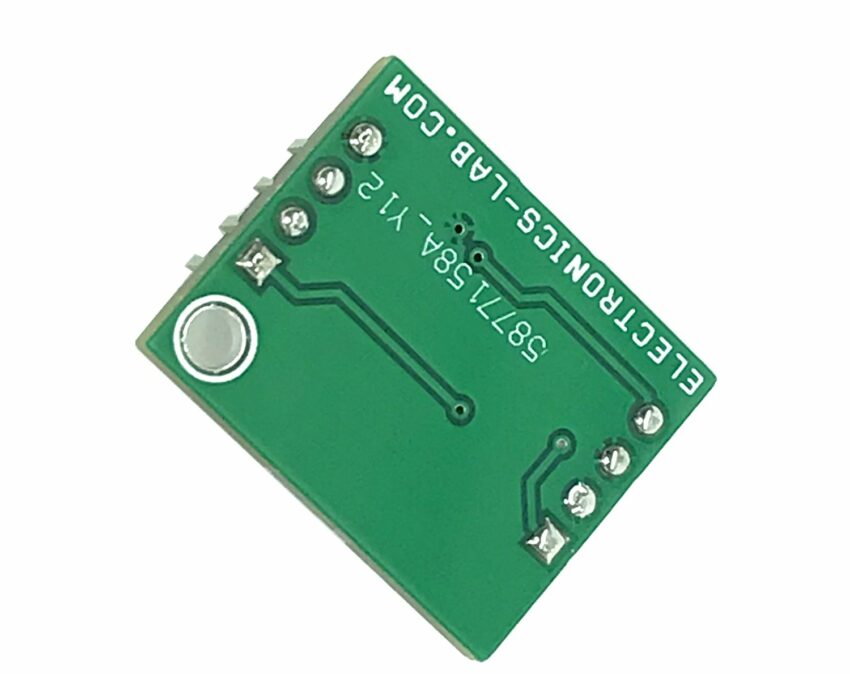 ZSC31010 Datasheet