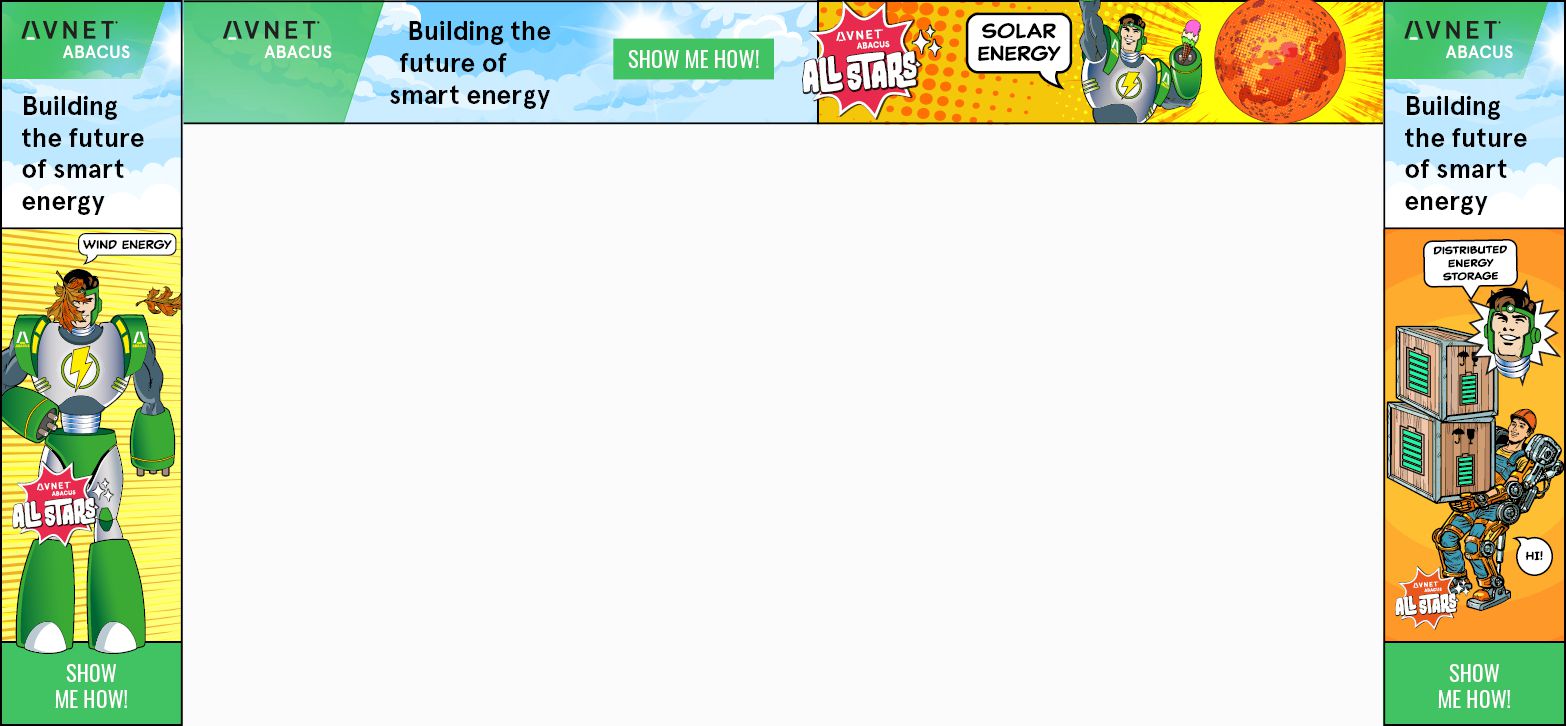 Sound to RC Servo Driver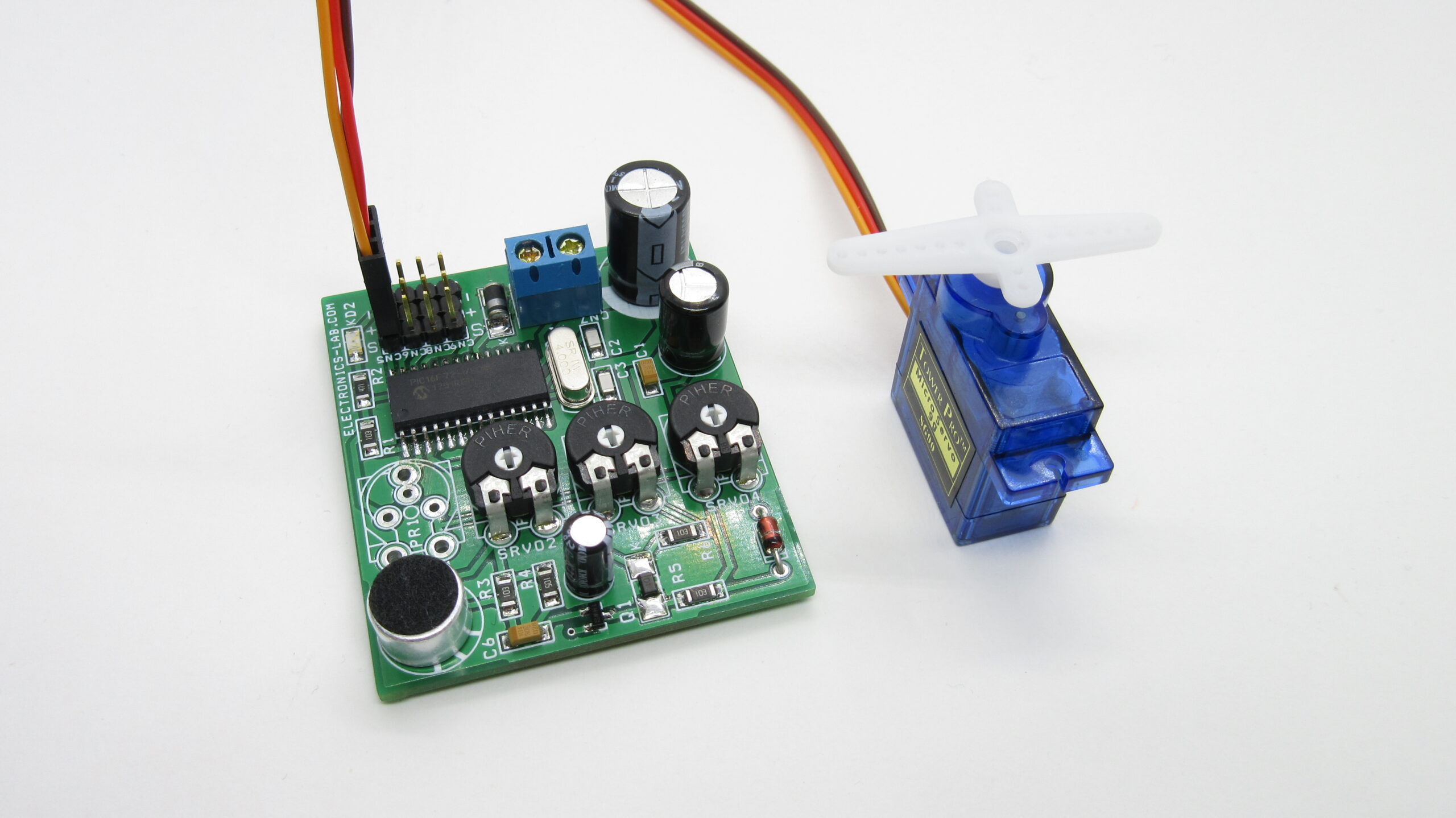 New Version: A new version of the Sound to RC Servo is available "Sound to RC Servo Driver v2.0 – Arduino Compatible"
This project is designed for Animatronics and Puppeteer applications, however, it can be used in other applications like sound-responsive toys, robots, etc. Especially this project helps to move the jaw or mouth of an animatronic creature.
The project moves the RC-servo once receives any kind of sound.  The rotation angle depends on the sound level, the more the sound level more the movement. The movement of the servo is proportional to the sound level.
The circuit has 4 channel servo drivers, the First channel is driven by sound, and the rest 3 RC servos are controlled by the onboard trimmer potentiometer, these 3 channels help to drive other movements of the animatronics figure.
Sound Received by the microphone is converted to DC voltage, PIC16F72 microcontroller converts DC voltage into the RC PWM signal. The circuit works with 5V DC and it is advisable to use a battery for low jitter.
If you want to drive the input with a direct audio signal remove R3 (10K) and microphone and feed audio to C6, we would advise using a potentiometer (10K to 20K) before feeding audio to C6 to adjust the input level. If the audio source is from the headphones output you can remove Q1 and feed audio to the anode of D3. Refer to "Schematic with Analog Audio input" below.
Features
Supply 5V to 6V DC (1.5V X 4 AA or Large 6V SLA Battery)
4 Channel RC Servo Drivers
1St Channel works with Sound
3 Channel works with an onboard potentiometer
CN7 Supply
D2 Power LED
CN6, CN8, and CN9 Connectors for RC Servo work with Potentiometer
Trimmer Potentiometer PR2= SERVO 2, PR3=SERVO 3, PR4=SERVO4
CN5 Connector for RC Servo works with Sound
Schematic with MIC input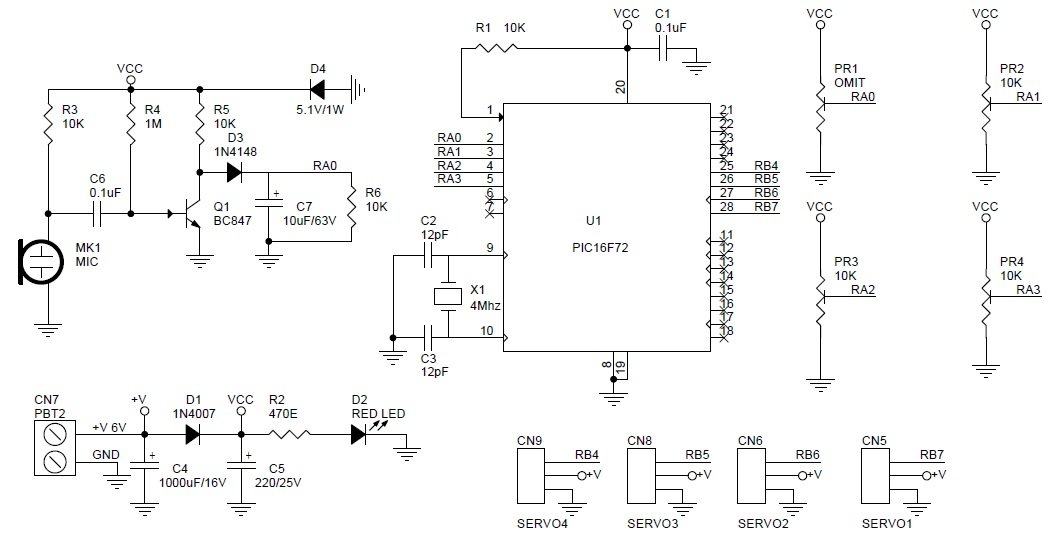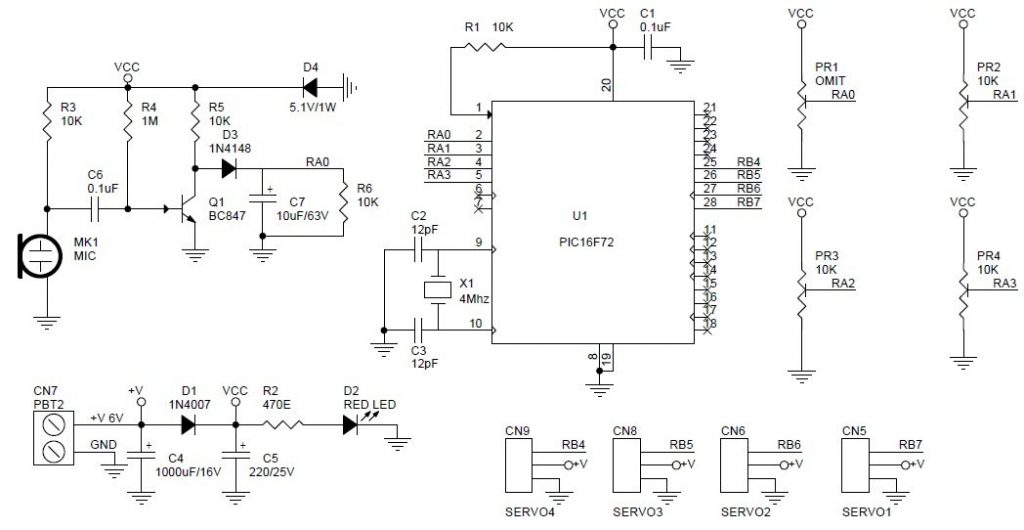 Schematic with Analog Audio input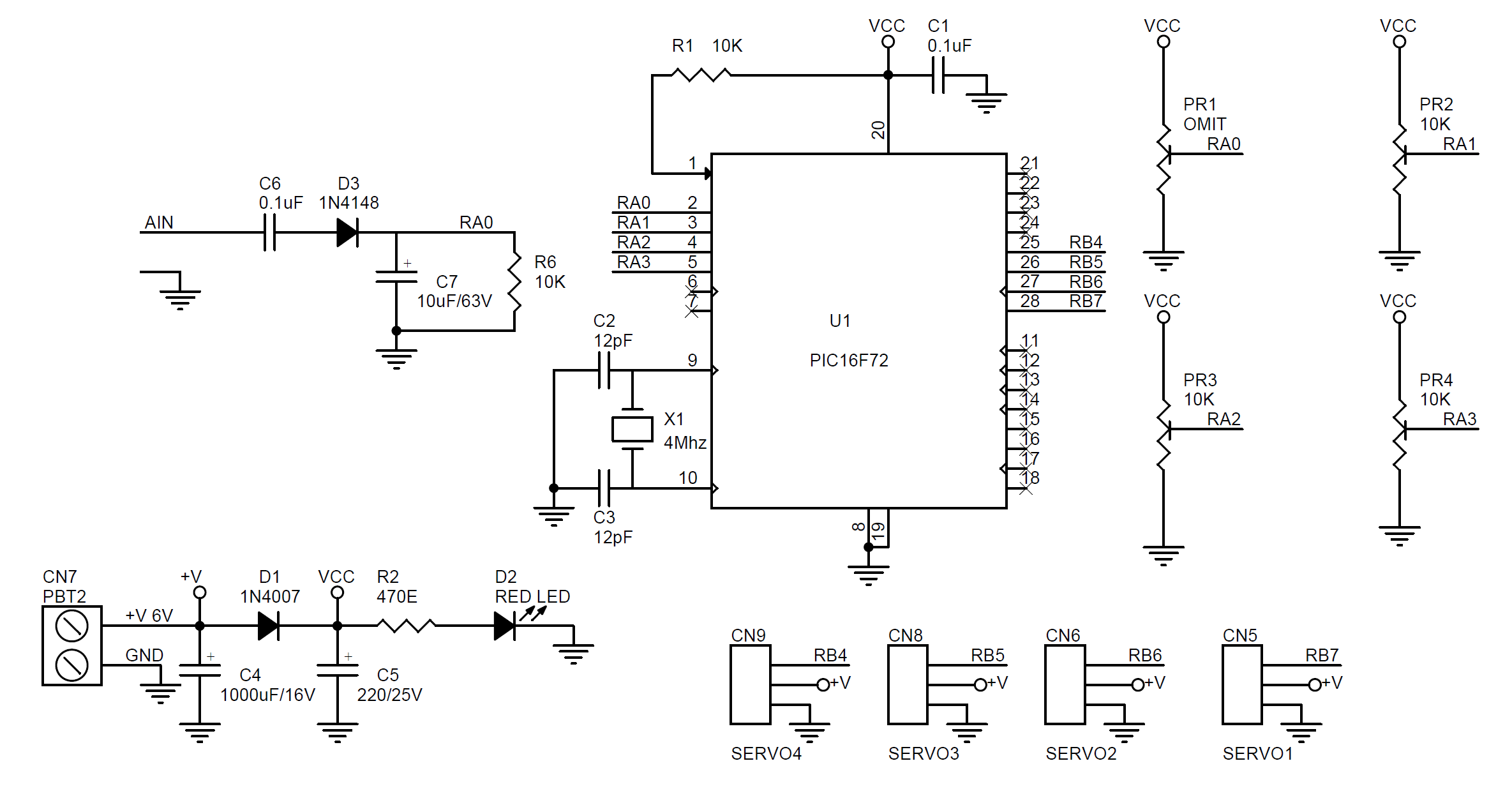 Parts List
| SR. | QNTY. | REF. | DESC | LCSC.com | MOUSER.com |
| --- | --- | --- | --- | --- | --- |
| 1 | 4 | CN5,CN6,CN8,CN9 | 3 PIN HEADER CONNECTOR 2.54 MM PITCH | C492403 | |
| 2 | 1 | CN7 | 2 PIN SCREW TERMINAL 5.08MM PITCH | C91153 | |
| 3 | 2 | C1,C6 | 0.1uF SMD 1206 | C313097 | |
| 4 | 2 | C2,C3 | 12pF/50V SMD SIZE 1206 | C113882 | |
| 5 | 1 | C4 | 1000uF/16V ELECTROLYTIC | C357639 | |
| 6 | 1 | C5 | 220uF/25V ELECTROLYTIC | C106732 | |
| 7 | 1 | C7 | 10uF/63V ELECTROLYTIC | C216300 | |
| 8 | 1 | D1 | 1N4007 SMD SM4007 | C727082 | |
| 9 | 1 | D2 | RED LED SMD SIZE 1206 | C192674 | |
| 10 | 1 | D3 | 1N4148 SMD | C2828417 | |
| 11 | 1 | D4 | 5.1V/1W | C41431 | |
| 12 | 1 | MK1 | CONDENSOR MICROPHONE | C234028 | |
| 13 | 1 | PR1 | OMIT | # | # |
| 14 | 3 | PR2,PR3,PR4 | 10K TRIMMER POT - PT10LV10-103A2020 | | 531-PT10LV113A22PMS |
| 15 | 1 | Q1 | BC847 SMD | C181140 | |
| 16 | 1 | R2 | 470E SMD 1206 | C269761 | |
| 17 | 1 | R4 | 1M SMD 1206 | C115422 | |
| 18 | 1 | U1 | PIC16F72-I/SO SMD | | 579-PIC16F72-I/SO |
| 19 | 1 | X1 | 4Mhz CRYSTAL | C240919 | |
| 20 | 4 | R1, R3,R5,R6 | 10K SMD 1206 | C118075 | |
Photos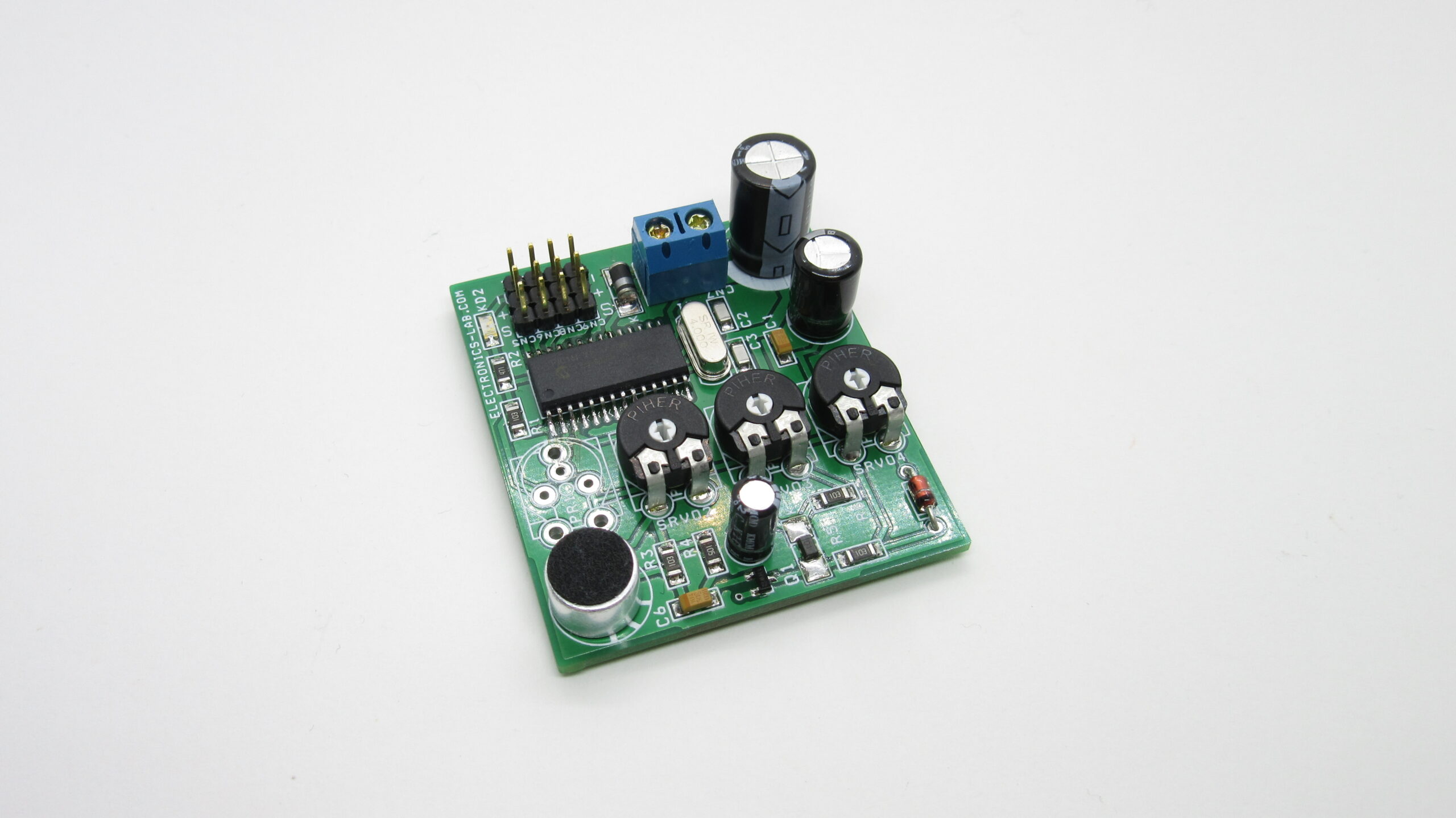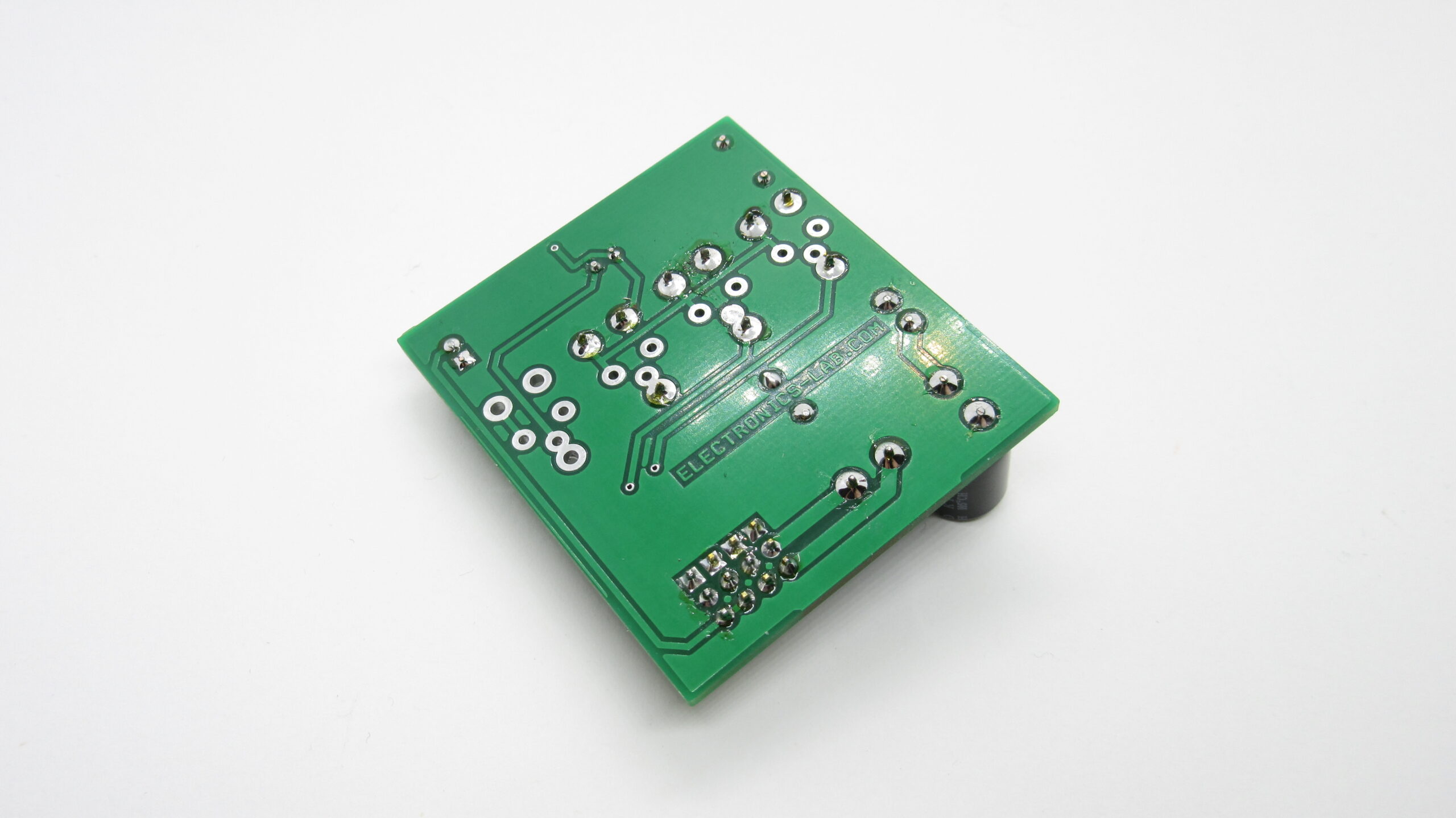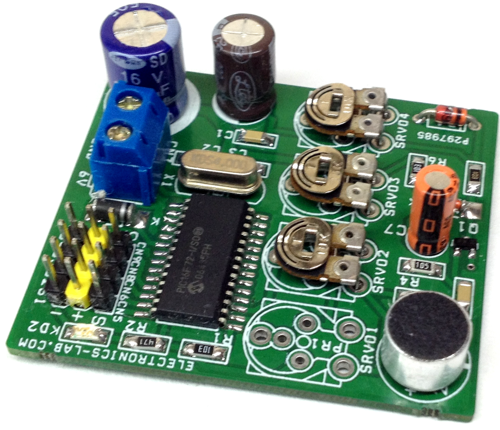 Video
Customer Applications
PIC16F72 Datasheet