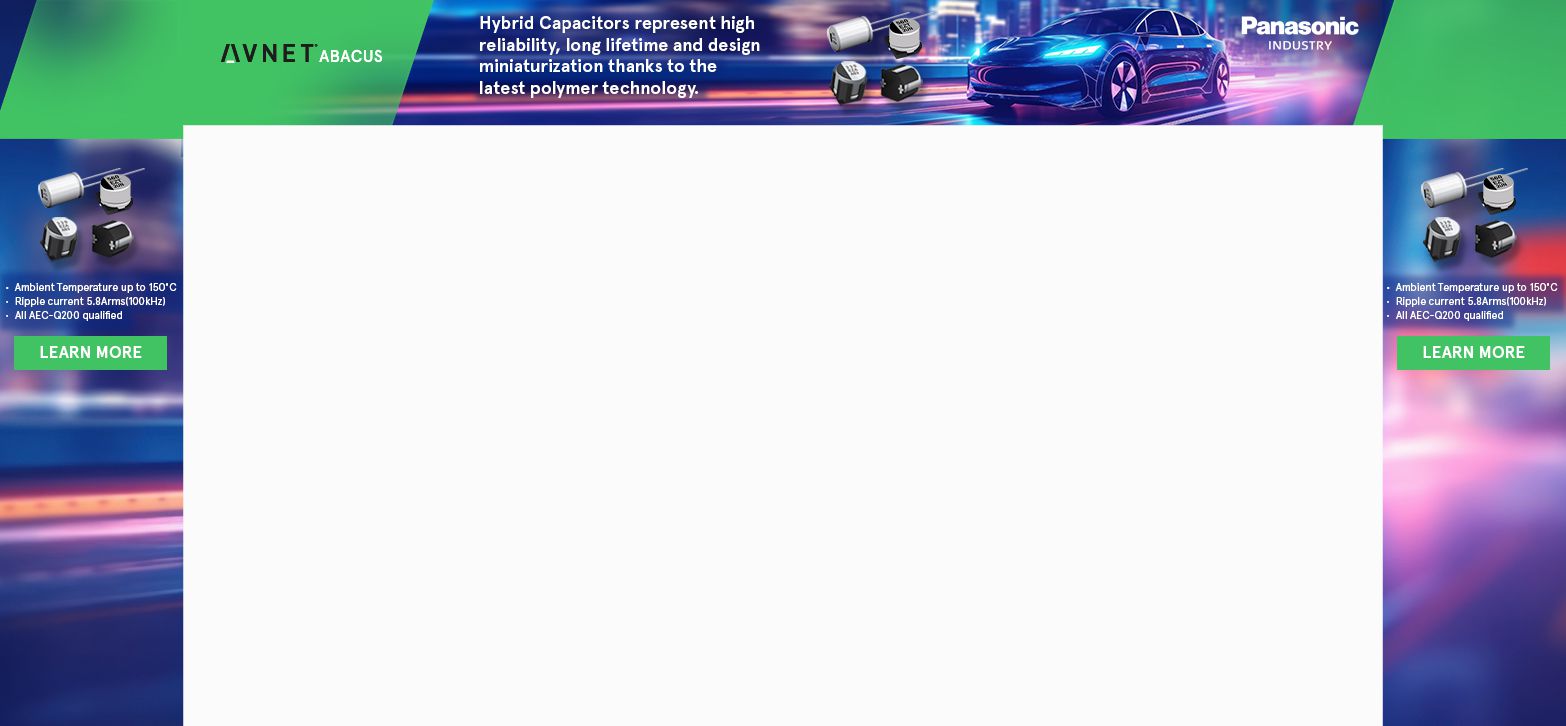 1.2V to 50V @ 3A – Adjustable Power Supply with 55Vdc Input
The project presented here is a wide input voltage range non-isolated DC-DC Converter, that provides a regulated, adjustable output voltage. The operating input supply is 55V DC and output regulated from 1.2V to 50V DC. The project built using LM2576HVT-ADJ IC. Screw terminals provided for easy input and output connections, onboard power LED at the input, bridge rectifier for AC/DC Input, an onboard potentiometer to adjust the output voltage, etc. This is a low-profile board with a thermal area on PCB that acts as a heatsink. An additional LC filter using C5 and L2 that reduces the output ripple by a factor of 10 or more is included in this circuit. The device has a current limiting feature to prevent the switching current from exceeding a safe value during an accidental overload on output.
LM2576 Description
The LM2576 series of regulators are monolithic integrated circuits that provide all the active functions for a step-down (buck) switching regulator, capable of driving 3-A load with excellent line and load regulation. These devices are available in fixed output voltages of 3.3 V, 5 V, 12 V, 15 V, and an adjustable output version. Requiring a minimum number of external components, these regulators are simple to use and include fault protection and a fixed-frequency oscillator. The LM2576 series offers a high-efficiency replacement for popular three-terminal linear regulators. It substantially reduces the size of the heat sink, and in some cases, no heat sink is required. A standard series of inductors optimized for use with the LM2576 are available from several different manufacturers. This feature greatly simplifies the design of switch-mode power supplies. Other features include a ±4% tolerance on output voltage within specified input voltages and output load conditions, and ±10% on the oscillator frequency. External shutdown is included, featuring 50-µA (typical) standby current. The output switch includes cycle-by-cycle current limiting, as well as thermal shutdown for full protection under fault conditions.
Note: The board works with DC input and due to the onboard rectifier the input polarity is not a problem. This project can also work with AC input, use appropriate filter capacitor for AC input needed, CX capacitor provision helps you to use THT capacitor at input DC line.
Features
Input voltage 55V (it can work with Lower Input DC Supply, but the output will be lower)
Bridge Rectifier at the input so No polarity issue in DC input
Adjustable version output voltage range: 1.23 V to 50 V ±4% maximum over line and load conditions
3A output current (Maximum)
Cycle-by-Cycle Peak Current Limit for Overload Protection
Power LED at input
Onboard Potentiometer for Output Voltage Adjust
Screw Terminal for Inputs and Output Connection
Additional Inductor and Capacitor to reduce the Ripple
52-kHz Fixed-frequency internal oscillator
Thermal shutdown and current limit protection
PCB Dimensions 85 x 71.60 mm
Schematic

Parts List
| NO | QNTY. | REF | DESC | MANUFACTURER | SUPPLIER | SUPPLIER PART NO |
| --- | --- | --- | --- | --- | --- | --- |
| 1 | 1 | CN1 | 2 PIN SCREW TERMENAL 5.08MM PITCH | WIEDMULLER | DIGIKEY | 281-2888-ND |
| 2 | 1 | CN2 | 2 PIN SCREW TERMENAL 5.08MM PITCH | WIEDMULLER | DIGIKEY | 281-2888-ND |
| 3 | 1 | C1 | 1uF/100V SMD SIZE 1206 | MURATA/YAGEO | DIGIKEY | |
| 4 | 3 | C2,C5,C8 | 100uF/63V SMD | NICHICON | DIGIKEY | 493-6185-1-ND |
| 5 | 2 | C3 | 2200uF/63V THT | NICHICON | DIGIKEY | 493-1360-ND |
| 6 | 5 | R1,J1,C4,C6,C7 | DNP | | | |
| 7 | 4 | D1,D2,D3,D4 | 1N5408 | ON SEMI | DIGIKEY | 1N5408FSTR-ND |
| 8 | 1 | D5 | RED LED SMD SIZE 0805 | OSRAM | DIGIKEY | 475-1415-1-ND |
| 9 | 1 | D6 | MBRS360 | ON SEMI | DIGIKEY | MBRS360T3GOSCT-ND |
| 10 | 1 | L1 | 150uH/5A 30MM DIA | BOURNS | MOUSER | 652-2200LL-151-H-RC |
| 11 | 1 | L2 | 20uH OR 12uH/4.5A 12MMX12MM | BOURNS | DIGIKEY | SRR1260-120MTR-ND |
| 12 | 1 | P1 | 50K POT 16MM | BOURNS | DIGIKEY | PDB181-K415K-503B-ND |
| 13 | 1 | R2 | 4.7K 5% SMD 2512 OR 1210 | MURATA/YAGEO | | |
| 14 | 1 | R3 | 1.21K 1% SMD SIZE0805 | MURATA/YAGEO | | |
| 15 | 1 | U1 | LM2576HVT-ADJ TO220 | TEXAS | DIGIKEY | LM2576HVT-ADJ/NOPB-ND |
Connections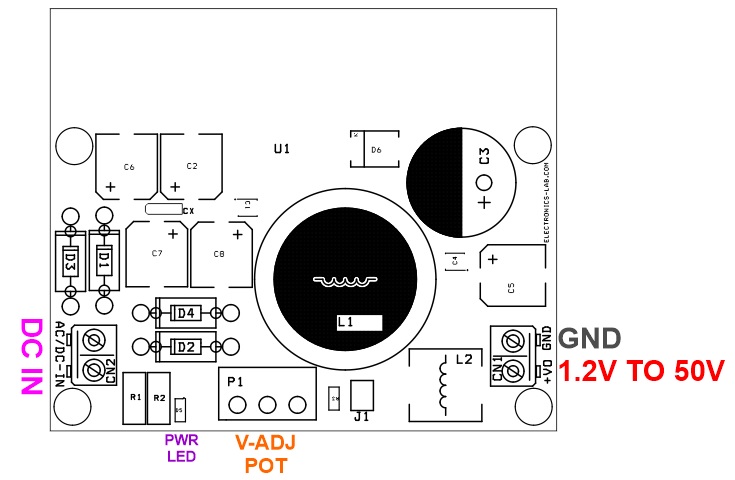 Gerber View
Photos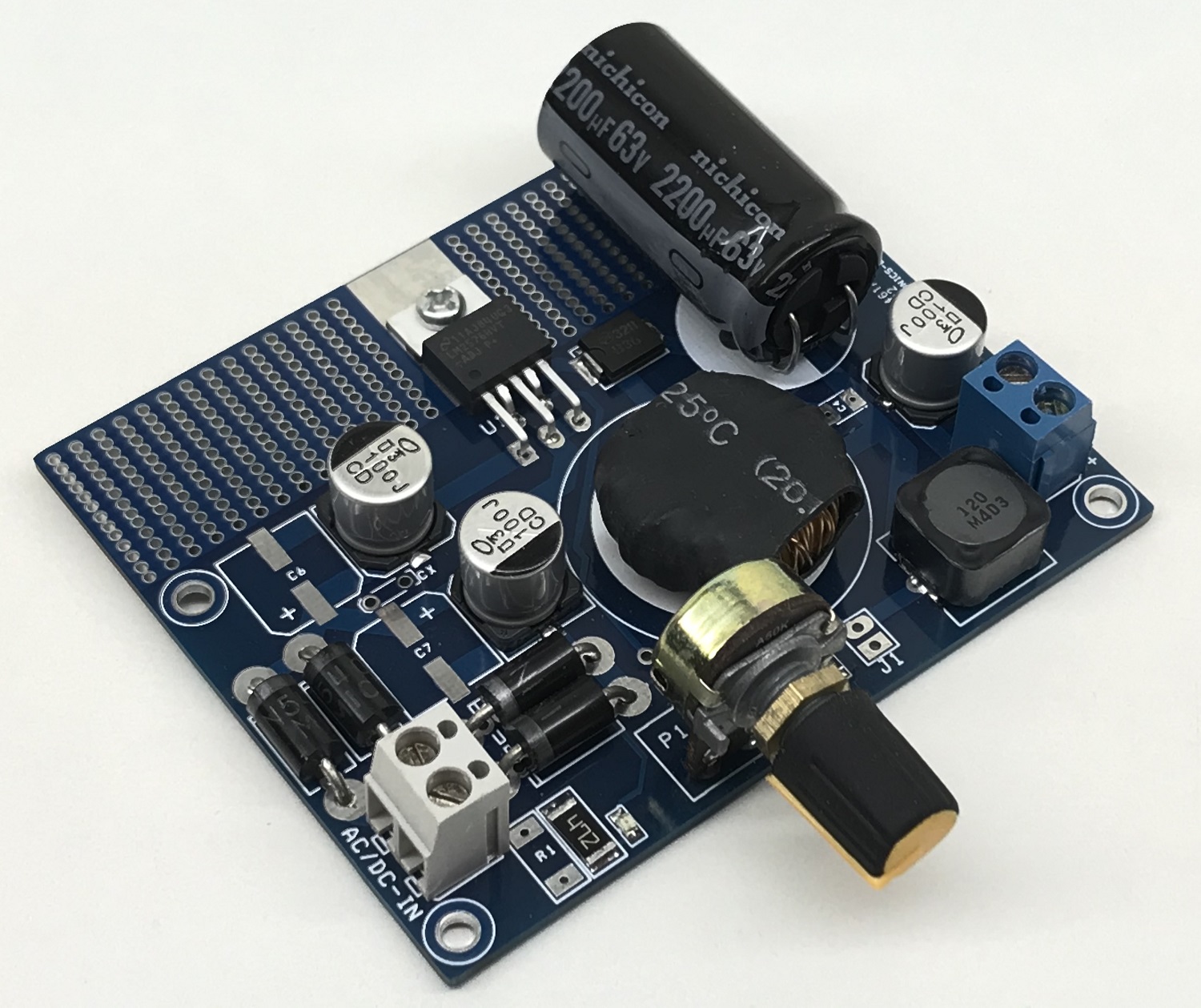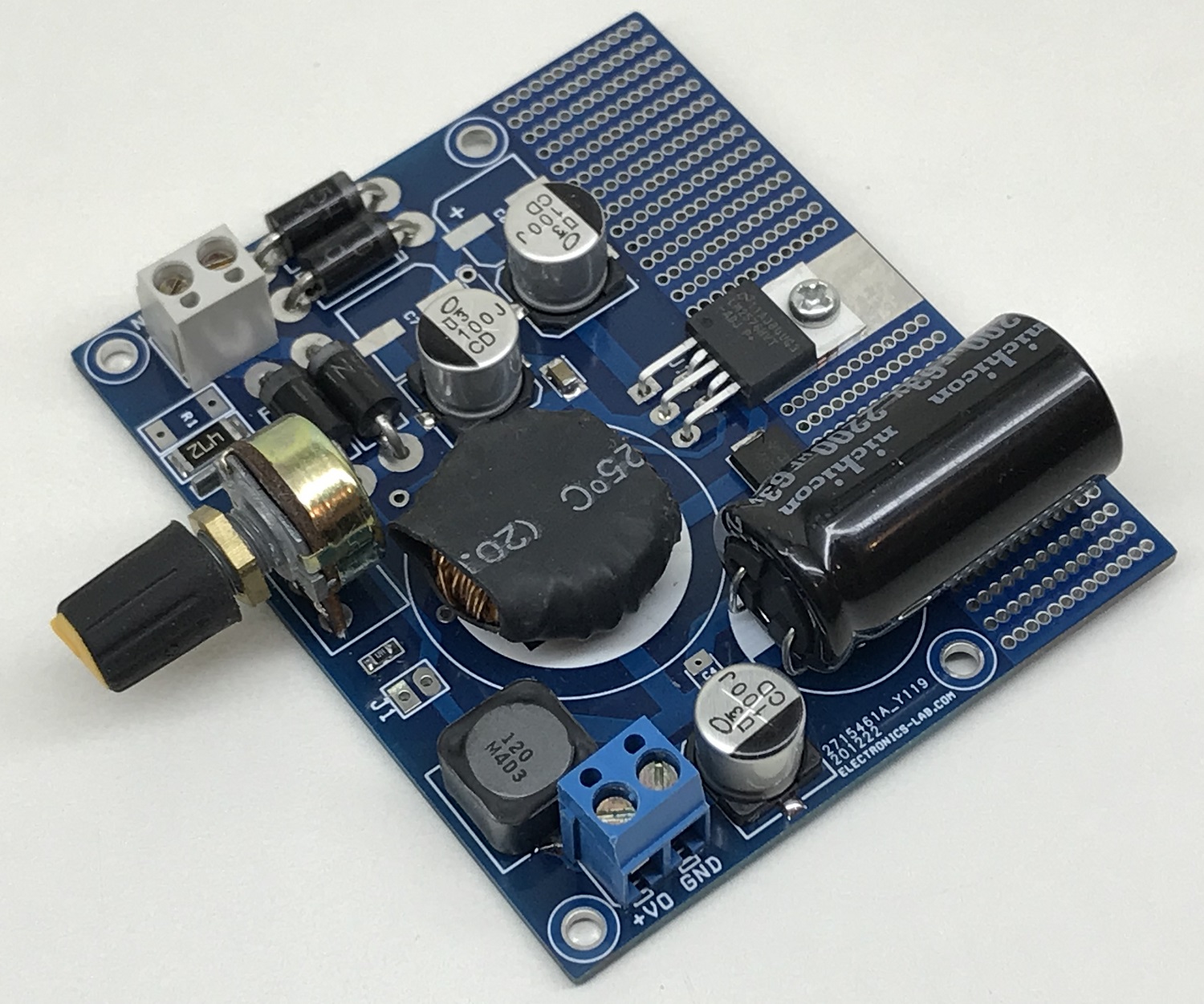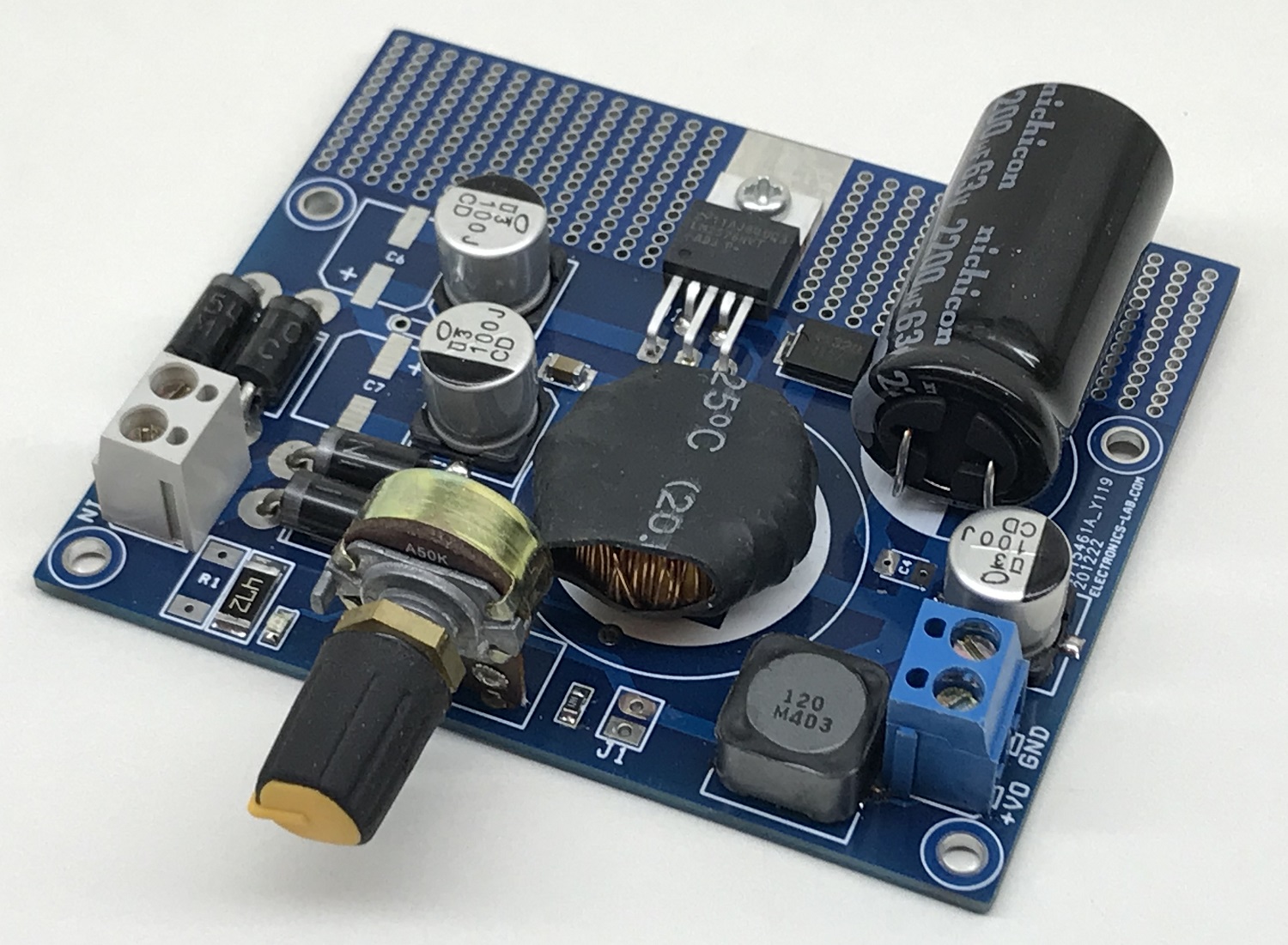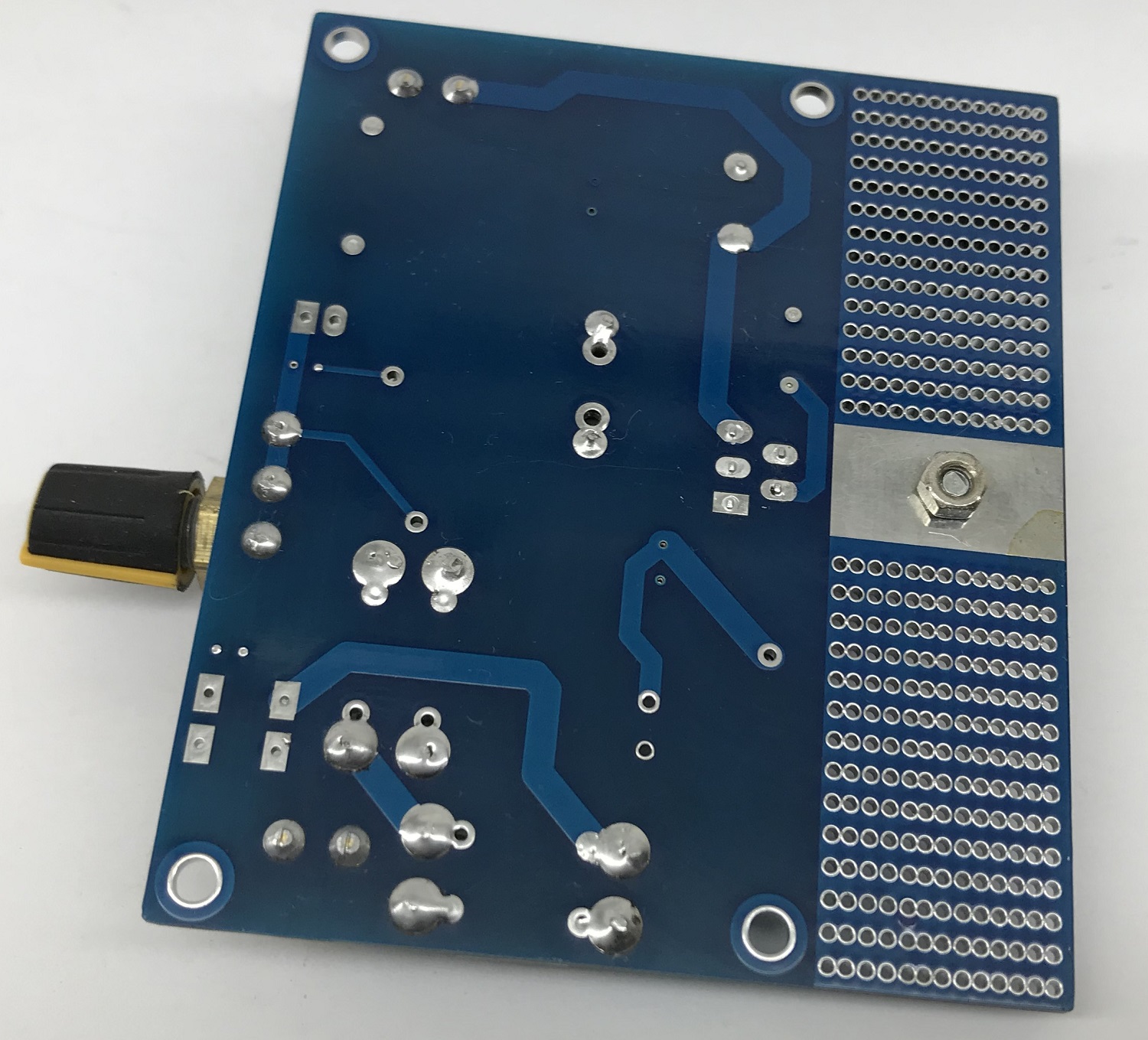 Video
LM2576 Datasheet