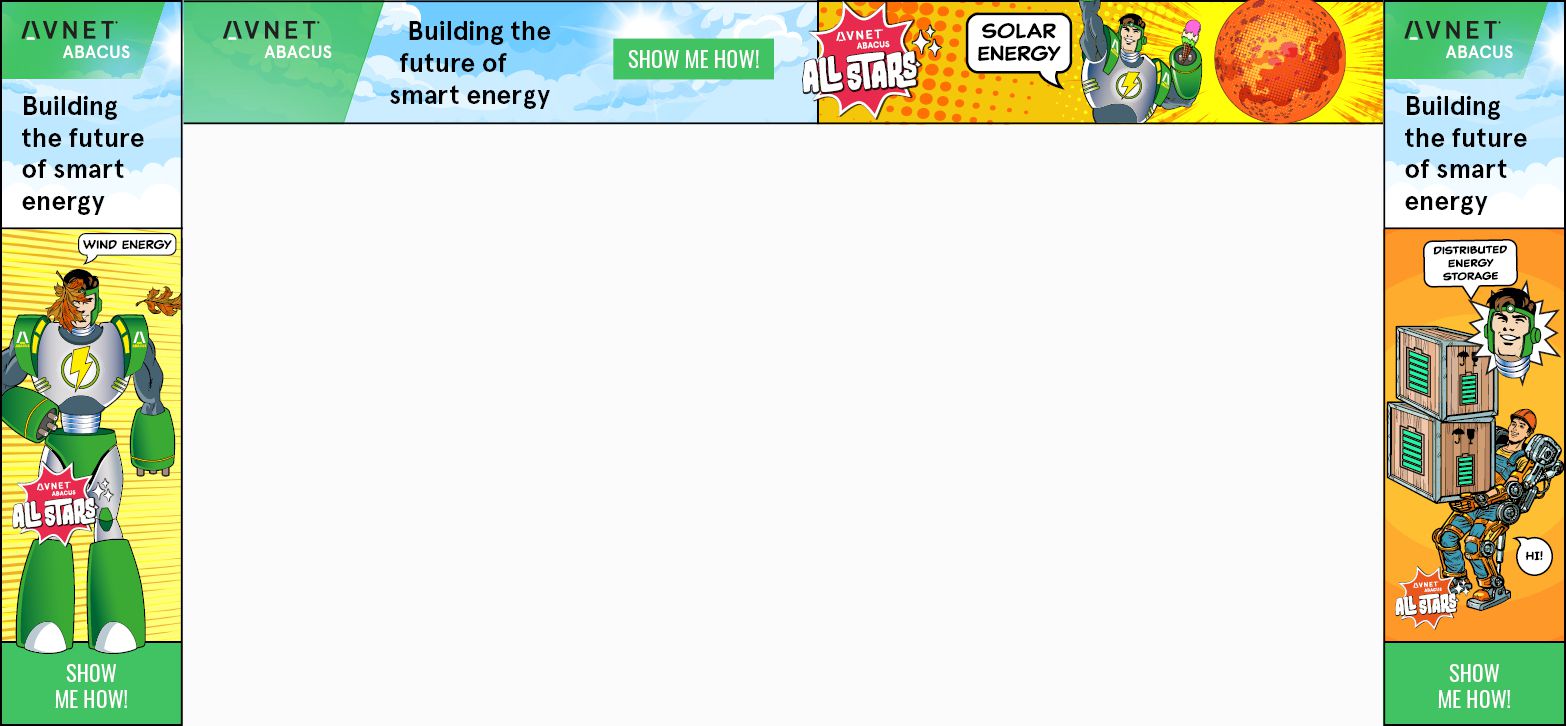 Dual Joystick RF Remote Transmitter with NRF24L01 RF module – 2 Joystick Control
Rajkumar Sharma

1.047 Views

moderate

Tested

SKU: EL112410
This is an Arduino compatible open-source hardware that includes 2 x Joysticks, NRF24L01 RF module, Atmega328 microcontroller, 3.3V regulator, power LED, function LED, Arduino programming connector, and other required components. This board can be used for the development of various applications such as Gaming, Remote RC servo driver, Robotics, and many more. Connector CN3 was provided to program the ATMEGA328 microcontroller using Arduino IDE.
The project is compatible with our 8 Channel RC Servo Driver Over RF Link using NRF24L01 RF Module as the receiver or the DC Motor Speed, Direction and Brake Control with NRF24L01 RF Module. The user will be able to drive 4 RC servos with this transmitter or a DC motor respectivelly.
Code
A new ATMEGA328 microcontroller requires a bootloader to be programmed using Arduino IDE and then upload the firmware, more information is available here:
https://www.arduino.cc/en/Tutorial/BuiltInExamples/ArduinoToBreadboard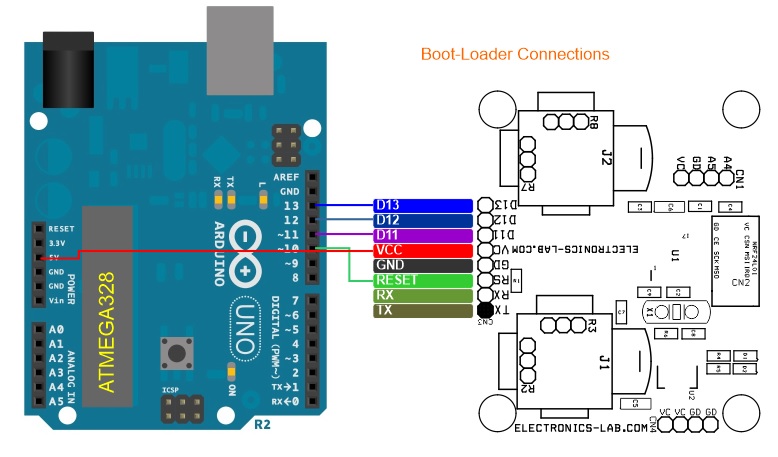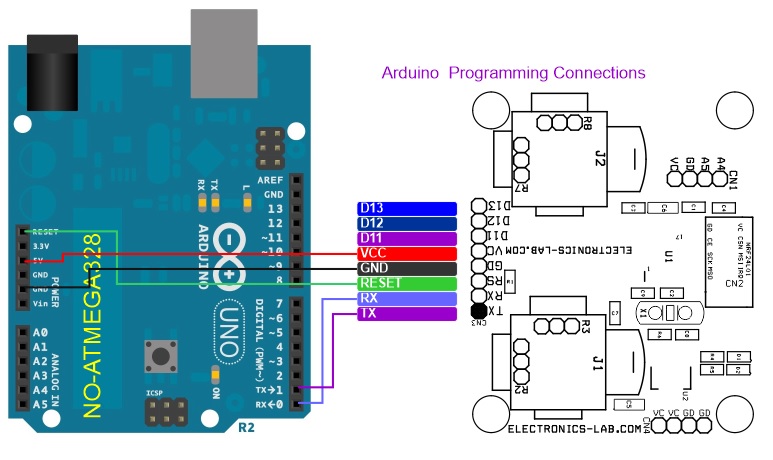 Example code is provided to test the board, with this code the project works as a transmitter and drives 4 Servos.
Note: Remove NRF24L01 RF module when programming the board as its share the same Pin connections.
Arduino Pins
Joystick J1 >> Arduino Analog Pin A1 and A2
Joystick J2 =>>Arduino Analog Pin A2 and A3
Joystick Tactile Switches = J2>> A5 and J1>>D6
CN1 >> OLED Display 0.96Inch
CN3 >> Programming Connector (Boot-Loader + Arduino IDE)
NRF24L01 RF Module >> CE=D9, CSN=D10, MOSI=D11, MISO-D12, SCK=D13, IRQ=D8
Function LED D5
Features
Supply 5V DC (CN4)
Onboard Power LED D1
On-Board Function LED D2
Onboard Programming Connector CN3 (Boot-Loader + Arduino IDE)
2 x Joysticks of 4-axis
Schematic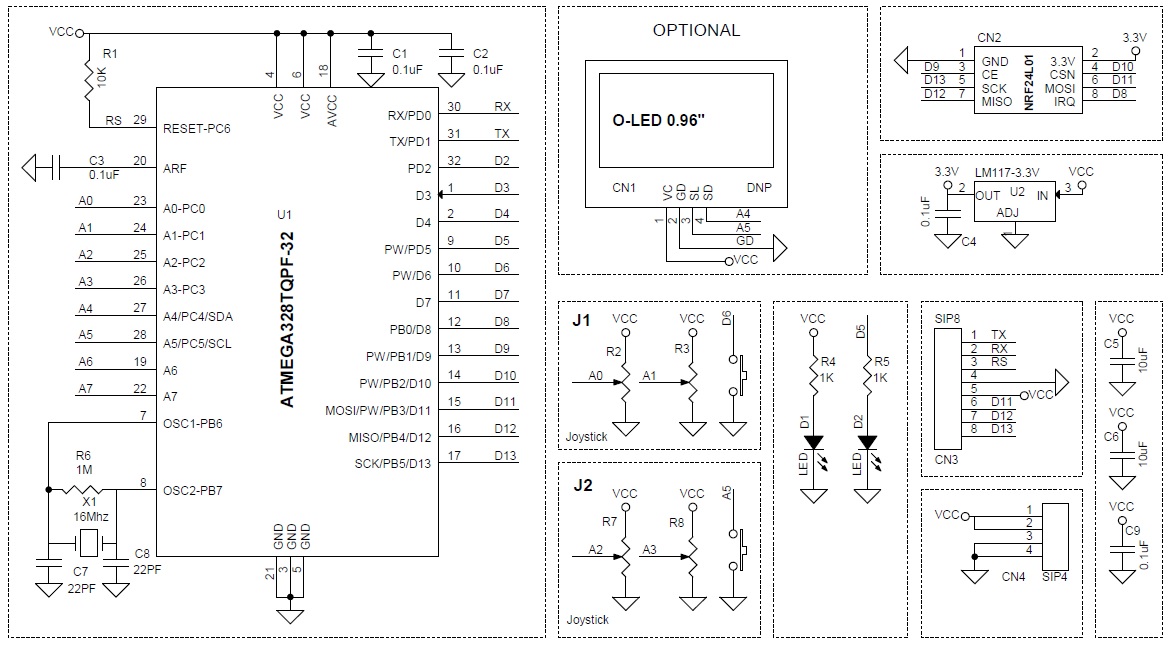 Connections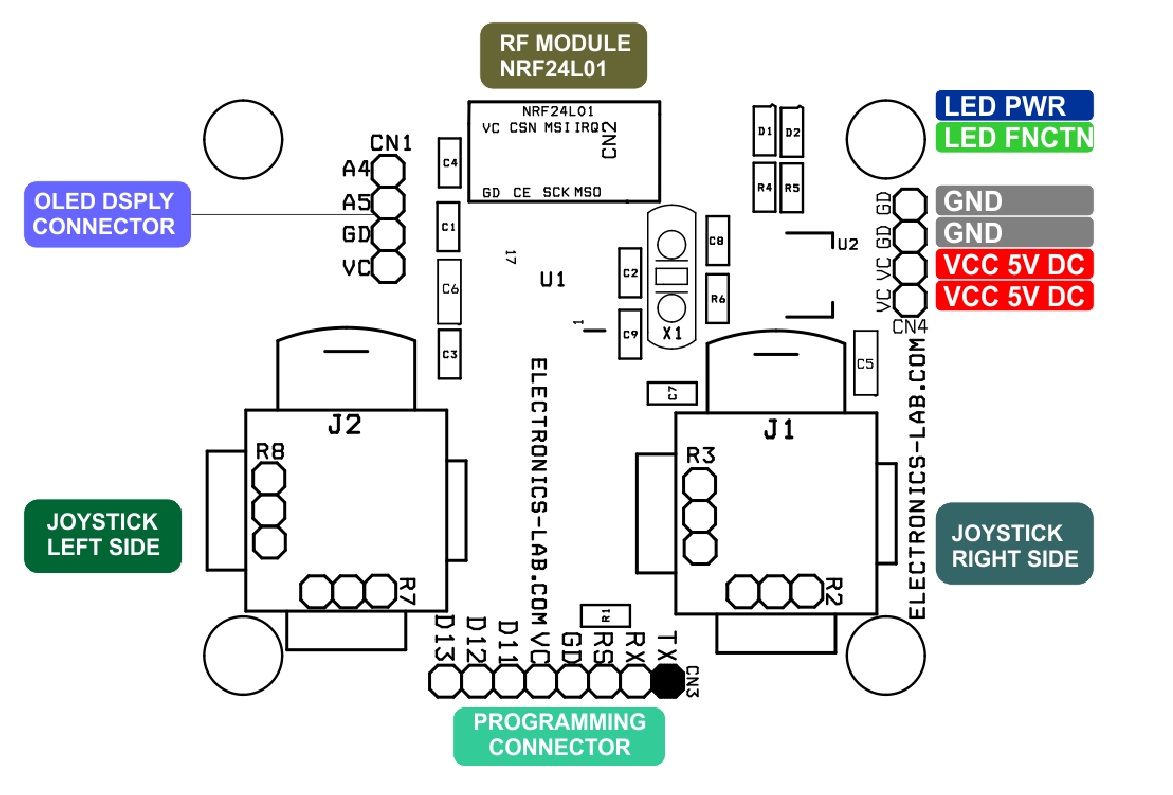 Parts List
| NO | QNTY. | REF. | DESC. | MANUFACTURER | SUPPLIER | SUPPLIER PART NO |
| --- | --- | --- | --- | --- | --- | --- |
| 1 | 1 | CN1 | 4 PIN MALE HEADER PITCH 2.54MM | WURTH | DIGIKEY | 732-5317-ND |
| 2 | 1 | CN2 | NRF24L01 MODULE | AMAZON/ALIEXPRESS | | |
| 3 | 1 | CN3 | 8 PIN MALE HEADER PITCH 2.54MM | WURTH | DIGIKEY | 732-5321-ND |
| 4 | 1 | CN4 | 4 PIN MALE HEADER PITCH 2.54MM | | DIGIKEY | 732-5317-ND |
| 5 | 2 | C5,C6 | 10uF/6.3V SMD SIZE 1206 | MURATA/YAGEO | DIGIKEY | |
| 6 | 5 | C1, C2,C3,C4,C9 | 0.1uF/50V SMD SIZE 0805 | MURATA/YAGEO | DIGIKEY | |
| 7 | 2 | C7,C8 | 22PF/50V SMD SIZE 0805 | MURATA/YAGEO | DIGIKEY | |
| 8 | 2 | D1,D2 | LED RED SMD SIZE 0805 | OSRAM | DIGIKEY | 475-1278-1-ND |
| 9 | 1 | R1 | 10K 5% SMD SIZE 0805 | MURATA/YAGEO | DIGIKEY | |
| 10 | 2 | J1,J2 | THUMB JOYSTICK | C&K | DIGIKEY | 108-THB001P-ND |
| 11 | 2 | R4,R5 | 1K 5% SMD SIZE 0805 | MURATA/YAGEO | DIGIKEY | |
| 12 | 1 | R6 | 1M 5% SMD SIZE 0805 | MURATA/YAGEO | DIGIKEY | |
| 13 | 1 | U1 | ATMEGA328TQPF-32 | MICROCHIP | DIGIKEY | ATMEGA328PB-AURCT-ND |
| 14 | 1 | U2 | LM117-3.3V | TI | DIGIKEY | LM1117MP-3.3/NOPBCT-ND |
| 15 | 1 | X1 | 16Mhz | ECS INC | DIGIKEY | X1103-ND |
Gerber View
Photos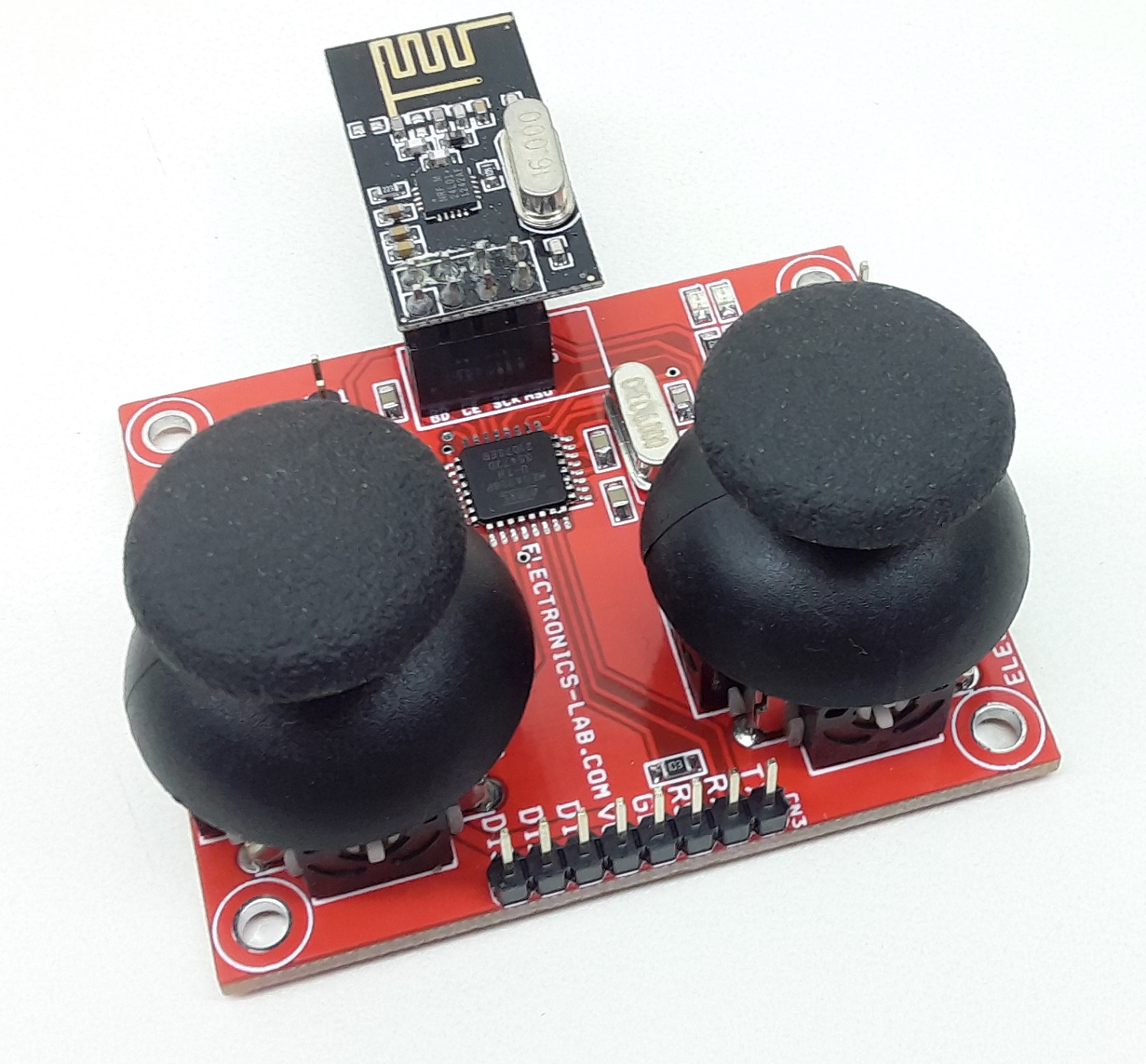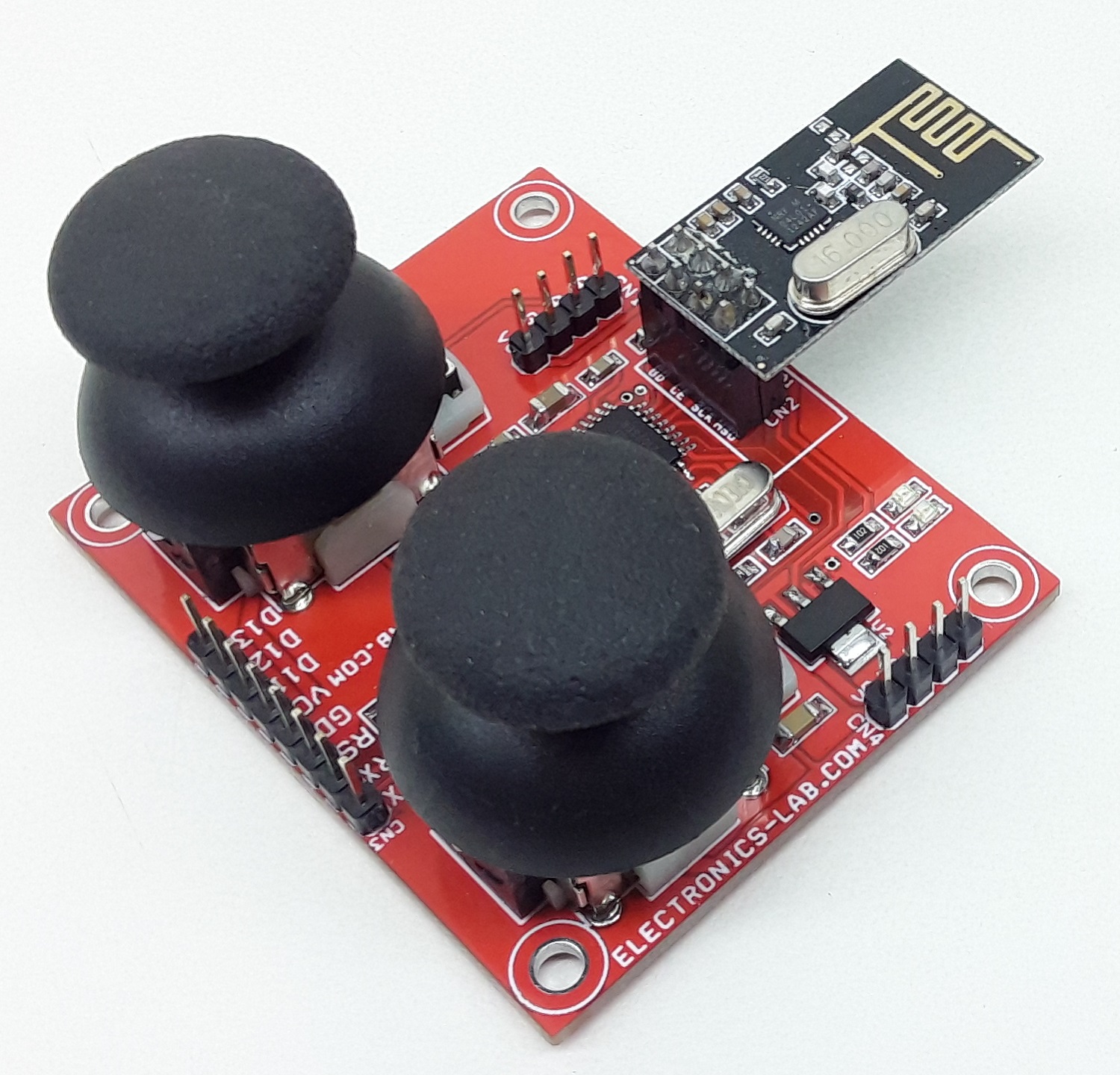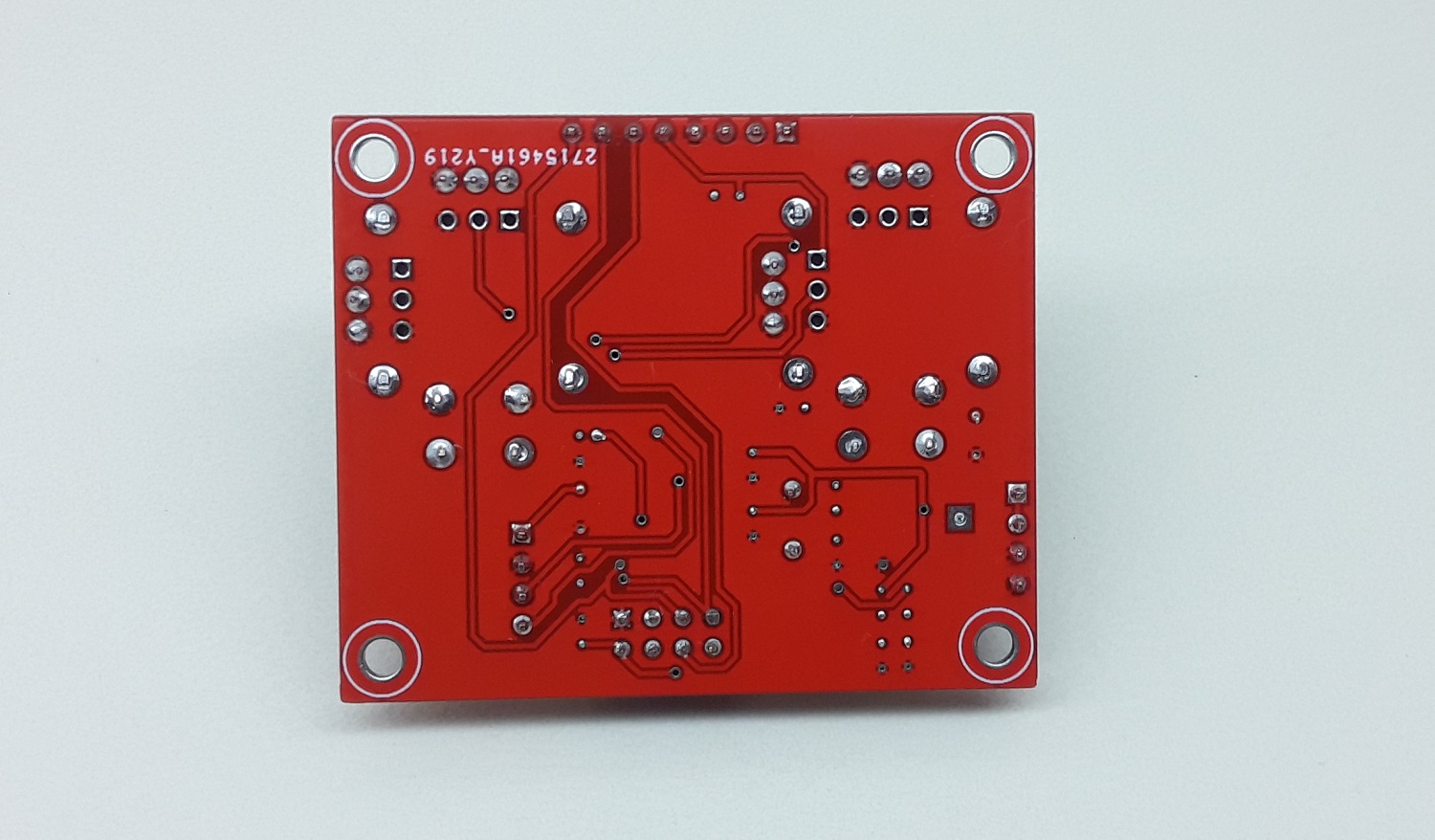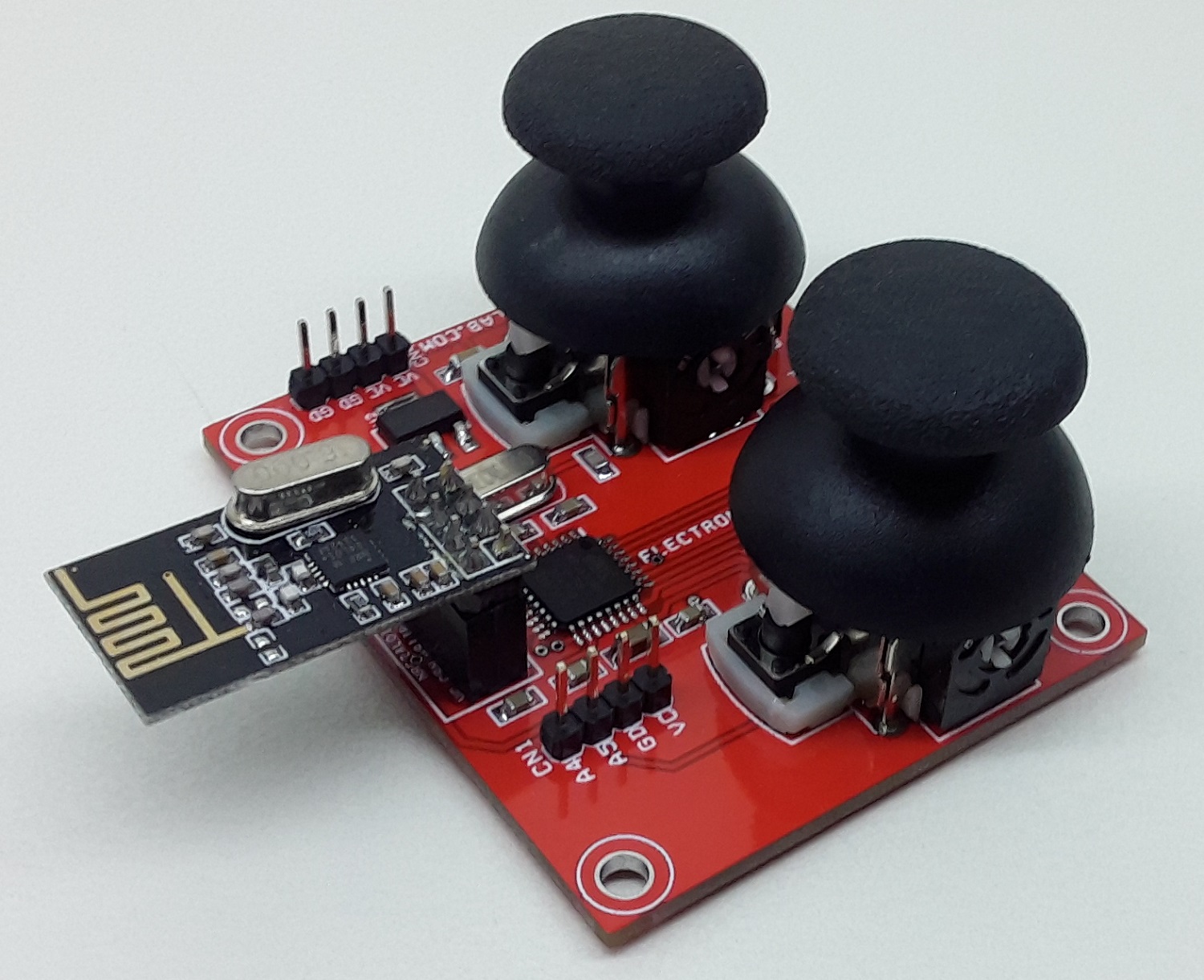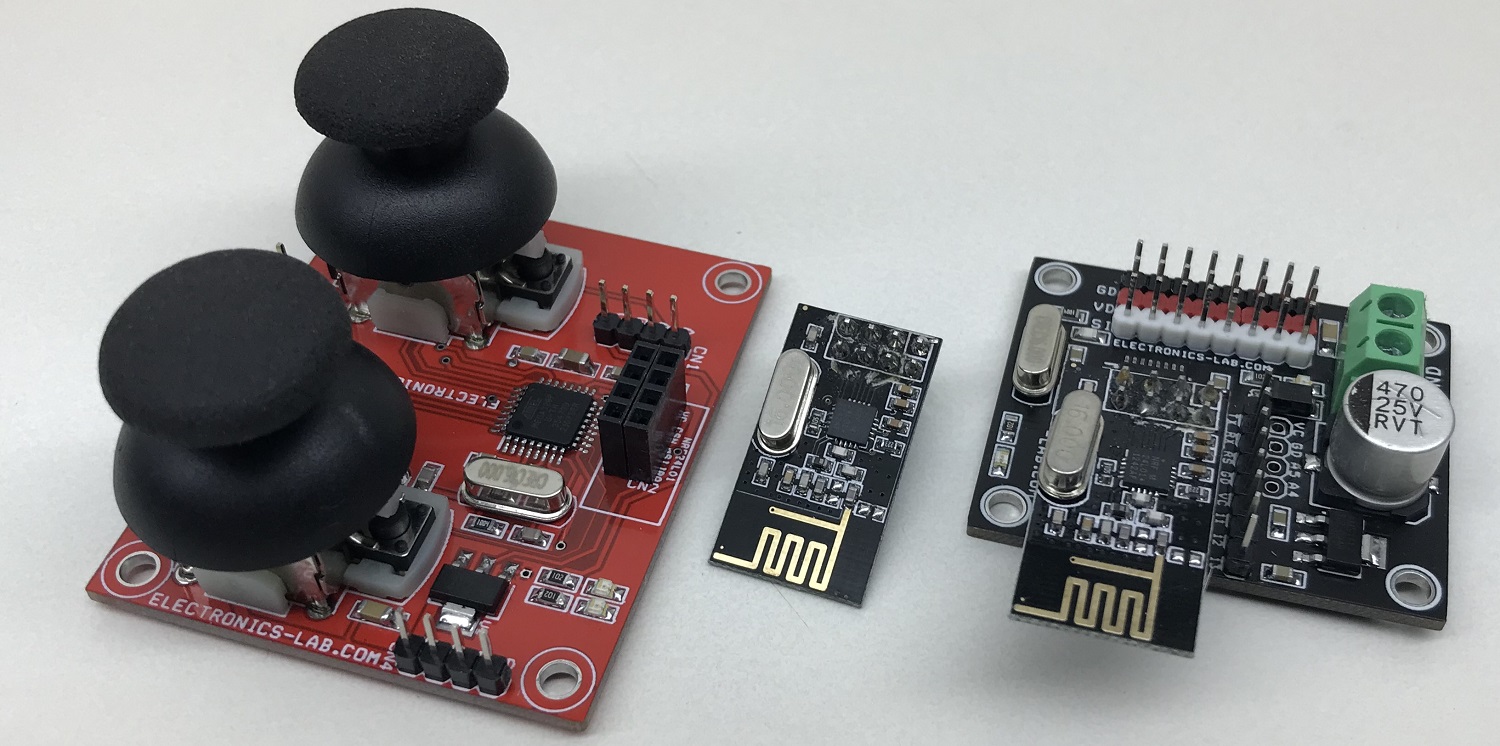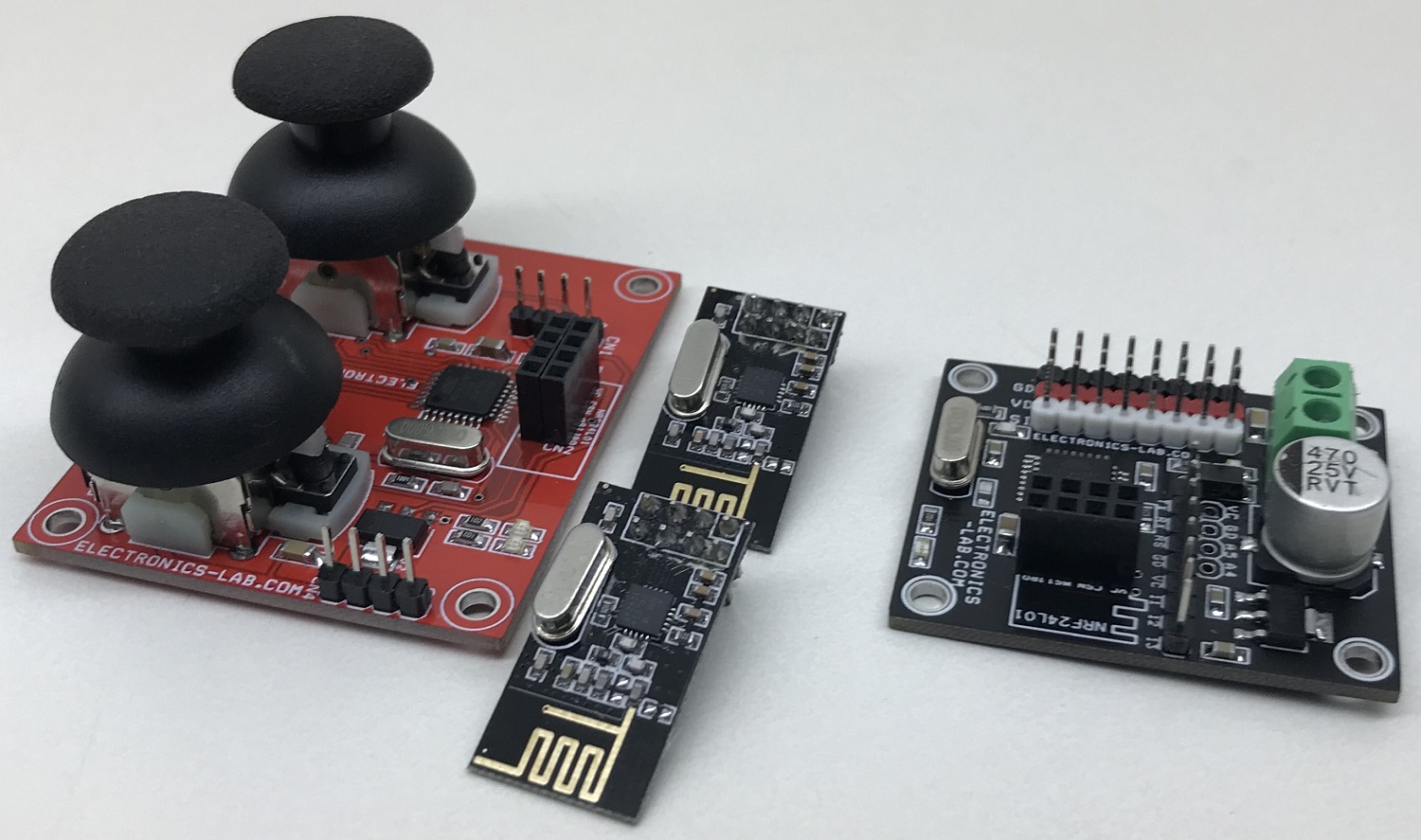 Video
nRF24L01 Datasheet