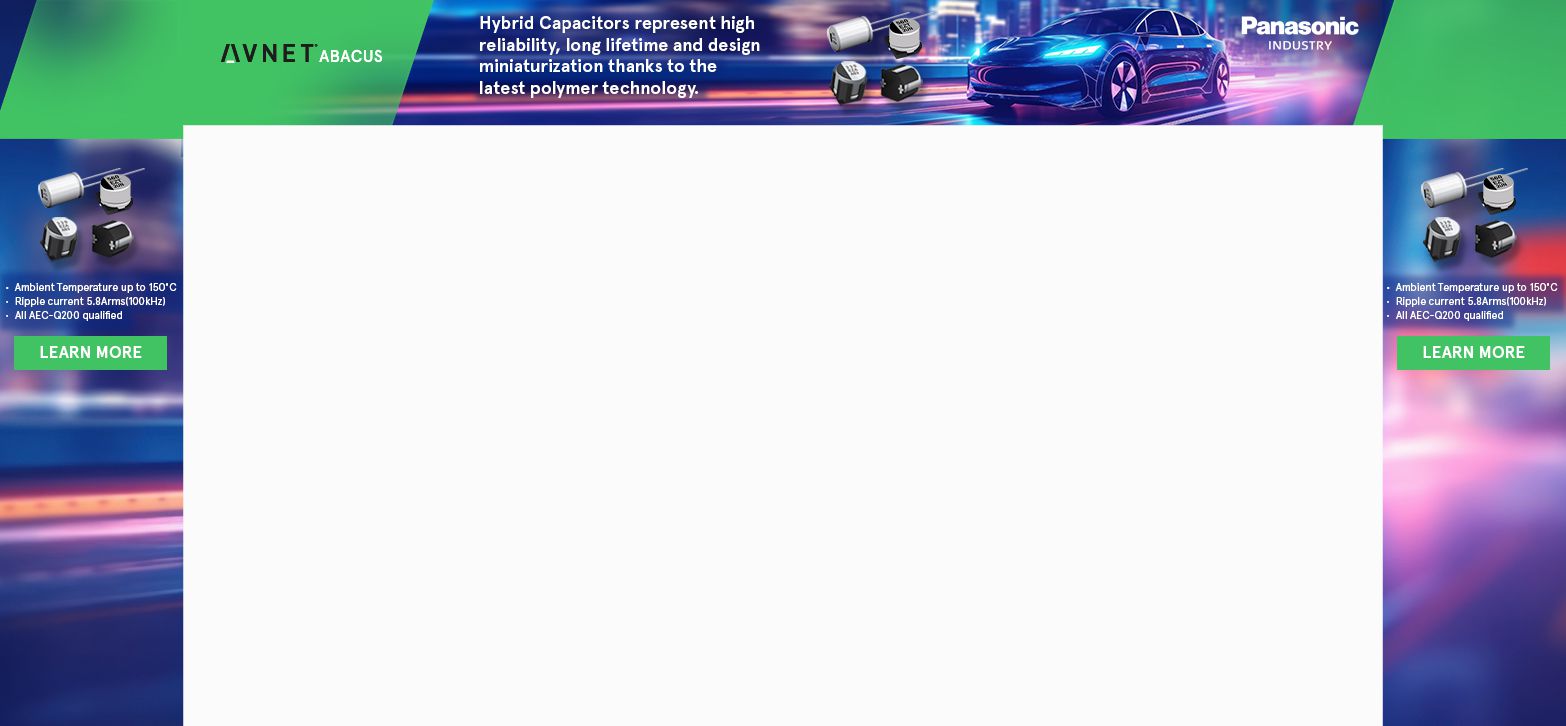 Li-Po/Li-Ion Arduino Charger Shield using BQ21040
Rajkumar Sharma

5.841 Views

easy

Tested

SKU: EL84253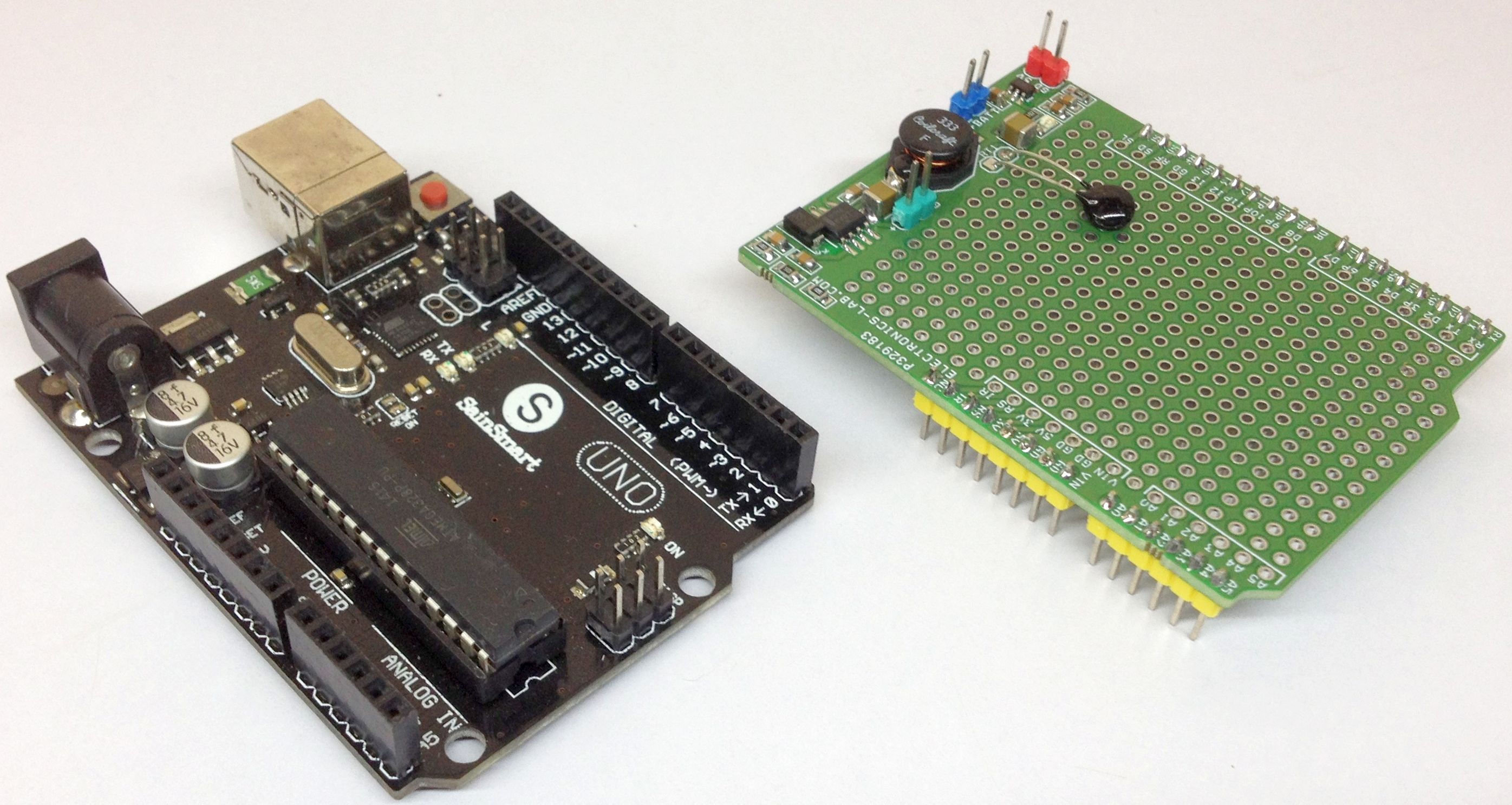 This Li-Po/Li-ion Arduino charger shield is mainly designed to power up the Arduino from single 3.6V Li-Po battery. Li-Ion and Li-Pol Charger/ DC-DC Boost converter Arduino shield provides 6.5V/400mA from single Lithium Polymer battery. The Arduino shield is equipped with BQ21040 battery charger IC and CS5171 step up DC-DC converter. The shield also has prototype area to utilize the maximum area of PCB. LIPO battery can be mounted on the same PCB. BQ21040 IC helps to charge 3.6V LIPO battery and Boost converter IC CS5171 converts 3.6V into approx. 6.5V to power up the Arduino. The CS5171 can continuously deliver 400mA of current. Board requires 5V DC input to charge the battery. Charging current is set to 500mA. However it can be changed as per requirement by altering R3 value, refer to datasheet of BQ21040 for more information. LED D2 indicates when charging cycle is complete. On board NTC is used to prevent over-temperature of battery and is recommended to keep the NTC sensor in contact with the battery while charging.
BQ21040
The bq21040 is a highly integrated single cell Li-Ion and Li-Pol charger. The charger can be used to charge a battery, power a system or both. The charger has three phases of charging: Pre-charge to recover a fully discharged battery, fast-charge constant current to supply the buck charge safely and voltage regulation to safely reach full capacity. The charger is very flexible, allowing programming of the fast-charge current. This charger is designed to work with a USB connection or Adaptor (DC out). The charger also checks to see if a battery is present. The charger also comes with a full set of safety features: Temperature Sensing Standard, Over-Voltage Protection, DPM-IN, Safety Timers, and ISET short protection. All of these features and more are described in detail below. The charger is designed for a single power path from the input to the output to charge a single cell Li-Ion or Li-Pol battery pack. Upon application of a 5VDC power source the ISET and OUT short checks are performed to assure a proper charge cycle. If the battery voltage is below the LOWV threshold, the battery is considered discharged and a preconditioning cycle begins. The amount of the current goes into the battery during this phase is called pre-charge current. It is fixed to 20% of the fast charge current.
CS5171
The CS5171 IC is a 280 kHz switching regulators with a high efficiency, 1.5 A integrated switch. This IC operate over a wide input voltage range, from 2.7 V to 30 V. The flexibility of the design allows the chips to operate in most power supply configurations, including boost, flyback, forward, inverting, and SEPIC. The ICs utilize current mode architecture, which allows excellent load and line regulation, as well as a practical means for limiting current. Combining high frequency operation with a highly integrated regulator circuit results in an extremely compact power supply solution. The circuit design includes provisions for features such as frequency synchronization, shutdown, and feedback controls for either positive or negative voltage regulation.
Features
Charging Supply 5V/1A
Charging Current 500ma
Output Supply 6.5V/400mA
Output Connected to VIN Pin of Arduino Shield.
Compatible with single cell 3.6V LI-PO, LI-ON Battery
Additional Proto-Area provided on PCB for development or to mount the Battery.
PCB Dimensions 69.08MM X 51.58MM
Schematic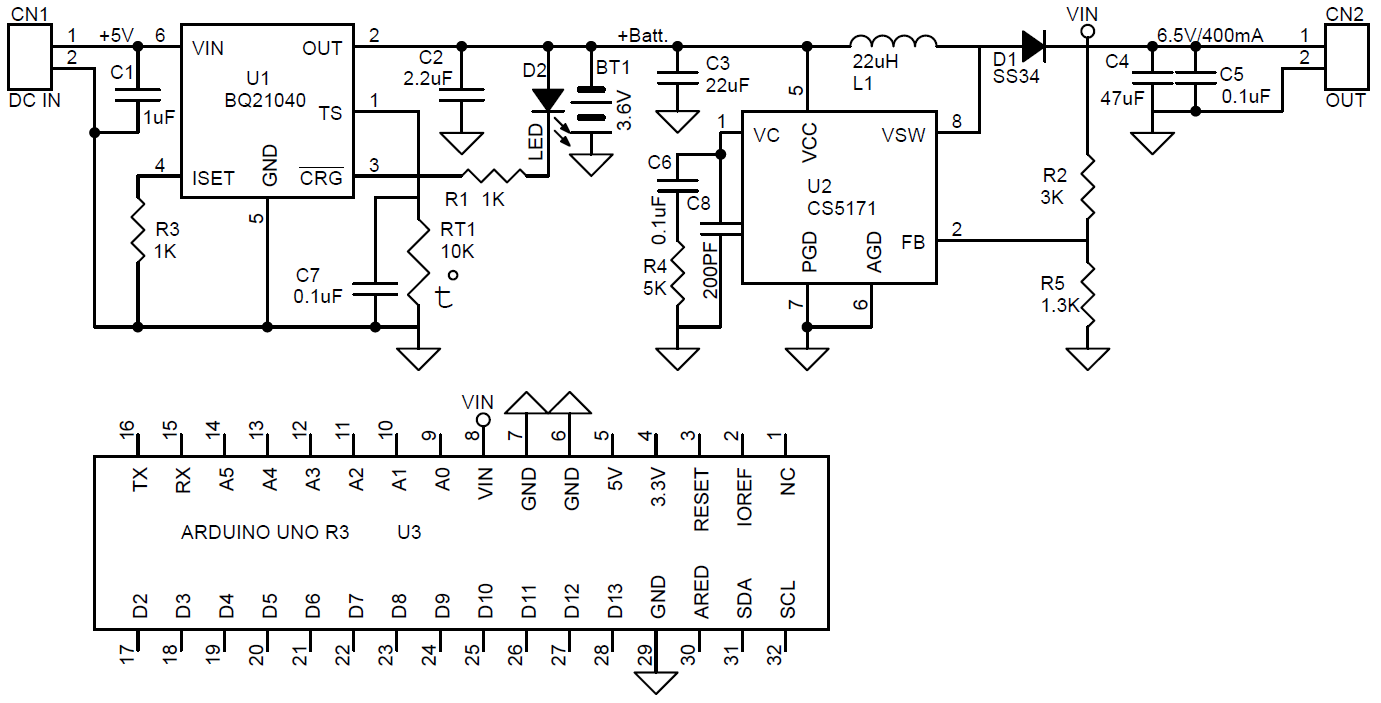 Parts List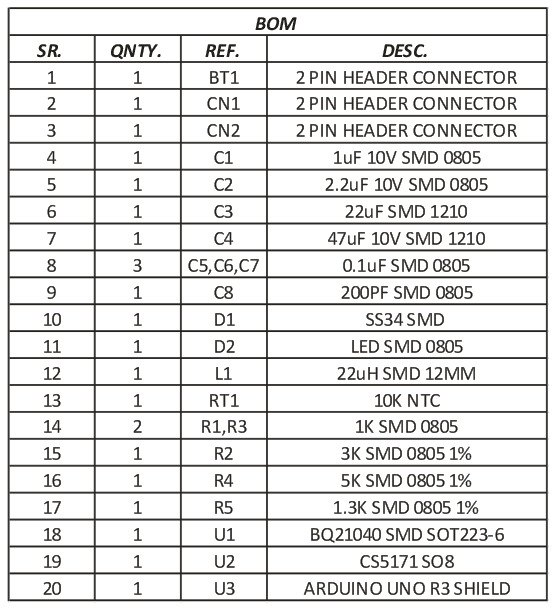 Connections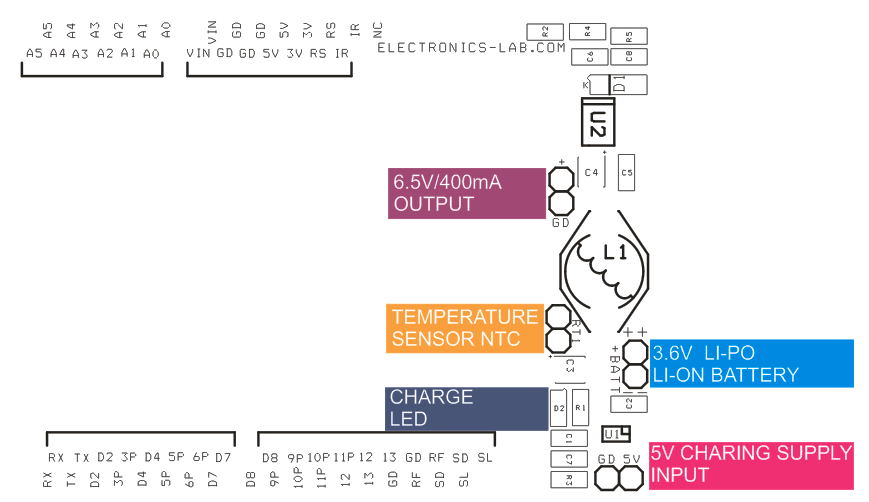 Photos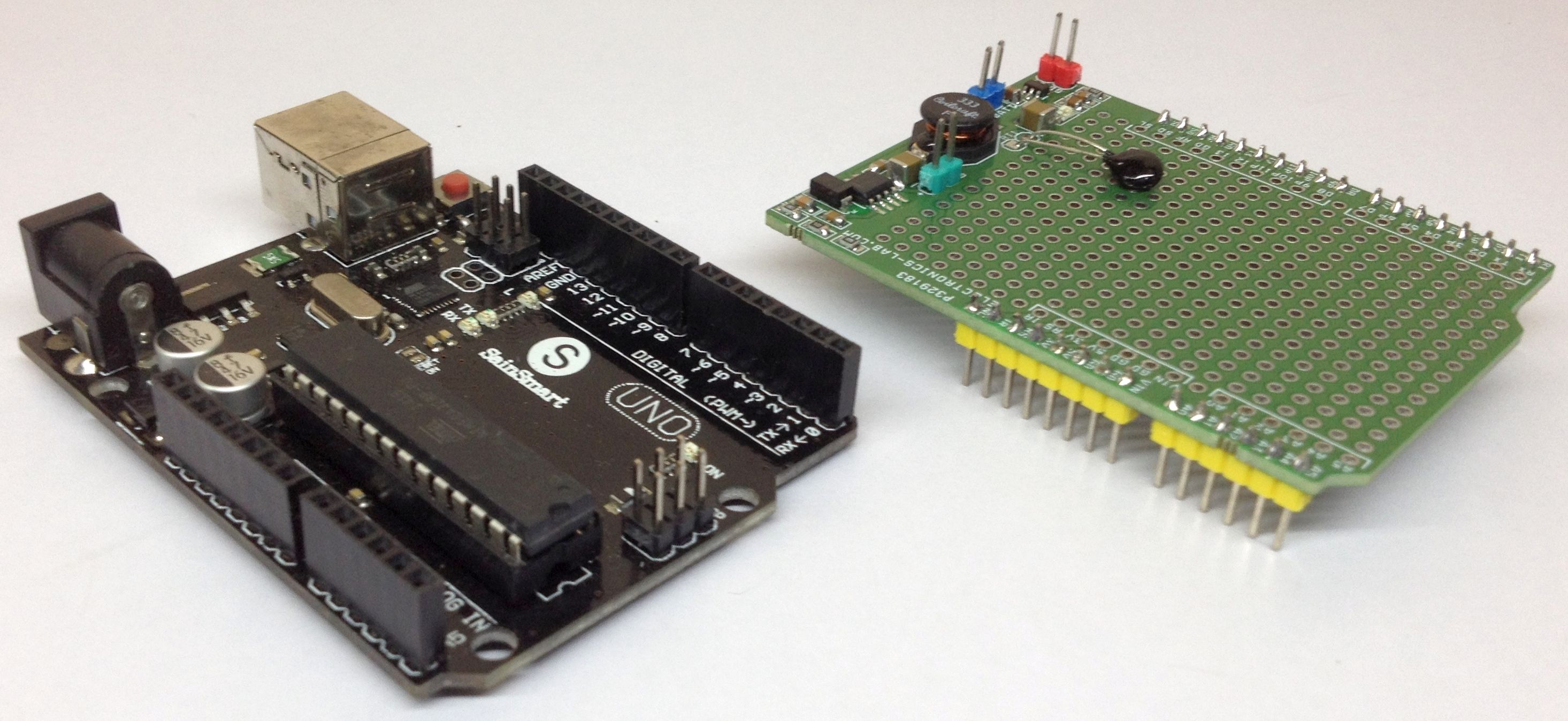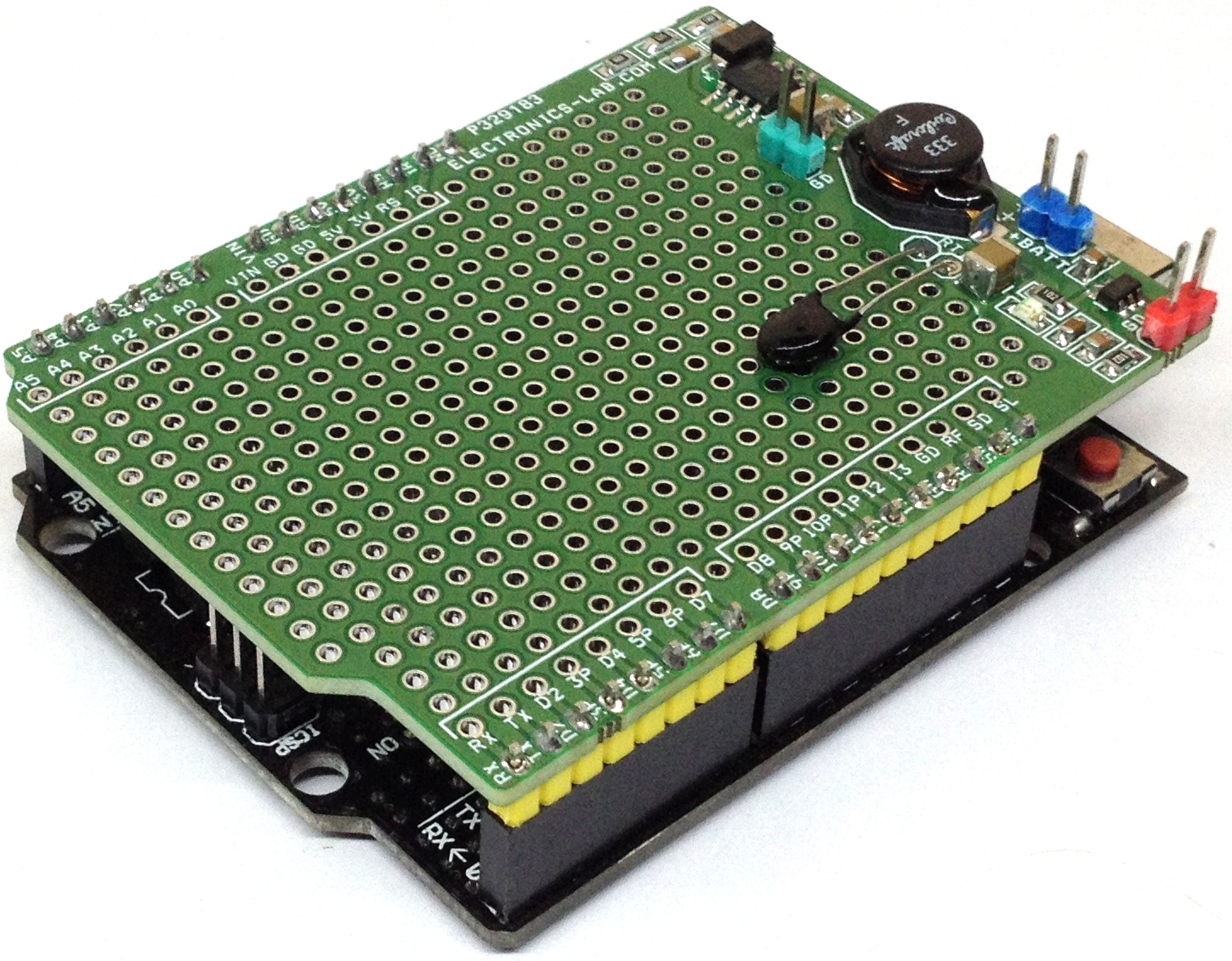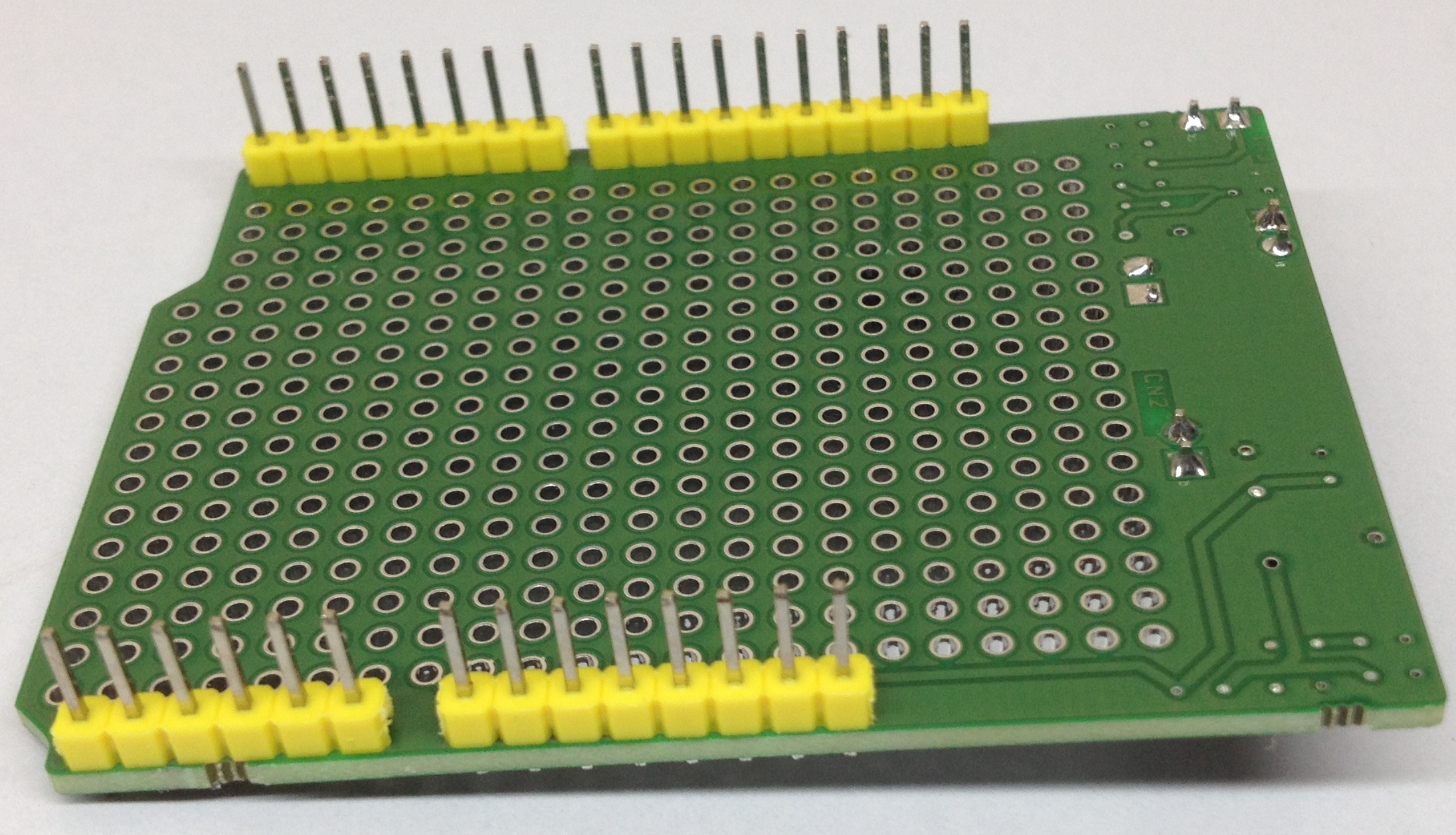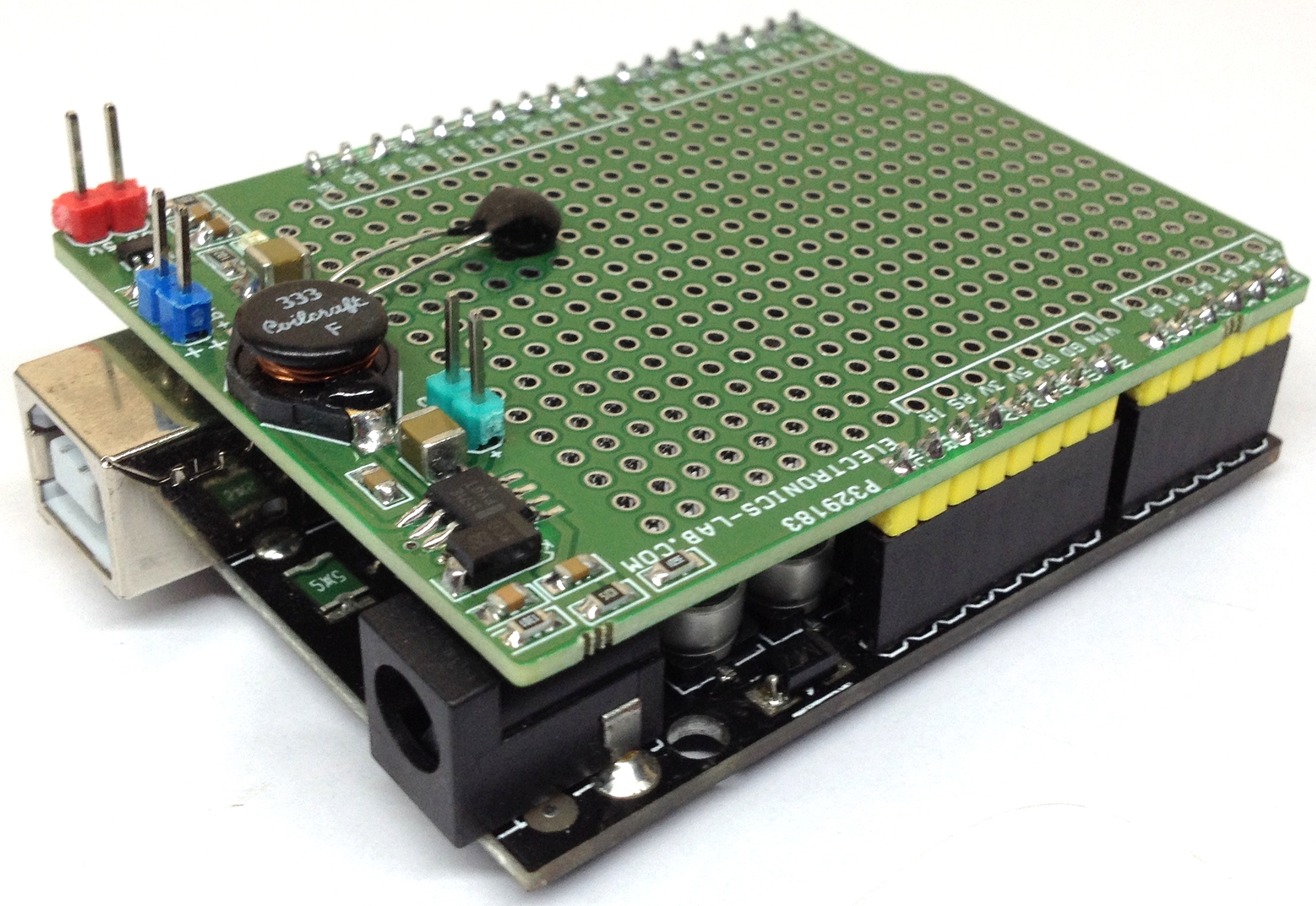 BQ21040 Datasheet
CS5171 Datasheet