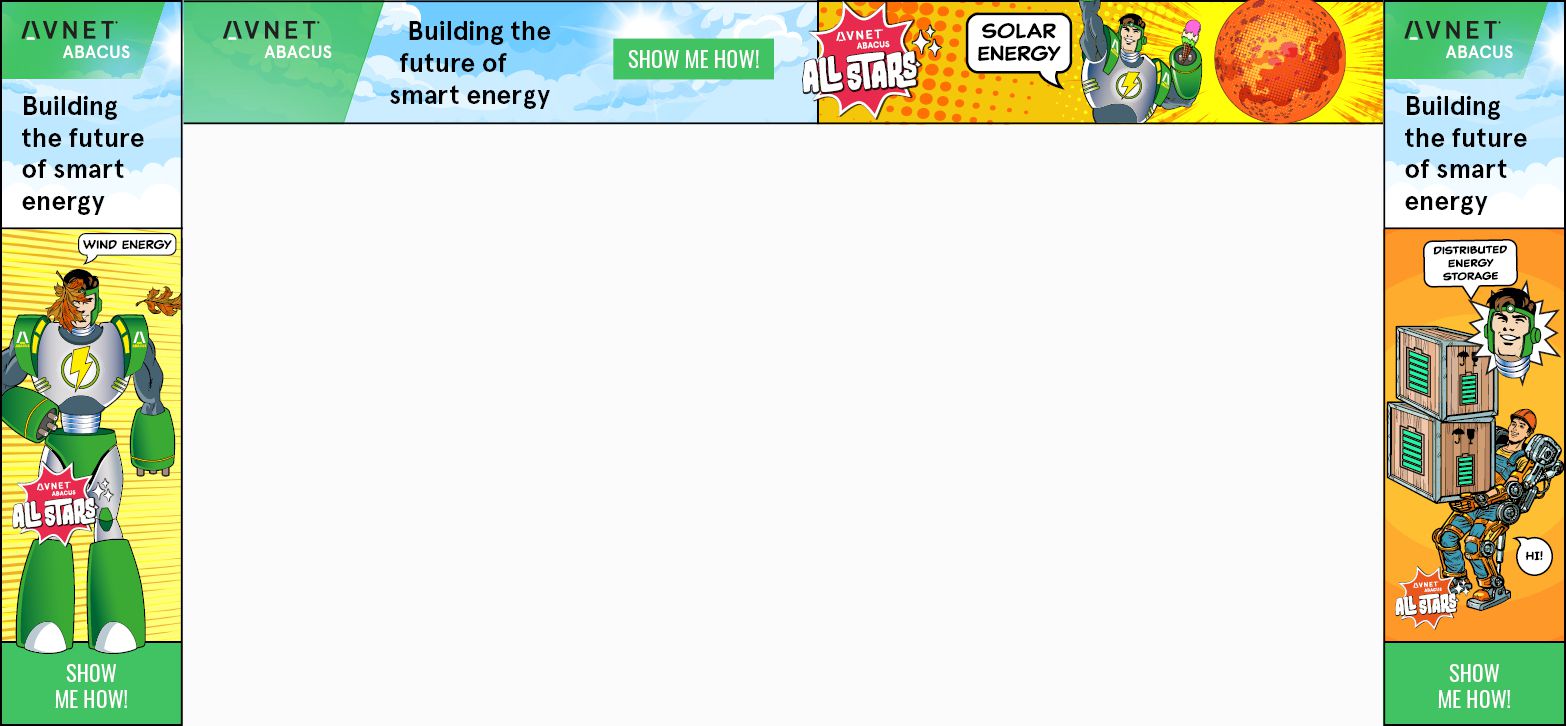 21-Watt Universal AC LED Driver with Accurate Average-Mode Constant Current Control
Rajkumar Sharma

100 Views

medium

Tested

SKU: EL134655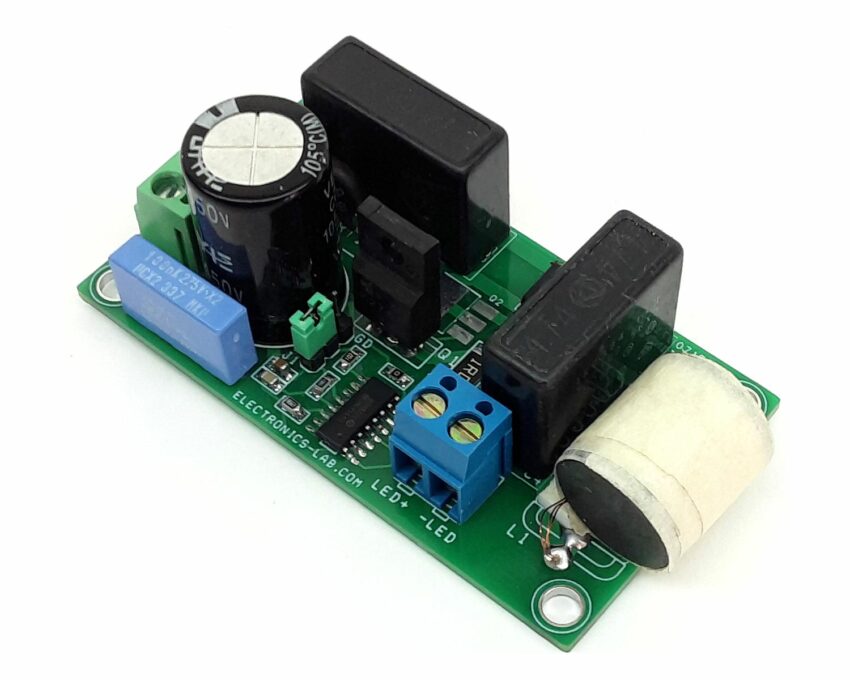 The project presented here is an average current mode control LED driver operating in a constant off-time mode. The project consists of a bridge rectifier followed by a buck converter operating with a fixed off-time of 20µs. The circuit provides accuracy, and line and load regulation of the LED current. The output LED current accuracy is +/-4%. The project is built using HV9961 chip which is equipped with a current limit comparator for hiccup-mode output short circuit protection. A PWM dimming input is provided that accepts an external control of a TTL-compatible signal. Connect the PWMD terminal to the VDD terminal using the jumper provided to enable the LED driver.
HIGH VOLTAGE: Dangerous voltage exists until the power is off. Wait at least 1 minute after the input power is disconnected before touching the board and discharging HV capacitors.
Features
Supply 90V to 265V AC 50Hz/60Hz
Output 20 to 60V, 350mA
Full Load Efficiency Up to 92%
Switching Frequency 38Khz
Fast Average Current Control
PWM Dimming Input (Jumper J1)
Output Short-Circuit Protection with Skip Mode
PCB Dimensions 74.93 x 40.64mm
4 x 4MM Mounting Holes
Connections and Other Details
CN1: Pin 1 = AC Live Input, Pin 2 = AC Neutral Input (90V to 265V AC Input)
CN2: Pin 1 = DC 20V to 60V DC @ 350mA Output (+LED), Pin 2 = -LED
Jumper J1: Pin 1 = VDD, Pin 2 = PWM In/Enable, Pin 3 = GND, Connect to VDD = Enable, Use as PWM input for Dimmer Function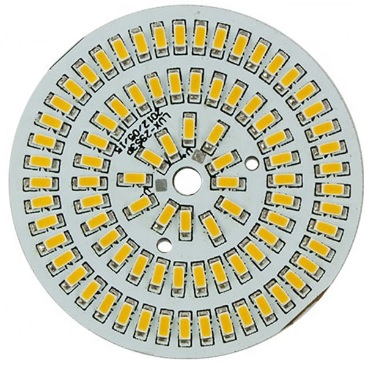 PWM Dimming
The circuit is capable of being PWM dimmed by applying a square wave TTL compatible signal between PWMD and GND terminals of Jumper J1. However, since there is no galvanic isolation on the board, care must be taken to prevent damage to the PWM dimming source and/or the circuit.
The LED driver features tight regulation of the LED current within a few milliamps over the entire range of the input AC line and the output LED string voltage. The LED current accuracy is almost insensitive to the passive component tolerances, such as the output filter inductance or the timing resistor. The accuracy of the LED current is mainly determined by the internal 275mV ± 3% reference voltage of the HV9961 control IC and by the external current sense resistor R4 and R5 tolerance. The output current can be adjusted down to 60mA using the onboard resistor R3. However, accurate current control is only achieved with continuous conduction of the filter inductor, i.e., when the LED current is greater than the inductor ripples current amplitude.
Note: The linear dimming input of the HV9961 disables switching when its voltage falls below a 200V threshold. Expect the LED driver to shut off when the LED current falls below 50 to 55mA. The HV9961 features protection from an output short circuit condition. Open LED protection is inherent since the output filter capacitor can accept the fully rated rectified AC line voltage.
Schematic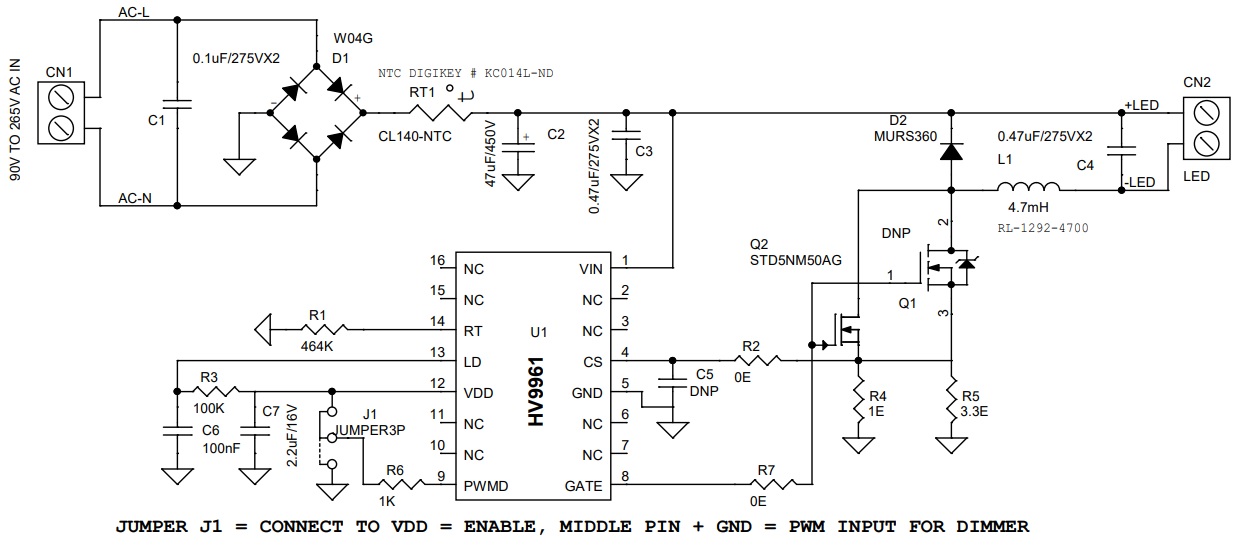 Parts List
| NO. | QNTY. | REF. | DESC. | MANUFACTURER | SUPPLIER | SUPPLIER'S PART NO |
| --- | --- | --- | --- | --- | --- | --- |
| 1 | 1 | CN1 | 2 PIN SCREW TERMINAL PITCH 5.08MM | PHOENIX | DIGIKEY | 277-1247-ND |
| 2 | 1 | CN2 | 2 PIN SCREW TERMINAL PITCH 5.08MM | PHOENIX | DIGIKEY | 277-1247-ND |
| 3 | 1 | C1 | 0.1uF/275VX2 | KEMET | DIGIKEY | 399-9651-ND |
| 4 | 1 | C2 | 47uF/450V DIA 12 TO 16MM | ELITE | DIGIKEY | 4191-VJ2W470MNN1625A6-ND |
| 5 | 2 | C3,C4 | 0.47uF/275VX2 | KEMET | DIGIKEY | 399-12701-ND |
| 6 | 1 | C5 | DNP | | | |
| 7 | 1 | C6 | 100nF/50V CERAMIC SMD SIZE 0805 | YAGEO/MURATA | DIGIKEY | |
| 8 | 1 | C7 | 2.2uF/16V CERAMIC SMD SIZE 0805 | YAGEO/MURATA | DIGIKEY | |
| 9 | 1 | D1 | W04G/1.5A BRIDGE RECTIFIER | VISHAY | element14.com | 1497577 |
| 10 | 1 | D2 | MURS360 | DIODE INCORP | DIGIKEY | 31-MURS360CT-ND |
| 11 | 1 | J1 | JUMPER3P- 3 PIN MALE HEADER PITCH 2.54MM | WURTH | DIGIKEY | 732-5316-ND |
| 12 | 1 | L1 | 4.7mH INDUCTOR RENCO RL-1292-4700 | RENCO | DIGIKEY | rencousa.com |
| 13 | 1 | Q1 | DNP- OPTIONAL FOR Q2 TO220 | | | |
| 14 | 1 | Q2 | STD5NM50AG | DIGIKEY | ST | 497-STD5NM50AGCT-ND |
| 15 | 1 | RT1 | CL140-NTC | AMPHENOL | DIGIKEY | KC014L-ND |
| 16 | 1 | R1 | 464K 1% SMD SIZE 0805 | YAGEO/MURATA | DIGIKEY | |
| 17 | 2 | R2,R7 | 0E SMD SIZE 0805 | YAGEO/MURATA | DIGIKEY | |
| 18 | 1 | R3 | 100K 5% SMD SIZE 0805 | YAGEO/MURATA | DIGIKEY | |
| 19 | 1 | R4 | 1E SMD SIZE 2512 | YAGEO/MURATA | DIGIKEY | |
| 20 | 1 | R5 | 3.3E SMD SIZE 2512 | YAGEO/MURATA | DIGIKEY | |
| 21 | 1 | R6 | 1K 5% SMD SIZE 0805 | YAGEO/MURATA | DIGIKEY | |
| 22 | 1 | U1 | HV9961 | MICROCHIP | DIGIKEY | HV9961NG-G-ND |
| 23 | 1 | J1-S | SHUNT FOR JUMPER J1 | SULLINS CONNECT | DIGIKEY | S9001-ND |
Connections

Gerber View
Photos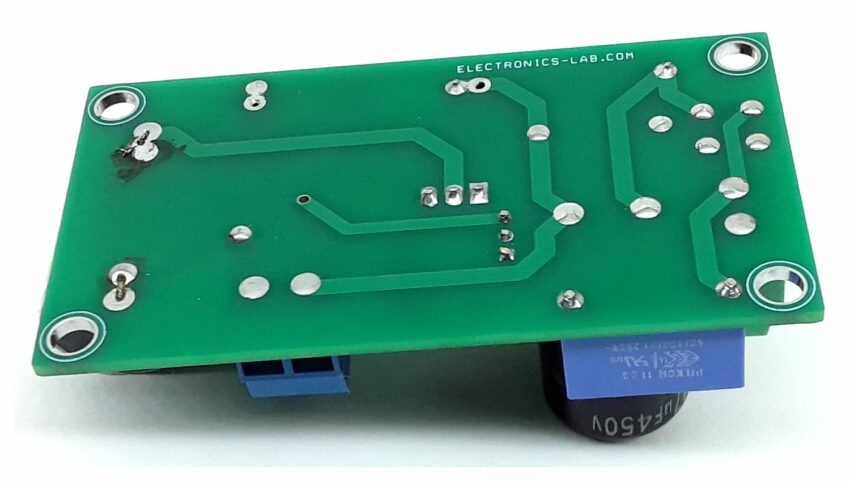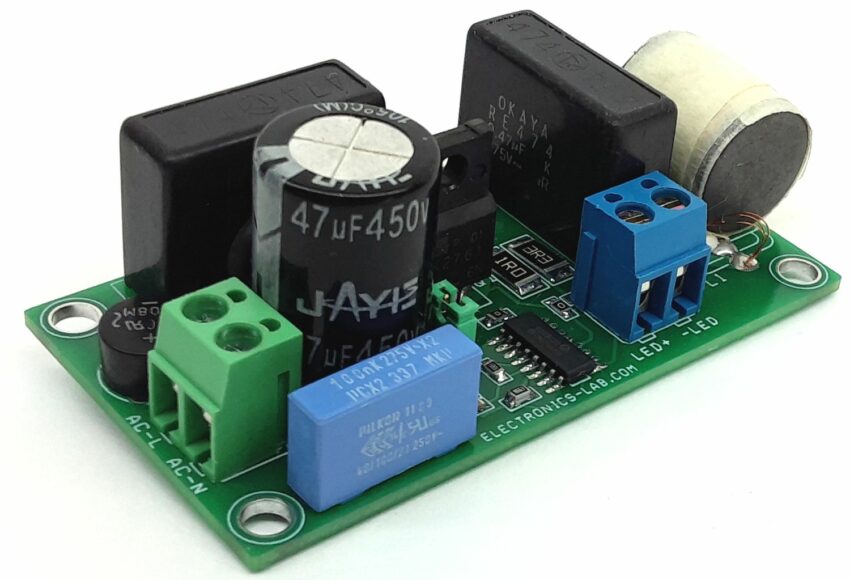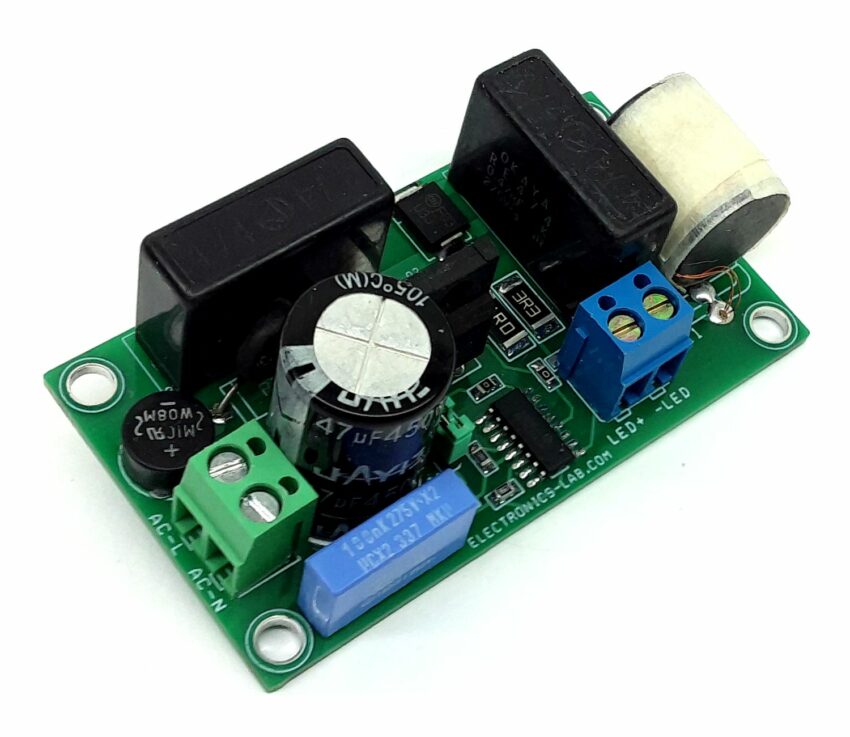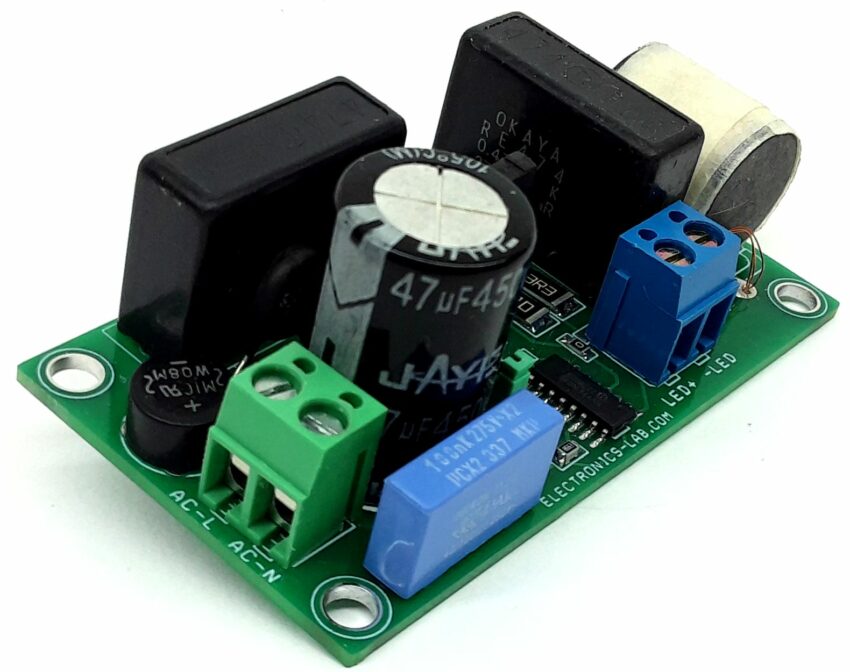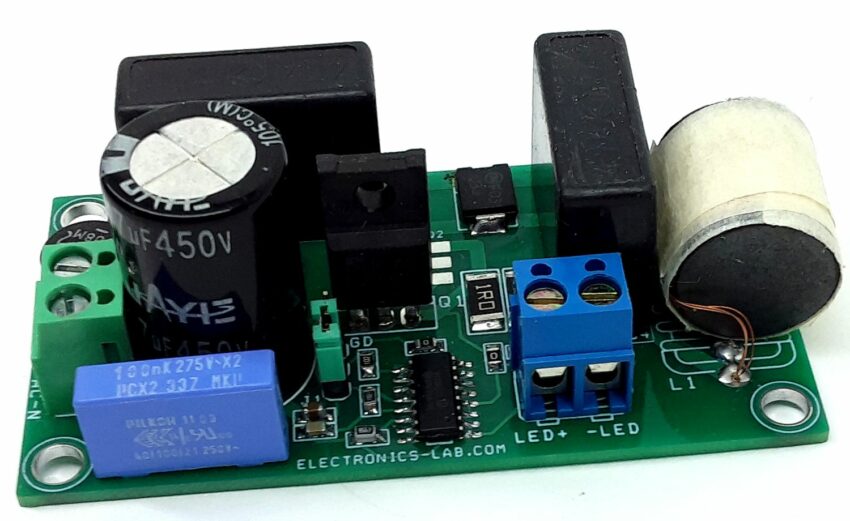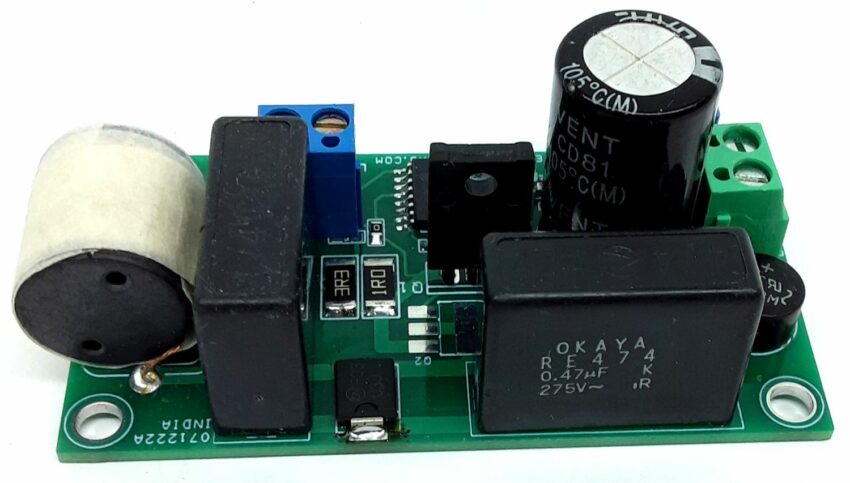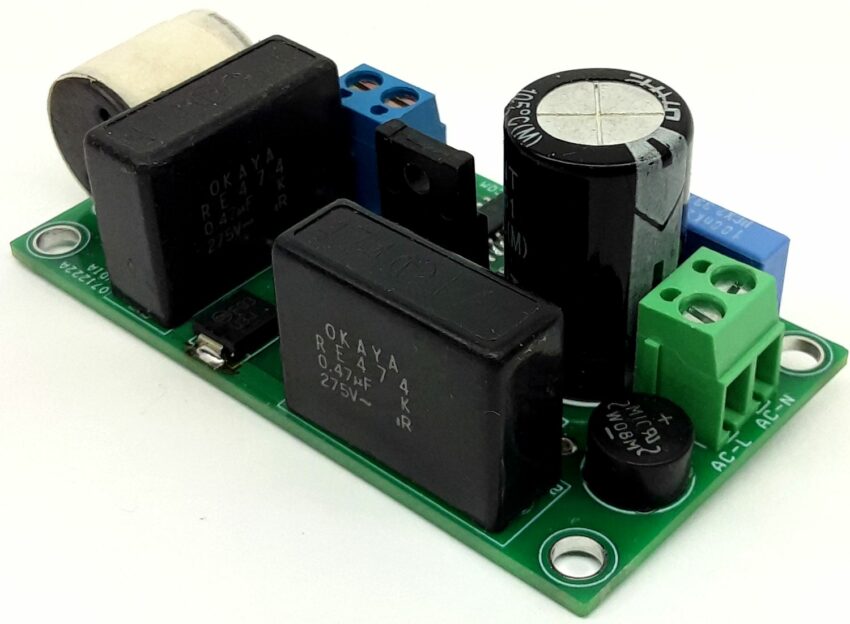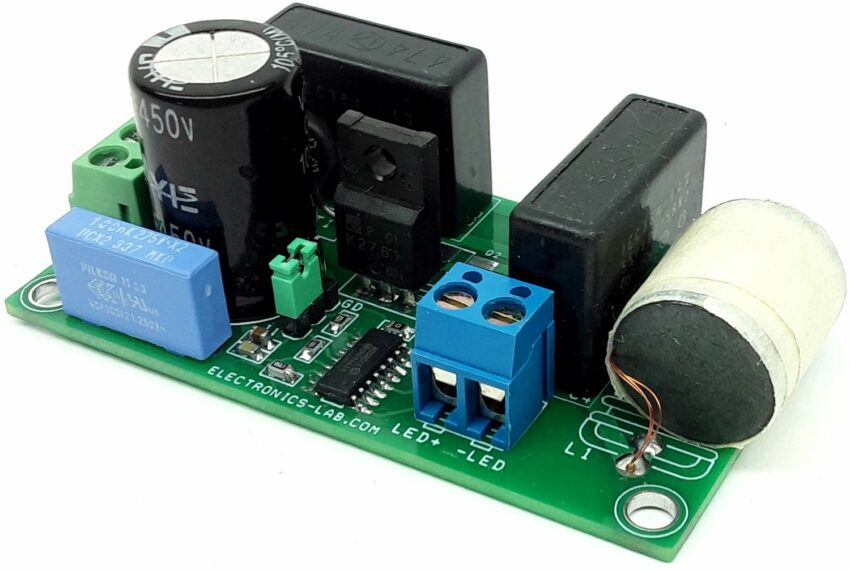 Video
HV9961 Datasheet