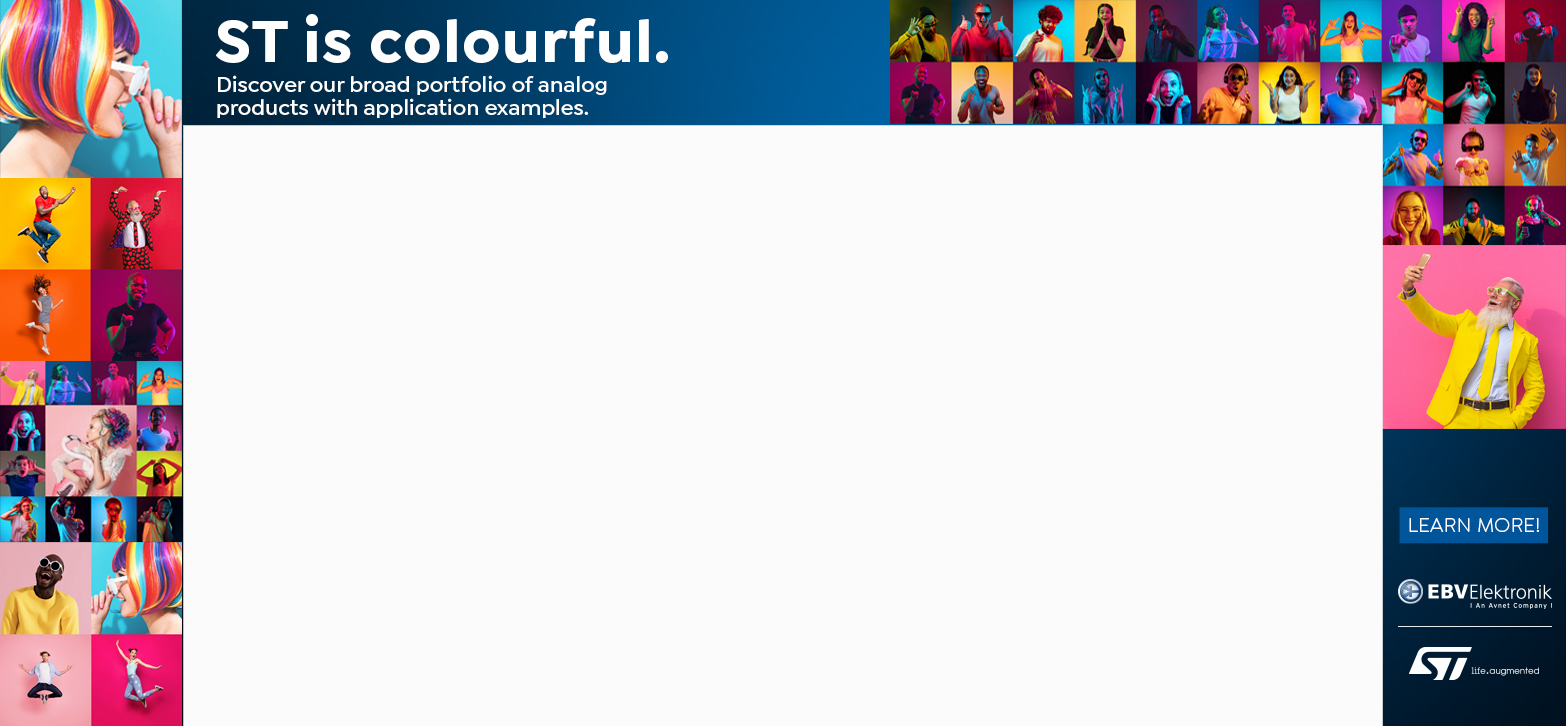 3 Phase Brushless Motor Driver using L6235
Rajkumar Sharma

36 Views

moderate

Tested

SKU: EL140772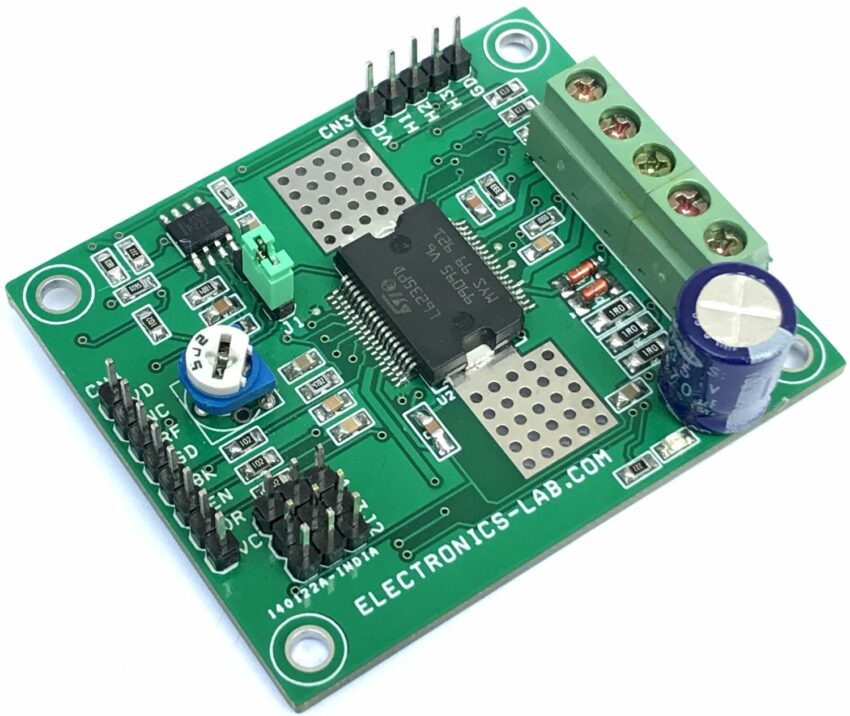 The project presented here is a 3-phase Brushless motor driver. The project consists of an L6235 device which is DMOS fully integrated 3-phase motor driver with overcurrent protection. Manufactured in BCD technology, the device combines isolated DMOS power transistors with CMOS and bipolar circuits on the same chip. The device includes all the circuitry needed to drive a 3-phase BLDC motor including a 3-phase DMOS bridge, a constant off-time PWM current controller, and the decoding logic for single-ended hall sensors that generates the required sequence for the power stage. Running the project in stand-alone mode, instead, three control pins enable the device, setting the direction of the rotation, breaking the motor, and the jumper chooses to run in torque or speed mode. The board is suitable for small motors used in many home appliances and can handle torque and speed control with a high efficiency of up to 95%.
Operation
CN4: Pin2 High/Low to select the Direction of the Motor
CN4: Pin 3 Enable, High=Enable, Low = Disable
CN4: Pin 4 Brake, High=Normal Operation, Low=Brake
J1: Jumper Speed Mode or Torque Mode Selection
PR1: Adjust the Speed
Features
Operating supply voltage from 8 to 48 V
Load Current Up to 2.8A, Peak Current 5.6Amp
Non-dissipative overcurrent detection and protection
Diagnostic output
Constant tOFF PWM current controller
Slow decay synchr. rectification
60° and 120° hall effect decoding logic
Brake function
Cross conduction protection
Thermal shutdown
Undervoltage lockout
Integrated fast freewheeling diodes (Chip)
4 x 3mm Mounting Holes
PCB Dimensions 59.69 x 49.53mm
Current Ratings
Load current rated for a maximum of 2.8ARMS. and 5.6Apeak. The device has a built-in Over-Current Detection (OCD) that allows protection against short circuits between the outputs and between the output and ground.
Voltage Ratings and Operation Range
The L6235 requires a single supply voltage (VS), for the motor supply. The operating range for VS is 8 to 48 V. To prevent working into undesirable low supply voltage an Under Voltage Lock Out (UVLO) circuit shuts down the device when the supply voltage falls below 6 V; to resume normal operating conditions, VS must then exceed 7 V. The hysteresis is provided to avoid false intervention of the UVLO function during fast VS ringing's. It should be noted, however, that DMOS's RDS(ON) is a function of the VS supply voltage. Actually, when VS is less than 10V, RDS(ON) is adversely affected, and this is particularly true for the High Side DMOS that are driven from VBOOT supply. This supply is obtained through a charge pump from the internal 10V supply, which will tend to reduce its output voltage when VS goes below 10V.
Brake
In general, motor braking can be achieved by making a short circuit across the windings: the BEMF forces a current, proportional to the braking torque, that flows in the opposite direction than in normal running mode. For high BEMF and inertia moment, the current may reach very high values: a power resistor is often used to reduce the maximum braking current and dissipate the motor energy. L6235 Brake pin can be used to quickly stop the motor while it is running: providing a low logic level to this pin all the high-side DMOS switch on, making a short-circuit across the motor windings.  A power resistor is not used: while the motor is braking, both Thermal and Over-Current protections still work, avoiding BEMF from causing a current exceeding the device's maximum ratings.
Connections and Other Details
CN1: Pin 1 = VDD 8 to 48V DC Motor Power, Pin 2 = GND
CN2: Pin 1 = Motor 1, Pin 2 = Motor 2, Pin 3 = Motor 3
CN3: Pin 1 VCC 5V DC, Pin 2 = Hall Sensor 1, Pin 3 = Hall Sensor 2, Pin 4 = Hall Sensor 3
CN4: Pin 1 = VCC, Pin 2 = Direction, Pin 3 = Enable, Pin 4 = Brake, Pin 5 = GND, Pin 6 = Ref No Use, Pin 7 = NC, Pin 8 = VDD 8 to 48V
PR1: Speed Control
J1: Jumper for Speed Control or Torque Control Selection
J2: Jumper for Brake
J3: Jumper for Enable
J4: Jumper for Direction
D2: Motor Power LED
Schematic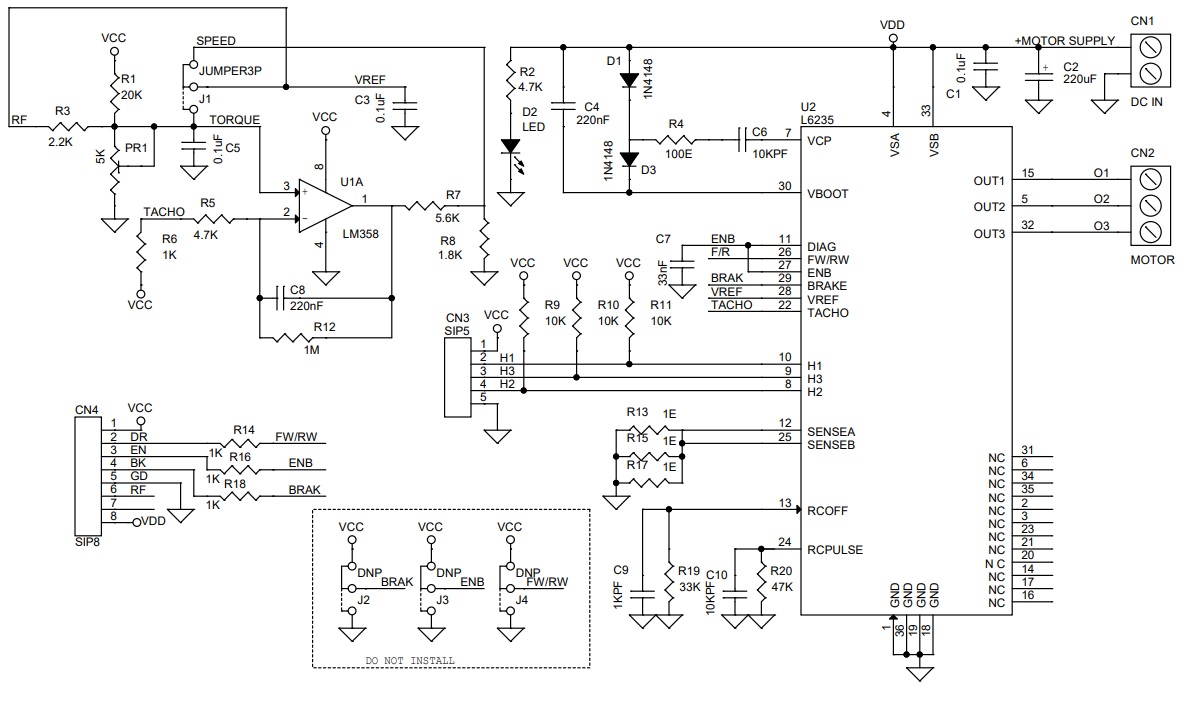 Parts List
| NO. | QNTY. | REF. | DESC. | MANUFACTURER | SUPPLIER | SUPPLIER PART NO |
| --- | --- | --- | --- | --- | --- | --- |
| 1 | 1 | CN1 | 2 PIN SCREW TERMINAL PITCH 5.08MM | PHOENIX | DIGIKEY | 277-1247-ND |
| 2 | 1 | CN2 | 3 PIN SCREW TERMINAL PITCH 5.08MM | PHOENIX | DIGIKEY | 277-1248-ND |
| 3 | 1 | CN3 | 5 PIN MALE HEADER PITCH 2.54MM | WURTH | DIGIKEY | 732-5318-ND |
| 4 | 1 | CN4 | 8 PIN MALE HEADER PITCH 2.54MM | WURTH | DIGIKEY | 732-5321-ND |
| 5 | 3 | C1,C3,C5 | 0.1uF/50V CERAMIC SMD SIZE 0805 | YAGEO/MURATA | DIGIKEY | |
| 6 | 1 | C2 | 220uF/50V ELECTROLYTIC THT | PANASONIC | DIGIKEY | P10398TB-ND |
| 7 | 2 | C8 | 220nF/50V CERAMIC SMD SIZE 0805 | YAGEO/MURATA | DIGIKEY | |
| 8 | 2 | C6,C10 | 10KPF/50V CERAMIC SMD SIZE 0805 | YAGEO/MURATA | DIGIKEY | |
| 9 | 1 | C7 | 33nF/50V CERAMIC SMD SIZE 0805 | YAGEO/MURATA | DIGIKEY | |
| 10 | 1 | C9 | 1KPF/50V CERAMIC SMD SIZE 0805 | YAGEO/MURATA | DIGIKEY | |
| 11 | 2 | D1,D3 | 1N4148 | MICROCHIP | DIGIKEY | 1N4148UR-1-ND |
| 12 | 1 | D2 | LED RED SMD SIZE 0805 | OSRAM | DIGIKEY | 475-1278-1-ND |
| 13 | 1 | C4 | 220nF/50V CERAMIC SMD SIZE 1206 | YAGEO/MURATA | DIGIKEY | |
| 14 | 4 | J1,J2,J3,J4 | 3 PIN MALE HEADER PITCH 2.54MM | WURTH | DIGIKEY | 732-5316-ND |
| 15 | 1 | PR1 | 5K TRIMMER POTENTIOMETER | BOURNS | DIGIKEY | 3362P-502LF-ND |
| 16 | 1 | R1 | 20K 1% SMD SIZE 0805 | YAGEO/MURATA | DIGIKEY | |
| 17 | 2 | R2,R5 | 4.7K 5% SMD SIZE 0805 | YAGEO/MURATA | DIGIKEY | |
| 18 | 1 | R3 | 2.2K 5% SMD SIZE 0805 | YAGEO/MURATA | DIGIKEY | |
| 19 | 1 | R4 | 100E 5% SMD SIZE 0805 | YAGEO/MURATA | DIGIKEY | |
| 20 | 4 | R6,R14,R16,R18 | 1K 5% SMD SIZE 0805 | YAGEO/MURATA | DIGIKEY | |
| 21 | 1 | R7 | 5.6K 5% SMD SIZE 0805 | YAGEO/MURATA | DIGIKEY | |
| 22 | 1 | R8 | 1.8K 5% SMD SIZE 0805 | YAGEO/MURATA | DIGIKEY | |
| 23 | 3 | R9,R10,R11 | 10K 5% SMD SIZE 0805 | YAGEO/MURATA | DIGIKEY | |
| 24 | 1 | R12 | 1M 5% SMD SIZE 0805 | YAGEO/MURATA | DIGIKEY | |
| 25 | 3 | R13,R15,R17 | 1E 1% SMD SIZE 1206 | YAGEO/MURATA | DIGIKEY | |
| 26 | 1 | R19 | 33K 5% SMD SIZE 0805 | YAGEO/MURATA | DIGIKEY | |
| 27 | 1 | R20 | 47K 5% SMD SIZE 0805 | YAGEO/MURATA | DIGIKEY | |
| 28 | 1 | U1 | LM358 SOIC8 | TI | DIGIKEY | 296-14601-1-ND |
| 29 | 1 | U2 | L6235 | ST | DIGIKEY | 497-4010-1-ND |
| 30 | 4 | SHUNT | SHUNT FOR JUMPERS | SULLINS CONECT | DIGIKEY | S9001-ND |
Connections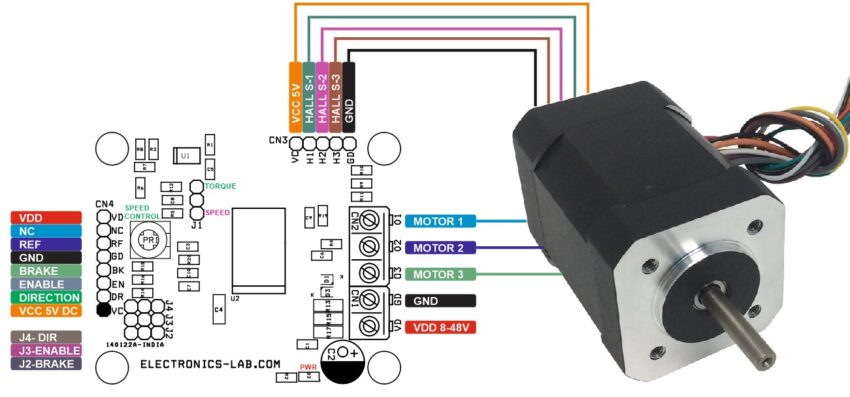 Gerber View
Photos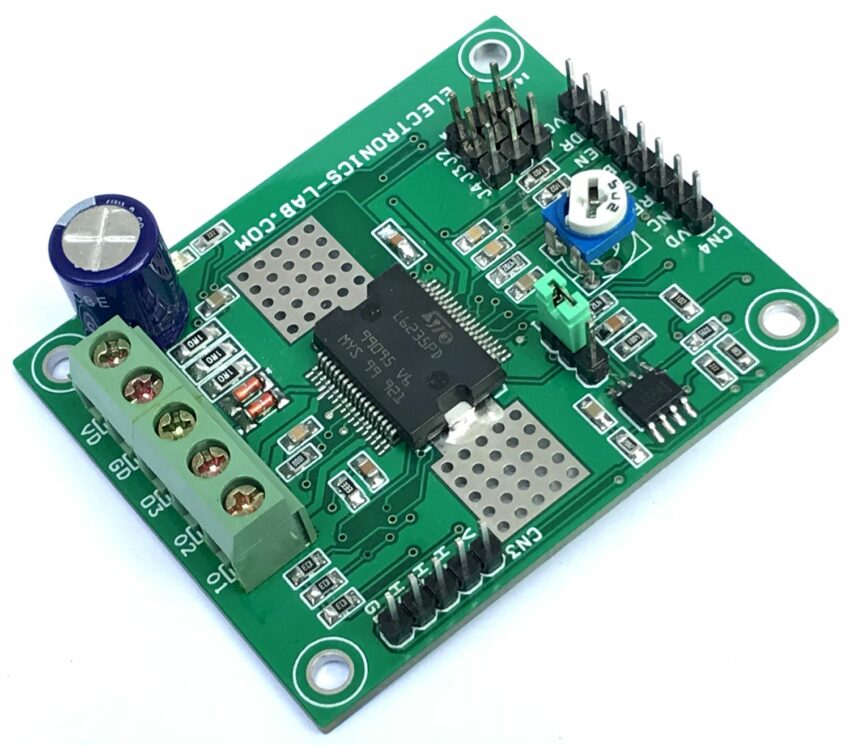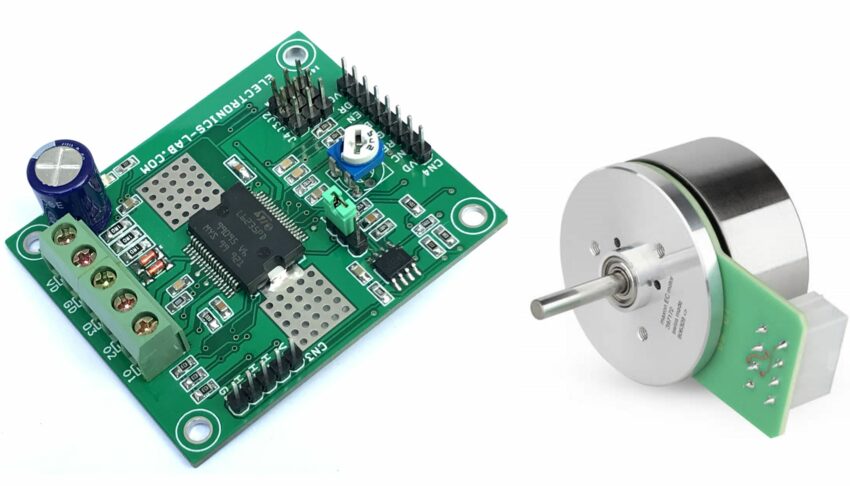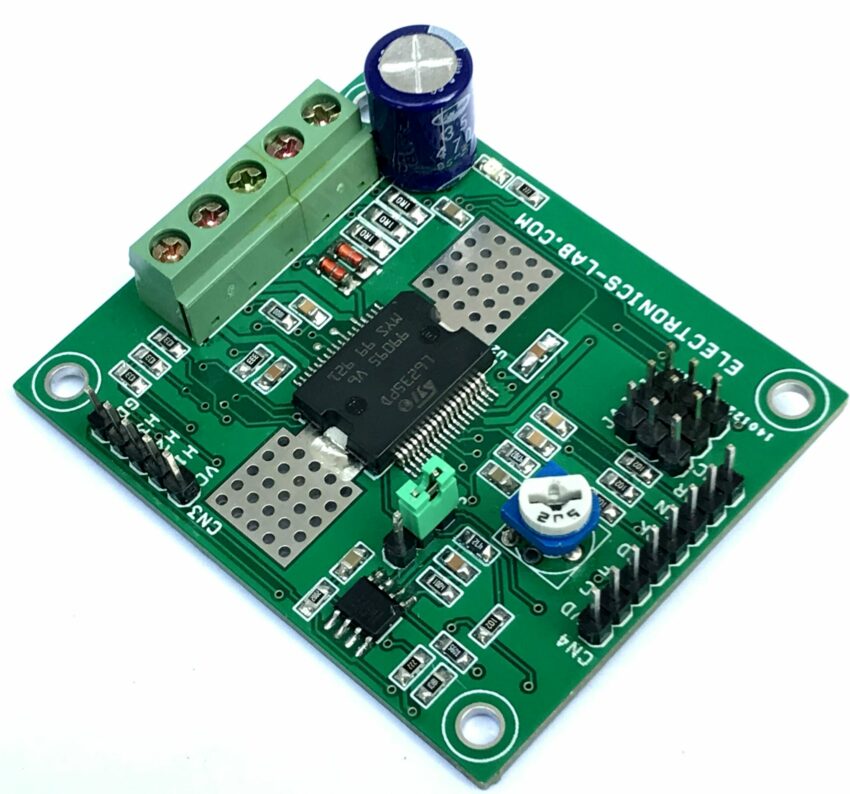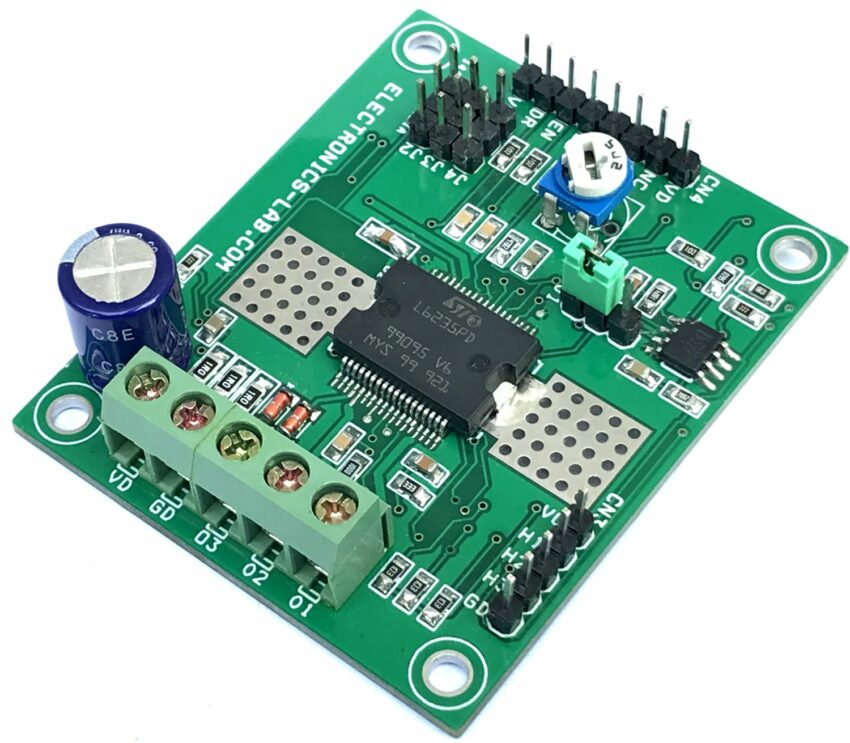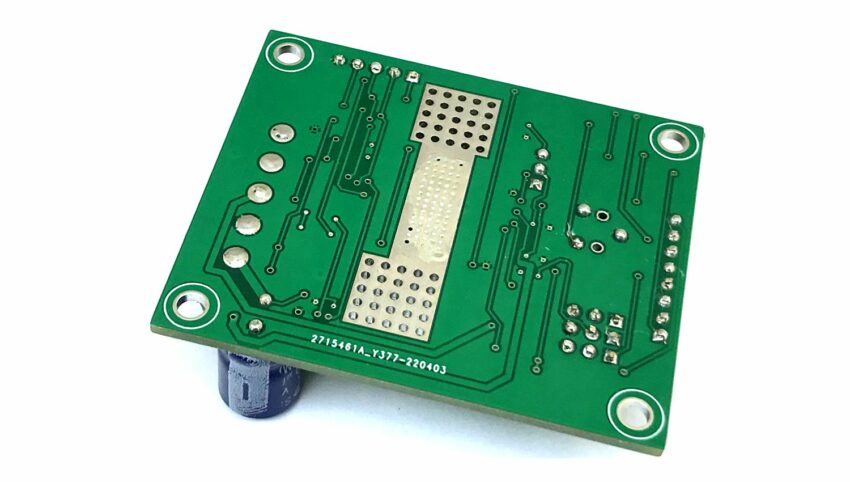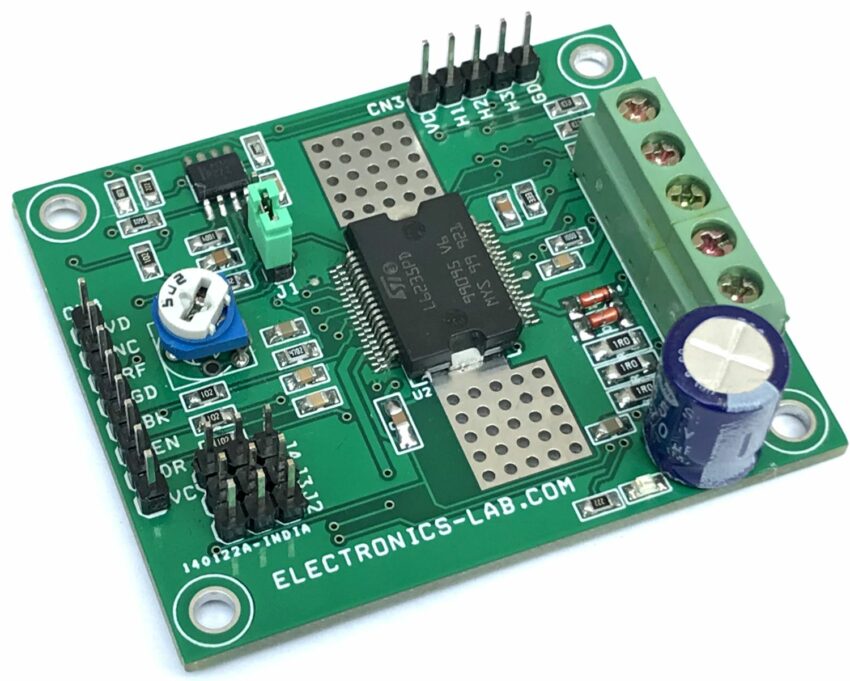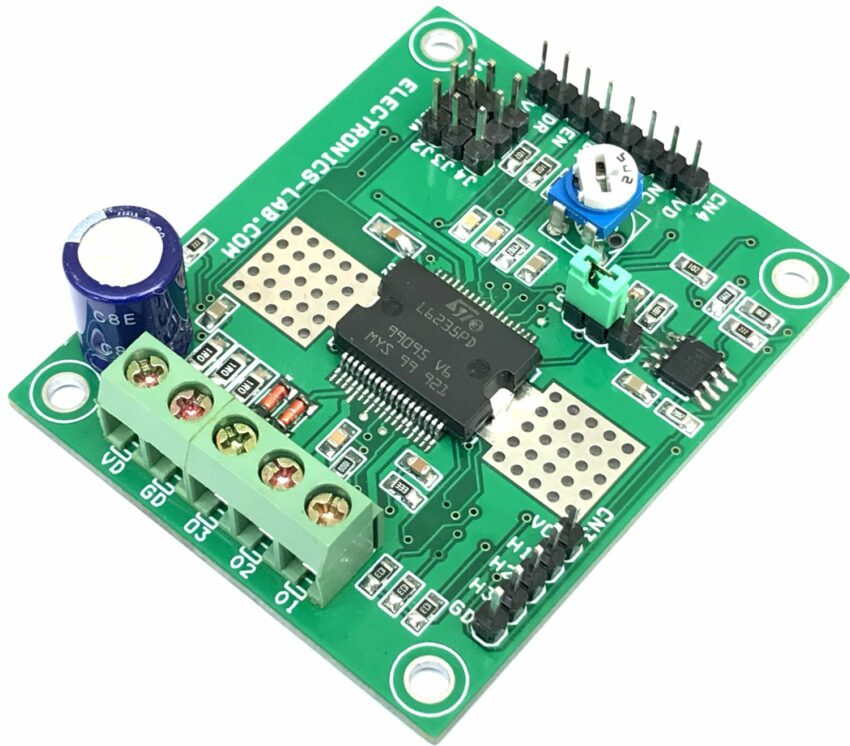 Video
L6235 Datasheet