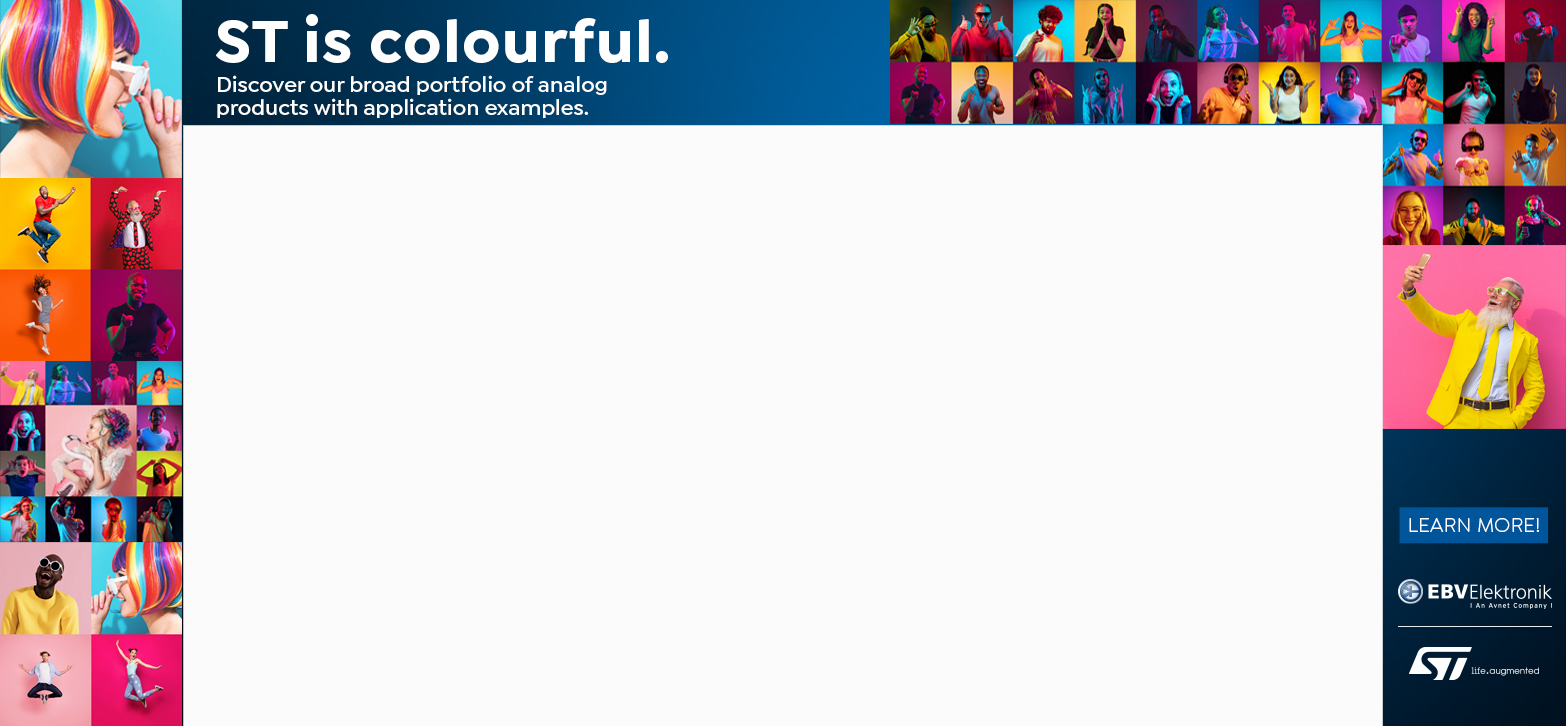 Ultra-High-Speed, Low-Distortion – Differential-to-Single-Ended Line Receivers with Enable
Rajkumar Sharma

71 Views

easy

Tested

SKU: EL127148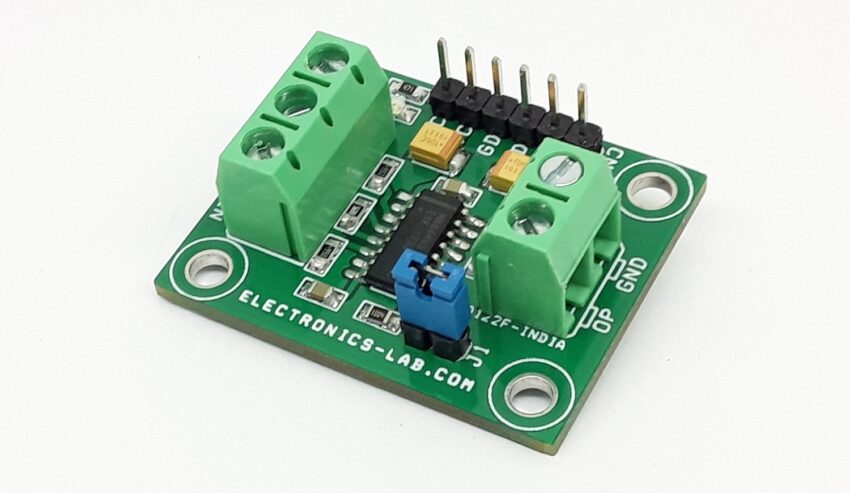 The project presented here is a differential line receiver that offers unparalleled high-speed, low-distortion performance and is ideally suited for digital, video, and RF signal-processing applications. These receivers offer a small-signal bandwidth of 550MHz and have a high slew rate of up to 2000-3800V/µs. The board's 120mA output capability allows it to be directly coupled to data acquisition systems. The project has been designed using the MAX4445 chip, which has a three-op amp instrumentation amplifier architecture. These ICs have symmetrical differential inputs and a single-ended output. The project operates from ±5V supply and is capable of driving a 100Ω load to ±3.7V.  MAX4445 is compensated for gains of +2V/V or greater, set by an external resistor R3. A low-power enable mode reduces current consumption to 3.5mA. Using current-feedback techniques, the MAX4445 achieves a 550MHz bandwidth while maintaining up to a 5000V/µs slew rate. Excellent differential gain/phase and noise specifications make these amplifiers ideal for a wide variety of digital, video, and RF signal-processing applications. It is important to make a Gold-plated high-quality PCB and use high-grade components and connectors to operate at high frequency.
The project is compatible and can be paired with our Wideband, High-Output-Current – Single Ended-to-Differential Line Drivers with Enable that has been published in past.
Low-Power Enable Mode
The chip is disabled when Enable pin goes low. This reduces the supply current to only 3.5mA. In this case, the output becomes high impedance.  The effective output impedance for the MAX4445 is 1.8kΩ plus RGAIN (Resistor R3)
Setting Gain (Resistor R3) – Default Gain +2V/V
The MAX4445 is stable with a minimum gain configuration of +2V/V. RGAIN R3, connected between the RG pins. Gain can be changed using the below formula:
Gain = (1 + 600 / RGAIN)
Coaxial Line Driver
The project is well suited to drive coaxial cables. The high output current capability can easily drive the 75Ω characteristic impedance of common coaxial cables. Adjust the gain of the MAX4445 to compensate for cable losses to maintain the required levels at the input of the next stage.
Key Features
Operating Power Supply +/-5V DC (Dual 5V DC)
Output Current Drive 90 to 120mA (Load 30 Ohms)
Output Swing +/-3.3V
2000-3800V/µs Slew Rate
External Gain Selection AVCL ≥ +2V/V
550MHz -3dB Bandwidth
-60dB SFDR at 5MHz
Low Differential Gain/Phase: 0.07%/0.05°
Low Noise: 25nV/ at fIN = 100kHz
Low-Power Disable Mode Reduces Quiescent Current to 3.5mA
PCB Dimensions 36.20 X 28.89 mm
Applications
Data Acquisition
Differential to Single-Ended Conversion
High-Speed Differential Line Receiver
High-Speed Instrumentation Amplifier
Medical Instrumentation
Twisted-Pair to Coaxial Converter
Schematic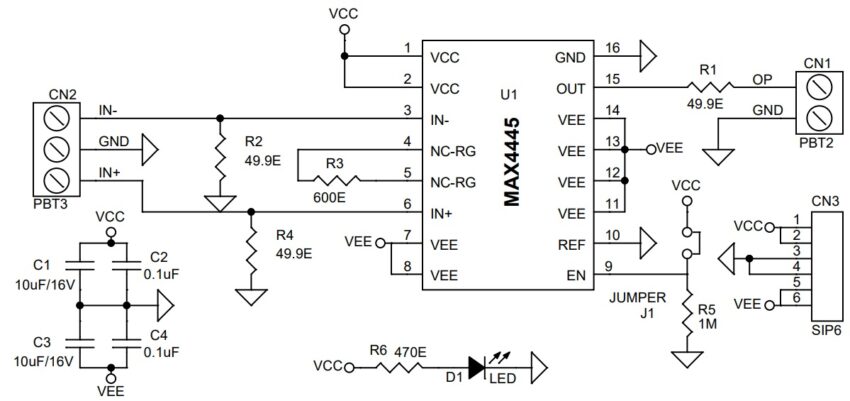 Parts List
| NO. | QNTY. | REF. | DESC. | MANUFACTURER | SUPPLIER | PART NO |
| --- | --- | --- | --- | --- | --- | --- |
| 1 | 1 | CN1 | 2 PIN SCREW TERMINAL PITCH 5.08MM | PHOENIX | DIGIKEY | 277-1247-ND |
| 2 | 1 | CN2 | 3 PIN SCREW TERMINAL PITCH 5.08MM | PHOENIX | DIGIKEY | 277-1248-ND |
| 3 | 1 | CN3 | 6 PIN MALE HEADER PITCH 2.54MM | WURTH | DIGIKEY | 732-5319-ND |
| 4 | 2 | C1,C3 | 10uF/16V | YAGEO/MURATA | DIGIKEY | |
| 5 | 2 | C2,C4 | 0.1uF/50V SMD SIZE 0805 | YAGEO/MURATA | DIGIKEY | |
| 6 | 1 | D1 | LED RED SMD SIZE 0805 | LITE ON INC | DIGIKEY | 160-1427-1-ND |
| 7 | 1 | J1 | 2 PIN MALE HEADER FOR JUMPER | WURTH | DIGIKEY | 732-5315-ND |
| 8 | 3 | R1,R2,R4 | 49.9E 1% SMD SIZE 0805 | YAGEO/MURATA | DIGIKEY | |
| 9 | 1 | R3 | 600E 1% SMD SIZE 0805 | YAGEO/MURATA | DIGIKEY | |
| 10 | 1 | R5 | 1M 5% SMD SIZE 0805 | YAGEO/MURATA | DIGIKEY | |
| 11 | 1 | R6 | 470E 5% SMD SIZE 0805 | YAGEO/MURATA | DIGIKEY | |
| 12 | 1 | U1 | MAX4445 | ANALOG DEVICE | DIGIKEY | MAX4445ESE+-ND |
| 13 | 1 | J1-S | SHUNT FOR JUMPER 1 | SULLINS CONCT | DIGIKEY | S9001-ND |
Connections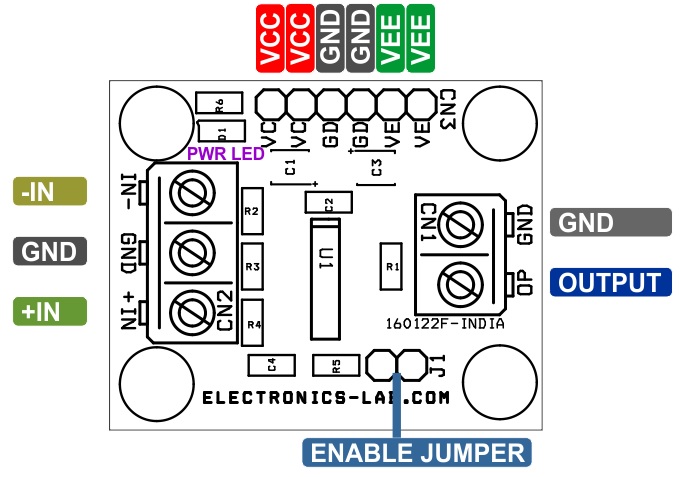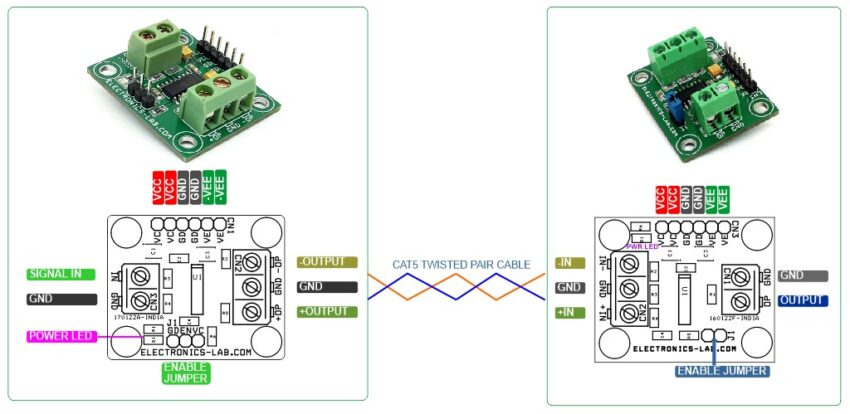 Gerber View
Photos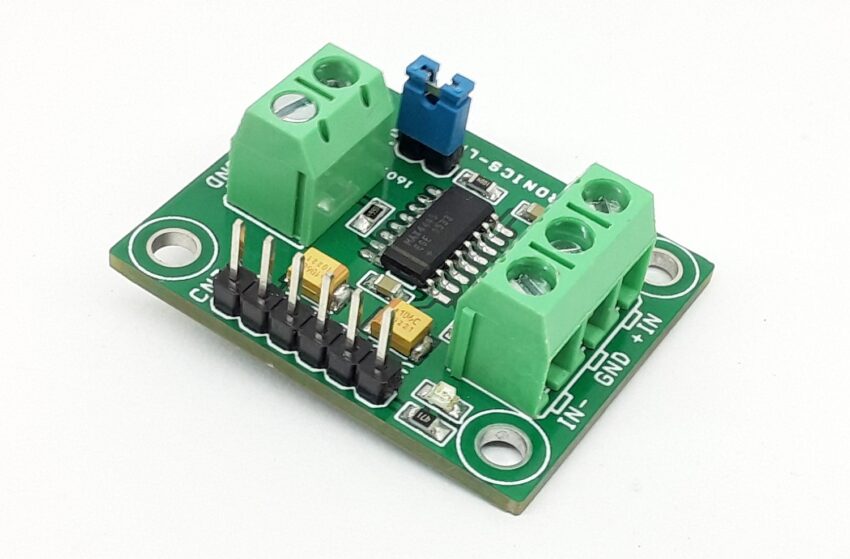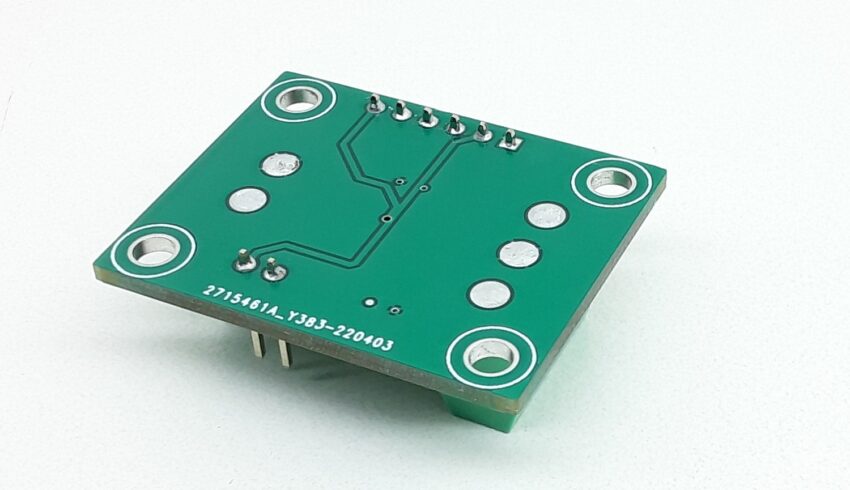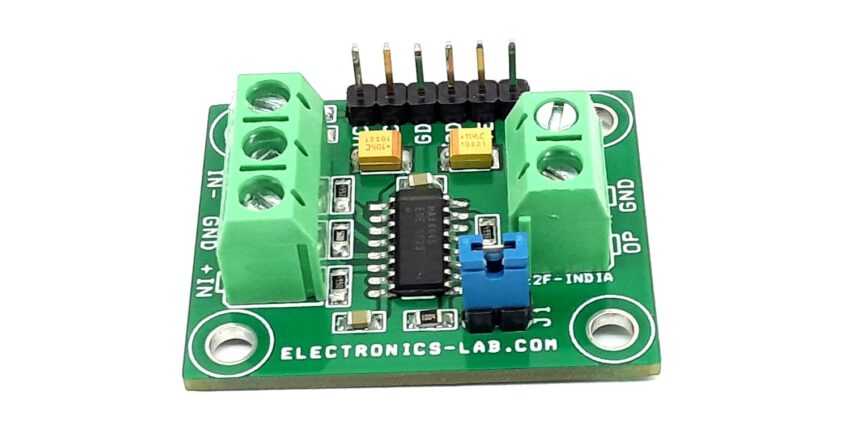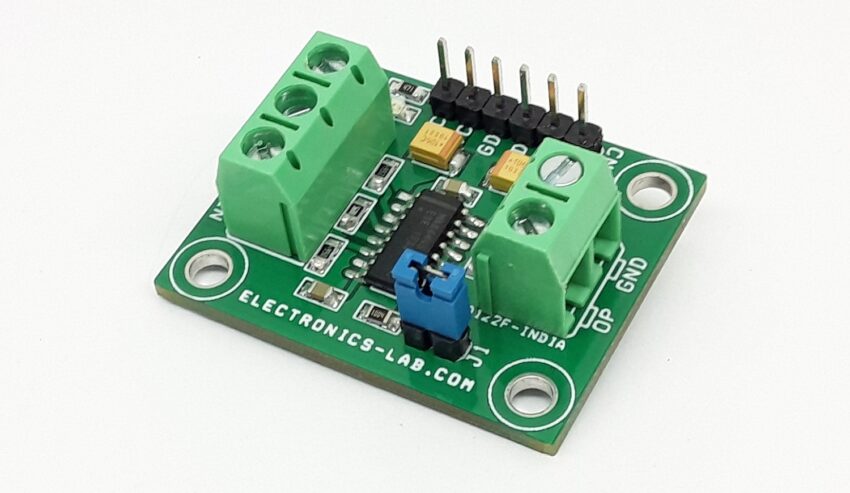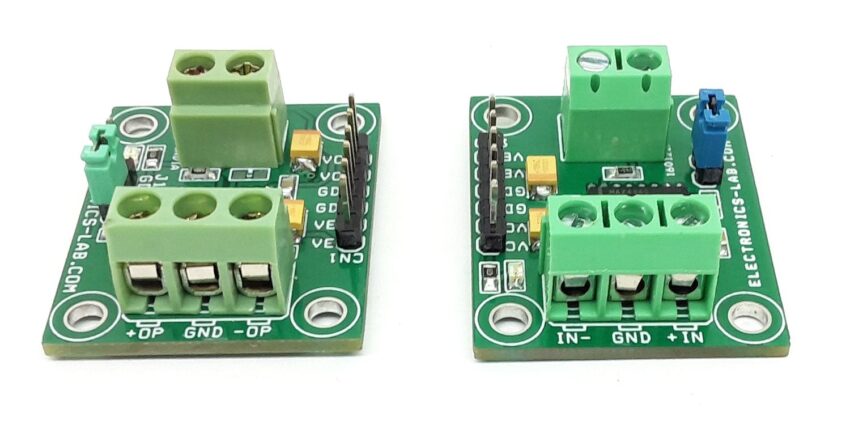 Video
MAX4445 Datasheet