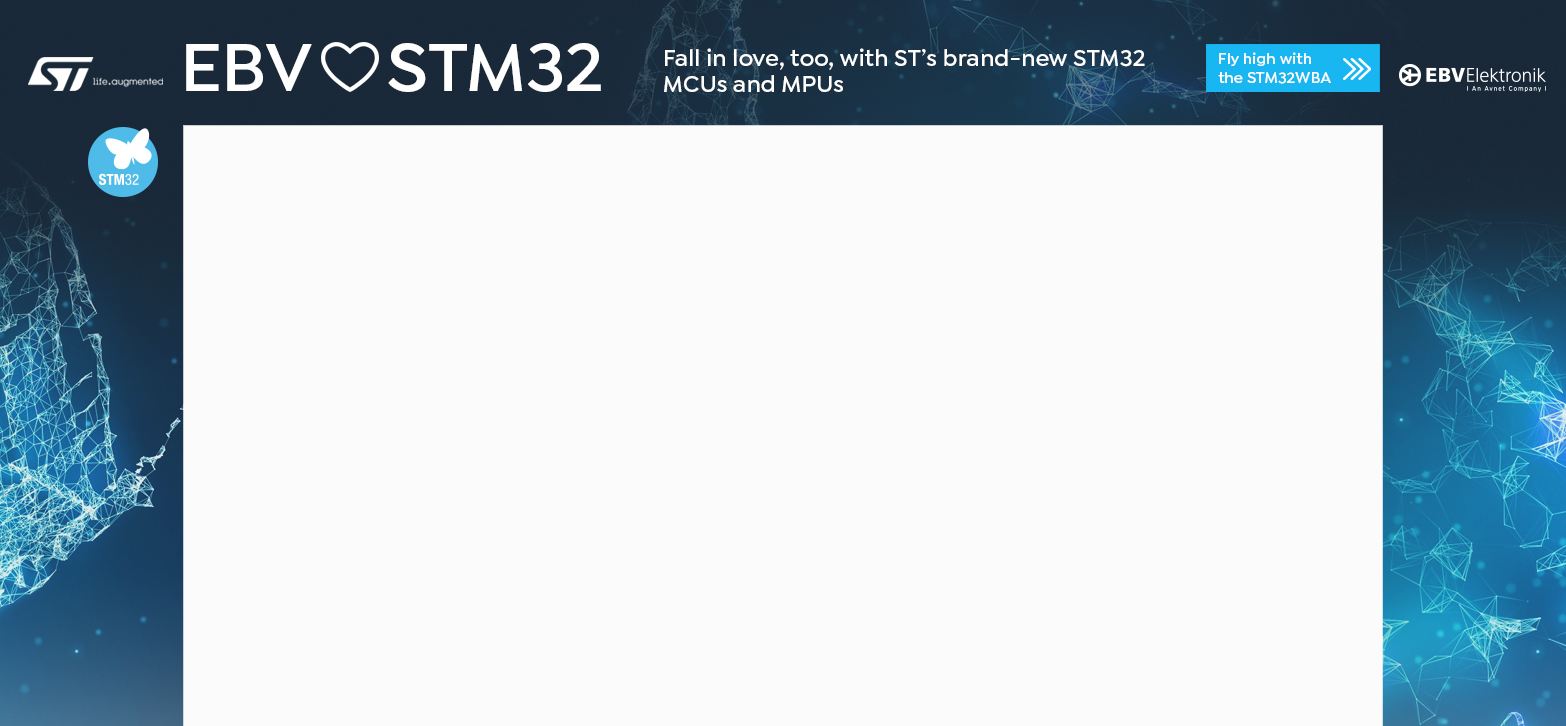 Wideband, High-Output-Current – Single Ended-to-Differential Line Drivers with Enable
Rajkumar Sharma

98 Views

moderate

Tested

SKU: EL127301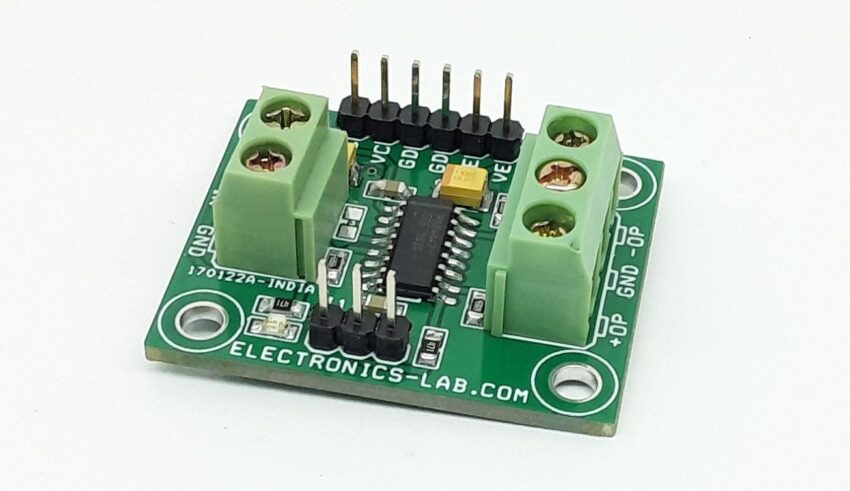 This is a Line Driver project. This single-ended-to-differential line driver is designed for high-speed communications. Using current feedback for greater bandwidth, this project delivers full-power bandwidth up to 405MHz and features slew rates as high as 6500V/µs. The MAX4447 has a fixed gain of +2V/V and a small-signal bandwidth of 430MHz. A low-power enable mode reduces current consumption below 5.5mA and places the outputs in a high-impedance state, Jumper J1 is provided to selectively enable and disable. The circuit can deliver differential output swings of ±6.2V from ±5V supplies with a 50Ω load. Excellent differential gain/phase and noise specifications make these project ideal for a wide variety of video and RF signal-processing and transmission applications. It is advisable to use gold-plated PCB and high-quality connectors for high-frequency operation.
Twisted-Pair Line Driver

The project is compatible and can be paired with our Ultra-High-Speed, Low-Distortion – Differential-to-Single-Ended Line Receivers with Enable that has been published in past.
The project is well-suited to drive twisted-pair cables. It is advisable to use a high-quality twisted pair cable like CAT5. The 24AWG telephone wire widely used, produces losses at higher frequencies.
Connections and Other details
CN1: Power Supply Input >> Pin1 =+5V DC, Pin2=+5V DC, Pin3=GND, Pin4=GND, Pin5= -5V DC, Pin6= -5V DC
CN3: Signal Ended Signal Input >> Pin1= Signal Input, Pin2=GND
CN2: Differential Output >> Pin1= +Output, Pin2=GND, Pin3=-Output
D1: Power LED
J1: Jumper >> GND Disable, VCC=Enable
Key Features
Operating Power Supply +/-5V DC (Dual 5V DC)
6500V/µs Slew Rate
Small-Signal Bandwidth
Full-Power Bandwidth 430MHz
200MHz 0.1dB Gain Flatness
130mA Output Drive Current
+2V/V Internally Fixed Gain
-78dB SFDR at 100kHz
Low Differential Gain/Phase: 0.01%/0.02°
Ultra-Low Noise: 23nV per root-Hz at fIN = 1MHz
8ns Settling Time to 0.1%
PCB Dimensions 35.72 x 29.37 mm
4 x 3MM Mounting Holes
Applications
Coaxial to Twisted-Pair Converter
Differential ADC Driver
Differential Line Driver
Differential Pulse Amplifier
High-Speed Differential Transmitter
Single-Ended-to-Differential Conversion
Video and RF Signal Processing and Transmission
xDSL Applications
Schematic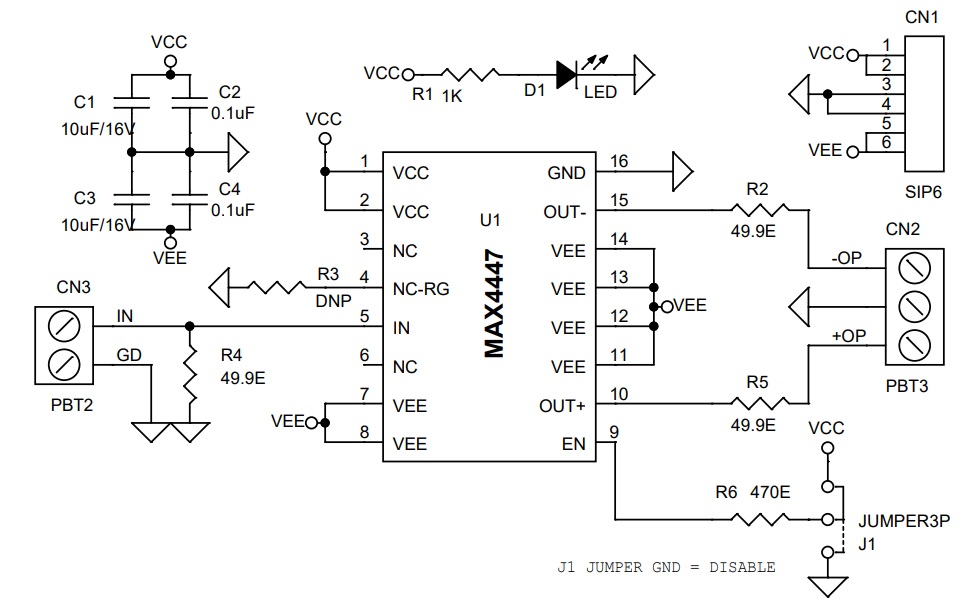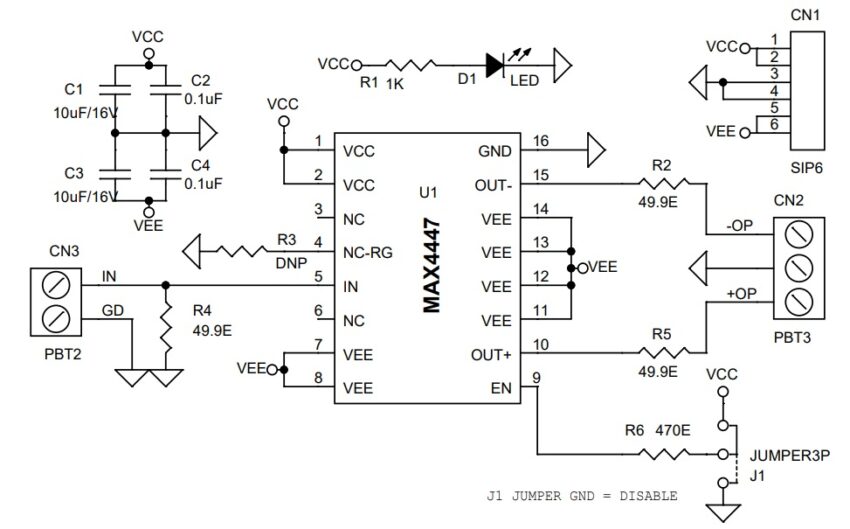 Parts List
| NO. | QNTY. | REF. | DESC. | MANUFACTURER | SUPPLIER | PART NO |
| --- | --- | --- | --- | --- | --- | --- |
| 1 | 1 | CN1 | 6 PIN MALE HEADER PITCH 2.54MM | WURTH | DIGIKEY | 732-5319-ND |
| 2 | 1 | CN2 | 3 PIN SCREW TERMINAL PITCH 5.08MM | PHOENIX | DIGIKEY | 277-1248-ND |
| 3 | 1 | CN3 | 2 PIN SCREW TERMINAL PITCH 5.08MM | PHOENIX | DIGIKEY | 277-1247-ND |
| 4 | 2 | C1,C3 | 10uF/16V SMD SIZE 1210 CERAMIC OR TANTALUM | YAGEO/MURATA | DIGIKEY | |
| 5 | 2 | C2,C4 | 0.1uF/50V SMD SIZE 0805 | YAGEO/MURATA | DIGIKEY | |
| 6 | 1 | D1 | LED RED SMD SIZE 0805 | LITE ON INC | DIGIKEY | 160-1427-1-ND |
| 7 | 1 | J1 | 3 PIN MALE HEADER PITCH 2.54MM | WURTH | DIGIKEY | 732-5316-ND |
| 8 | 1 | R1 | 1K 5% SMD SIZE 0805 | YAGEO/MURATA | DIGIKEY | |
| 9 | 3 | R2,R4,R5 | 49.9E 1% SMD SIZE 0805 | YAGEO/MURATA | DIGIKEY | |
| 10 | 1 | R3 | DNP | | | |
| 11 | 1 | R6 | 470E 5% SMD SIZE 0805 | YAGEO/MURATA | DIGIKEY | |
| 12 | 1 | U1 | MAX4447 SOIC14 | ANALOG DEVICE | DIGIKEY | MAX4447ESE+TCT-ND |
| 13 | 1 | J1-S | SHUNT | SULLINS CONCT | DIGIKEY | S9001-ND |
Connections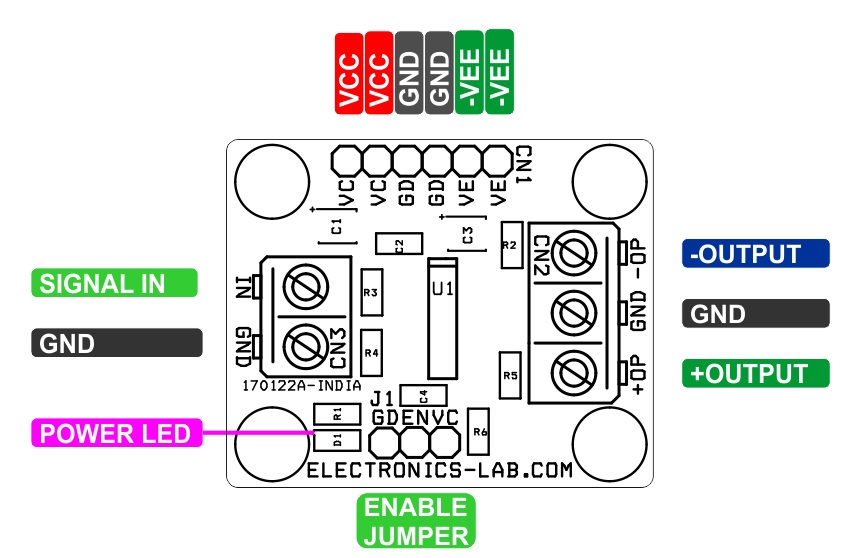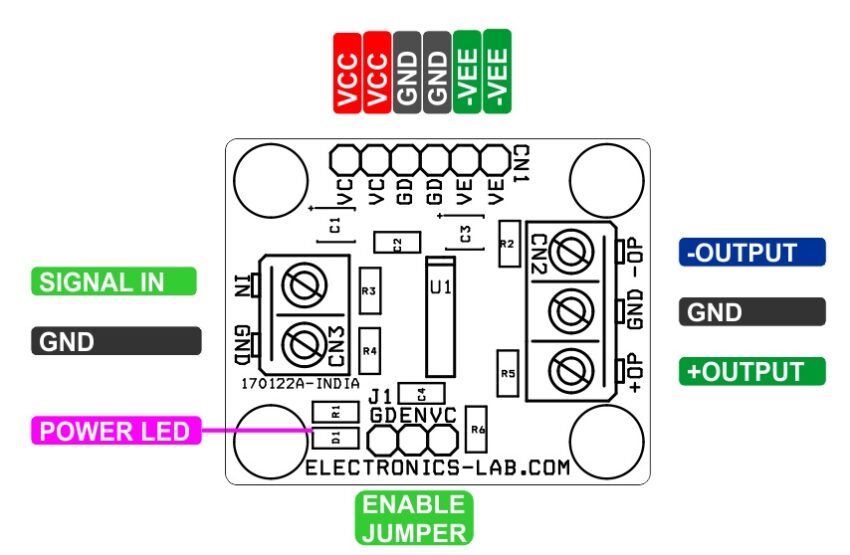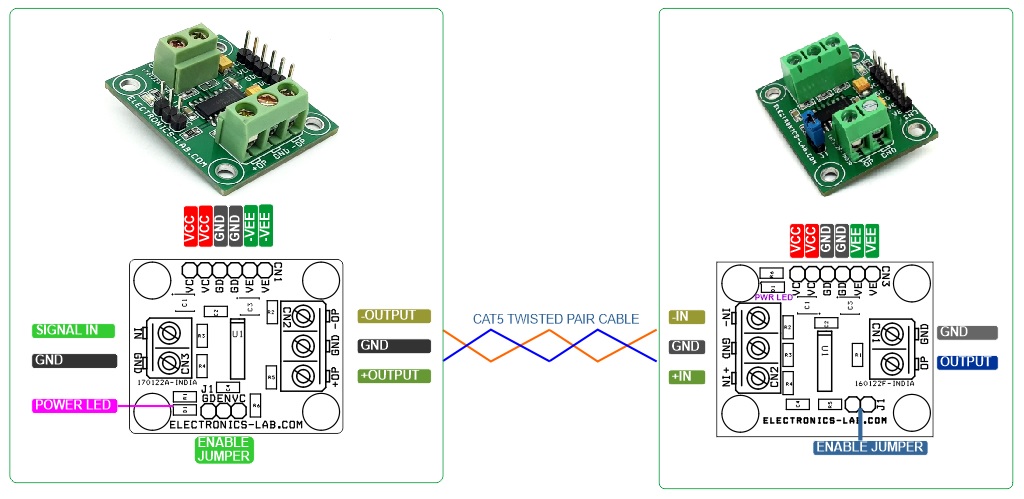 Gerber View
Photos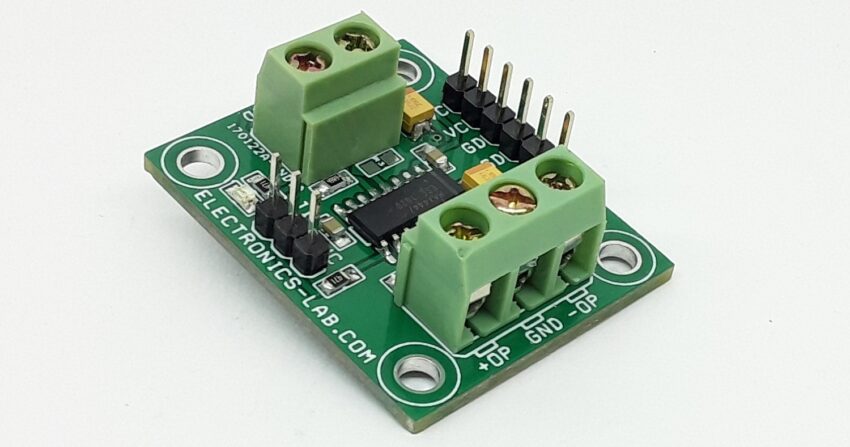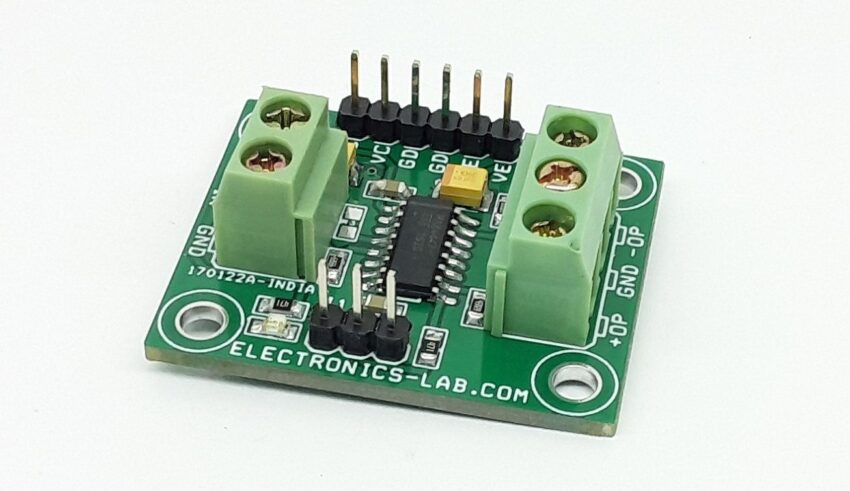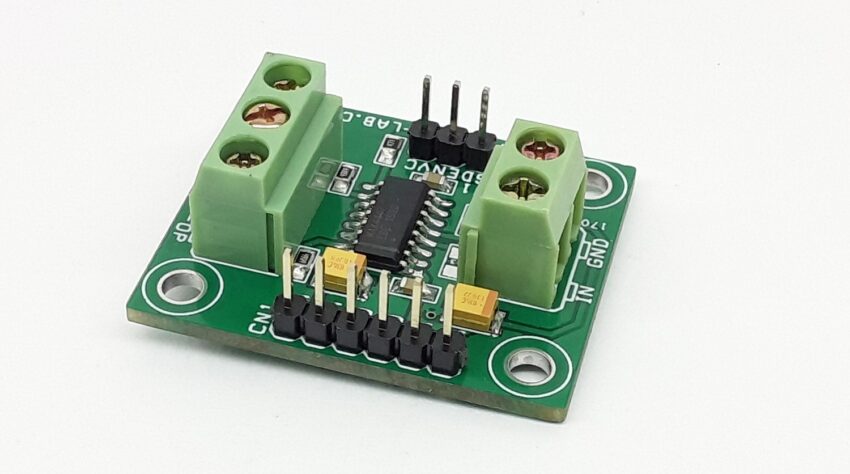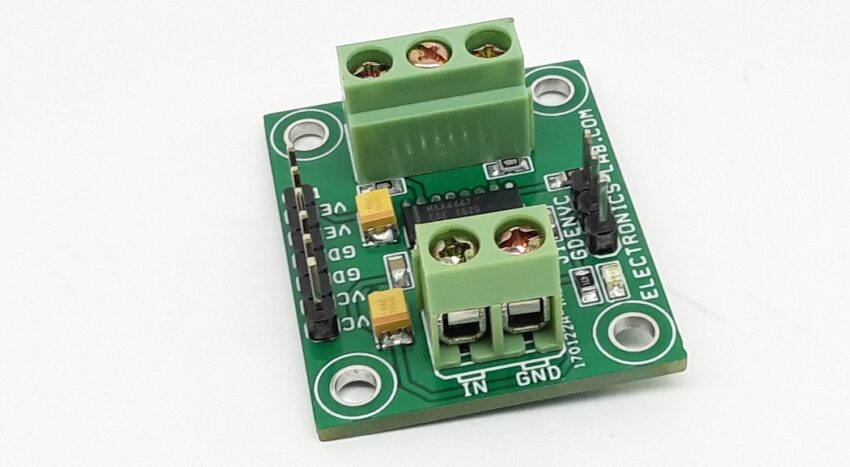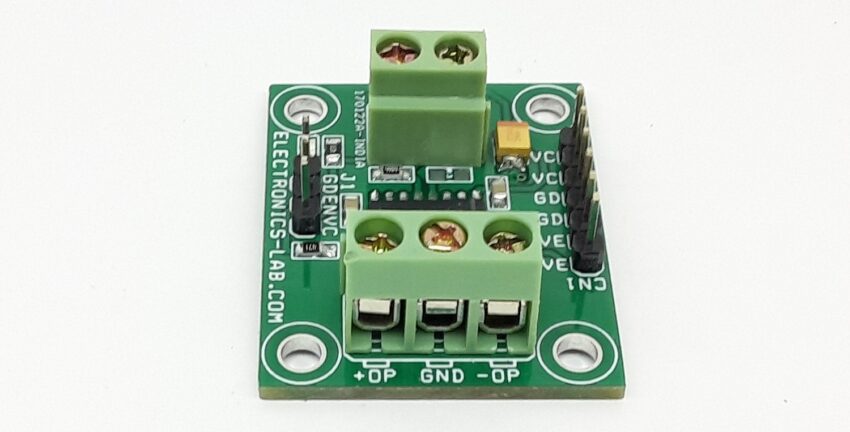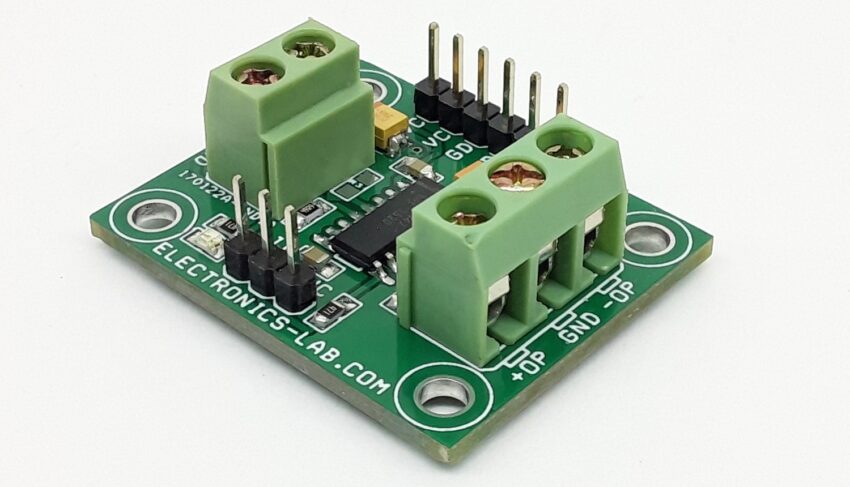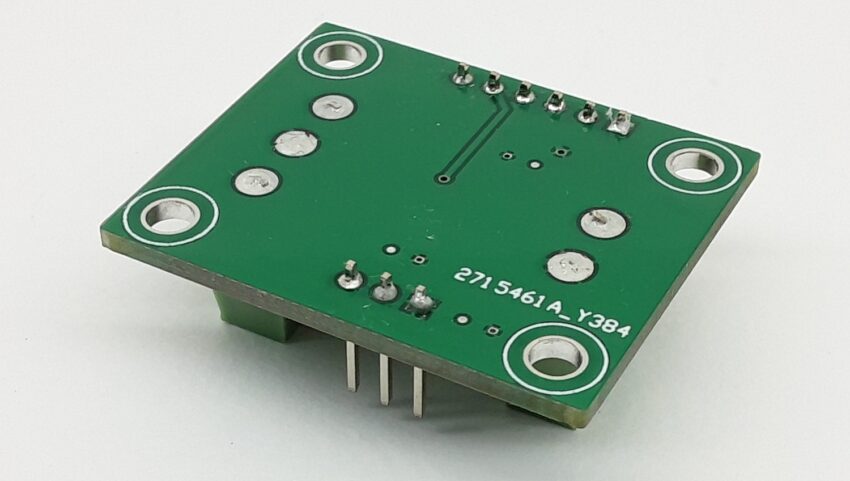 Video
MAX4447 Datasheet