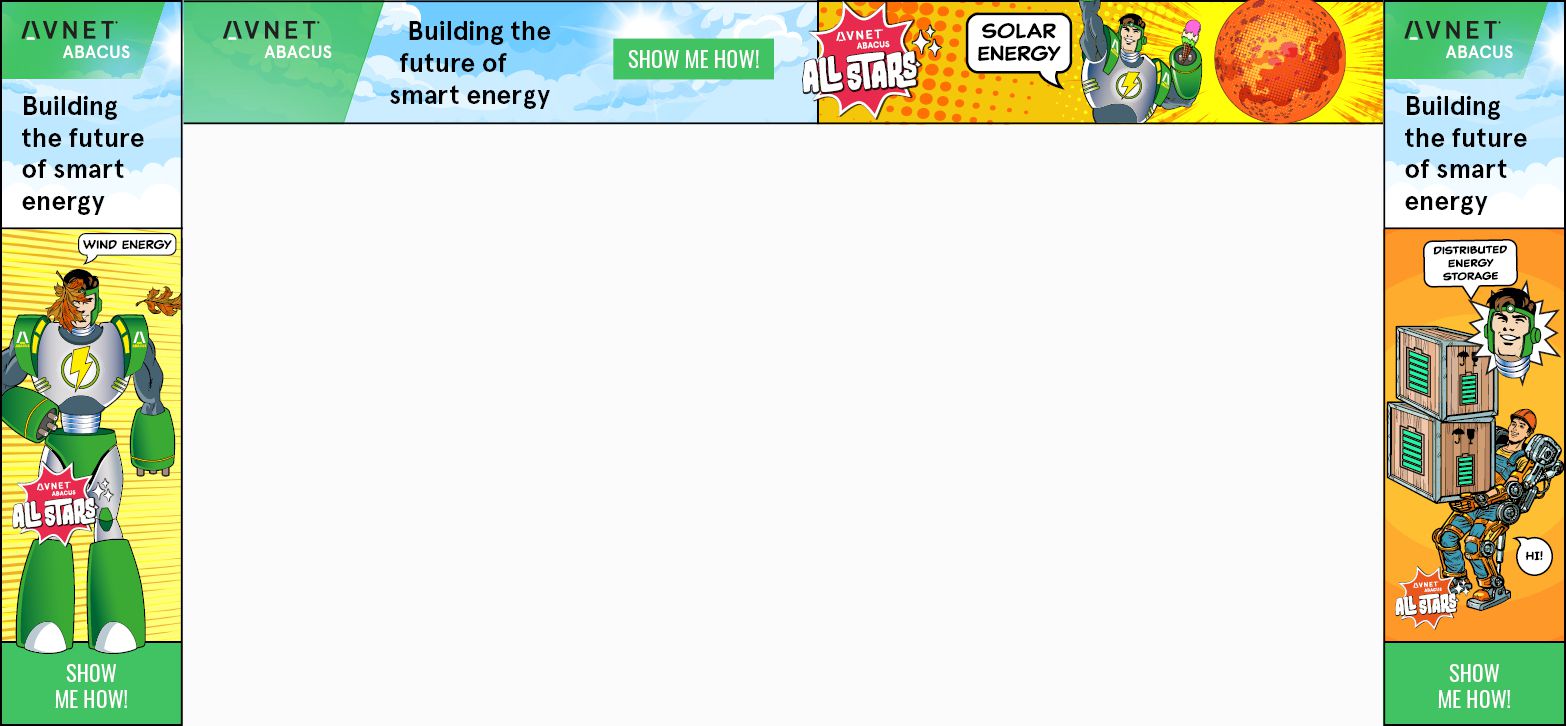 High Current Half-Bridge with Over Current & Voltage Feedback for Step Down DC-DC Converter
Rajkumar Sharma

152 Views

medium

Tested

SKU: EL121012
This project enables the user to create a high current DC-DC converter. The project consists of a high current inductor, high current low voltage 2 x MOSFETs, half-bridge driver LT1158 chip, voltage feedback using onboard R9 and R10 resistor dividers, shunt resistor for overcurrent shut-down. The project has all the required components to create a high current step-down DC-DC converter, refer to the datasheet of LT1158 chip for components selection. The Half-bridge requires a PWM input signal, Arduino or another microcontroller/DSP can be used as a host to generate PWM signal and control enable and fault conditions.
Arduino Example Code helps users to test the board, the project provides output approx. 5V/4Amps from input Supply 22-24V DC.
Applications
DC-DC Converter
High Current Solar Charger
SLA Battery Charger
Key Features
High Current Low Voltage 2 x MOSFET IRF540 (the user may Use Other Low Ohm MOSFET)
Half-Bridge Driver LT1158 Chip
L1 High Current Inductor Default 100uH/7.8Amp
R2 and R3 Resistor for Current Sense, For Over Current Limit/Short Circuit – Refer to Datasheet for R2, R3 Values.
Fault: Open collector NPN output which turns on when V12 – V11 (Current Sense Pins) exceeds the fault conduction threshold.
D3 LED for Output, D2 LED for Input Supply
Voltage Feedback Output CN5, Resistor Divider R9, R10, C11
Inputs and Fault Output CN2
Operating Supply 12V to 30V DC (Input Supply Should Not Exceed 30V)
PCB Dimensions 69.22 x 55.88 mm
Over Current Shutdown – Open collector, NPN output turns on when V12 – V11 (Current Sense Pins) exceeds the fault conduction threshold.
For Internal Over Current Shutdown Use R7 and C8, Refer to Datasheet for Values
For Host Controlled Shutdown Use Fault and Enable Pins
Voltage Feedback
CN5, Feedback from Output using Resistor Divider R9 and R10, Use C11 for stability.
Connections: CN2
Pin1 = VCC
Pin2 = Enable – Pull Low to disable the Output
Pin3= Fault Output – Goes Low when Over Current Condition Occurs
Pin4= PWM Input 0 to 100Khz
Pin5=GND
Use R7 and C8 for Internal Over Current Shutdown, Refer to Datasheet of LT1158
Connections CN1
Pin1 = VCC 12V to 30V Input
Pin2 + GND
Connections CN3
Pin1 = + Output
Pin2= GND
CN4: Not Installed
Connections CN5
Pin 1 = +Voltage Feedback Output
Pin 2 = GND
Schematic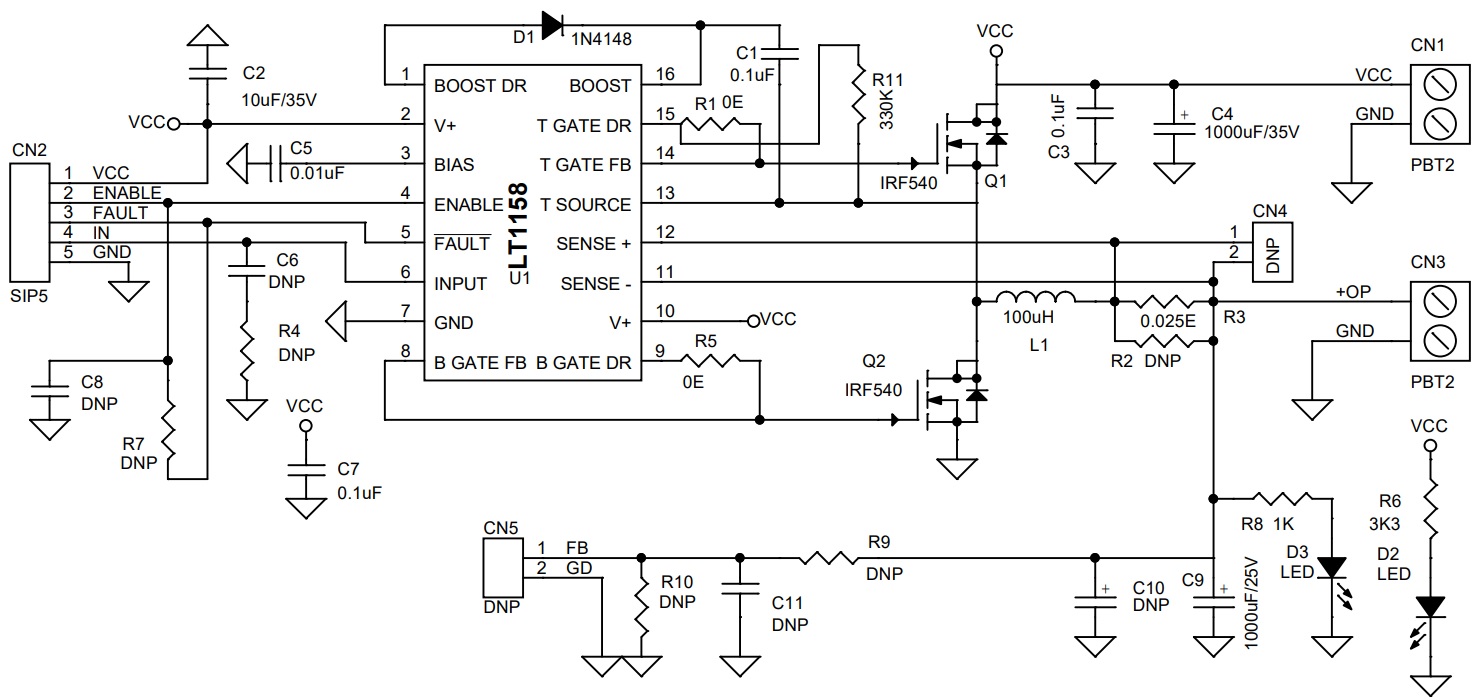 Parts List
| NO | QNTY. | REF. | DESC. | MANUFACTURER | SUPPLIER | PART NO |
| --- | --- | --- | --- | --- | --- | --- |
| 1 | 2 | CN1,CN3 | 2 PIN BARRIER BLOCK PITCH 9.53MM | TE CONNECTIVITY | DIGIKEY | A98481-ND |
| 2 | 1 | CN2 | 5 PIN MALE HEADER PITCH 2.54MM | WURTH | DIGIKEY | 732-5318-ND |
| 3 | 10 | R4,CN4,CN5,C6,R7 | DNP | | | READ NOTE |
| | | C8,R9,R10,C10,C11 | DNP | | | READ NOTE |
| 4 | 2 | C3,C7 | 0.1uF/50V SMD SIZE 0805 | MURATA/YAGEO | DIGIKEY | |
| 5 | 1 | C2 | 10uF/35V | | DIGIKEY | |
| 6 | 1 | C4 | 1000uF/35V | RUBYCON | DIGIKEY | 1189-1745-ND |
| 7 | 1 | C5 | 0.01uF/50V SMD SIZE 0805 | MURATA/YAGEO | DIGIKEY | |
| 8 | 1 | C9 | 1000uF/25V | EPCOS | DIGIKEY | 495-6061-ND |
| 9 | 1 | D1 | 1N4148 | MICROCHIP | DIGIKEY | 1N4148UR-1-ND |
| 10 | 2 | D2,D3 | LED SMD SIZE 0805 | OSRAM | DIGIKEY | 475-1278-1-ND |
| 11 | 1 | L1 | 100uH/7.8AMP | BOURNS INC | DIGIKEY | 2300LL-101-V-RC-ND |
| 12 | 2 | Q1,Q2 | IRF540 | VISHAY | DIGIKEY | IRF540IR-ND |
| 13 | 2 | R1,R5 | 0E SMD SIZE 0805 | MURATA/YAGEO | DIGIKEY | |
| 14 | 1 | R2 | DNP | | | |
| 15 | 1 | R3 | 0.025E 1% SMD SIZE 0805 | YAGEO | DIGIKEY | YAG2169CT-ND |
| 16 | 1 | R6 | 3K3 5% SMD SIZE 1206 | MURATA/YAGEO | DIGIKEY | |
| 17 | 1 | R8 | 1K 5% SMD SIZE 0805 | MURATA/YAGEO | DIGIKEY | |
| 18 | 1 | R11 | 330K 5% SMD SIZE 0805 | MURATA/YAGEO | DIGIKEY | |
| 19 | 1 | U1 | LT1158 | ANALOG DEVICE | DIGIKEY | LT1158CSW#TRPBFTR-ND |
| 20 | 1 | C1 | 0.1uF/50V SMD SIZE 1206 | MURATA/YAGEO | DIGIKEY | |
Connections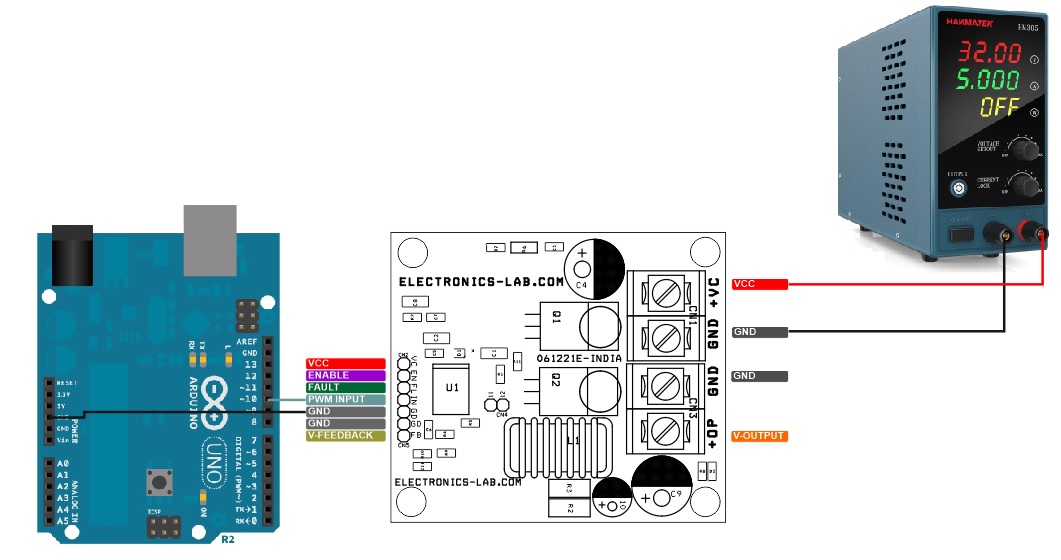 Gerber View
Photos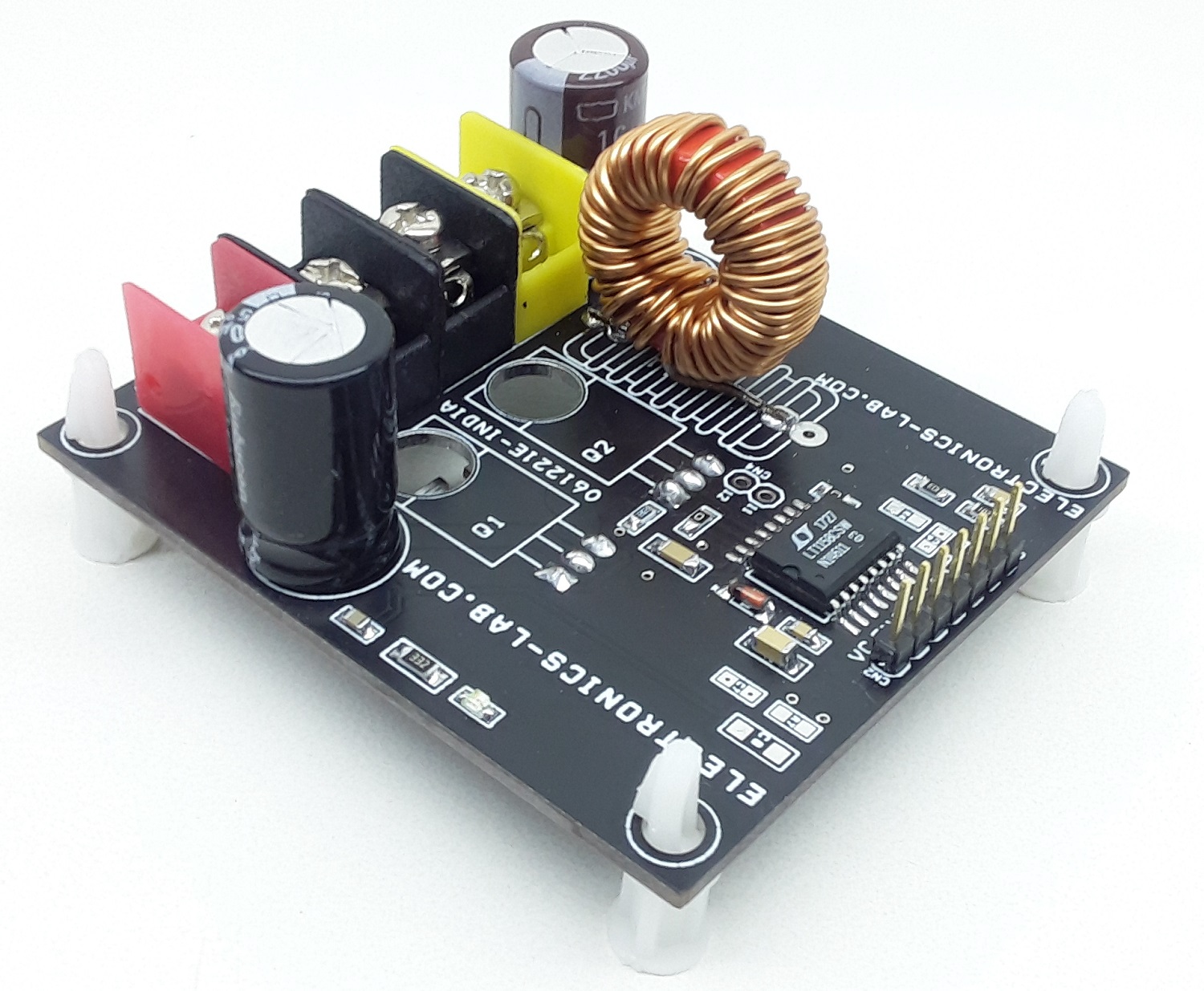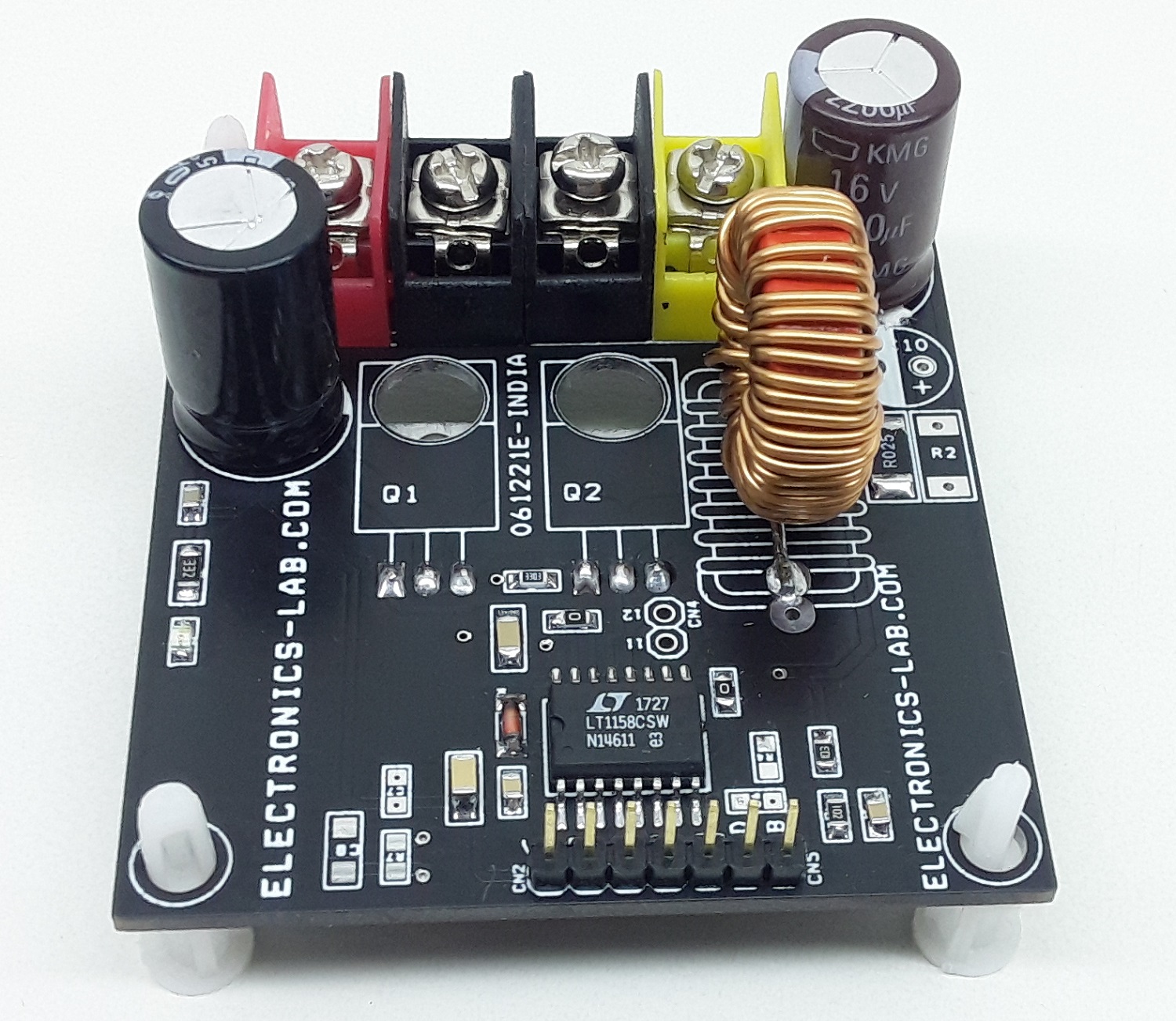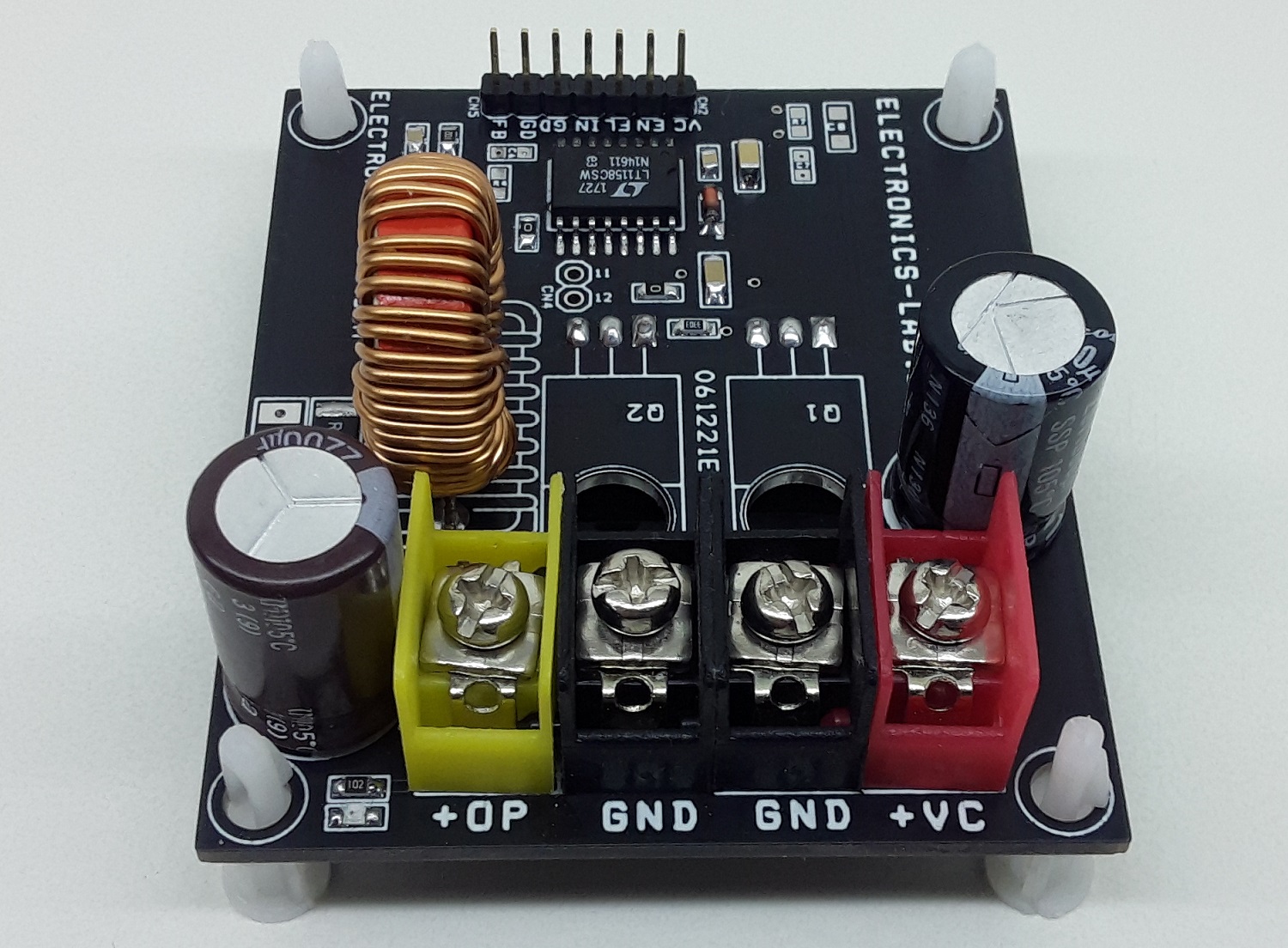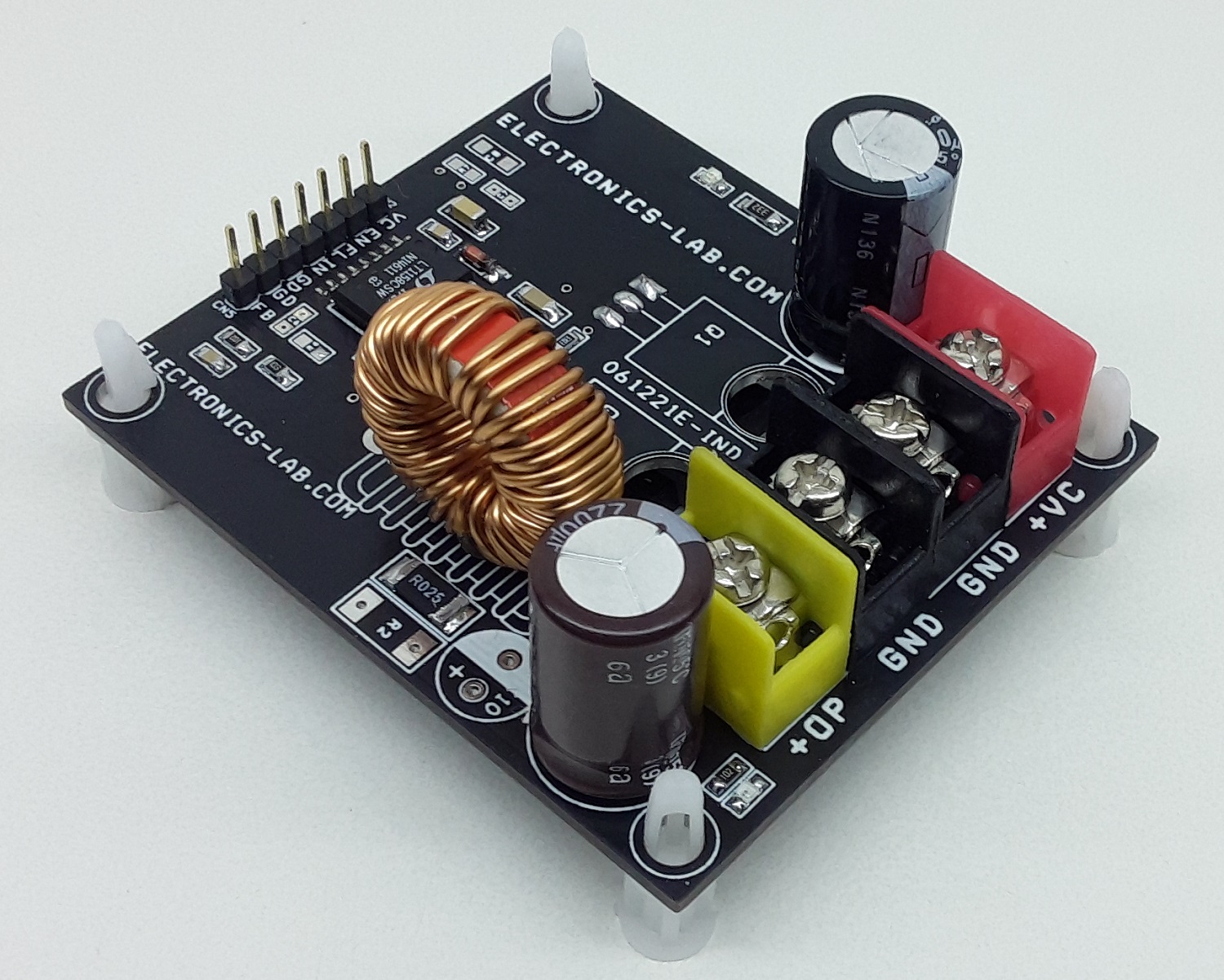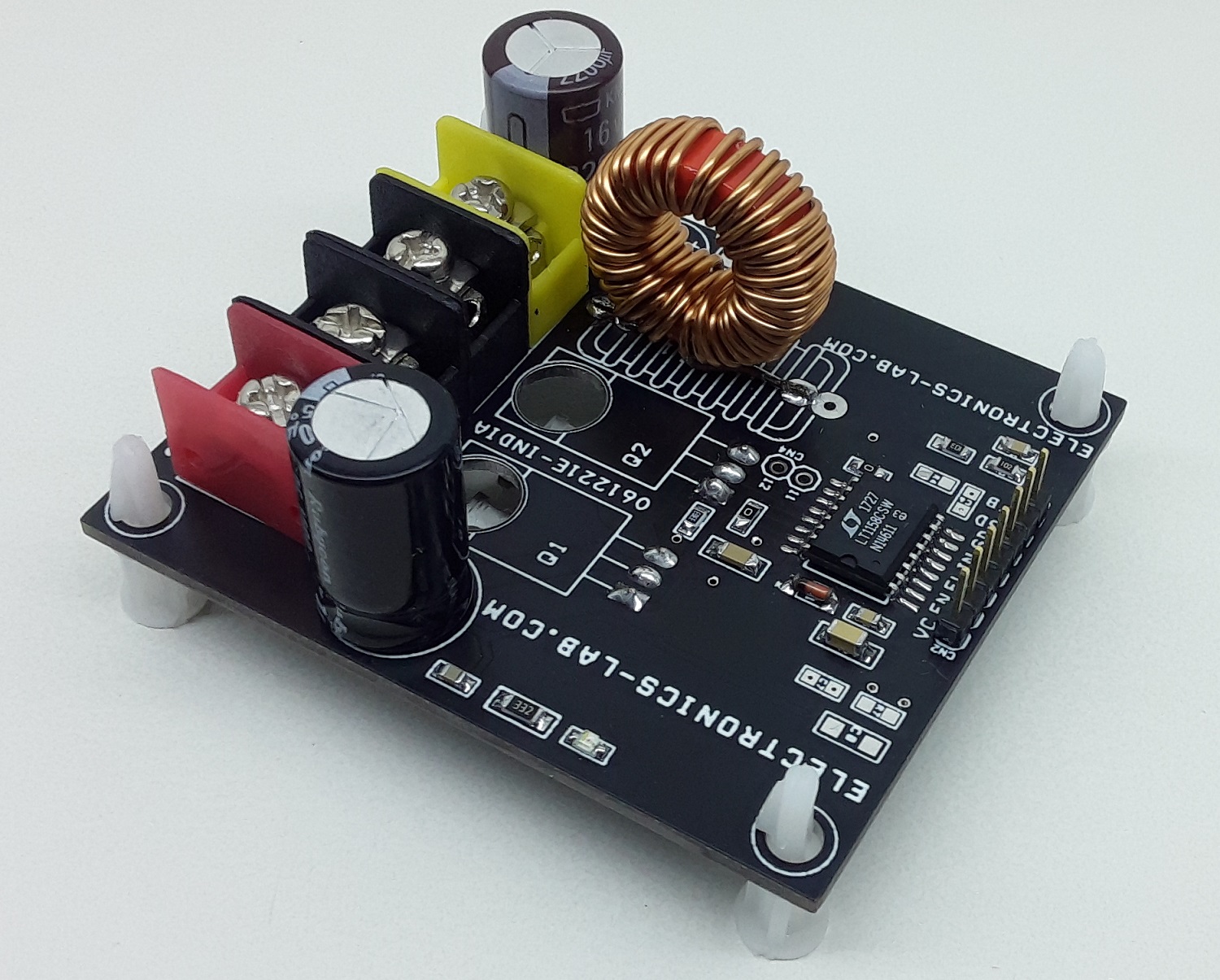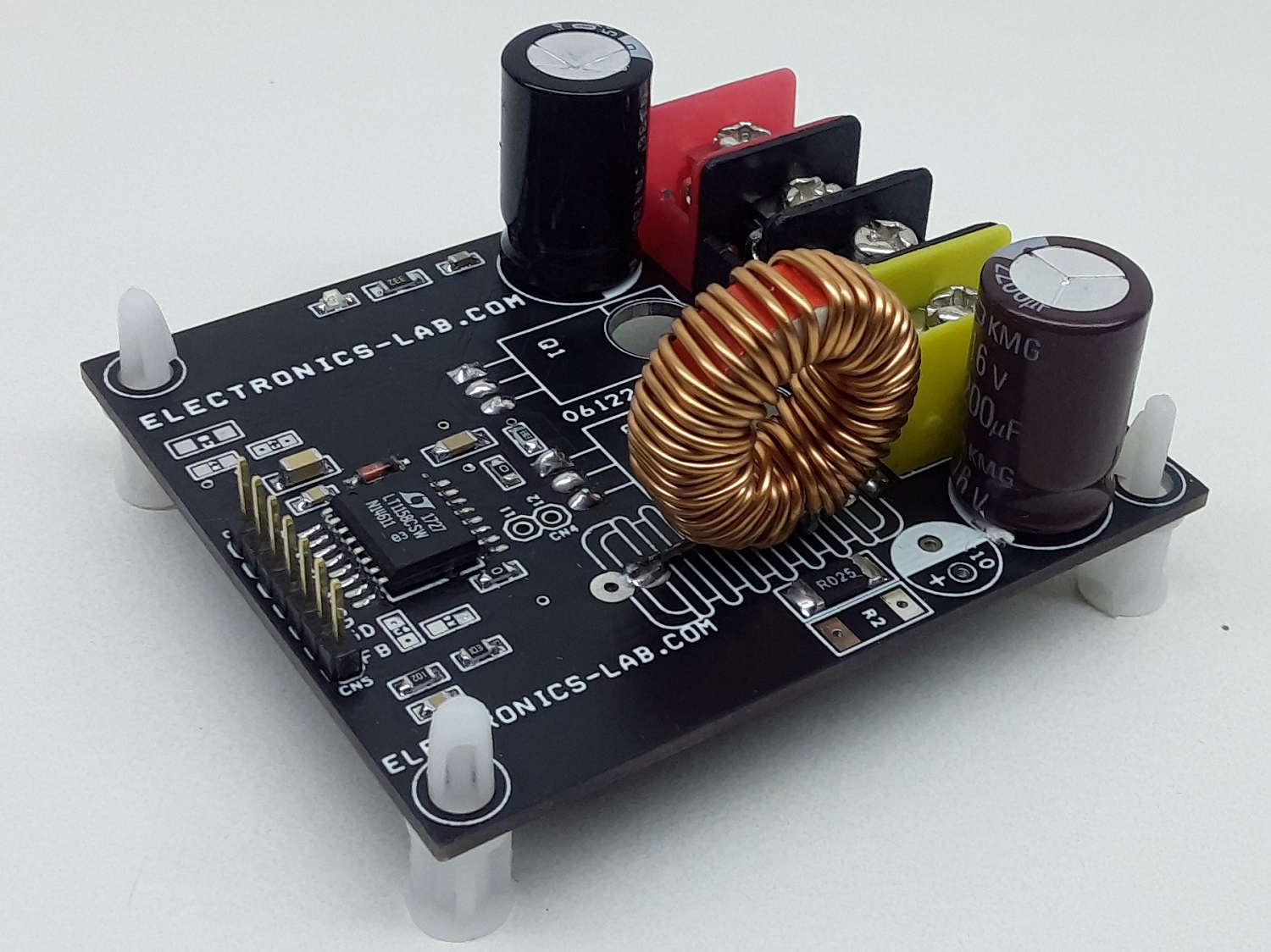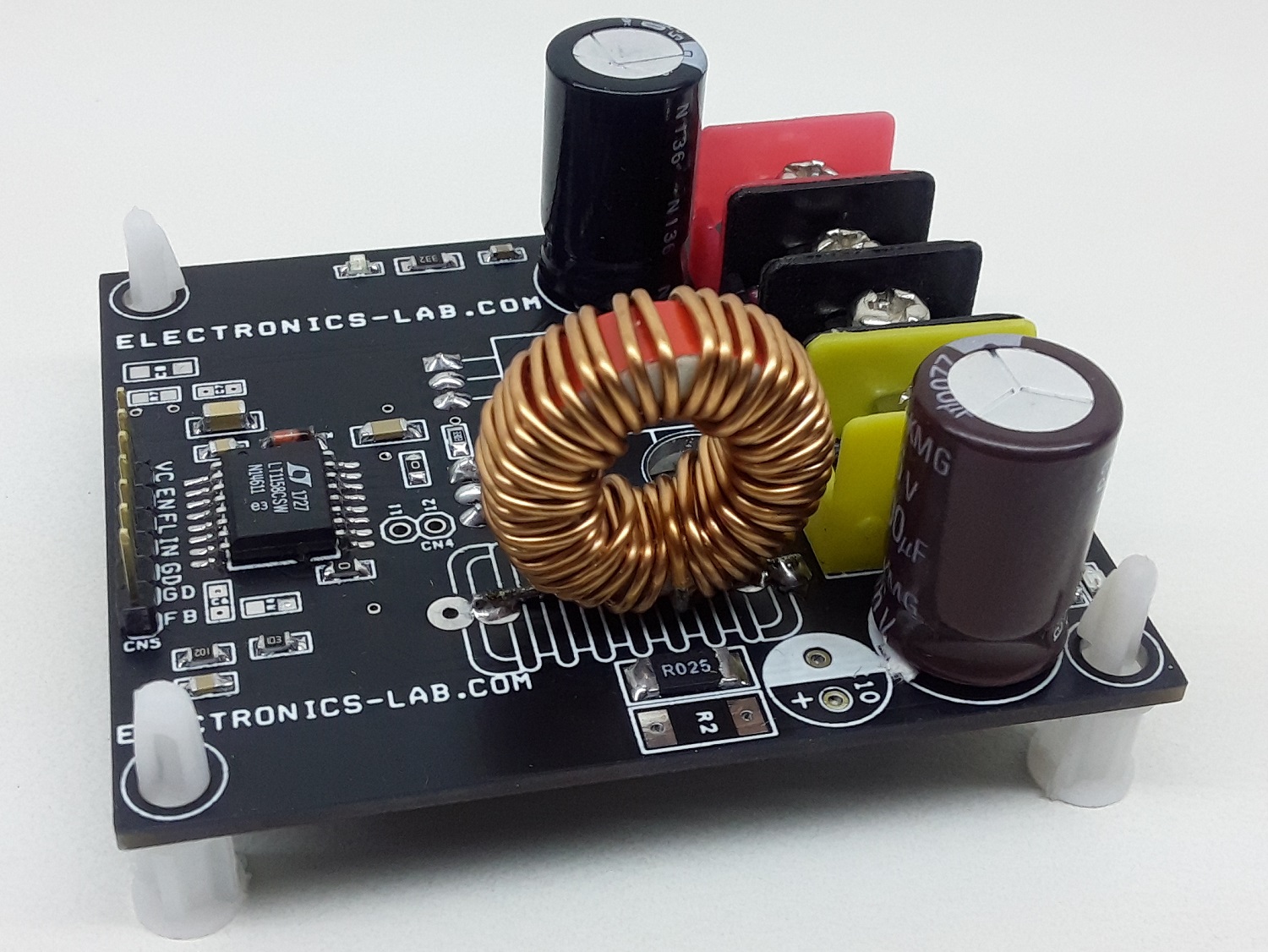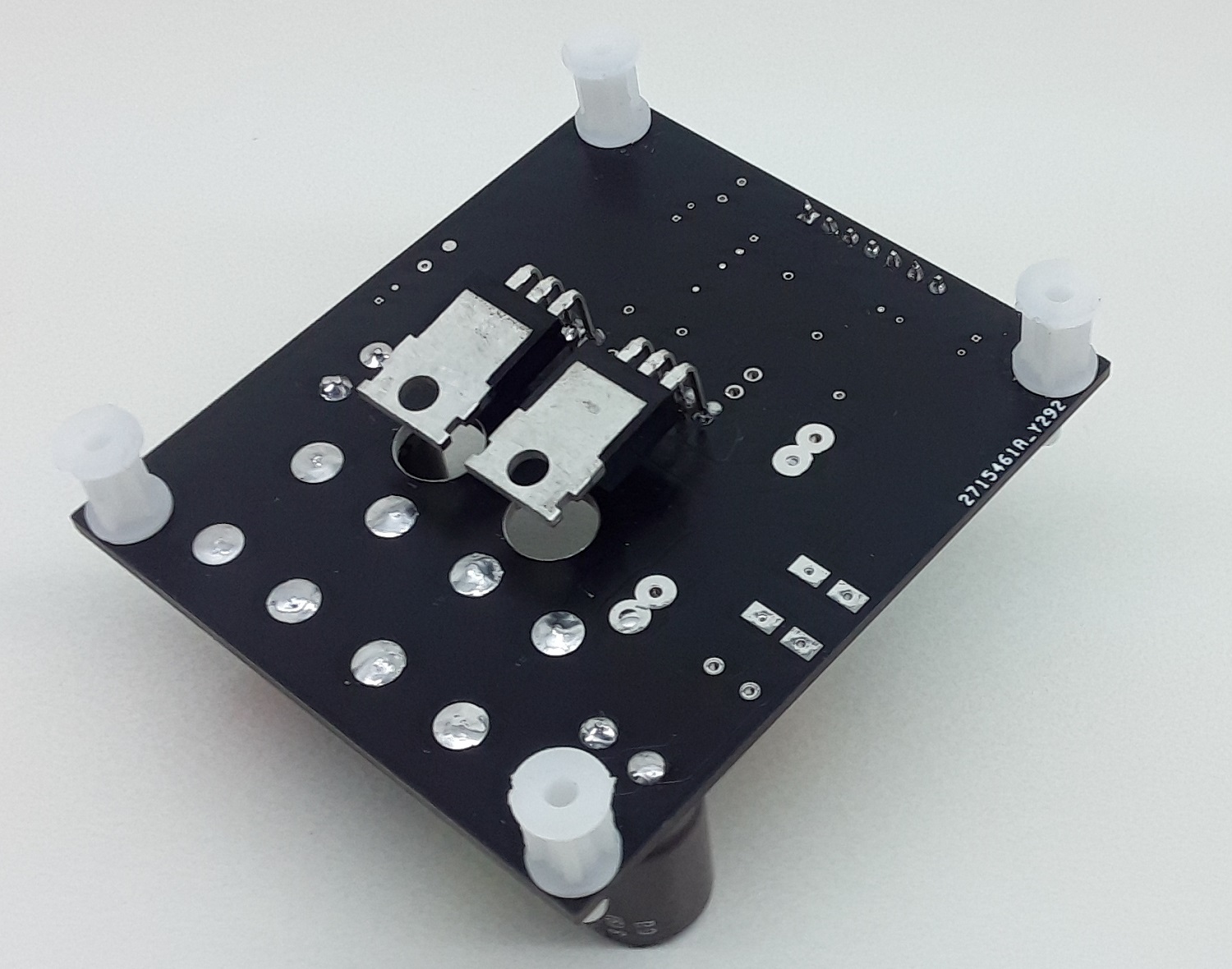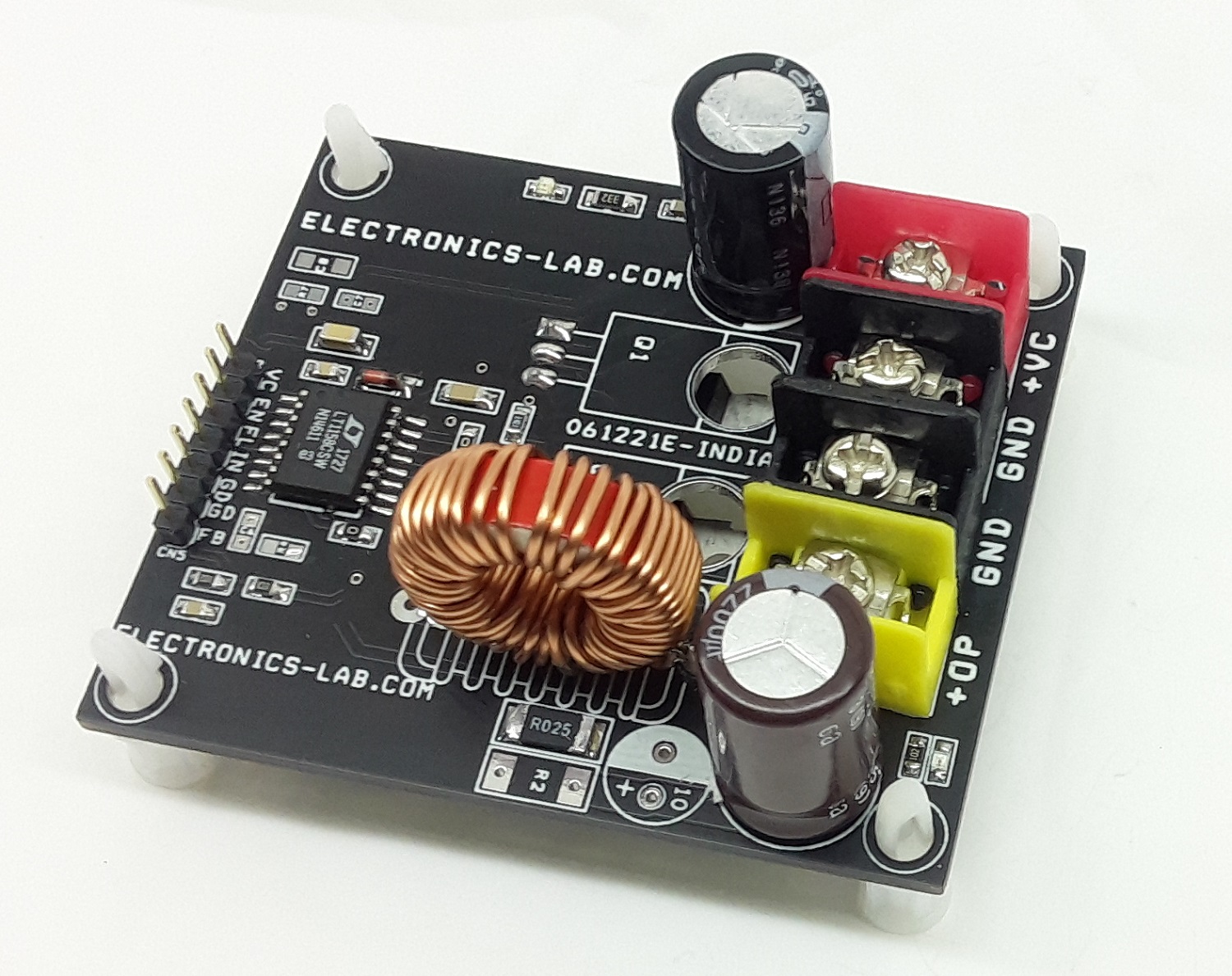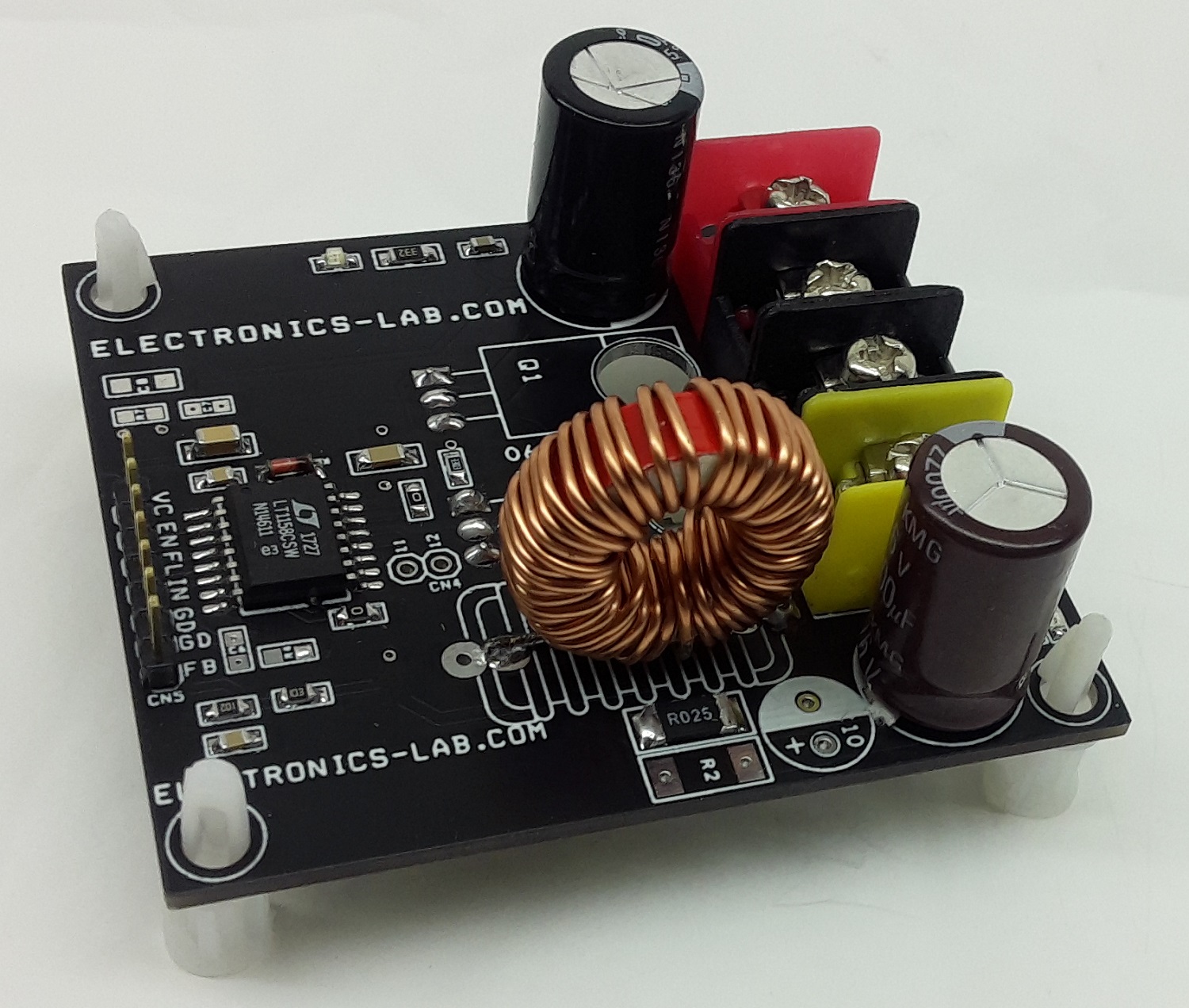 Video
LT1158 Datasheet