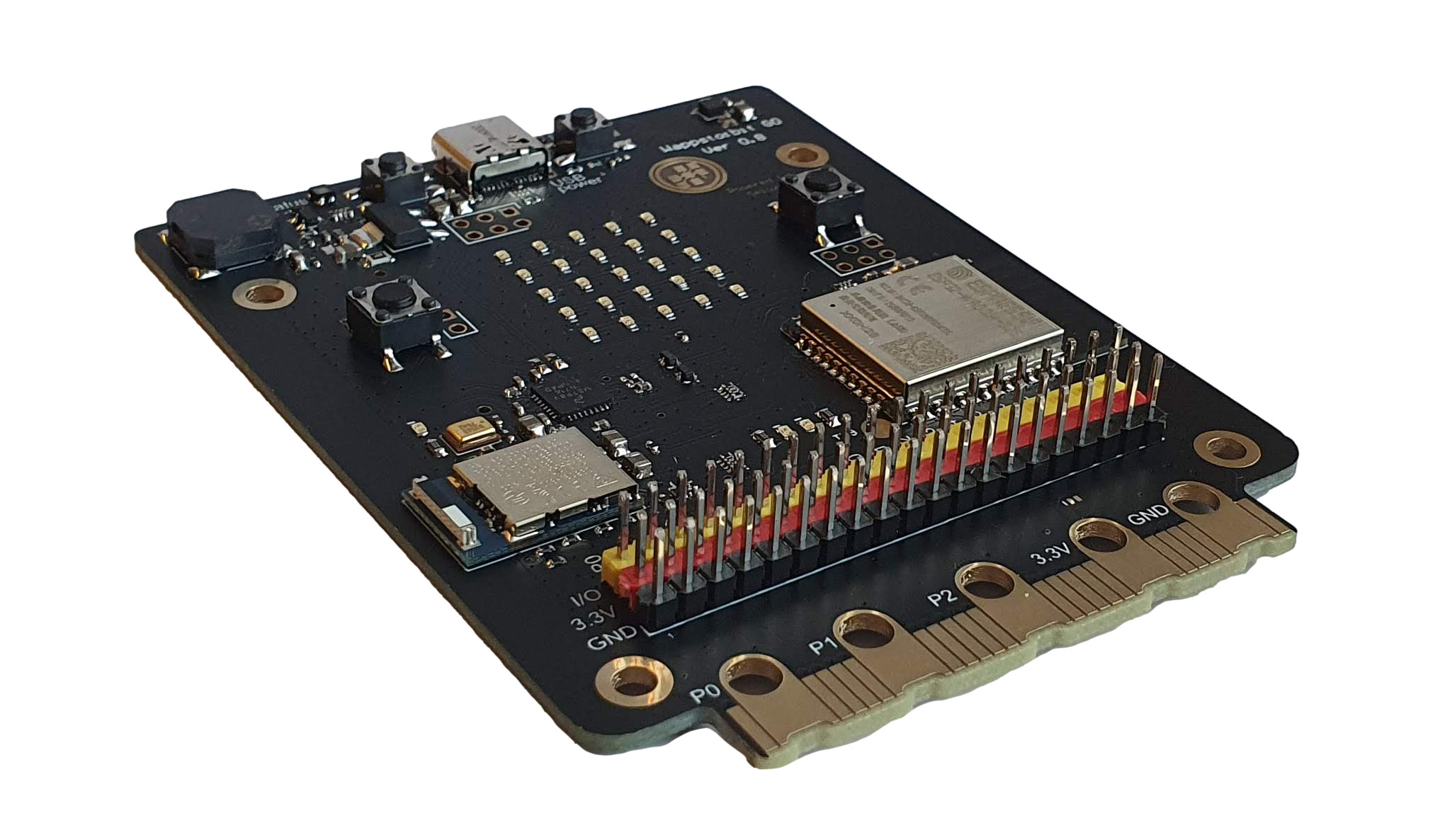 Wappsto:bit GO – An ESP32 Based, BBC Micro:bit Compatible IoT Board
As IoT technology continues to find widespread applications, manufacturers continue to develop various development boards, with different capabilities and features, to make prototyping faster, and improve the time to market for IoT products. One of such boards is the Wappsto:bit GO recently launched on Crowd Supply by Denmark-based electronics manufacturer Seluxit.
The ESP32 based board, similar to BBC micro:bit in functionality and breakout feature, is the latest member of Seluxit's Wappsto:bit family. It features an integrated NXP MKL27Z256VFM4 MCU with 256kB flash, and an ESP32-WROOM-32E with Wi-Fi, Bluetooth, and a built-in antenna. The Wappsto:bit GO also comes with a Raytac MDBT50Q-512K Bluetooth 5.2 module based on nRF52833 with 512kB of flash memory as additional support for wireless communication.
Thanks to these communication features, the Wappsto:bit GO comes pre-configured for cloud applications with out-of-the-box connectivity to the Wappsto iOS or Android App, over WiFi, allowing users to easily connect their project to the cloud without having to set up their own cloud infrastructure, as device and data are immediately accessible on Wappsto.com, where they can configure their Dashboard or extract data for further analysis.
For sensing and actuation purposes, the board features 20 pin edge connectors that are compatible with micro:bit breakout boards, 20 fully populated GPIO pin headers for connection with DuPont jumpers, and alligator-clip connectors for easy attachment of sensors and actuators. The Wappsto:bit GO comes embedded with a number of sensors including the STLSM303AGRTR IMU accelerometer/magnetometer sensor alongside a temperature sensor, light sensor, Knowles SPU410LR5H-QB analog microphone, 25 programmable LEDs, buzzer, and two programmable reset buttons (A and B).
The board also features 5V pin headers, a USB-C power/data port operating at 4.5 – 5.5V levels, and two buttons for resetting the network and restarting the microcomputer.
Key Features and Specification of Wappsto:bit GO:
Wireless Connectivity:

ESP32-WROOM-32E module with Wi-Fi, Bluetooth LE connectivity, built-in antenna
Raytac MDBT50Q-512K Bluetooth 5.2 module based on nRF52833 with 512KB Flash

Microcomputer: 

NXP MKL27Z256VFM4 ARM Cortex-M0+ Kinetis KL2 microcontroller, with 256KB Flash

Sensors and Actuators:

25 programmable LEDs, Temperature sensor, Light sensor
Sound sensor (Knowles SPU0410LR5H-QB analog MEMS microphone)
ST LSM303AGRTR IMU – Compass, Magnetometer, Accelerometer

Expansions:

1x 20-pin edge connector (BBC Micro:bit compatible)
5 alligator clip connectors (edge)
3 paralleled 20-pin headers for GPIOs, 3.3V and GND signals respectively
1x USB – USB Type-C port (for power and data)

Misc:

2x programmable buttons (A and B),1x microcomputer reset button, 1x network reset button, buzzer, Logo with capacitive touch

Power Supply: 4.5V- 5.5V via USB-C port or 3.3V via edge connector and Croc-clip
Dimension: 70mm x 90mm
On the firmware part, the board supports programming with Visual code blocks, JavaScript or Python via Microsoft MakeCode and provides a larger library of extensions for accessories and sensors, more than that of the BBC micro:bit, via its Wappsto Extension Library. The board enables access to the Wappsto IoT platform featuring live data dashboards, distributed and encrypted cloud, and Wappsto Blocks App that allows your devices to interact with each other and the Internet. The Wappsto Block also allows you to build custom apps in line with your application. Its source code is available on the Wappsto GitHub repository.
The Wappsto:bit GO is available on Crowd Supply with a campaign reward starting at $95.00 for a Wappsto:bit GO Starter Kit that includes one board and a USB type-C to USB type-A cable. Deliveries are to commence on August 03, 2022. More information is available on CrowdSupply.