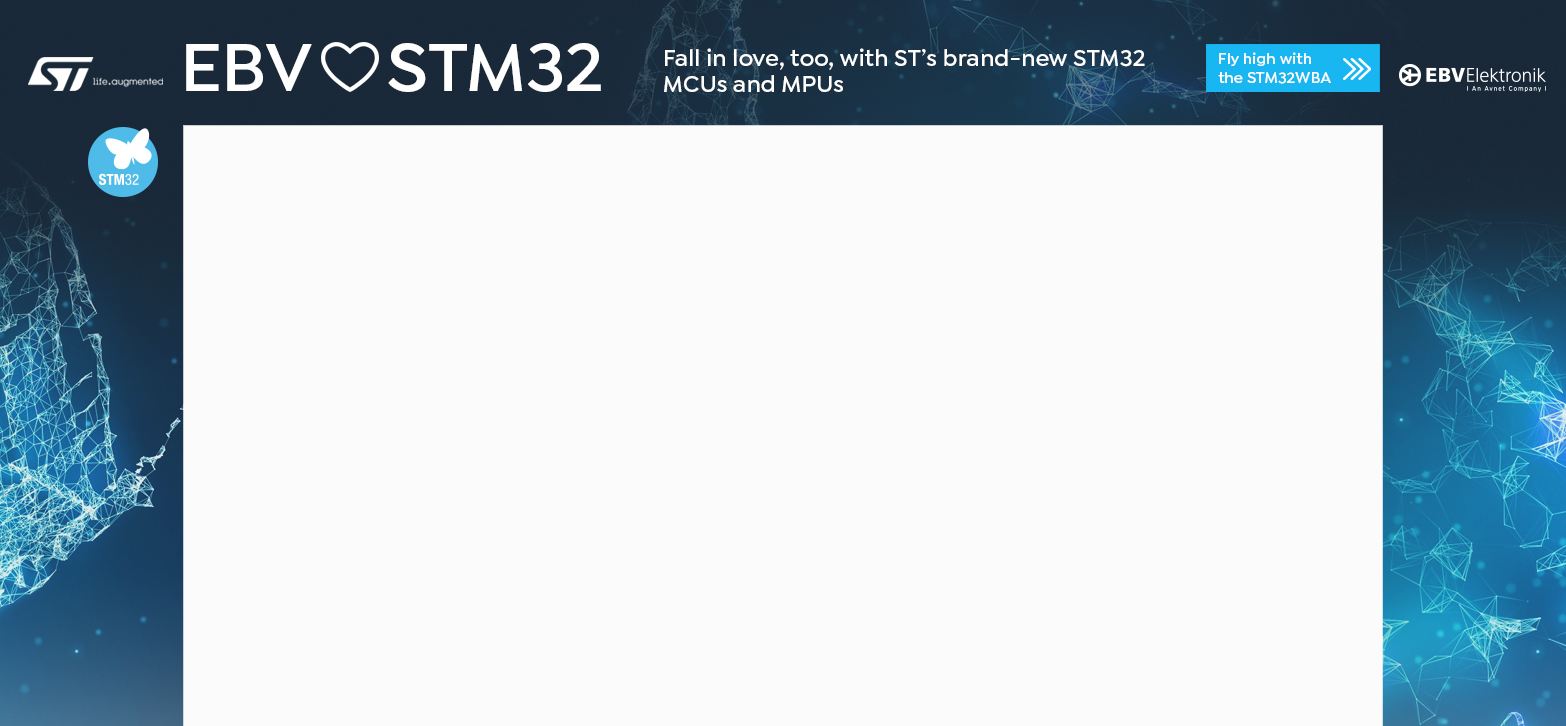 DC-HV DC Converter – 200V @ 20mA Output with 12V DC Input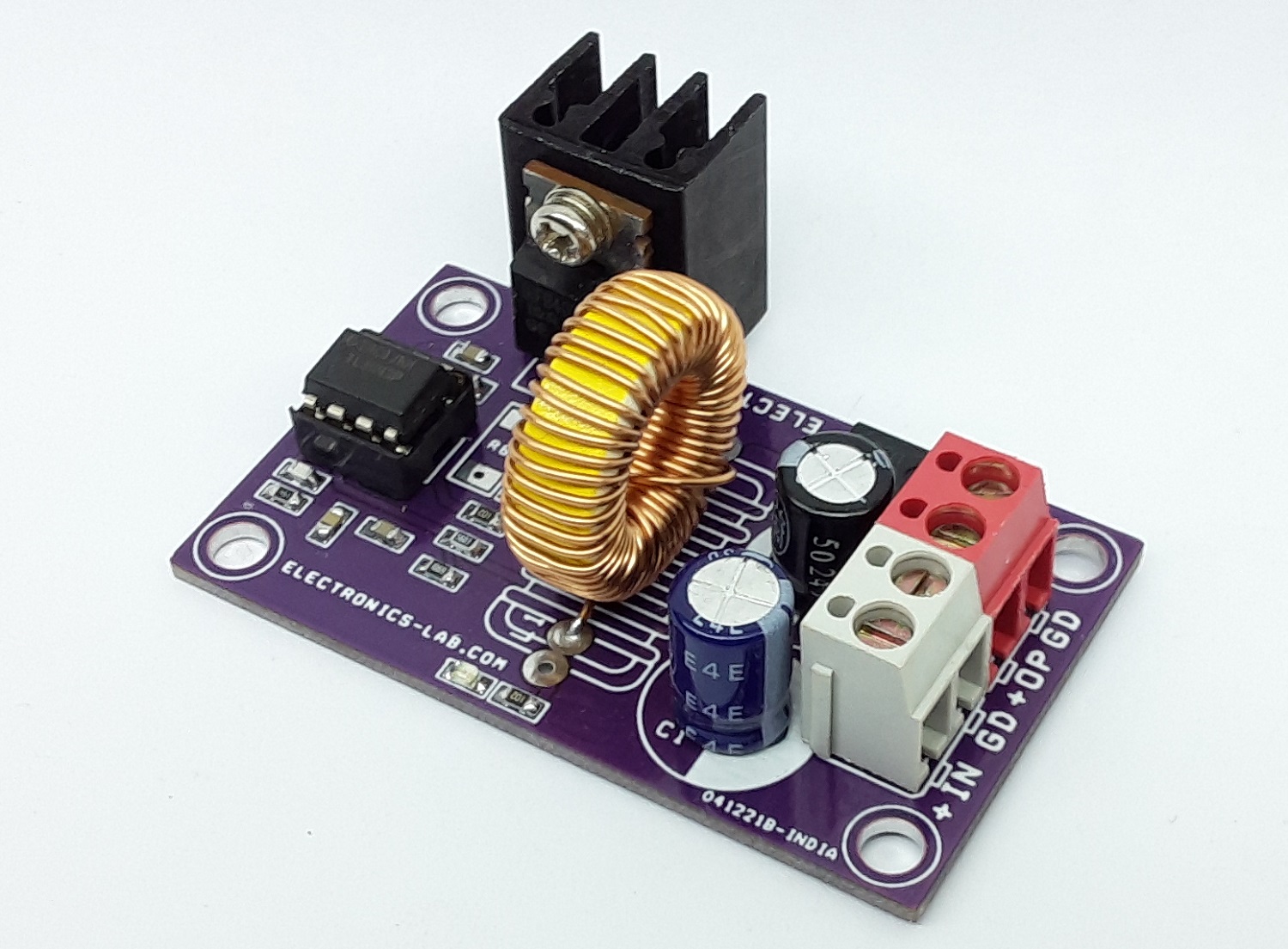 This is a low-cost DC-HV DC converter built using TL3843 Low-Power Current-Mode PWM Controller from TI. Screw terminal connectors are provided for input and output, onboard LED D1 indicates the input supply. The project provides 200V DC @ 20mA output from 12V DC supply input.
Note: Output of this project is 150V @ 50mA DC to 200V @ 20mA DC, this project also can provide lower voltage outputs, read TL3843 data sheet for configuration.
HIGH VOLTAGE: Dangerous voltage exists until power is off. Wait at least 1 minute after the input power is disconnected before touching the board and discharge HV capacitors.
Features
Operating Power Supply 12V DC @ 1A (Range 10V to 15V DC)
Output 150V DC @ 50mA to 200V DC @ 20mA
Operating Frequency 40Khz
Over Current Protection
D1 Power LED
Screw Terminal Connectors for Input and Output
PCB Dimensions 61.28 x 36.04 mm
Schematic

Parts List
| NO. | QNTY. | REF. | DESC. | MANUFACTURER | SUPPLIER | PART NO |
| --- | --- | --- | --- | --- | --- | --- |
| 1 | 2 | CN1,CN2 | 2 PIN SCREW TERMINAL PITCH 5.08MM | WURTH | DIGIKEY | 277-1247-ND |
| 2 | 1 | C1 | 470uF/25V ELECTROLYTIC | PANASONIC | DIGIKEY | 10-EEU-TA1E471S-ND |
| 3 | 1 | C2 | 0.1 uF/50V SMD SIZE 0805 | MURATA/YAGEO | DIGIKEY | |
| 4 | 1 | C3 | 4.7uF/400V | WURTH | DIGIKEY | 732-8886-1-ND |
| 5 | 1 | C4 | DNP | | | |
| 6 | 1 | C5 | 100PF/50V SMD SIZE 0805 | MURATA/YAGEO | DIGIKEY | |
| 7 | 1 | C6 | 1K PF/50V SMD SIZE 0806 | MURATA/YAGEO | DIGIKEY | |
| 8 | 1 | C7 | 470PF/50V SMD SIZE 0805 | MURATA/YAGEO | DIGIKEY | |
| 9 | 1 | C8 | 0.1uF/50V SMD SIZE 0805 | MURATA/YAGEO | DIGIKEY | |
| 10 | 1 | D1 | LED RED SMD SIZE 0805 | LITE ON INC | DIGIKEY | 160-1427-1-ND |
| 11 | 1 | D2 | MURS360 | ON SEMI | DIGIKEY | MURS360T3GOSTR-ND |
| 12 | 1 | L1 | 100uH 5A | WURTH | DIGIKEY | 732-1425-ND |
| 13 | 1 | Q1 | IRFB4020 | INFINION | DIGIKEY | IRFB4020PBF-ND |
| 14 | 2 | R1,R5 | 1K 5% SMD SZIE 0805 | MURATA/YAGEO | DIGIKEY | |
| 15 | 1 | R2 | 47K 1% SMD SIZE 0805 | MURATA/YAGEO | DIGIKEY | |
| 16 | 1 | R3 | 560K 1% SMD SIZE 0805 | MURATA/YAGEO | DIGIKEY | |
| 17 | 1 | R4 | 150K 1% SMD SIZE 0805 | MURATA/YAGEO | DIGIKEY | |
| 18 | 1 | R6 | 6.98K 1% SMD SIZE 0805 | MURATA/YAGEO | DIGIKEY | |
| 19 | 1 | R7 | 0.5E/2W 1% SMD SIZE 2512 | MURATA/YAGEO | DIGIKEY | |
| 20 | 1 | U1 | TL3843P | TI | DIGIKEY | 296-10176-5-ND |
| 21 | 1 | U1 | 8 PIN DIP SOCKET | AMPHENOL | DIGIKEY | 609-4717-ND |
Connections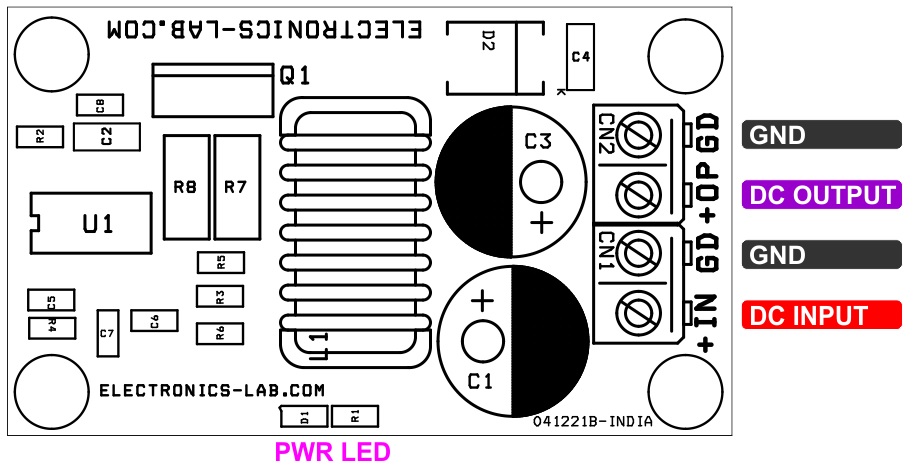 Gerber View
Photos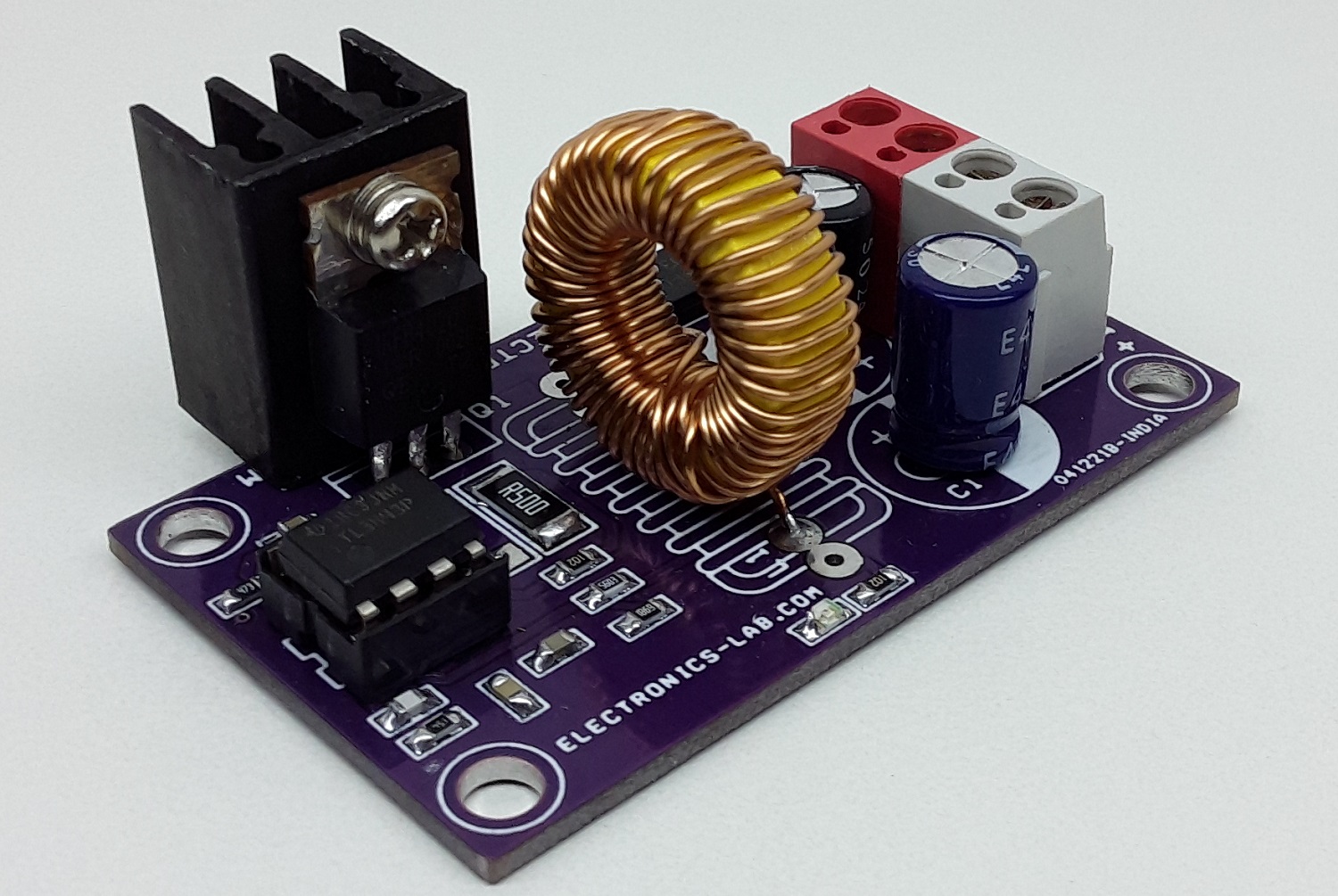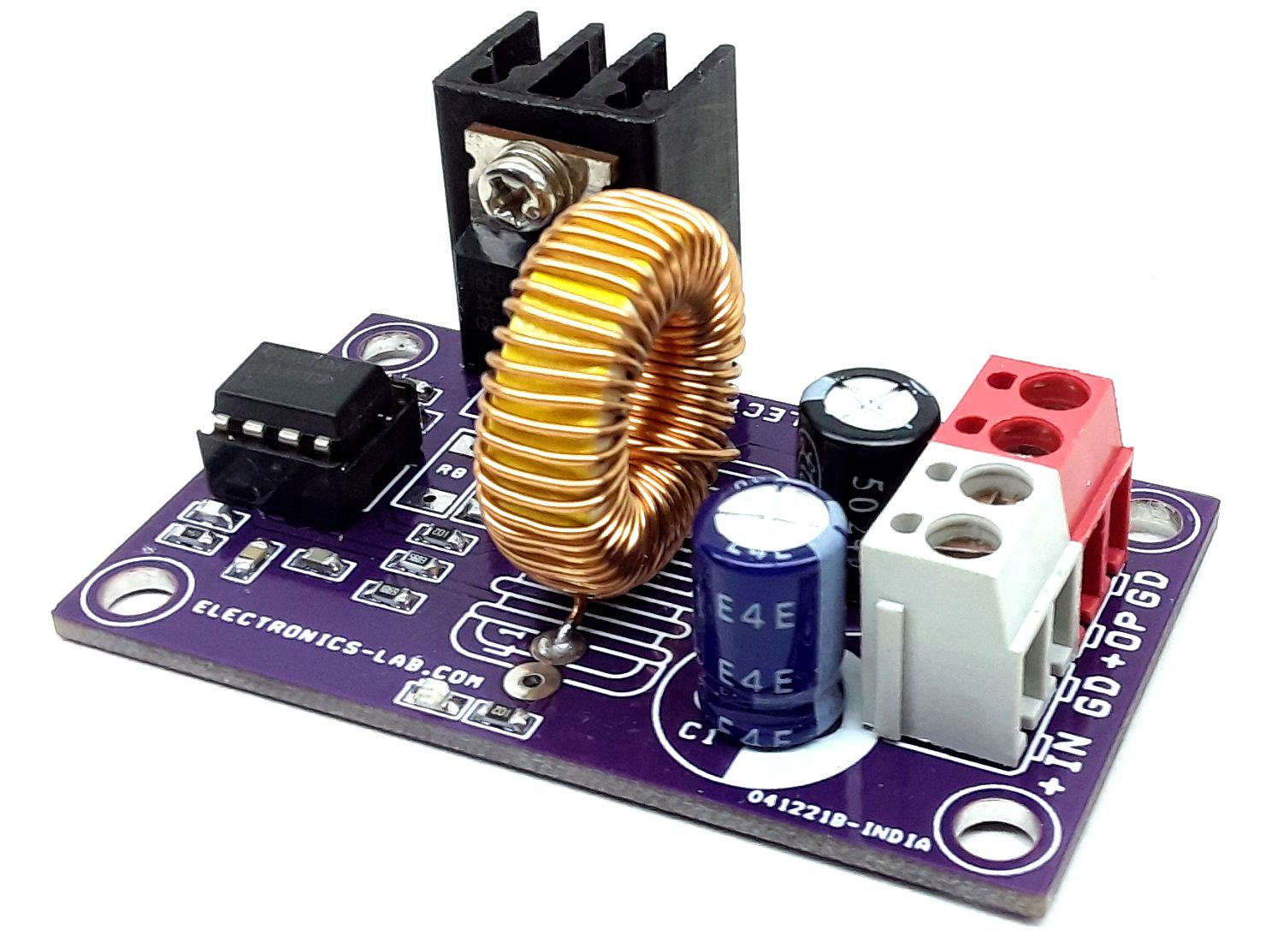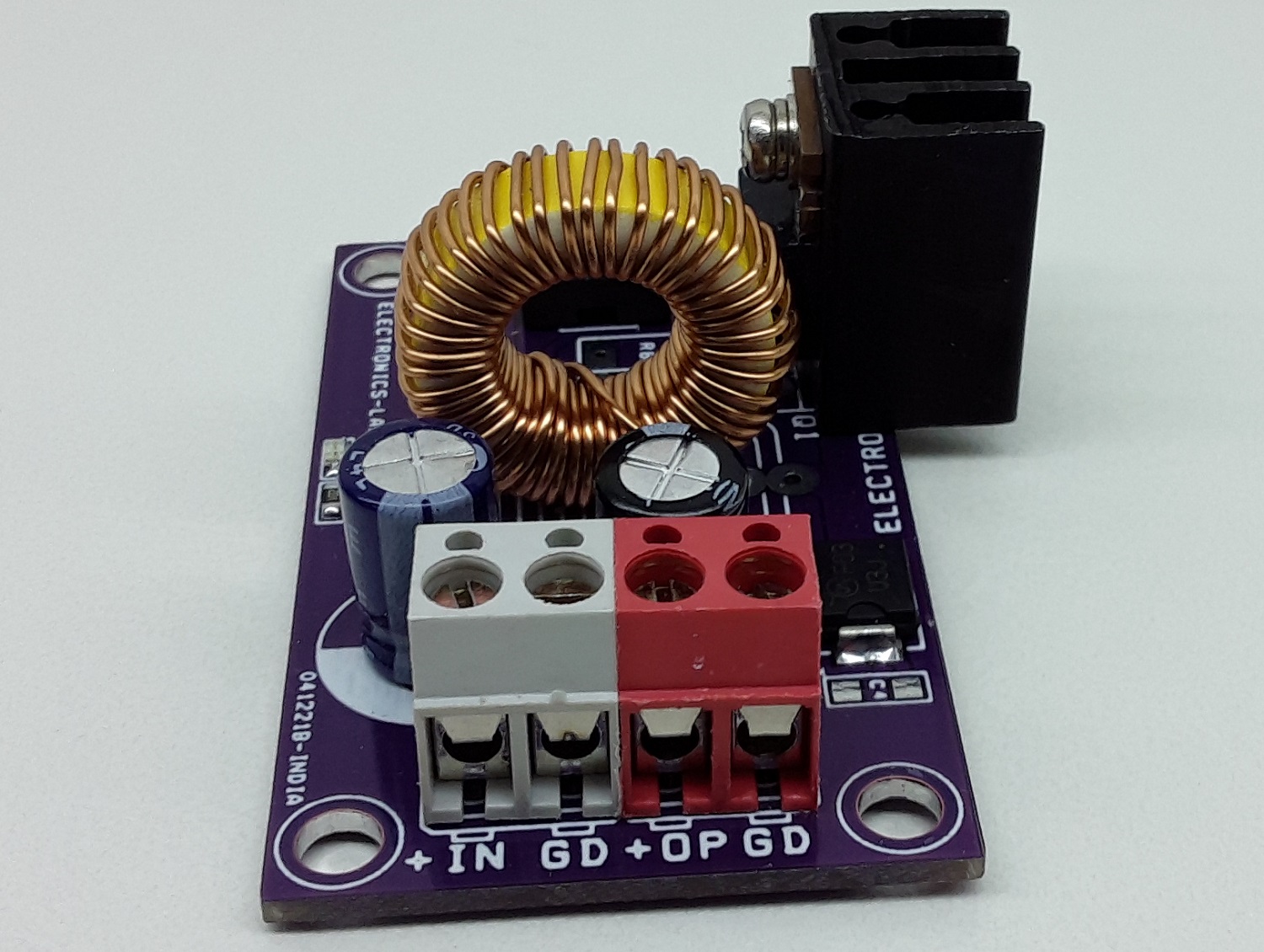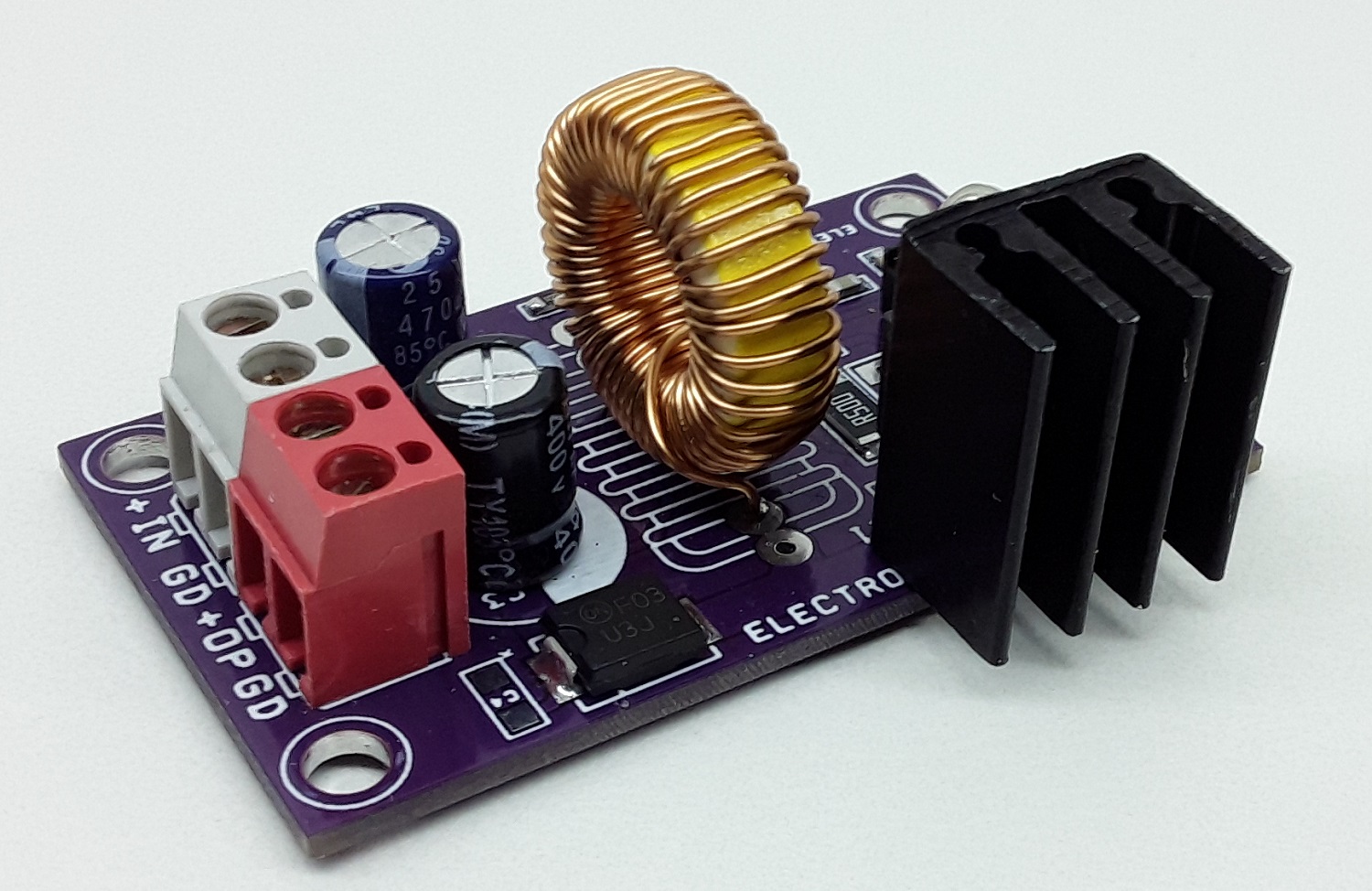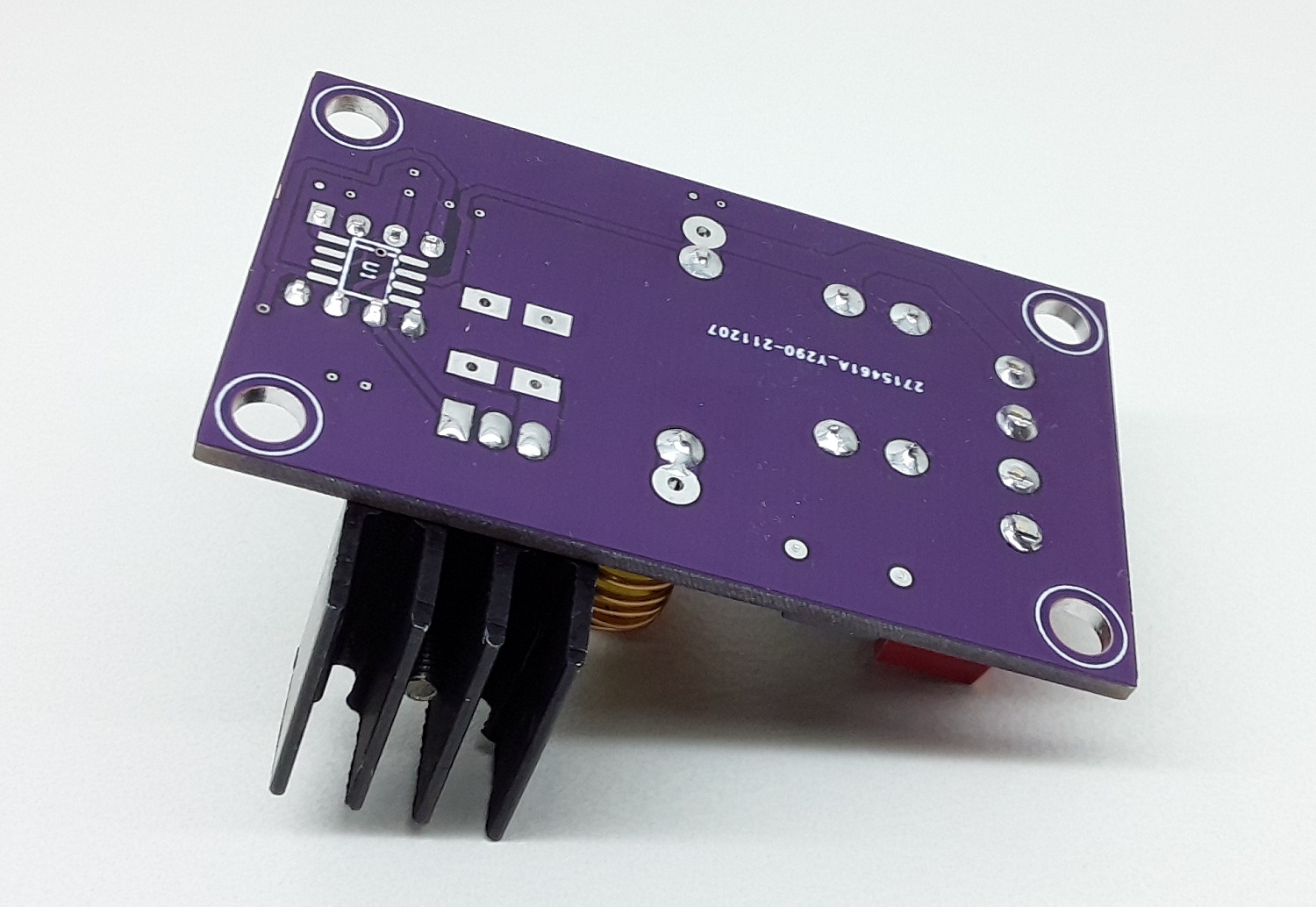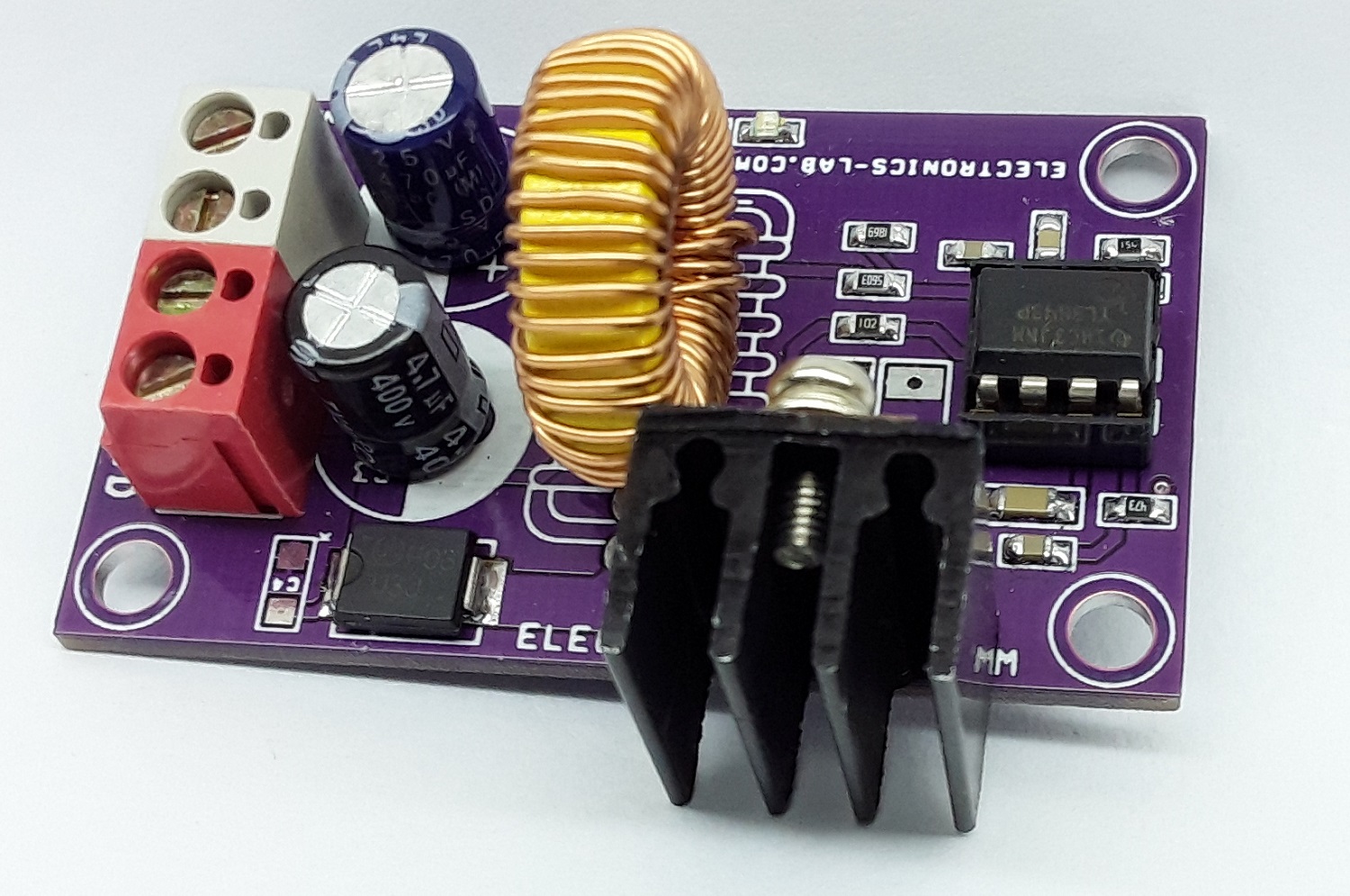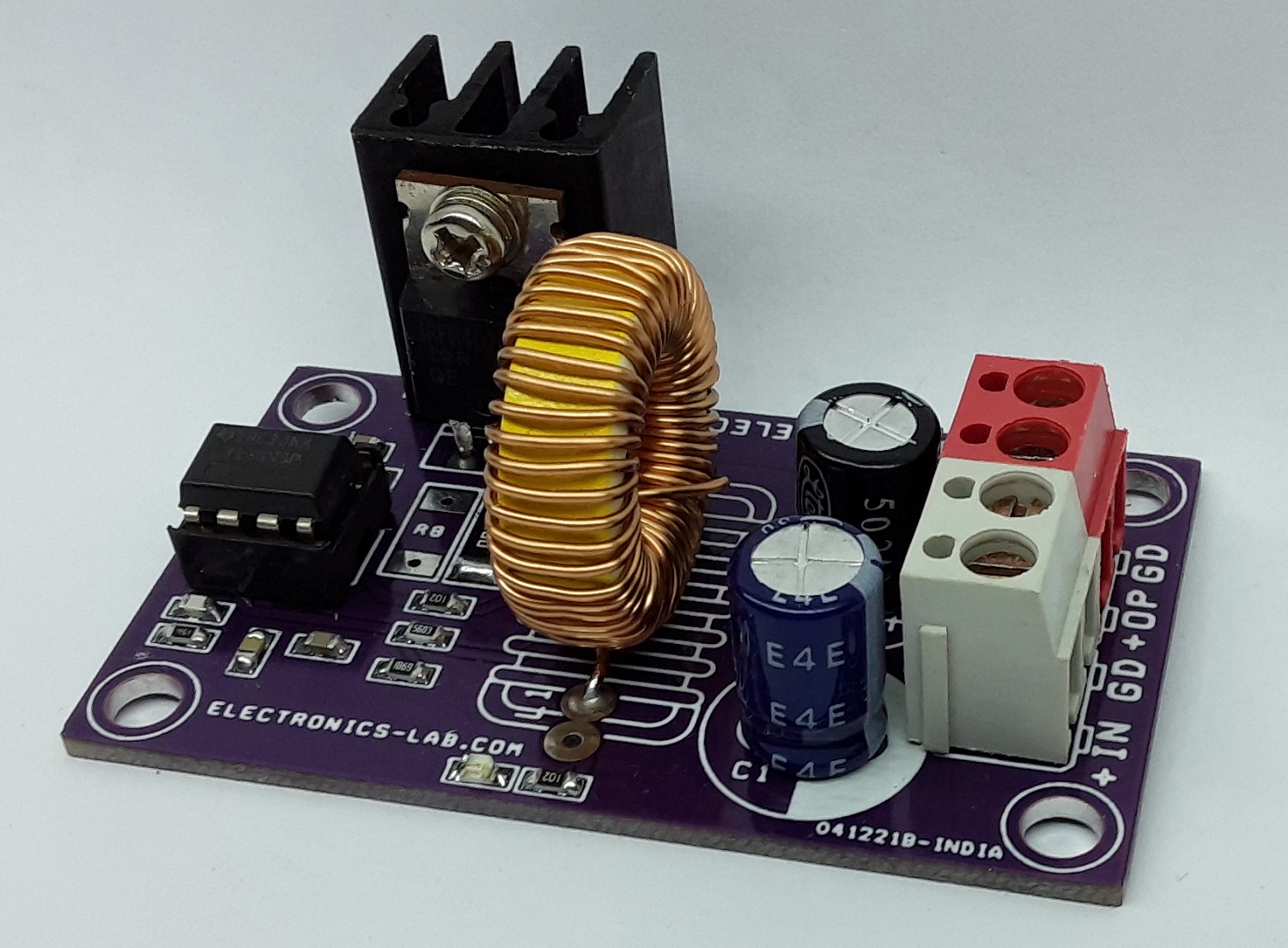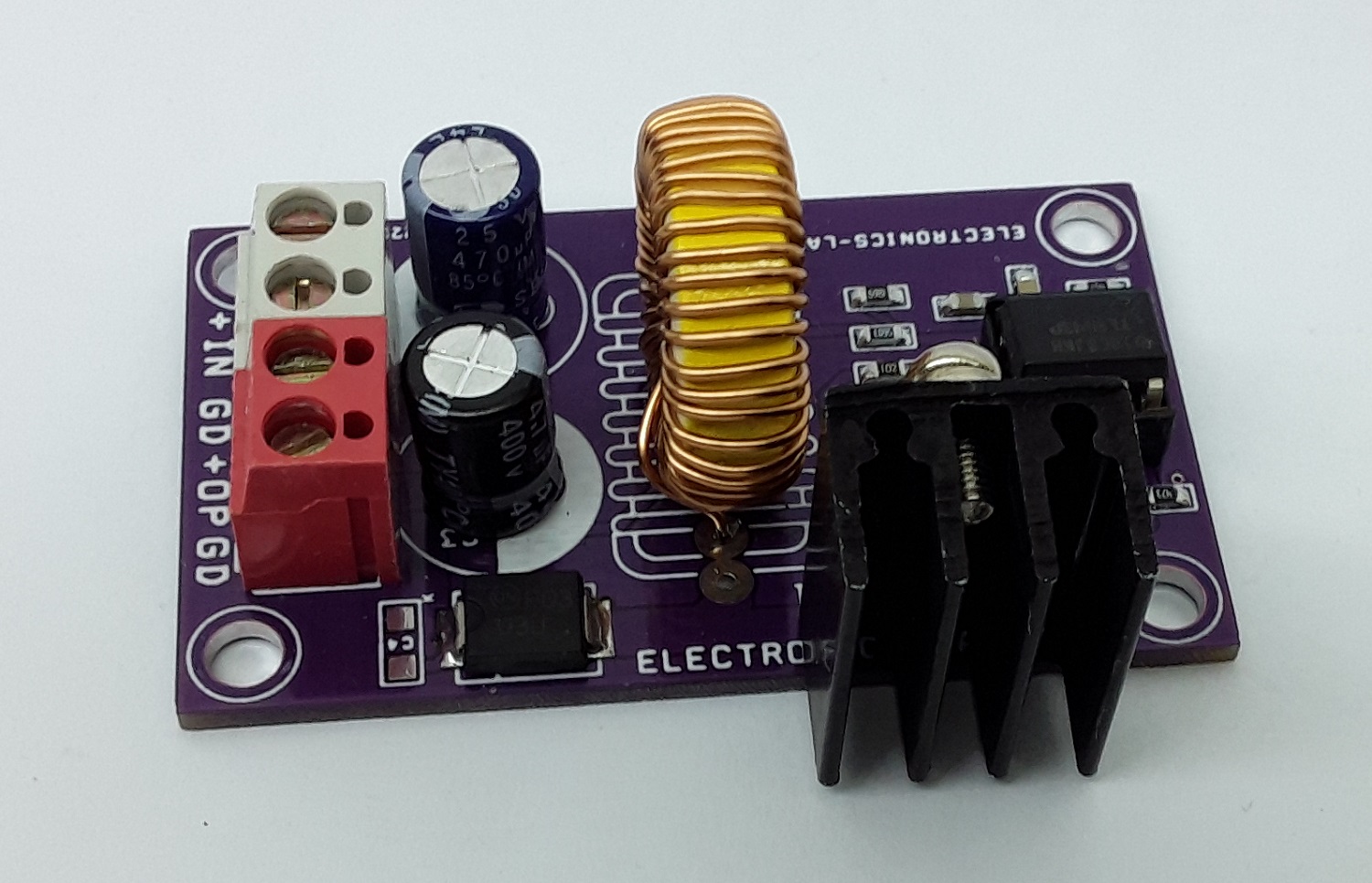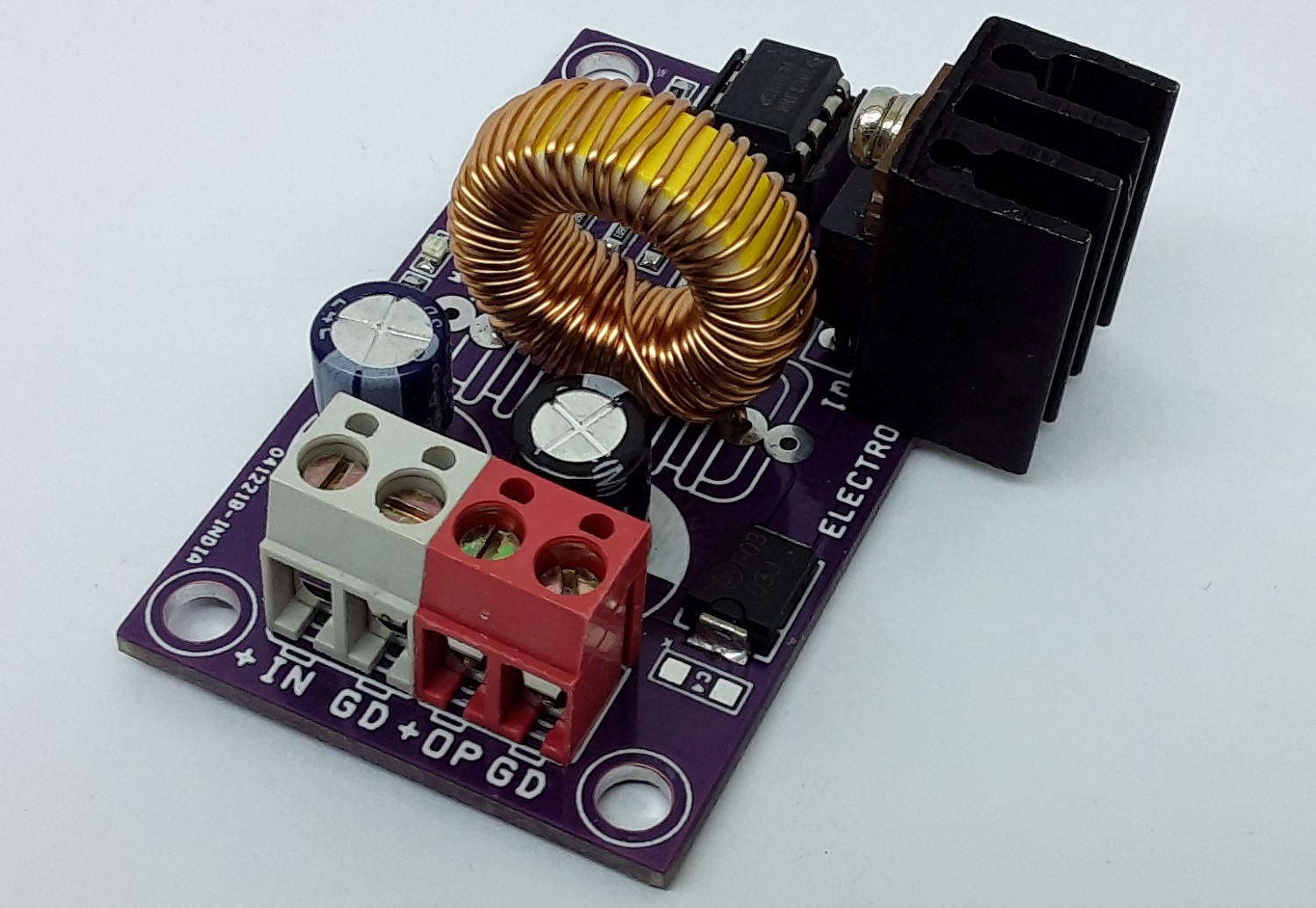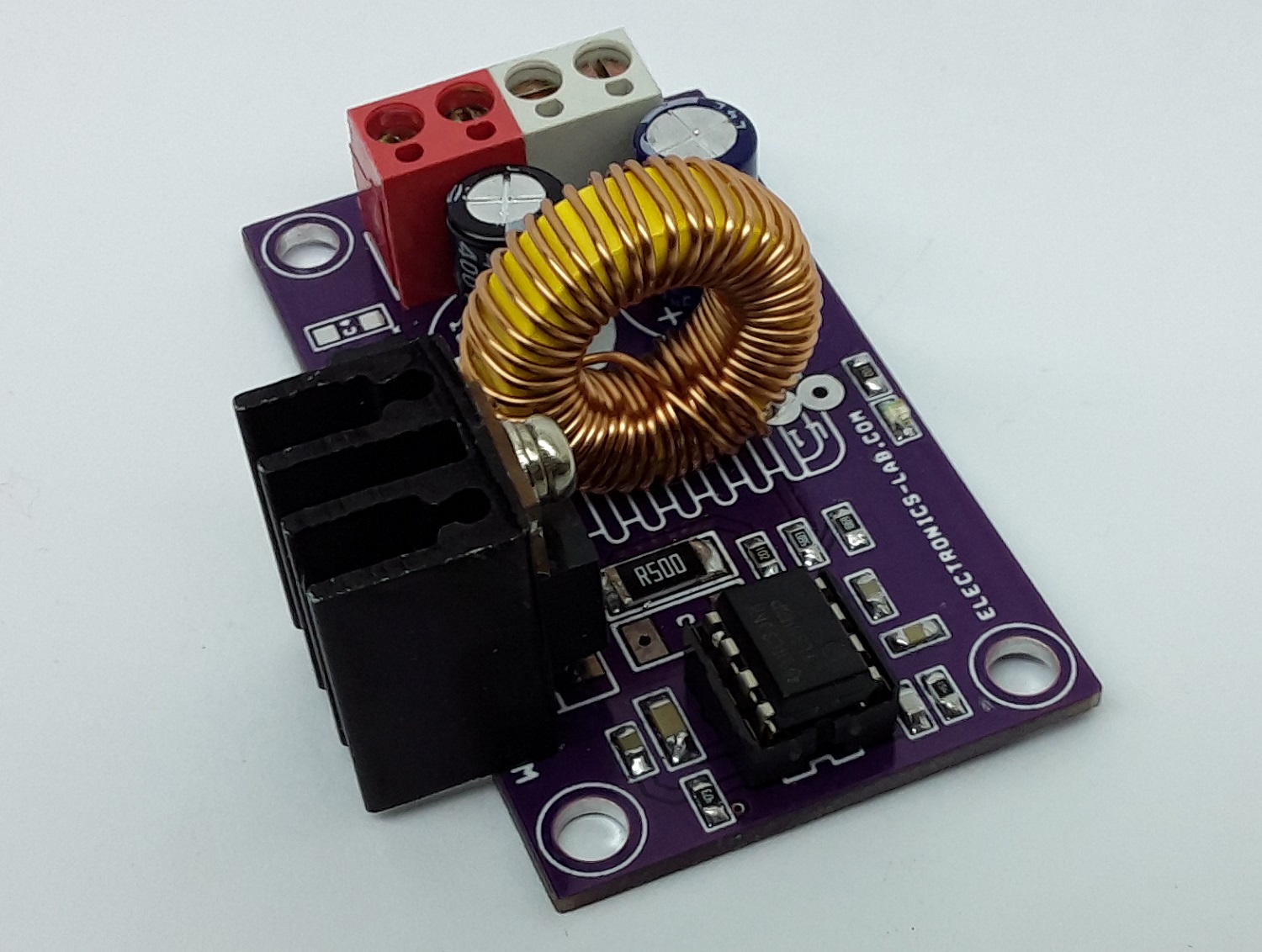 Video
TL3843 Datasheet